Perhaps no other jacket has the coolness and versatility of the Harrington Jacket and especially the Baracuta G-9, since it is the original version.
I say this because nearly every icon of cool has been photographed wearing one. Think of Steve McQueen in his navy blue, collar popped, ready for anything. He thought it was so cool, he also had it in white. Elvis Presley striking a pose early in his career, Frank Sinatra in a yachting cap, even Daniel Craig insouciant in the streets of London.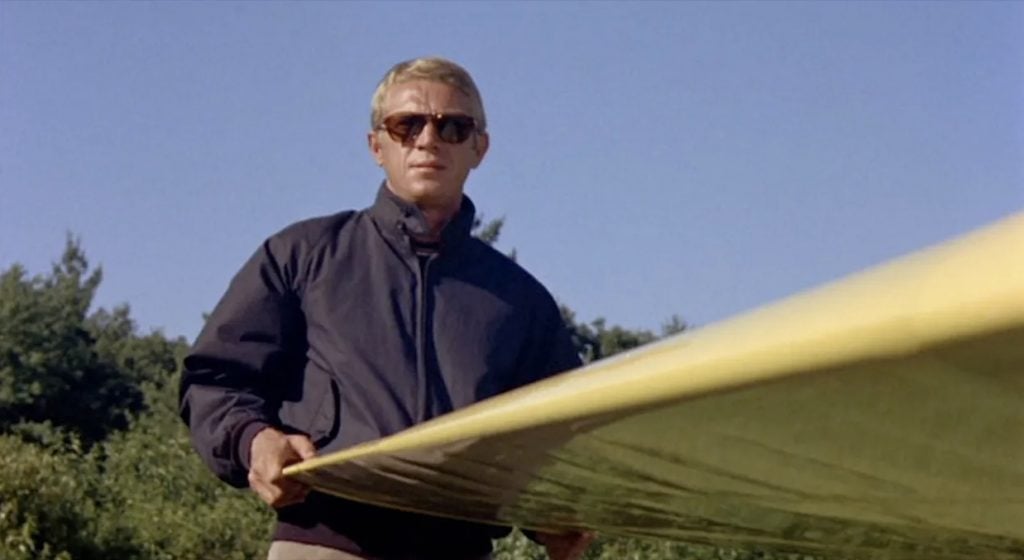 This jacket answers the eternal question: "What can I wear to the office and still look cool?"
The answer is a firm, enthusiastic,
Me.
You can transition seamlessly from the A Line to a private plane, the country club to a bar in the Village. Any jacket that segues from work at almost any job to a nice night out and look confident, casual, and commanding while doing it, will always be worthy of my praise.
There is one note of caution: if you wear it wrong you go from looking like the King of Cool to the King of the Buffet line. But fear not, I am here to guide you. Getting it right all has to do with fit and with a little care, you will be able to order online without an issue.
So let's dive into all the facts and features that make this such an outstanding, interesting, and iconic jacket.
[SHOP THE BARACUTA G-9 IN DOZENS OF COLORS HERE!]
Baracuta G-9 Pros and Cons
Got somewhere to be? Here's the long and short of things:
Pros
Still made in England
Nice materials
Tailored fit
Dozens of color options
Soft and comfortable
Cons
Expensive; really expensive
The sizing on their website is just wrong (Order one size larger!)
Is not a raincoat, but pretends to be
The zipper is difficult to get started
Why the Baracuta G-9?
Let's talk first about what a Baracuta G-9 is.
The Baracuta G-9 is the archetype for all the jackets that came to be known as Harrington Jackets. So the Baracuta G-9 is a Harrington Jacket, but not all Harrington Jackets are Baracuta G-9s. Think of it as the Platonic ideal and all the other ones from Tom Ford, Ralph Lauren, etc. are reflections of it.
This shining icon dates back to 1937 and few details have changed since then. It's still made in Manchester, England; certainly the tag hasn't changed. The fabrics have been updated, but the cut, and possibly even the sizing, retain their original specifications. It follows the design cues of a mid-century bowling alley, and I mean that in the best way.
This is a waist length jacket that hugs your waist with an elastic band, then flairs from the band and rises close to your body for a tailored look. There are two fits and we will get into this later. The sleeves are raglan, so as not to offer a seam to the rain. The back features a five-pointed yoke similar to the edge of an umbrella that runs across the shoulder blades. The sleeves are cuffed and a Mandarin collar secures with two buttons. It can be worn straight up or flared out against your collar bones. The collar is lined with the same material that forms the cuffs and waistband offering some cushioning should it whip at you in the wind. An inside pocket has a button closure.
One of the most distinctive features are the two large slanted pockets on the front that have flaps that button over with a single button each. Equally unique is the bright Fraser tartan lining that flashes when the jacket is open. (Fraser is the name of the plaid pattern of white, blue and green on a red background.)
Don't worry, it's not loud at all. It is unique to the Baracuta and an instant signifier that this is the real thing.
In all, an extremely functional and good looking jacket. It is essentially a cloth flight jacket and carries all the historic, adventurous, masculine associations along with it, leveraged well by men and equally alluring by women.
Baracuta G-9 Materials and Construction
50/50 cotton/polyester blend
Water resistant-ish
Trench coat like feeling
100% polyester lined sleeves for easier layering
80% cotton, moisture wicking, tartan lining
What is this jacket made of? It is a water resistant equal parts cotton and polyester. It feels like the material on a modern trench coat, though lighter. I should also remark that it's a stretch to speak about water resistance. This is less raincoat and much more windbreaker. By the touch, it is quite smooth and resembles a nice nylon, not shiny, and soft to the touch. The material is so light that it wrinkles quite easily. This happens especially since it is mostly worn in the transitional months when it is much more likely to be rolled up in a bag or tossed onto the car seat beside you.
The arms are lined with shiny slick material of 100% polyester. This makes it easy to slide your arm in and out regardless of what you are wearing.
The Fraser tartan lining feels identical to the outside shell, but is listed as 80% cotton. This lining has Coolmax Tecnnology, designed to wick moisture away from your skin and to keep you cool on warm days.
The cuffs, waistband, and lining of the collar are a soft ribbed cotton blend. I haven't had mine long enough to see whether or not this material will pill or fray. From what I read on-line it appears hearty enough. The elastic is adequate to hold the waist and cuffs in place. When sized correctly, it does not rise up as you move around which is reassuring on my 6'2" frame.
The buttons are nice plastic and are sewn on well; tightly and without loose threads. "Baracuta" is written around the rim of the button and "Since 1937" on the face of them. Examining the stitching and threads all over the jacket reveals a high level of craftsmanship. There isn't a single loose thread on a button or seam.
The zipper is hearty enough and does the job nicely. It is certainly overmatched to the jacket which bodes well to longevity. Many similar jackets have light nylon zippers that only survive a few seasons. The zipper is branded with the Baracuta "B" and is a two way zipper so you can loosen up the bottom when you sit or drive. Now the insertion pin is surrounded by fabric and is quite tight and "fiddly," if you will. I have yet to get the hang of it, and so zipping up before rushing out of the house is not really an option with this jacket.
This jacket also comes in a rainbow of colors, entirely too many to list here. We all know the classics: Navy, Tan, Natural, and Red. Red has early 1950s rebellious teenager associations. James Dean wore a similar jacket in "Rebel Without A Cause." Red always being a signifier of rebellion. There is no reason you cannot make this your own. Tan and Natural are certainly more neutral, and I think you can stray into blandness with these if paired with more generic clothes. Although Frank Sinatra, Steve McQueen, and Paul Newman wore these with uncomplicated coolness. Steve McQueen is most known for wearing Navy and he makes it look effortlessly commanding and capable. The aged Private Ryan paid tribute to Captain Miller in a light blue Baracuta, showing that other colors work just as well. There is quite a range. One of these will suit your aesthetic.
I should mention that it comes in suede as well, but a suede version was not available for this review.
[SHOP THE BARACUTA G-9 IN DOZENS OF COLORS HERE!]
Baracuta G-9 Insulation
"CoolMax" lining helps moisture wicking
There is no insulation to speak of on this jacket. It is designed as a light windbreaker to be worn in those cool mornings when the temperature dips thirty degrees from midday. It is light enough and folds flat enough to go into a bag or over your arm when it's too warm to wear.
So does the Coolmax lining work? To be honest, I don't know because when I get warm, I simply take it off. I find the jacket works well between 45 degrees and 65 degrees Fahrenheit, so if you living in the Northeast, you only have a few weeks to wear it. Although, it is probably light enough for those cool August evenings by the sea. I wore it at a farm with the family in an open field, 45 degrees Fahrenheit, with gusts of wind and I was fine, but it's not exactly the jacket I think of when I want to keep warm or the one I want to keep on when it gets hot.
Is the Baracuta G-9 Waterproof?
This job performs well if you don't expect too much out of it. It has two jobs: it will keep you warm, keeping the wind off of you when the temperature dips and you will look extremely cool while wearing it.
It may keep some rain off of you, but the jacket is entirely too short and with no real protection at the back of your neck once your hair soaks and the water drips down your back. The cotton cuffs would act like sponges in a downpour, and whatever rain that rolled off of it would soak into your jeans weighing them down and soaking you thoroughly.
It has two jobs: it will keep you warm, keeping the wind off of you when the temperature dips and you will look extremely cool while wearing it.
So don't be misled by the talk of water resistance and the semi-detached yolk across the back. This isn't a Barbour nor a Burberry Trench.
This is a tailored fit, lightweight jacket primarily designed to look cool. In that, it performs perfectly.
Baracuta G-9 Fit
Two fits available: classic and tailored
Size up from your normal size
So if you are paying attention to anything in this review, pay attention to this. The fit is very important. Get it right and you will join the Pantheon of Cool. Get it wrong and it will look like you thrifted a Members Only Jacket.
Baracuta offers two fits:
TheAuthentic Fit, which is baggy and more relaxed, probably best suited for those of more generous proportions
The Regular Fit, which is much more tailored — what many call a "modern" fit.
In my opinion, you want the Regular Fit because this jacket should be contoured to your body. When cut too baggy this jacket looks more retiree than retro and you want to be a spy. You want to be Steve McQueen in a dune buggy bouncing along the sand in Truro. Tailored is the way to go.
However, you have to be careful with the sizing. I am a pretty solid 44 across most brands. I am 6'2" and 215 lbs. or so, 16.5" neck, 35.5" sleeves, and with a 38" waist size. This is an English jacket. England has men the same size as me. Surely the 44 would fit?
What a mistake that would have been! 46 fits perfectly. It's as if their sizing is from the days before size-inflation, when measurements flattered our dimensions instead of our egos. Since the sizing is so important with this jacket and much of its coolness resides in it having a tailored look, it is important to nail it.
If you are doubting what I am saying here, look at Jason Statham, who seems to be wearing a Tan Baracuta around two sizes too large. In the wrong size, "The Transporter" looks like he's wearing his dad's jacket. Whatever your size is, order the next size up. You will thank me when it arrives.
Styling the Harrington Jacket
I take advantage of the long history of this jacket to style it many ways. For the office, I go for tailored chinos and a button up shirt in pink or university stripe. For a bit of color, I match my shirt to my socks, and I usually wear suede brogues in either chocolate or neutral. The Baracuta G-9 finishes off this look with a bit of gravitas and sartorial cool. With this combination, the jacket looks almost Prep and would certainly fit in on the links or in the boardroom.
When I am off duty, I wear it with my cuffed Schaeffers Garment Hotel selvedge jeans, long sleeve polo, and red socks going into Briar or Copper Red Wing Blacksmith boots. I am going for a confident mature look. Decided for yourself whether I was successful.
Baracuta G-9 Price
This jacket retails for $429.
It can be had less from various retailers, both online and in your local mall. At the time of writing Bloomingdale's has it for $357, but your luck may vary. If you do purchase it online, make certain it is from a reputable source: there are copies out there.
So the question that you must be asking is whether it is worth it to spend $400 or nearly $400 for windbreaker? And I think you know the answer. Seeking value isn't always why we buy these things is it? We're seeking cool and heritage, and they both have a price tag. Imitators are exactly that and with each successive copy you loose more and more cachet.
I look at it like this, $400 is the cost of entry. Taken care of, this jacket will last the rest of your life. You'll get your use out of it. Can you really put a price on cool?
Yes, probably, but if you can afford $400, you probably won't regret it.
[SHOP THE BARACUTA G-9 IN DOZENS OF COLORS HERE!]
The Baracuta G-9 is the perfect unobtrusive jacket that covers on and off-duty that still projects strength and attention to detail through its riff on a military cut and tailored fit.
Wrapping Up
The Baracuta G-9 is the perfect unobtrusive jacket that covers on and off-duty that still projects strength and attention to detail through its riff on a military cut and tailored fit. It has been worn by so many different types of people through the years and carries so many different associations that surely some of this can be adapted to you and your look.
It features nice materials and solid construction and so it should last for many years with the minimum of care.
As for the cost, I think of my favorite Stoic philosopher Epictetus, "Think first who you would be and then do what you must do." If $400 brings you some cache of cool, then do what you must do.
The following two tabs change content below.
Timothy Steiner
Tim Steiner has written about Mens Fashion and travel in "Classic Style" and other publications. He has a collection of Barbour jackets, Tweed suits, and Filson coats. His interest range from travel, fountain pens, watches, to manual typewriters. He is a banker by day and writes fiction and articles by night. He lives in Acton, MA at the edge of the woods with his wife and daughter.
Latest posts by Timothy Steiner (see all)