Red Wing is probably the most popular and influential American boot brand of all time. Around here, I rarely stop talking about them; I've reviewed them, compared them, even interviewed Michiya Suzuki, the manager of their Japanese office, to learn more about their massive popularity there — you have to read that article here.
Red Wing is based in Minnesota and was founded in 1905 by Charles Beckman. Back in the day, they mostly sold knee-high boots intended for oil workers and iron miners; real Americana stuff.
Today, they've kept up with technology and modern materials to produce advanced work boots that can withstand electrical hazards and welding materials, but they've preserved their old fashioned, masculine, classic work boots under their Red Wing Hertiage line, which is where you'll find their more fashion focused boots like the Iron Ranger, moc toe, and the boot we're looking at today.
Recently, some have mourned the discontinuation of their extremely popular Beckman boot. But Redwing isn't worried — instead they've pivoted to focus on the Blacksmith. Does it stack up? Let's take a closer look.
[SHOP THE RED WING BLACKSMITH]
Red Wing Blacksmith First Glance
3340 Blacksmith
Similar to Wolverine 1000 Mile
Oil tanned leather
Vibram sole
Bump toe, informal
According to Red Wing:
This style of shoe was originally used in farm fields and blacksmith workshops during the day before being cleaned and shined up for a night out on the town.
It's made with their famous Briar Oil Slick Leather, which is a really interesting color. In some lights it looks very red, and in others it's more of a traditional russet or brown.
I've got to say, at first glance the Red Wing 3340 Blacksmith looks an awful lot like the Wolverine 1000 Mile boot. Take a look:
The leather and the sole are very different but there are plenty of clear similarities, form wise. I won't get into the weeds with the differences between the two here, but you can check out my review of the 1000 Mile boot to learn more. But these boots are clearly mortal enemies.
[Watch my comparison of Red Wing's Iron Ranger and the Wolverine 1000 Mile!]
The Blacksmith comes with a Vibram rubber sole, and this particular one is a really nice combination of a classic commando sole and a flat sole. In a lot of ways, the sole has the best of both worlds: it's got a good grip but looks nice and streamlined from the side, which I really like.
Like most of Red Wing's heritage boots, it's got a 270-degree Goodyear welt. (More on that below.) It also features dull guilt speed hooks and eyelets, triple stitching along the vamp, and unlined interior.
Finally there's the toe, which is pretty round. Red Wing calls it a bump toe; some of my friends have called it bulbous and they're not necessarily wrong. It's not sleek like the toe on the Beckman or their new, Thursday-esque work boot-dress boot hybrids the Williston or the Sheldon. But the Blacksmith does give you some room up front to wiggle your toes around and it's for a nice, relaxed fit that's more suited to a knockaround beater boot.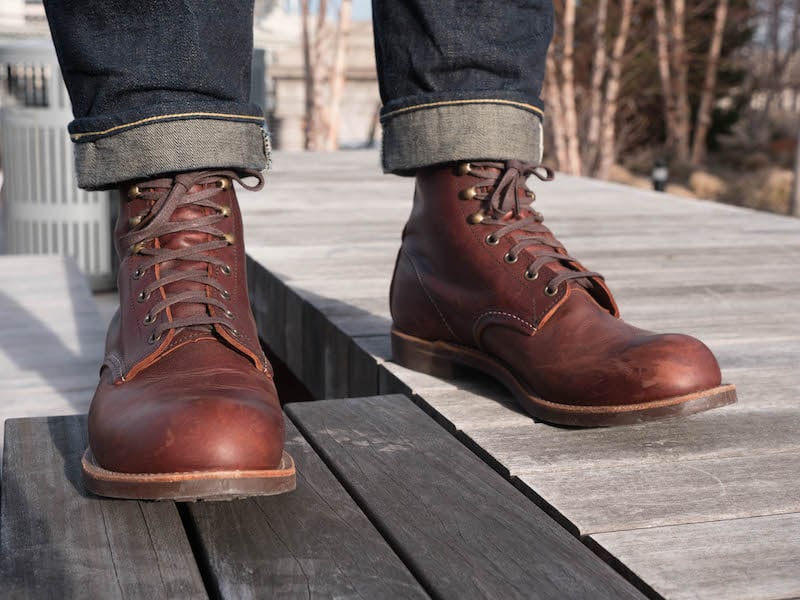 [Related: The Best Boots for Wide Feet]
Red Wing Blacksmith Leather
Tanned by Red Wing
Briar Oil Slick leather
Oil tanned and chrome tanned
Outdoorsy, not super lustrous
One of the coolest things about Red Wing is that they tan their own leather. Their tannery, SB Foot Tanning Co, produces about 6 million linear feet of leather per year and most of it's oil tanned, including the Briar Oil Slick leather on this boot. Like I mentioned before, the leather has a slightly red tint, which makes it a really cool addition to your wardrobe. I love wearing these boots when the outfit is right — this color is definitely easier to wear with black than your regular brown boots.
This leather is chrome tanned, but it's called "oil tanned" because Red Wing infuses it with a range of oils, like white mineral oil, to enhance the water resistance and durability.
[Read more about the differences between vegetable tanned and chrome tanned leather!]
Red Wing says it's water, stain, and perspiration resistant and "has a more natural look and feel because less finishing materials have been applied, allowing its natural beauty to shine through."
I think oil tanned leather is pretty underrated. While the Blacksmith doesn't necessarily have the lustre of some combination tanned leathers like Chromexcel, it's very hardy and won't require a ton of conditioning. The nice thing about oil tanned leather you don't have to think about it too much, which is a pro in my book.
While it's tough, there are still a few things worth keeping in mind when it comes to care…
Red Wing Blacksmith Leather Care
Minimal care required
Mink oil works, may darken leather
Neatsfoot oil best for preserving color
So I don't blame you if you feel a bit confused about Red Wing leather care. They sell a lot of mink oil but as you've probably heard, mink oil can have its issues. If you want to get really into it, I've made this handy video explaining the pros and cons of Red Wing's mink oil vs. their regular boot oil.
Long story short: mink oil penetrates super deeply into leather, which is great for making them extremely water resistant but not so good when you're trying to preserve the color. Of course, with most Red Wing heritage leathers (and especially with this gorgeous, ever-so-slightly red leather) the color is a large part of the boots' appeal. My own personal preference runs towards preserving the color, which means I'm skipping the mink oil on this one.
If that's also true for you, what I recommend is to brush them down regularly with a horsehair brush and to use neatsfoot oil to condition it. Neatsfoot oil is made from the rendered shin and feet bones of cattle and moisturizes the leather without penetrating as deeply as mink oil.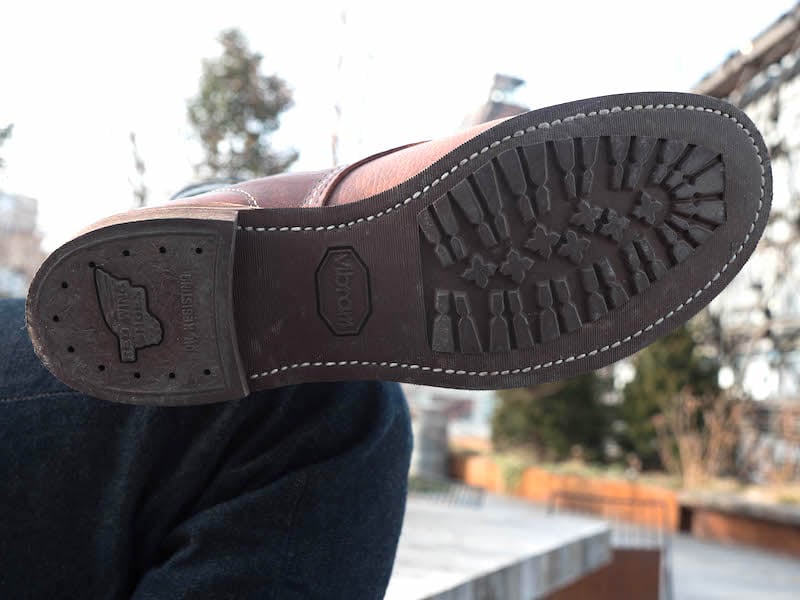 Red Wing Blacksmith Sole
Vibram 430 mini lug sole
Medium traction
Cork midsole
Steel shank
270-degree Goodyear welt
The Blacksmith sports the Vibram 430 mini-lug sole, which is rubber. It's considered medium traction, oil resistant, non-marking, and long-wearing. I think it's a nice mix of form and function — like I mentioned before, it's pretty slim for a commando sole and it's pretty flexible, too.
This shoe doesn't have great shock absorption, though, since there's no foam or urethane or anything like that in the sole. This is an old fashioned boot; no sneaker-like rebound here.
The midsole is rubber with a cork filling, which is meant to mold to the foot over time, and the insole is a hardy vegetable tanned leather. There's also a steel shank, which provides some decent arch support and stability. It's not as high an arch as, say, the Alden Indy or White's MP Service boot, but I'm pretty happy with it nonetheless.
Finally, the whole thing is stitched with a 270-degree Goodyear welt. Mostly, the 270-degree welt is an aesthetic choice: it keeps the heel slimmer looking, which a lot of people like. This construction makes it simple to resole and very water resistant.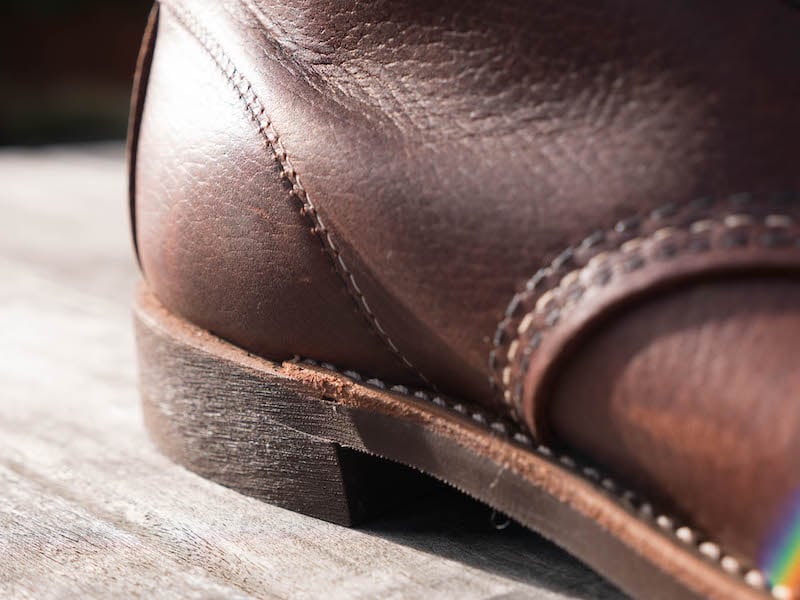 Red Wing Blacksmith Fit & Sizing
Order half a size down
Relatively wide last
Decent arch support
Not great shock absorption
Roomy around toes
The Blacksmith is available in full and half sizes from 7 to 13 on Red Wing's site and on Amazon. It's not too bad as far as sizes go, but you should know that they only come in one width. It's a relatively wide last, to be fair, but if you've got a wider foot you might be out of luck, which is a bummer.
Because of the vegetable tanned leather insole and hardy uppers, you can expect a tricky break in with these. It's smart to let your foot rest a day or more between wears so your feet don't feel too beat up by them. After a few cumulative days of wear, they'll be on their way to becoming your most comfortable shoes.
Decent arch support, and a nice snug fit along the side of the foot — not too snug, and roomy up top. There are a lot of shoes out there that are going for the dress/work boot hybrid and wind up a bit too narrow around the toe box, but the Blacksmith emphatically does not. The shock absorption isn't amazing, but hey, you're not buying sneakers here.
[Read my full review of the Red Wing Iron Ranger!]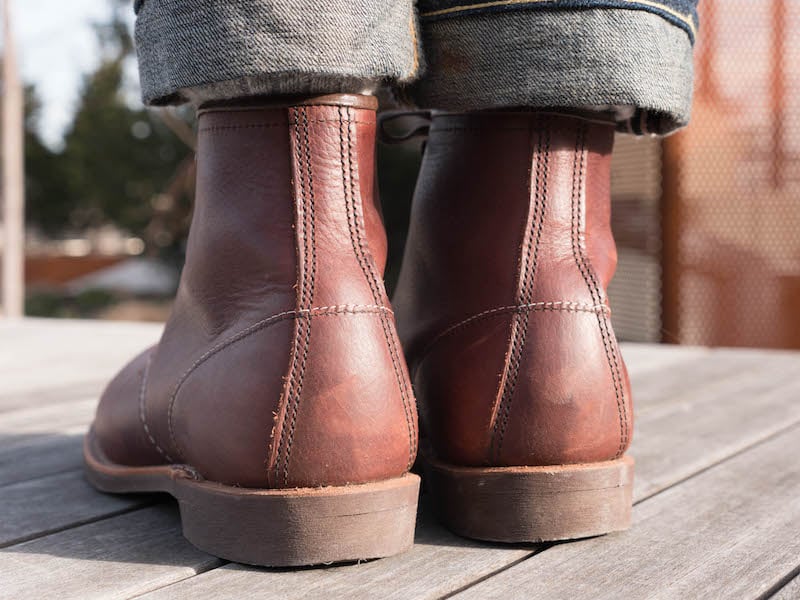 Red Wing Blacksmith Price
These boots will run you $320. In the Red Wing spectrum, that's less than the Iron Ranger and more than the classic moc toe.
And before you say it, I know you can get them on sale or as factory seconds for less. Every time I review a boot this popular, a million people pop up to tell me so. It's true that if you're patient and you do your research, one of the pros of buying from a brand this big is that you can usually find somewhere selling them for less.
Generally they're $300.
[SHOP THE RED WING BLACKSMITH HERE!]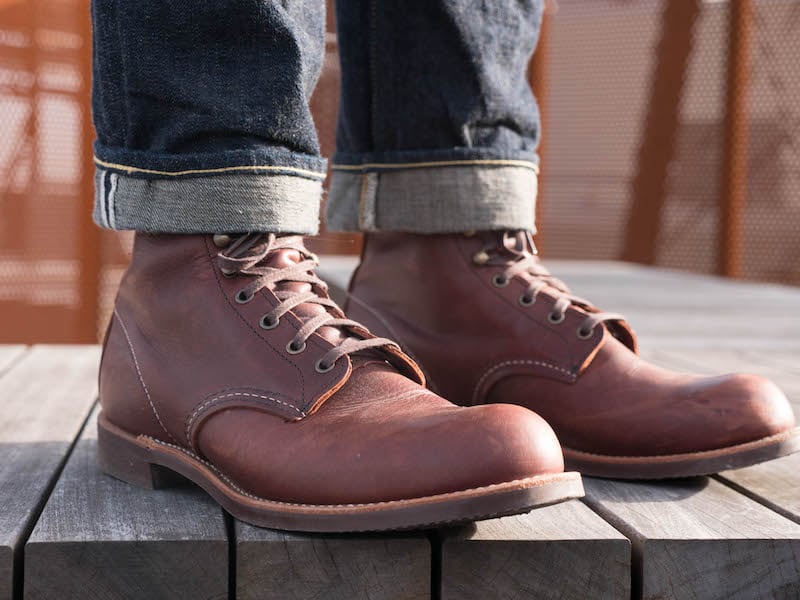 Red Wing Blacksmith Pros & Cons
Pros
Not much leather care required
Good grip
Decent

arch

support
Can be resoled
Easy break in
Cons
No other widths
Informal
So-so shock absorption
There's a lot to like, here: the unique leather color, for one, and it's low-maintenance requirements. Good grip, decent arch support, resoleability, water resistance, and a timeless cool look.
The biggest cons are the lack of width options, and the informal, wide toe that means you can't dress up these $320 boots. The lack of shock absorption isn't great, and it's unlined so it doesn't feel quite as luxurious as the glove leather lined boots that are becoming more popular in companies like Thursday and Taft. But for me, these boots are another win for Red Wing: classic-looking, durable, comfortable, and just unique enough to make an outfit pop.
The following two tabs change content below.
Nick English
By day: Manhattan-based journalist with reporting experience on four continents, published in Vice, Men's Health, Popular Science, and a bunch of other places.By night: ravenous consumer of anything and everything related to high end men's boots.Stridewise is where I nurture a maniacal obsession with footwear and share my findings. Say hey:
[email protected]
.
Latest posts by Nick English (see all)