This post may contain
affiliate links
that at no additional cost to you, I may earn a small commission from.
Looking for the best vegan boots for men in 2022? You've come to the right place. Today, I am going to share my top choices for cruelty-free vegan leather boots. If you're a man seeking the best of the best, you'll find it down below!
Vegan leather may sound a bit oxymoronic, like vegan beef. As a boot material, it's often derided by boot aficionados as nothing more than a clever rebranding of cheap-looking, overpriced polyurethane — junk sold to the naive who don't realize they're sporting nonbiodegradable, pollution-causing plastic. The stuff of inferior car interiors, sticky sofas, and garish fast fashion.
But that's unfair. It's 2022, McDonald's and KFC have plant-based burgers, the market has a plethora of bio-fuels and cellulose-based products, and heck, we may be at the beginning of a new golden age of environmentally friendly material science.
So let's drop our biases regarding vegan leather and give these boots some respect — if someone wants cool boots that don't happen to be made with animal skin, they've got more options than ever. In this article we'll discuss not only PVC leather but cactus leather, pineapple leather, and even apple leather. We'll also evaluate vegan leather boots, just as I would with any leather boot based on boot construction, durability, aesthetics, utility, and price. Let's not delay any longer – here is our rankings of the best vegan boots out there:
[Related: Our Complete Guide to Vegan Leathers | Cactus, Mushroom, Pineapple, and More]
The Best Vegan Leather Boots For Men
Time for the list of the best men's vegan leather boots. We tried to find a variety of boots and styles that one might find with animal leathers, and we made sure to include examples of different kinds of vegan leathers like polyurethane, pineapple leather, cactus leather, and cork. Scroll to the end of this list to read an exploration of the different kinds of vegan leathers on the market.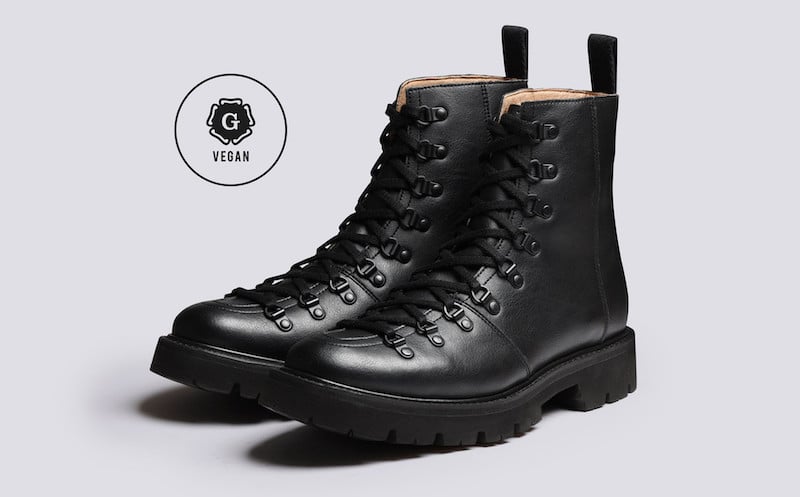 This is the crème de la vegan crème of animal-free "leather" boots, a respected brand with enough resources and skill to produce a well-made and, yes, resoleable boot that just happens to be completely vegan. This is an astonishingly high quality boot — yes, the price reflect that — that's patterned after hiking boots and their striking crossover lacing.
The upper is made with microfibers that mimic natural cowhide, and while it's not made with apples or mushrooms it's recyclable, breathable, antibacterial, washable, abrasion resistance, and lightweight. It's also lined with a similar textile that's designed to be extra water absorbant, making it ideal for shoe lining — all the complaints you sometimes hear about synthetics making for sweaty boots can be ignored.
With free returns globally and all taxes and duties paid in advance by the company, there's little risk to trying these bad boys out. Just remember that British sizing is usually a half size smaller than your US boot size and a whole size down from your Brannock.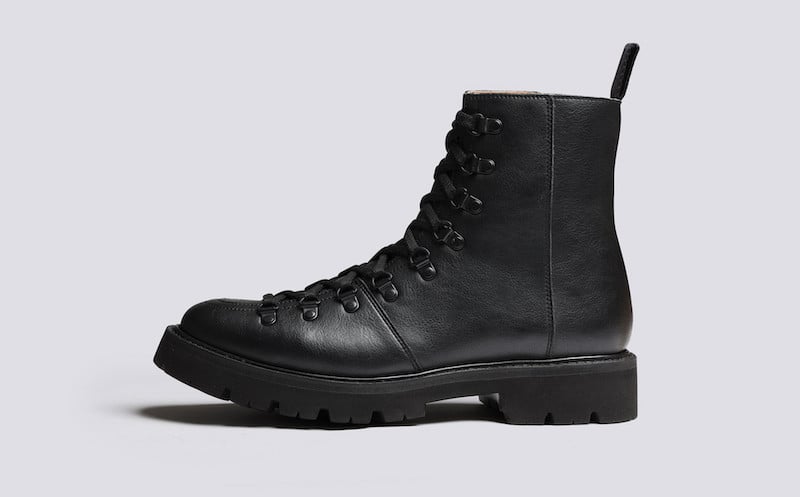 Who should buy Grenson's Vegan Brady?
Anyone looking for the best luxury vegan boots money can buy.

Folks who want a breathable and absorbent upper that won't leave their feet sweaty.

Guys who are attracted to the hiking boot aesthetic — with an urban edge.

People who prioritize a resoleable boot; made with a Microlight rubber welt, this is the easiest vegan boot to resole.
Who shouldn't buy Grenson's Vegan Brady
?
Folks who want a more subdued style that can be more easily dressed up.

Guys on a budget.
[SHOP GRENSON'S BRADY BOOT HERE]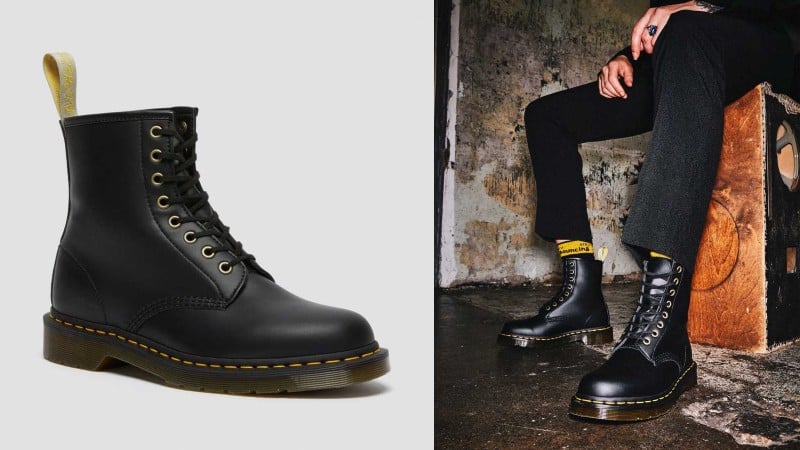 There's no escaping Dr. Martens' vegan line, far and away the most popular vegan boot collection on the market. If we could only make one recommendation for the best vegan boots on the market, it would be these ones. This was one of the first global brands to make vegan leather and while there are more versatile boots on this list, the Felix wins for the toughest boot by virtue of its Goodyear welt construction. It's hard to make boots like this with vegan leather, especially at the lower price points that vegan boots typically demand, but it makes for a boot that's much more water resistant, durable, and easy to resole.
The Felix Lace Up boot is the same design as the ubiquitous, classic Dr. Martens 1460, and they still have their super comfy air-cushioned sole and signature yellow stitching. The only difference is that the entire shoe is vegan-friendly, made with what they call "a synthetic material, which is soft and supple, and has a subtle two-tone finish."
Who should buy the Dr. Martens 1460 Felix?
Anyone looking for a boot with pedigree and style recognized around the world.

Folks who prioritize durability.

Guys who want a very comfy sole.

People attracted to the punk rock heritage of the Dr. Martens brand.
Who shouldn't buy the Dr. Martens
1460 Felix
?
Folks who want more versatile footwear than this striking, iconic boot.

People turned off by synthetic materials that can't be recycled.
[SHOP DR MARTEN'S 1460 VEGAN LEATHER BOOTS HERE]
It's true that Dr. Martens also makes a Chelsea, but when we learned that Chelsea kings Blundstone had their own vegan version out, there was no question. This is our pick for the best vegan Chelsea boots.
Blundstone Vegan Chelsea Highlights
Blundstone is an institution in Chelsea boots and one can't turn a corner in Manhattan during boot season without spying a pair. As such, we consider these among the best vegan Chelsea boots currently available for men.
They aren't at all dressy — their primary drawback is they're not that versatile and they aren't resoleable — but the brand's shoes are very lightweight, very water resistant, and very comfortable. So much work has gone into the boot's comfort that the sole absorbs up to 90 percent of shock when walking, plus these vegan Chelsea boots are lined with a breathable microfibre that's antimicrobial, antibacterial, and thermo-regulating.
The upper is made from OnMicro, a microfiber that's breathable, washable, antibacterial, abrasion resistant, and waterproof. Blundstone's vegan boot is also certified by Eurofins, which tests materials to the molecular level to verify there's no animal biomaterial, so you can be confident that this giant company is doing their due diligence.
Who should Buy Blundstone's Vegan Chelsea?
Guys looking for a boot for casual wear.
Folks who need a vegan boot that can take a beating.
Who shouldn't Buy Blundstone's Vegan Chelsea?
Guys who want a dressier Chelsea.
People who avoid artificial ingredients; the upper is a mixture of polyester and polyamide.
[SHOP BLUNDSTONE'S VEGAN BOOT HERE]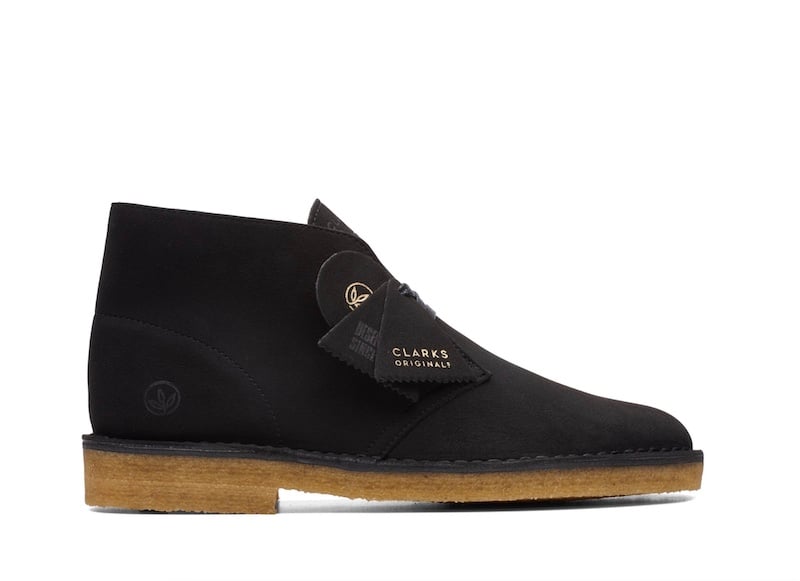 The most iconic chukka boot bar none is the Clarks Desert Boot, a style inspired by North African footwear that was later worn by soldiers fighting in Africa's Western Desert Campaign in World War 2.
Clarks Vegan Desert Boot Highlights
There's no better known manufacturer of chukkas than Clarks, so it fits perfectly that they'd devise the industry's best vegan version. The desert boot is known for its ankle height, soft crepe sole, two or three rows of eyelets and, usually, soft suede upper. Here, Clarks replaced the upper with a vegan-friendly microfiber that mimics the durability, flexibility, and comfort of suede without the cow. It's partly made from polyester, if that's an issue but the style can't be beat and to make things even more planet friendly, the soft crepe soles are certified by the Forest Stewardship Council.
Who Should Buy the Clarks Vegan Desert Boot?
Guys looking for a breezy, casual summer boot.
Anyone who prioritizes comfort; the soft sole and floppy upper are famously comfy for a reason.
Folks wanting to wear a fashion icon.
Who Shouldn't Buy the Clarks Vegan Desert Boot?
People who want all natural ingredients in their fake leather.
Guys looking for rugged, ultra durable footwear.
[SHOP THE VEGAN CLARK'S DESERT BOOT HERE!]
[Learn more: The 10 Best Desert Boots]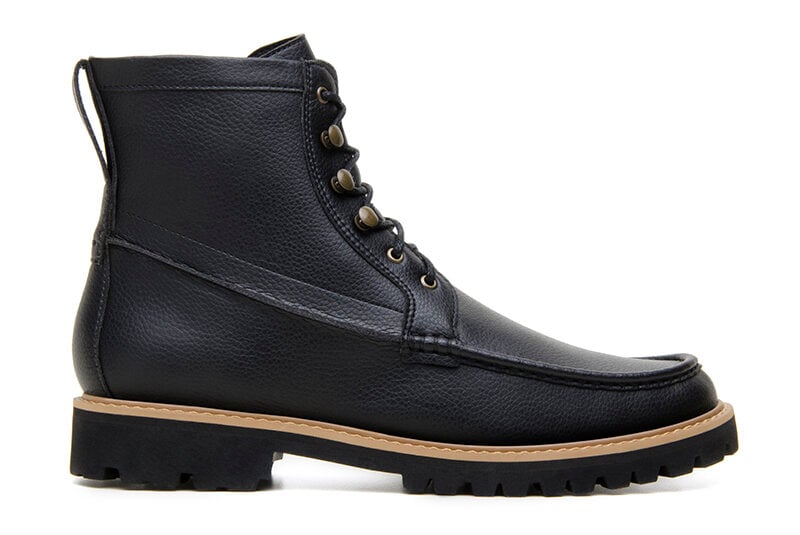 If you're after the best vegan boots with a moc toe, these are it. While vegan moc toes are hard to find, Brave Gentle Man actually has two: this rugged Scout boot and more subdued Worker boot, both of which we recommend checking out.
Brave Gentle Man Scout Highlights
Designed in New York City and made in Brazil, this beefy — but not that kind of beefy — moc toe comes with a rugged lug sole, a pull tab, and OEKO-TEX certified PU leather. It's available in brown, black, and even a bright red "Cardinal" color.
Who Should Buy the Brave Gentle Man Scout Boot?
Folks after a chunkier work boot-style moc.
Men who need serious grip .
Who Shouldn't Buy the Brave Gentle Man Scout Boot?
Guys who avoid polyurethane leather.
[SHOP THE BRAVE GENTLE MAN VEGAN MOCS HERE!]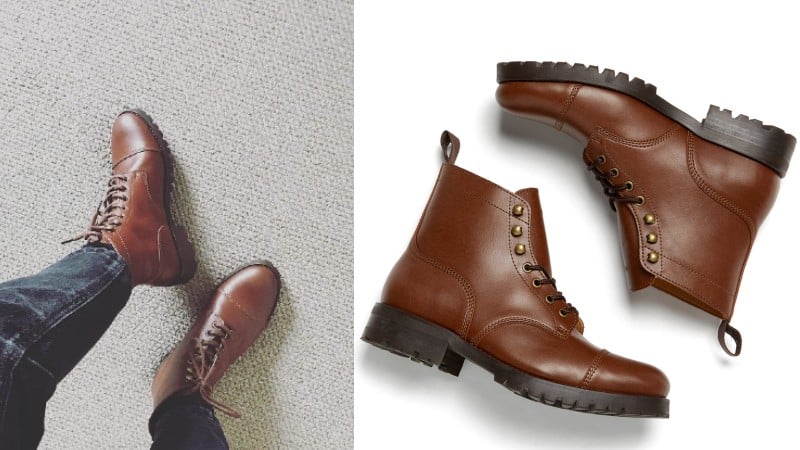 If you're the type of man who likes to shop for practicality rather than looks, you'll be delighted to learn you don't have to choose between the two – Will's Vegan Work Boots offers the best of both worlds. As such, we consider them a no-brainer pick for the best vegan work boots on the market. Will's vegan store is PETA approved and uses 100% vegan glues, uppers, and lining. Their work boots are carbon neutral and made from Italian vegan leather made from plants; it's created by using bio oil sourced from organic cereal crops grown in Northern Europe. It's likely a bio-derived polyurethane, but they don't explicitly use this term.
Will's Vegan Work Boots Highlights
Reviews, and the website, recommend sizing up if you're a half size. Durability doesn't seem to be an issue for most, though one reviewer happily mentioned that end-of-life was after two years. That's less than you'll get from actual leather, but not a bad lifespan for boots under $200. It's perhaps worth noting this is a work boot style rather than something that mimics leather work boots, given it's not Goodyear welted or made with a shank. Nonetheless, it's hard to find vegan boots that are sleek, fashionable, and subtle like these, and as soon as we saw it we thought, "That's the most handsome vegan boot on the market."
Who should buy Wills Vegan Work Boots?
Guys who wants breathable and water-resistant boot with deep tread sturdy rubber soles.
Dudes who want an assertive, tough looking boot.
Environmentally minded folks who like Will's commitment to the environment and carbon neutrality.
Folks who want a water resistant leather.
Who shouldn't buy Wills Vegan Work Boots?
Men who need a work boot for safety at their job.
Anyone looking for a boot that'll last many years and many soles.
You don't want your boots shipped from the UK.
Overall, Will's Vegan Shoes seems to be a great company. They provide carbon-neutral shipping and free returns & exchanges for 365 days in most countries including UK, USA, Europe, Australia, Canada & New Zealand. The price point is pretty low for a work boot at about 130 USD.
[SHOP WILLS VEGAN LEATHER WORK BOOTS HERE]
To some people, the best vegan leather boots are those made from cork. The aesthetic can be divisive but these Grow From Nature boots look better than most cork leather boots. Taking clear design cues from the Timberland Premium, the yellow laces, camel color, and dark brown trim on the ankle almost let them pass as cork Tim.
Grow From Nature's Cork Vegan Leather Boots Highlights
They're made from synthetic vegan Cork Leather and made in Portugal. Grow from Nature claims they are as durable as bovine leather and that they're waterproof. You might think that cork would soak water and fall apart, but these boots are puddle ready, easy to clean with soap and water, and approved by PETA.
They might not pass the "looks like leather" test but one neat aspect of this cork leather is that every boot has a completely unique appearance — no two are alike. In fact, this Portuguese-made boot is made from a tree that grows stronger when you remove its bark, so it's about as eco-friendly as it gets.
Who Should Buy Grow From Nature's Cork Vegan Boot?
People who want to be able to wear their boots in the rain.
A guy who wants a quirky, attention-grabbing boot.
You want sustainable, possibly durable, vegan work boot.
Vegans who always wanted to be able to wear Timberlands.
Anyone who hates the super artificial nature of most vegan leathers.
Who Shouldn't buy Grow From Nature's Cork Vegan Boot?
Guys who want boots that look more like real leather.
You prefer a more subdued look.
People who are after footwear with the features of a work boot like steel shanks and Goodyear welts.
[SHOP GROW FROM NATURE'S CORK VEGAN LEATHER WORK BOOTS HERE]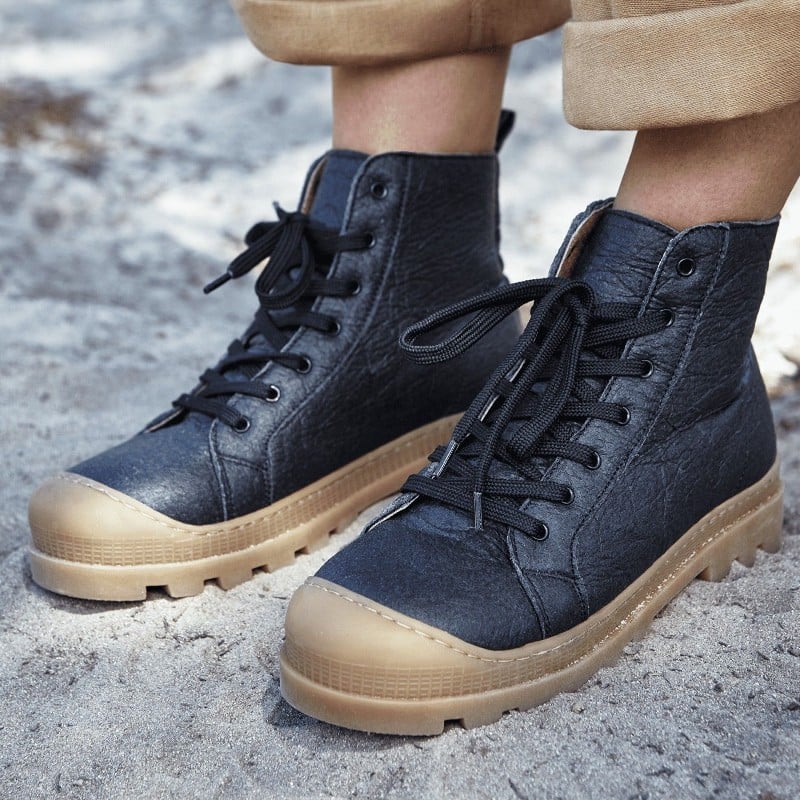 Pineapple leather! Made from pineapple leaf waste and coated in resin, we were delighted to have a reason to feature the material called Piñatex on this list.
These Sneaker Boots by NAE (No Animal Exploitation), have an almost matte look and wrinkly, grainy appearance from afar. Take a closer look, however, you can tell that they are made of plant fibers.
NAE Vegan Sneaker Boots Highlights
Overall they are handsome boots — or sneakers, if you want to call them that. Made in Portugal, they're crafted with a breathable and hypoallergenic microfiber. They have a low profile and would work with a pair of jeans or even dressed down khakis.
Another interesting element is that the microfibre is OEKO-TEX Standard 100, meaning it's guaranteed free from any harmful substances, plus it's made in a CO2 free manufacturing system. The laces are even made from recycled polyester.
NAE recommends the frequent application of shoe cream to keep the uppers healthy, but note that they don't fare well in wet weather. (Which kinda makes sense, since they are made of plant fibers that absorb moisture.)
Who should buy NAE Vegan Sneaker Boots in Piñatex leather?
A man who wants something different from a casual boot.
Guys who prioritize an environmentally friendly, ethically produced boot.
Folks fascinated by pineapple leather.
Who shouldn't buy NAE Vegan Sneaker Boots in Piñatex leather?
People wanting water resistant footwear.
Anyone who doesn't like a fabric or microfibre look to their leather.
[SHOP NAE PIÑATEX BOOTS HERE]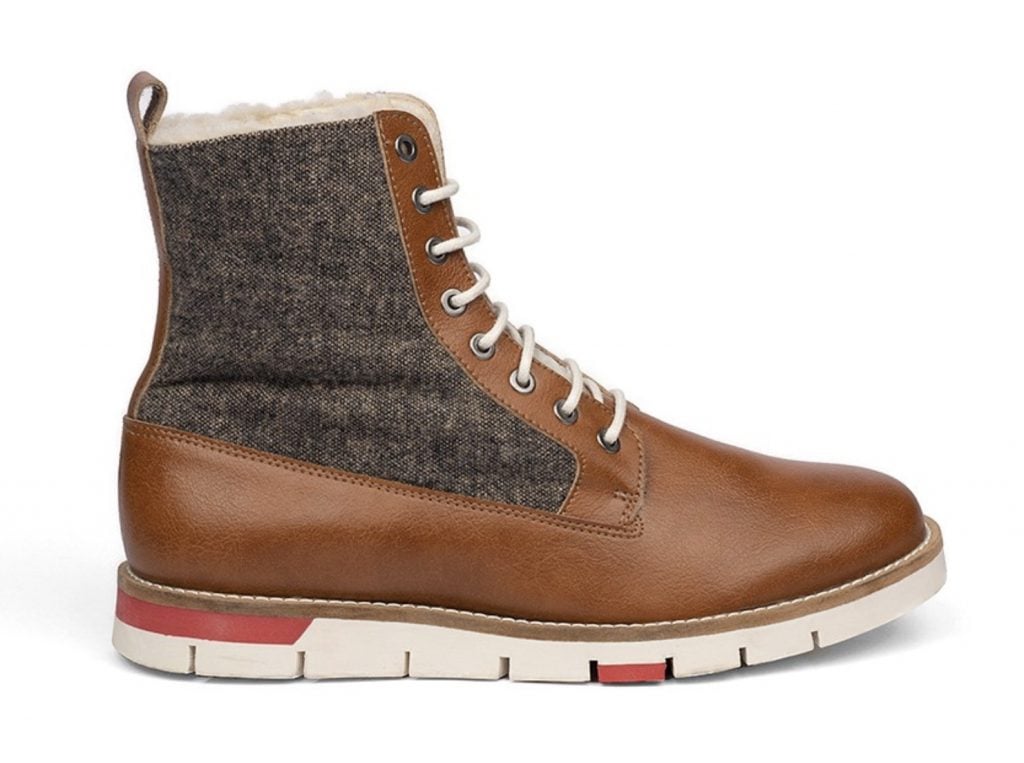 Looking for the best vegan winter boots to keep yourself warm and cozy – while walking out in style? Fair's tan boots are our choice. Fair is a Portuguese shoe brand that makes cruelty-free footwear and supports equitable worker rights. Their Walker Boot features polyurethane synthetic leather that looks a lot more like animal leather than Piñatex or cork boots. Note that this boot is available seasonally; if it's not out right now, consider this subdued alternative from Noah.
Fair Walker Boots Highlights
Their Walker Boots have a bit of style with color-contrasting textile and leather panels. What makes them extra handy for winter is the microfibre fake fur lining for added warmth. The cream-colored rubber sole also offers a bit of contrast to the uppers and a solid amount of grip in slushy weather.
As far as synthetic polyurethane leather goes, it's passable as animal leather, and they're overall well-constructed.
Who should buy the Fair Walker Boot?
Anyone looking for the absolute best vegan winter boots
A cold-footed vegan who wants a warm boot.
A guy who wants a stylish urban winter boot for the weekends.
Who shouldn't buy the Fair Walker Boot?
Folks who want a resoleable winter boot.
Guys who want a more office-friendly winter boot.
While Fair is based in Portugal, they do ship worldwide. They only have a 14-day return policy, but that should be enough to return a pair of boots if they don't fit.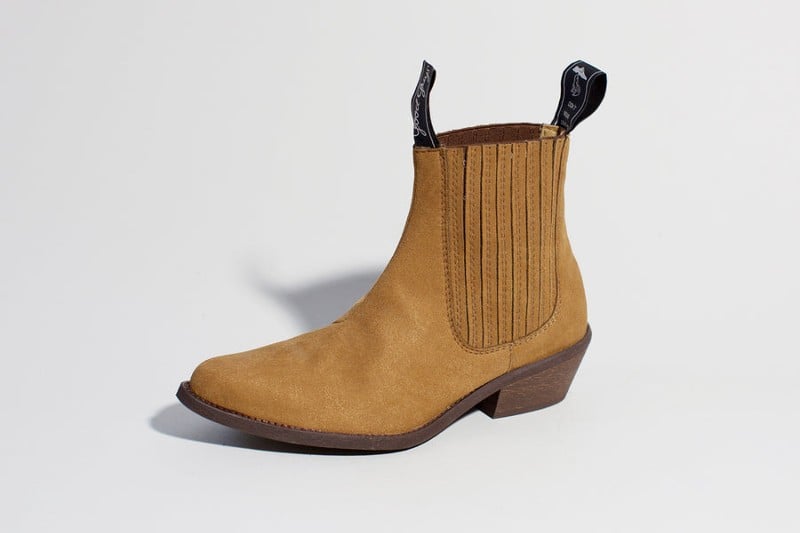 Good Guys Don't Wear Leather was started in Paris in 2011, after founder and designer Marion Hanania sought to make environmentally friendly, cruelty-free shoes. Fast forward to now, and she now runs one of the largest and most popular vegan footwear companies. And as you know by now, we consider these to be the best vegan cowboy boots out there. And frankly, it's not close!
Good Guys Don't Wear Leather Duke Highlights
Hanania's design background and footwear focus are evident. I've found Good Guys to sell some of the better-looking vegan boots on the market. If you want a dressier vegan boot with a sleek profile these dress up pretty darn well, despite also maintaining a Western edge. This is part of why we consider them to be the best vegan cowboy boots currently available.
Like a lot of boots (vegan and non), the Duke boots are made in Portugal. The microfiber lining does a decent job imitating a leather lining and the uppers are a vegan suede, and while Good Guys say they are "sustainable and durable," they don't elaborate on the type of "vegan suede" they use. It could be 100% synthetic materials or natural materials, or both, but it's fair to assume that if they were unusually natural or eco friendly they would have told us so. Most likely these are polyester fibers.
Who should buy Good Guys Don't Wear Leather Duke boot?
Southern vegans who like Western bents to their wardrobe.
Anyone who wants a fairly sleek suede-like boot that works well with a button down.
Guys looking for vegan suede, which is comparatively rare.
Who shouldn't buy a Good Guys Don't Wear leather Duke boot?
Guys avoiding artificial materials.
Men looking for something more versatile and less Western focused.
[SHOP GOOD GUYS DON'T WEAR LEATHER VEGAN SUEDE DUKE HERE]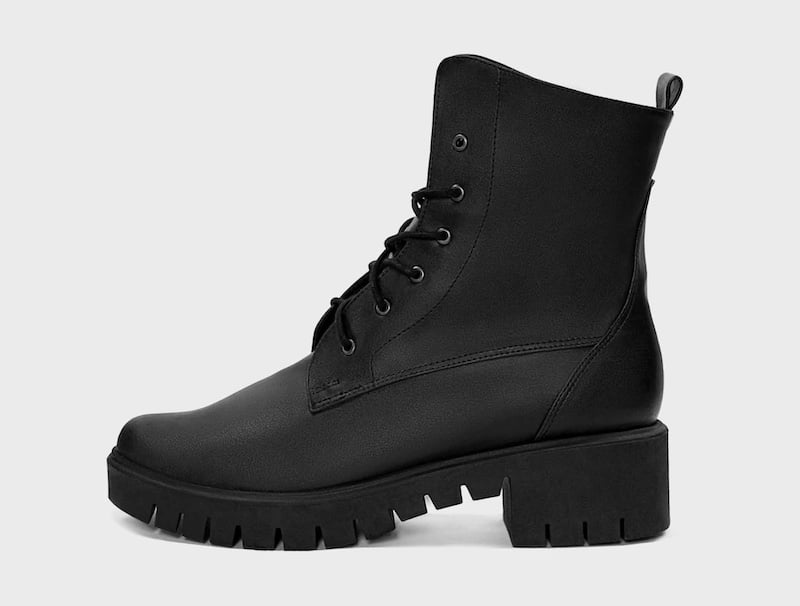 Made from the prickly pear cactus, this leather has a lot going for it: it doesn't require much water (of course), it doesn't kill the plant (because you just take the leaves, which regenerate) and it's so abrasion resistant that Adidas uses it for boxing gloves.
Bohema No. 3 Boots Highlights
Made in Poland by the German brand Bohema, their website's primary language isn't English — everything gets translated — so we don't have a whole lot of information about this boot. But we've been enthralled by the journey of cactus leather ever since we heard it announced, and these are, at the time of writing, the only cactus leather boots we could find — except for Bohema's combat boots, which you can check out here if you prefer that style.
Who Should Buy Bohema No. 3 Boots
Folks who are environmentally conscious; this stuff really uses little water
People who wear their boots hard; cactus leather is very abrasion resistant
Who Shouldn't Buy Bohema No. 3 Boots
Folks looking for a more subtle style
[SHOP THE BOHMEA NO. 3 BOOTS HERE!]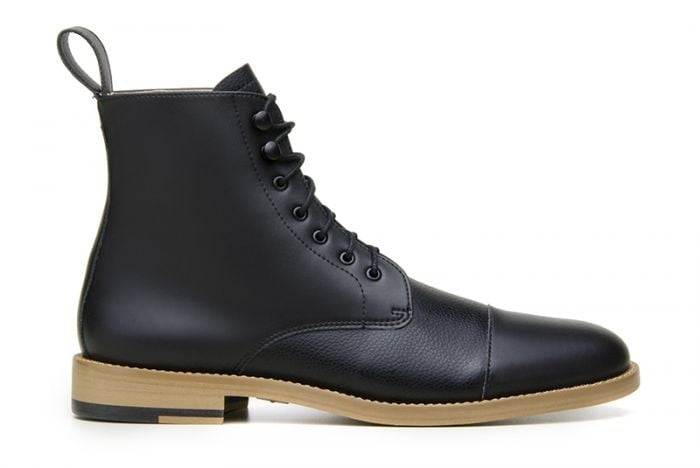 Ahimsa was founded in 2013 as a Brazillian vegan brand that prioritizes love — it's named for the Hindu principle of non-harm, popularized in the West as a core part of Gandhi's satyagraha philosophy — and bringing high-quality shoes to the vegan market. These guys move fast: in less than 6 months after opening, they started their own factory in Brazil to have greater control over their manufacturing process.
Ahimsa Daniel Highlights
They use polyurethane vegan leather produced mostly from cotton, recycled cotton, and recycled PET (plastic, often used in water bottles). The Daniel's PU has the look of smooth full-grain leather. Ahimsa added a panel of textured PU to mimic the look of animal leather and provide some contrast. It does give the boots a passable animal leather look.
Overall, these are simple, dressy boots that could be worn to the office or a night out. They have a low profile lug that would work with a pair of slacks. Durability, as with a lot of vegan boots, is an unknown. I couldn't find any reviews or pictures of this boot after a few wears, but it looks great and remains under $200.
Who should buy the Ahimsa Daniel in Black?
Men who want dressier vegan leather boot for the office
Guys that want something that looks passably like animal leather
Fans of slimmer boots like Thursday's Captain boot who want a vegan alternative
Who shouldn't buy the Ahimsa Daniel?
Dudes who want a resoleable boot.
Guys that want a biodegradable boot and don't like polyurethane
[SHOP AHIMSA DANIEL VEGAN LEATHER BOOTS HERE]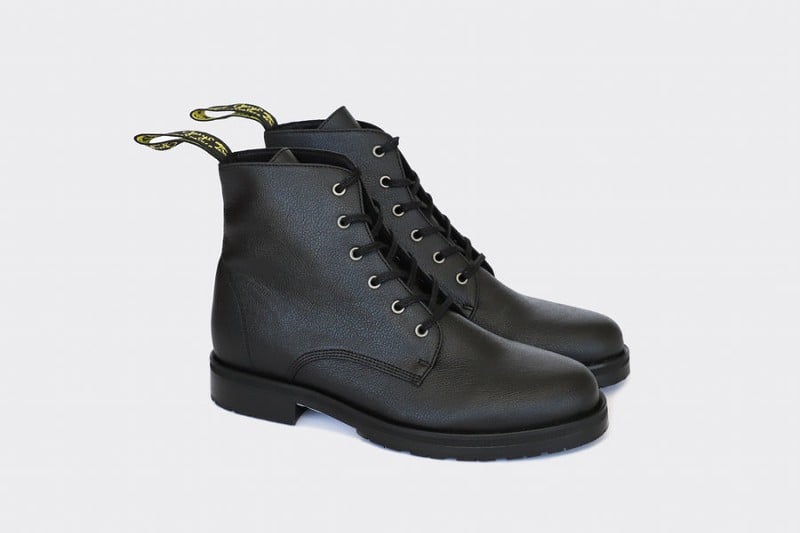 We searched high and low for a boot made of this newer material and were delighted to find Good Guys Don't Wear Leather's Blaze AppleSkin Leather boots. As such, we consider these the best vegan leather boots made from apple.
Good Guys Don't Wear Leather Vegan Apple Leather Boot Highlights
These are GGDWL's first AppleSkin leather boots. The leather comes from Italy and is made of leftover apple waste to make 100% vegan leather. (Scroll down for more info on them.) It's a unisex boot lined in antibacterial microfiber and has rubber soles. Like a few of the boots on this list, it's certified by OEKO-TEX as free of harmful substances and the lining is very absorbent, good news for the sweatier folks.
Who should buy the Vegan Apple Leather Boots?
Anyone who wants to try a new type of leather.
Guys who want a classic looking, subtle leather boot.
Who shouldn't buy Vegan Apple Leather Boot Boots?
People who want tested durability; there aren't many reviews of AppleSkin out there and we're not sure how well it wears.
[SHOP THE APPLESKIN BLAZE BOOT HERE!]
We know many of our readers are here looking for the best vegan combat boots. And for those, look no further than these Boulder AirSeal Boots by Vegetarian Shoes. Vegetarian Shoes has to get a mention on this list because we're fans of their transparency: they have a lot of information about the materials they use and even videos of their manufacturing process. Overall, they focus more on the product and less on the woo. And when it comes to the product, there is a reason these are considered the best vegan combat boots. Take a look:
Vegetarian Shoes Boulder Boot Highlights
They may be the only vegan boot company to try to make a product that ages well. If you look closely at the picture above, you'll see that man is wearing some fairly beat up boots that look pretty nice and we've even seen a review of 7-year-old Vegetarian Shoes.
This leather is from Vegetarian Shoes Vegtan Bucky line. They developed this microfiber so that it ages well as it's worn in and much like an animal leather boot, as you polish and treat the leather it develops character.
They also make a point to mention that the soles and heels are repairable by your local cobbler. Vegetarian Shoes calls this boot Goodyear welted but, like Doc Martens, they're attached with both stitches and flame that make it tough for some cobblers to repair — but Vegetarian Shoes can do it for you, no problem. (And so can, probably, any cobbler that can resole Doc Martens.)
Who should buy Vegetarian Shoes Boulder Boot?
Anyone looking for the best vegan combat boot

Guys who want time tested vegan boots; many brands in this niche are lacking long term reviews

People that want a reparable boot that will last.

Budget-conscious buyers who want a nice-looking and affordable boot.
Who shouldn't buy Vegetarian Shoes Boulder Boot?
People who want a biodegradable boot.

People who don't want a boot shipped from the UK.
[SHOP VEGETARIAN SHOES VEGAN LEATHER BOULDER BOOT HERE]
Final Thoughts On The Best Vegan Boots For Men In 2022
There you have it – the best vegan boots for men in 2022. We've shared a ton of picks with you – from the best vegan combat boots to the best vegan work boots, the best vegan winter boots, the best vegan cowboy boots, and everything in between. There is a pick for every man out there, no matter what type of vegan boots you're looking for. I am confident you'll agree with any pick on this list once you try them on yourself – so what are you waiting for? Treat yourself to the best that the vegan boots industry has to offer.
Featured image via Wills Vegan Leather