This post may contain
affiliate links
that at no additional cost to you, I may earn a small commission from.
Vegan leather is just a fancy term used to market plastic, right? Cheap shoes being sold to hippies? Let's find out.
Veganism is no joke. It's a lifestyle choice that extends beyond diet and into makeup, habits, and yes, clothing. Does vegan leather live up to the ideals and beliefs inherent in the name? Or is it a marketing term used to sell an inferior product to a growing demographic?
This won't be an argument about what's better — animal leather or vegan leather — rather this article is intended to highlight some facts and misconceptions about vegan leather. Read on to learn how various vegan leathers are made, where can you find it, what the environmental impact is, and finally, can it transcend the ideological consumer and become a mainstream alternative.
How Plastic Leather ("Pleather") Is Made
The answer to this question is where the complexity begins. Not all vegan leathers are made the same. There are synthetic construction techniques which include plastic polymers, including polyurethane (PU) and polyvinyl chloride (PVC), and organic compounds made from more sustainable materials such as mushrooms, pineapple leaves, cactus, and other plants.
PU and PVC Leather
Each vegan leather manufacturer uses their own proprietary construction methods which makes it difficult to find out exactly how each product is made. The same way each tannery uses a proprietary mix of ingredients, vegan leather makers are equally cagey.
There are many methods of creating plastic leather, though the usual method involves taking a fabric (like cloth), adding a polyurethane coating, a coat of color, and a textured finish.
Let's just call this the plastic type. Plastics are durable, but when they end up in landfills they take years to break down. In some cases plastics are recyclable, but often landfills are where our discarded clothing lives.
Micro-plastic pollution is also a growing concern. While products are being used and breakdown, small pieces or particles can end up in the environment, making their way into the water supply, animals, and even humans. This isn't unique to plastic leathers, but rather a byproduct of many plastics used daily.
How Vegan Leather Is Made
So a lot of people don't like plastic leather for environmental reasons, but there are a lot of innovations that have led to a range of other, more "natural" vegan leathers.
Plant based
This is where things get really interesting.
There are several companies that are using plants to create leather like materials. Where plastic faux leather come with questionable environmental consequences, these plant-based alternatives seem promising. Plant based solutions can save up to 40 times the water consumption of traditional animal leather tannage and 17 times less water than plastic leather. In some cases, they even use leftover organic material from other production.
Mushroom Leather
Mycelium leather, also known as Muskin, is made from the roots of a fungal colony. The strands spread through the soil and can be used to create a leather like material. Mushrooms grow quickly, and the colonies can be made by adding the mushroom spawn to by-products of other manufacturing, such as wood chips, corn cobs, and straw.
Muskin is soft with a suede look and feel. Since it is totally free of toxic substances it is ideal for close-to-skin application. It can be made waterproof by adding wax, but it's recommended to add a cotton backing for increased strength. A 1.5 square foot piece will cost around 80 USD.
Pineapple Leather
Pinatex is a leather alternative made from the fibers found in pineapple leaves. Discarded leaves which would typically become waste are cleaned, dried, and made into a non-woven material that can be used as a leather like material. It was developed not only as an alternative to mass-produced leather, but also synthetic materials that can pollute the environment.
Ananas Anam, the makers of Pinatex, sources their leaves from the Philippines. By using a by-product of an existing industry they are able to add an additional income stream to pineapple farming communities.
Hugo Boss was one of the first large-scale designers to use Pinatex in their products, mostly sneakers. Currently there are designers worldwide making shoes, bags and accessories, furniture, and fashion.
Cactus leather
Desserto, a Mexican Brand specializing in cactus leather, has been making a name for themselves recently. Their material is made from prickly pear cactus. Desserto's cacti not only help enrich the soil they are planted in but they also do not require much water for growth (they're cacti!). The cacti leaves are picked without removing the plants, which regenerate continually.
Cactus leather is known for its abrasion and slash resistance, so much so that Adidas uses it to make boxing gloves. Other partners include Fossil, Karl Lagerfeld, as well as BMW and Mercedes-Benz who use the material for upholstery in their automobiles.
Vegan Doc Martens
Arguably the largest boot manufacturer using veganism to market their boots is Doc Marten. They began offering a vegan alternative in 2011 and there are now more than a dozen styles including their most popular silhouette, the 1460 Lace-up. The leather used in these boots is a polyurethane blend.
Further Reading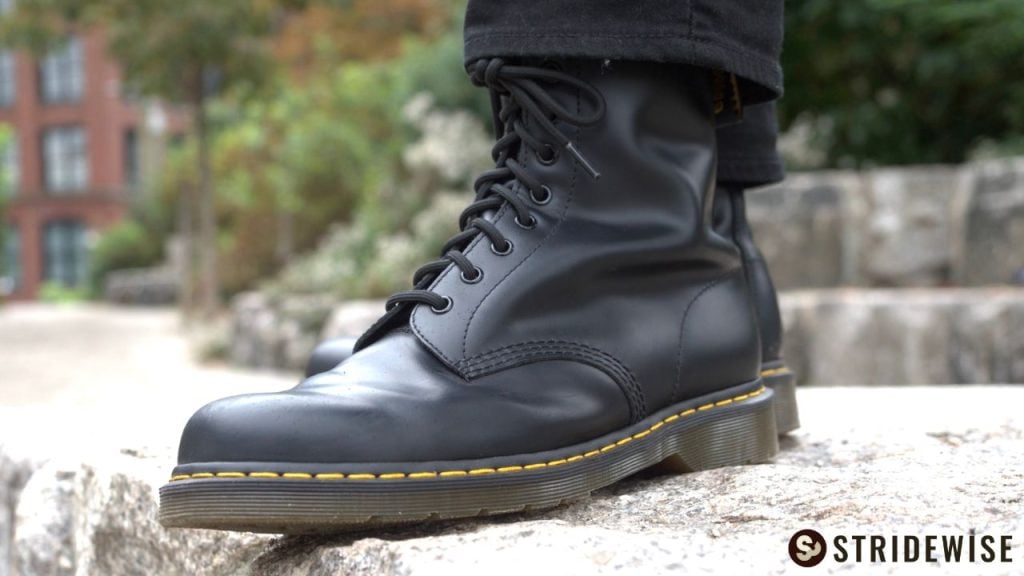 The boots are a massive hit. From 2017 to 2019 there was a 279% increase in the sale of vegan footwear at Doc Martens. In April 2020 Weston Key of Rose Anvil cut apart a pair on his Youtube channel above. His conclusions might surprise you.
View this post on Instagram
Environmental Impact
The true environmental impact of these different construction methods is hard to quantify. Depending on where your biases lay, it's easy to back whichever horse you have in the fight. It also highly depends on which type of vegan leather you are looking to purchase. Environmental impact is more than just carbon dioxide emissions. Water usage, chemical spillage, manufacturing exposure and product life are all important factors.
Plastic leather does not appear to be the way forward. It may be among the most durable of the vegan leathers, but once the products are no longer of use, they do not biodegrade in the same way an organic leather will. From my research, the most intriguing alternatives are Pineapple and Cactus. The leaves used would have been garbage otherwise, and cacti use a small amount of water and are able to continuously grow. In my opinion, they also look the best.
Conclusions
I do believe that it is everyone's responsibility to make smart choices as consumers. Fast fashion does not discriminate. With that in mind adding the term vegan to a product does not guarantee that it will be without other consequences. Trading in animal products for plastic might not have the environment benefits that one would hope.
Be smart consumers. Always do your research. And I will be excited to follow the advancements in the plant-based leather alternative industry.