This post may contain
affiliate links
that at no additional cost to you, I may earn a small commission from.
Since the Big Work-From-Home Upset of 2020 our style and fashion choices have adapted to a more casual palette. Three-piece suits and oxford shoes are no longer a required part of daily life, replaced with more casual alternatives like polo shirts, khaki chinos, and even boots. But is there a boot that dresses up for the office as easily as it can be worn under jeans? Out of many options out there, I have narrowed my top pick for Chelsea boots to the Koio Trento Boot, a superbly sleek rendition that I find myself wearing day after day, whatever the situation calls for.
The Trento has a streamlined, minimalistic design that is perfect for dressing up or down. It comes in three different leather options, all sustainably produced: a cream suede ("Cardamom"), a brown suede ("Root"), and one made from black cowhide. Out of the three, the black version pairs perfectly with a jacket or even a suit, while the other two would look better with business casual vibes — that said, I've rocked mine in a t-shirt-and-leather-jacket combo that I think looked awesome.
Meet the best Chelsea boot on the market, that's just as durable but lighter and more flexible than competitors. Read on to learn why.
20% OFF
Koio's Trento Boot
With a flexible, lightweight construction that remains water resistant and resoleable, this sleek Chelsea hits all the right notes — in three colorways to boot.
Use code STRIDEWISE20 for a 20% discount!
Get the Discount
We earn a commission if you make a purchase, at no additional cost to you.
Highlights for the Koio Trento
For those in a hurry, here is a quick breakdown of the pro and cons of the Koio Trento.
Pros
Flexible lightweight construction
Sleek profile; no chunky welt stitching
Comfy leather soles
Sustainably made
Able to be resoled
Cons
No half sizes or wide widths
The suede is untreated and not very stain proof
Not the most rugged boot
Koio, The Company
Koio is a direct-to-consumer brand that started in 2014 and proudly makes all of its footwear in Italy — even the shoebox. ('Koio' is a play on the Italian word for cow leather, cuoio.) Each one of their shoes passes through forty-two different artisans before they are inspected one last time for perfection.
I consider their flagship Capri sneaker to be the best white sneaker on the market, but I wasn't a fan of their first line of boots. After a couple of years of refining the look, though, they came out with two Chelseas that I was very interested in trying out. You can read the rugged Fermo review here, or read on for our look at the Trento.
How To Wear The Trento
While that Fermo is their more rugged boot, the Trento is more commuter friendly, intended to be worn as a city boot — and it does the job extremely well. The suede colorways match well with jeans and a t-shirt or with business casual looks, while the smooth black option is sleek enough to wear with a suit or sport coat sans tie.
This boot just does minimalism well: it's not gaudy or splashy, it simply knows how to execute the fundamentals of a great boot.
One way it stands out in the market is its Blake stitch construction. Most trendy boots are Goodyear welted, a great way to make a boot resoleable and water resistant. But this comes with the cost of making a heavier, less flexible boot than many may prefer. The Blake stitched Koios are lighter and more flexible than their welted counterparts, but are still resoleable and reasonably water resistant. You wouldn't take them into a rainstorm, but they're perfectly functional and the Blake stitch makes for a much sleeker look than a Goodyear welted boot, which tends to have chunkier stitching running around its perimeter.
This slim construction is a big part of why the Trento can be dressed up easily, if you so desire.
[Further Reading: The 11 Best Chelsea Boots On the Market]
Leather
3 colorways: Cardamon (light beige suede), Root (dark brown suede), Black (cowhide)
Lined with LWG silver certified calfskin
Certified by Leather Working Group
No toxic waste products released
Tanned in Italy
Koio has one of the more sustainable approaches to leather in the entire boot market, only buying leather from Italian tanneries that have been audited by the Leather Working Group.
For context, most leather on Earth is chrome tanned and this process has a reputation for making dangerous runoff, and for good reason. Chromium 6 is a byproduct of cheap and poorly regulated chrome tanning practices that leads to ecological destruction and harm to tannery workers. A wealth of research has emerged from India's leather capital Kanpur that has shown even two years after some tanneries have closed, the waterways surrounding them are still contaminated and many former workers have been diagnosed with cancer and skin conditions.
But chrome tanning doesn't have to have negative environmental effects, and The Leather Working Group sends specialized officers to visit tanneries to make sure no harmful Chromium 6 pollutants are released into the environment or where they can harm workers.
Plenty of unethical tanneries operate around the world, but when you buy a shoe or boot from Koio, you can trust that the tanneries they have partnerships with are doing their part to keep the environment and their workers safe.
Just note that the suede comes untreated; if you fear stains, spray it with a protector like Tarragon Nanospray, or just add Koio's to the cart when you're shopping.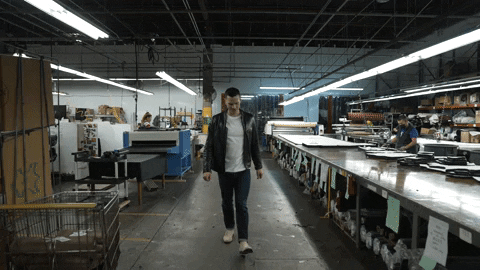 Construction
Blake stitched
Tightly stitched for water resistance
Leather outsole
Shock absorbing insole
Shank for stability
The Trento boot is Blake stitched, meaning that there is one stitch attaching the upper, midsole, and outsole. This type of construction is desired when the designer aims to create a boot with a sleeker profile: notice how there is no shelf protruding out from the vamp where the uppers meet the outsole. This is all due to the Blake stitch construction allowing the shoemaker to stitch from the inside of the shoe without adding bulk to the boot's perimeter.
Why Blake Stitched Boots Are Actually Pretty Great
Sometimes Blake stitches get a bad reputation because of the misconceptions surrounding this construction method. It is often said that Blake stitched boots aren't as water resistant as Goodyear welted boots and while this is true to some degree, Koio's Trento is densely stitched to maximize water resistance. I have worn my black Trentos in light rain and the water resistance was more than adequate.
Another misconception is that Blake stitched boots are not resoleable, which is 100% false: Blake stitched footwear is as resoleable as Goodyear welted or Stitchdown boots. You just need to call ahead to make sure the cobbler has the right equipment, since it's a hair less likely they will.
Blake stitched boots are one of the most comfortable boots on the market because of their flexibility and light weight. The break-in process is almost always less intensive than that of a Goodyear welted boot and all of these elements make for a more comfortable boot that many guys actually prefer over welted footwear. Their initial comfort is unparalleled and let's face it, no one is really wearing dressy shoes or boots to stomp in puddles anyway.
For the rest of the construction of this boot, there is a leather overlayed cushioned insole for shock absorption, a shank for stability (a must for heeled boots), a leather midsole, and a leather outsole.
Why Are Leather Soles Are Actually Pretty Great
Some guys who like having a rugged wardrobe may not like the idea of leather soles because they lack traction when they're fresh out of the box. Within a few days, however, wear marks on the sole dramatically improve the grip, and in a few months the thick hide will have started to conform to the shape of your feet, making them very comfortable. Relative to rubber soles, leather soles mold to the foot better and they're more lightweight, flexible, and breathable. (They're also a lot more fun to dance in)
Koio Trento Price
$365, or $292 with the discount code STRIDEWISE20
Koio's Trento costs $365. This is a fair price for the boot that you're getting: if they were over $400 I'd be upset, if they were under $350 I'd be impressed, but $365 is fair.
It is important to remember that you're paying for a resoleable product made by an ethical company working with ethical tanneries to produce a shoe in Italy, using Italian materials that have been audited for sustainability.
If you know the market as well as I do, you'll be fine with the price.
20% OFF
Koio's Trento Boot
With a flexible, lightweight construction that remains water resistant and resoleable, this sleek Chelsea hits all the right notes — in three colorways to boot.
Use code STRIDEWISE20 for a 20% discount!
Get the Discount
We earn a commission if you make a purchase, at no additional cost to you.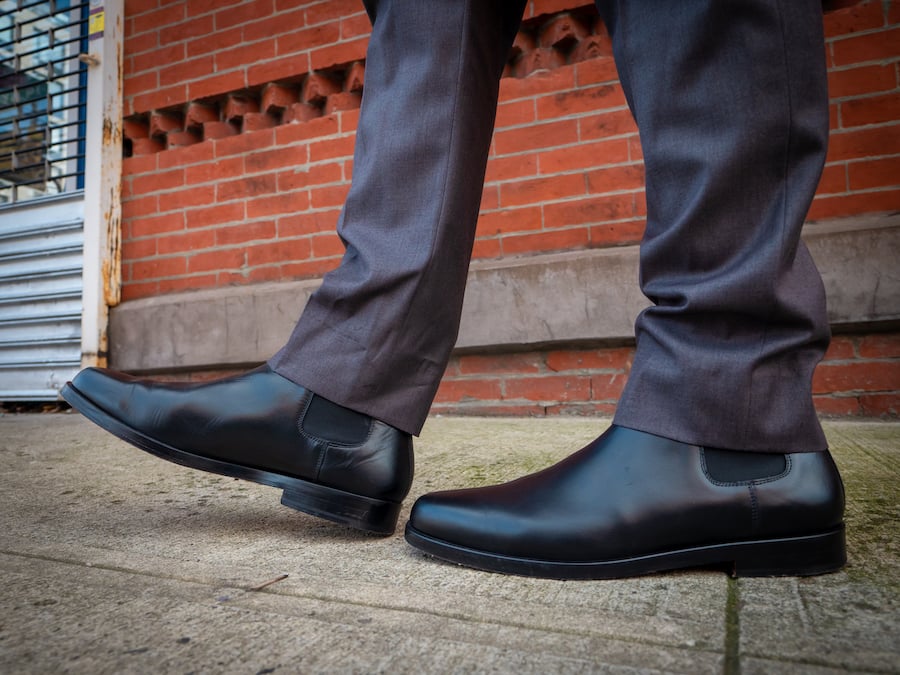 Koio Trento Sizing
The Koio Trentos only come in full sizes. If you are in between sizes, it is advised that you size down to the nearest whole size. I am usually an 11.5 but I sized down to an 11 and it works.
The biggest downside with this model is the lack of half sizes and wide widths, and I hope they'll offer more variety in the future. For now, though, I have no complaints with the fit of my boots. They grip the heel securely and the feeling of a Blake stitched boot is a lot easier on the foot than Goodyear welted.
The Takeaway
The Trento boot is definitely a boot that can help you navigate through the ever-increasing blurred lines between casual and officewear. The sleekness of the Trento makes it an ideal in-between boot that can be used in the office with a suit or with jeans on the street.
It's more for the city than for the farm, but in a world where too many city boots are overbuilt for circumstances that they'll never meet, and thereby reducing their comfort, the Trento is an absolute winner for casual and dressy wear.
Where are Koio boots made?
Koio makes all of their footwear in Italy.
Is the Koio Trento true to size?
Yes. Get your true to size Brannock size. If you are in between sizes, round down.
Are the Trento Chelsea Boots Blake Stitched or Goodyear welted?
The Trentos are Blake Stitched.