You've likely seen, or owned, hard rubber-soled footwear — you know, something with Vibram or Dainite stamped on the bottom. But if you've ever shopped for Clarks Desert boots or Oliver Cabell's Chelsea, you've come across crepe soles. The crepe sole is a bit controversial: some guys love it, others hate it.
We're going to talk about what exactly crepe rubber is, a bit about its history, the pros and cons of buying footwear with crepe, and we'll provide some examples of the best products on the market. Hopefully, whatever your fashion, you can find something that works for you. Or, hey, maybe you'll decide that this isn't the sole for you.
[Related: The 8 Best Boot Soles]

What is Crepe Rubber?
Crepe rubber is a low grade, natural rubber that's usually created by adding acid to natural rubber from rubber trees, causing it to coagulate into latex. It's then passed through heavy rolls called "crepers," producing thin sheets that are then air dried. The resultant material winds up fairly similar in appearance to the namesake French food, a crèpe. (That's basically a thin pancake.) Voilà: crepe rubber, a squishy, soft, white material that's very soft and flexible for a shoe sole.
Many consider crepe rubber to actually be a relatively environmentally friendly latex because you can tap rubber trees for the rubber without killing them. (We won't pretend to know exactly how environmentally friendly the production of Vietnamese or Brazilian crepe rubber is, but the theory is that it's relatively friendly to the environment.)
There are also synthetic rubbers that use the name crepe, lioke PVC crepe, which are a bit more solid than natural crepe soles.
[Related: What is EVA Foam?]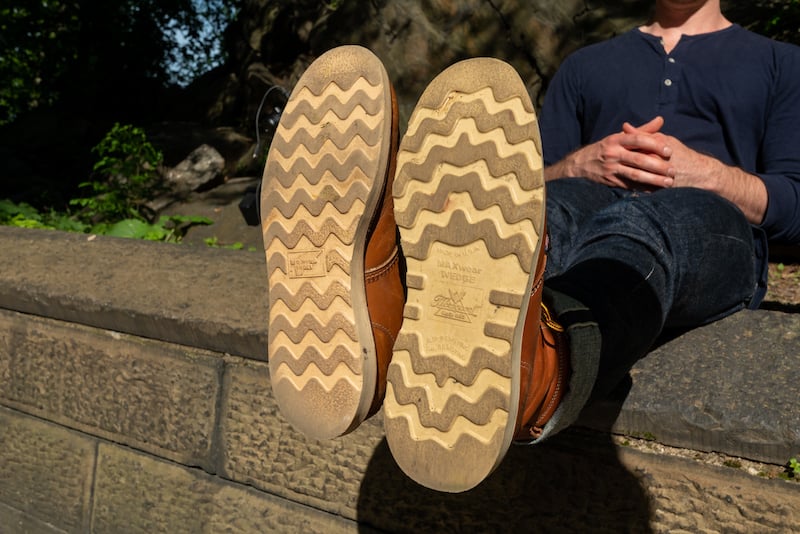 Crepe Sole Pros
Soft
Flexible
Lightweight
Low profile
Naturally sourced raw materials that are more sustainable than synthetic rubbers.
Footwear designers might choose crepe soles for a few reasons. It's helpful to compare crepe rubber to leather soles and hard rubber soles like Vibram and Dainite because they fit in a strange place relative to those materials.
A crepe sole can have a low profile like in the Clarks Desert Boot (CDB), because it's been squeezed through those rollers. It's not as thin as a leather sole, but it's often found on casual footwear and is used for everything from work to military boots.
Comfort is subjective, of course, but crepe is pretty widely considered more comfortable than a leather sole because it both flexes and provides cushioning from the air trapped inside.
Relative to leather soles, another benefit of a crepe is grip. If you've ever worn a leather sole on a slippy surface, you'll love crepe's stickiness. That said, it isn't as grippy as some other hard rubber soles, like Dainite or Commando.
Also, crepe comes from an arguably sustainable manufacturing process. The rubber trees that provide the raw material produce don't need to be cut down — plus, natural rubber is biodegradable.
[Related: Why Do All the Good Boots Have Dainite Soles]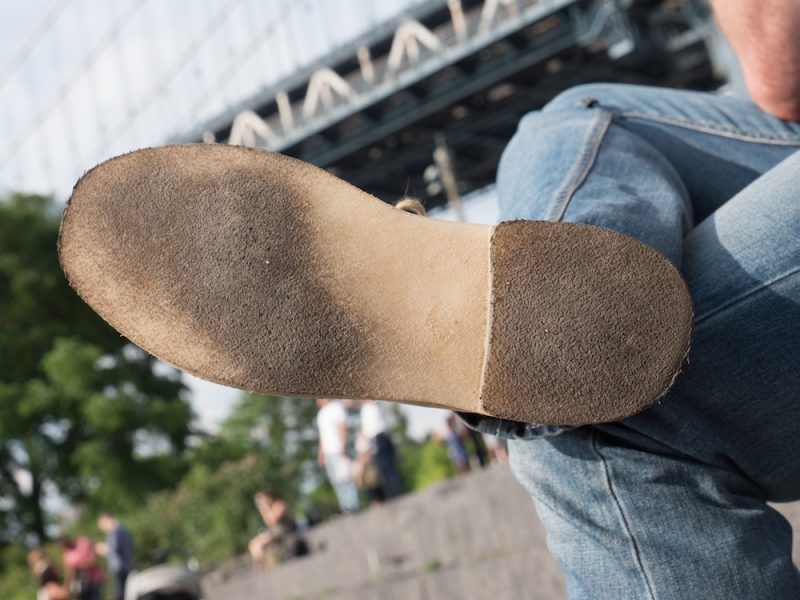 Crepe Sole Cons
Gets dirty easily
Absorbs stains, oils, and moisture
Not supportive
Can sometimes be difficult to resole
Thinner crepe soles can melt in high heat
A lot of guys don't like crepe because it isn't a very durable product. It will show wear, dirt, and scuffs after the first use, and this is especially true with the really soft crepe soles like the Clarks Desert Boot above.
It's worth emphasizing, however, that not all crepe rubber is so thin and flimsy. The world famous Red Wing moc toe has an inch-thick crepe sole that's far more durable. Now, I've had to resole mine — all boots need to be resoled eventually — but don't dismiss crepe as something that will quickly fall apart. Red Wing's is very compressed and reasonably durable, but Clark's and Oliver Cabell's Chelsea are much softer.
And again, many guys love the softness and consider it worth the hit you're taking with durability. Just know that soft crepe gets unbelievably dirty with wear, it sucks up everything it touches (you'll find hair and pebbles in it after a day of wear) it slips easily in the wet compared with hard rubber, and it absorbs water and oil easily. It can even soak up so much water that your toes will get wet during a storm.
But it is soft and comfy.
[Clark's Desert Boot is one of my favorite chukka boots for summer. Read the rest of the list!]
Best Boots with Crepe Soles
With its long history as a sole material, there are some outstanding examples of quality footwear made from crepe rubber soles. Below are just a few of our favorites.
Clarks Desert Boot ($120 – $125)
Clark makes a few versions of their Desert Boot, so named for the boot's history in Africa's Western Desert Campaign in World War 2.
These shoes are the definitive Chukka style, and are practically standard issue for the man looking to elevate his style from basketball shoes and denim shorts. (It's a running joke on the r/malefashionadvice subreddit that the sub's uniform is CDBs and Nike Killshot sneakers.)
Maybe you like the fact that the shoes are so universally accepted, maybe you like something a bit more unorthodox. Wherever you fall, there's no denying that these are the most iconic and widely recognized chukkas.
They're inexpensive as well, but they don't have a ton of structure, so these are chukkas that are a little hard to wear to work.
[Buy Clarks Desert Boots here]
Oliver Cabell Chelsea ($248)
Started in 2018 with the goal of making shoes that are more honest than the bigger brands, Oliver Cabell list the cost of every item in their production process: packaging, cutting, manufacturing, duties, basically everything. This makes them more transparent than from most companies, and it doesn't hurt that they have some of the most stylish footwear in the game.
Their Chelseas are a great mix of sleek and casual, and they look great with a pair of jeans. They are hand stitched and lasted in Spain, they're made with soft, split suede uppers and durable Italian veg tanned linings, which are considered a sign of high quality. We even named it one of the best boots for under $300.
[Shop the Oliver Cabell Chelsea here]

Santalum Mile 85 (About $200)
Santalum is an Indonesian company that was founded in 2010 by Laurensius Mahendriyo (my interview with him here). Everything is made by hand and the company can only produce about four pairs of boots per week, so these are not the easiest things to get your hands on.
But they're among my favorite pairs of boots. The Mile 85 has brass eyelets, a gusseted tongue, and it's made from copper tan pull up leather. It has a surprisingly slender last and a chunky Norwegian welt, a rare and very traditional way of making practically waterproof boots.
Note that this boot uses Dr. Sole's crepe sole, which is in between Clarks and Red Wing in terms of softness and durability.
[Santalum can be difficult to buy. They have some products on this third party site, but message them on Instagram or email them at [email protected] to get a better idea of their offerings]
Grant Stone Edward Boot in Tan Suede ($295.00 USD)
Grant Stone's Edward is one of the less casual items on the list and a good example of a spongy crepe sole dressed up, making for a brilliant match with the suede uppers. The soft suede and soft rubber soles create out-of-box comfort with little break-in. I
The Edward has pretty large quarters relative to Grant Stone's famous Diesel boot, it has smaller hardware and an extra pair of eyelets, making for a dressier pick that's still very versatile.
[Buy the Grant Stone Edward boot]
Red Wing's Moc Toe ($279.99)
I've written about the Moc Toe a lot, including my experience after three years of wearing them. It is an absolute classic, and as I love to point out, it's worn by Ryan Gosling, Drake, and many other celebrities.
Made with oil tanned leather from SB Foot Tanning Company, this is not the same sole you get in Red Wing's Weekender Chelseas, which are made of a type of polyurethane. But the moc toe's crepe is both soft and durable, making for perhaps the most beloved and respected crepe sole in the industry.
[Shop the Red Wing moc toe here]
Who Should Buy a Crepe Sole Boot
Guys who want better grip and cushioning than leather.
Anyone who likes the extra color from the white.
People who prioritize flexibility.
Those who enjoy the ease of break in.
Anyone who wants a boot that feels more like a sneaker.
Who Shouldn't buy a Crepe Sole Boot
Guys who don't want visibly dirty soles.
Men who want something dressier for the office.
Folks who spend time walking around liquids, especially oil, which the crepe easily absorbs.
People who require serious weather resistance from their footwear.
Wrapping Up
Crepe is a classic footwear material. It's decisive and definitely has its downsides. It wears out easily, gets dirty, and is informal. But the upsides are that it's grippier than leather, more flexible than hard rubber soles, and offers a nice, comfortable cushion.
The following two tabs change content below.
Karl Wasson
Karl is an IT product manager living in South East Asia who gets a kick out of durability and dependability. He believes form and function are not mutually exclusive. When he's not working, he's searching for the best bespoke menswear in South East Asia and beyond.
Latest posts by Karl Wasson (see all)