This post may contain
affiliate links
that at no additional cost to you, I may earn a small commission from.
Cobbler's Choice is a very new shoe care company based in New York City, and they're very proud of the fact that all of their products are made with all natural ingredients. There's no silicone, no alcohol, no solvents, no petroleum, none of the stuff that some consumers take issue with in their leather care products.
(Not that I'm saying there's anything wrong with them, necessarily, but it's sort of like the debate over artificial sweeteners — a lot of experts think they're fine, but there are still plenty of people who'd rather steer clear to be safe.)
The company has a Leather Spot Cleaner, Waterproofing Spray, Cream, and Conditioner, and I'm testing out the conditioner on some very, very beat up Viberg Service Boots. Heres what happened.
[Buy Cobbler's Choice here!]
The boots I used it on, I should point out, are some of the most coveted on Earth. (See my Viberg Service Boot review here.) Enormously popular on the r/goodyearwelt subreddit (where everyone is as obsessed with boots as I am), Viberg is considered by many as the crème de la crème in the boot world, and at $700 a pair they're phenomenally expensive to match.
A friend of mine has been wearing these for the past year, and I love the guy, but he doesn't know a thing about Chromexcel leather care. Here's what they looked like when I begged him to let me condition them.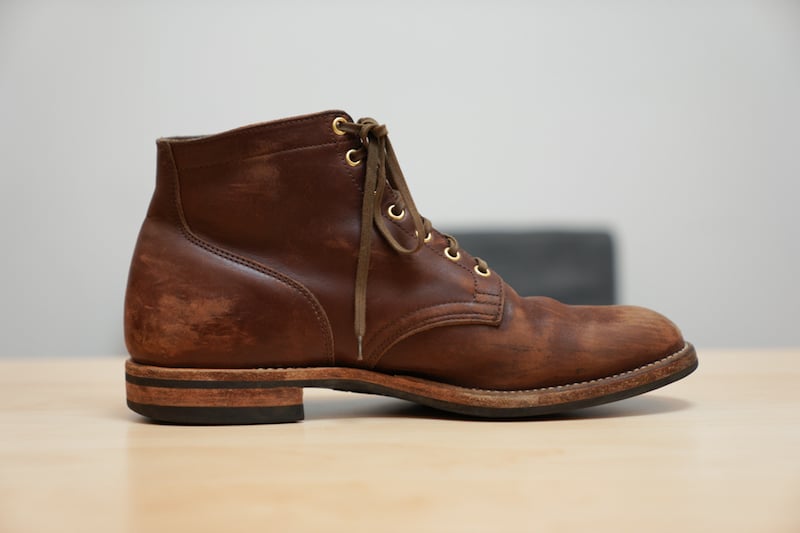 These guys needed a lot of love. (Although to Viberg's credit, the leather hasn't creased at all, even though Chromexcel is prone to creasing. I've got to hand it to them: their leather selection is top notch.)
I gave them a clean with the Leather Spot Cleaner Cobbler's Choice sent me and took a look at the conditioner. So what's inside?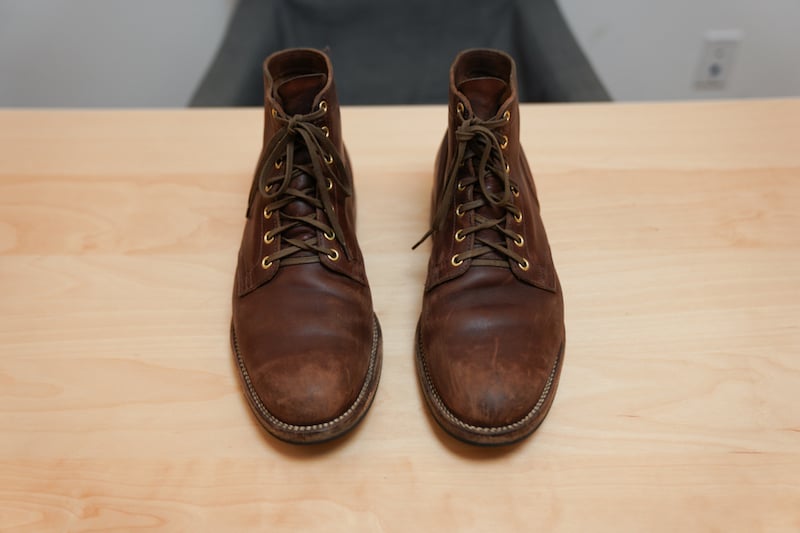 Cobbler's Choice Leather Conditioner Ingredients
Cobbler's Choice is much more transparent with their ingredients than literally any other conditioner I've tried. You can see my other reviews here; every other product either only reveals a few ingredients or doesn't reveal them at all. Cobbler's Choice takes the guesswork out and has just three ingredients:
Triple filtered beeswax. The filtration means it won't have stuff like pollen and bits of bees. It's intended to provide a protective layer over the leather to help waterproof it and protect it from the elements
Blend of seed oils. This is to restore, condition, and soften leather to keep your leather looking good for years to come.
Naturally occurring lipids. The point of the lipids (which is fat) is to catalyse the seed oil blend to help it penetrate the pores in the leather for deeper and more effective conditioning. And they come from animals, so it's not vegan. But of course, neither is leather, so it's unlikely that'll bother you.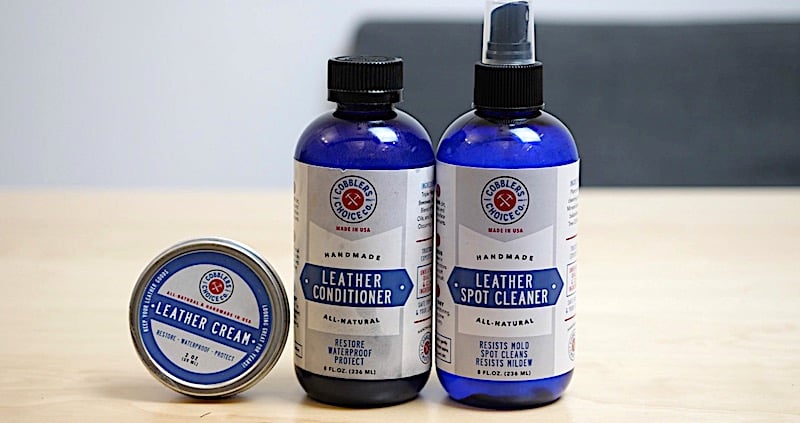 Again, worth emphasizing here there are no solvents, no alcohol, no silicone, nothing unnatural.
[Learn more: Does It Matter If Your Leather Conditioner Has Petroleum?]
Note that the Leather Conditioner is the same ingredients you'll get in the Leather Cream, but the cream has more beeswax, so it's harder and it provides a stronger layer of waterproofing. But it darkens boots a little bit more, which is pretty common when you're trying to waterproof your boots. But our main purpose to day is conditioning.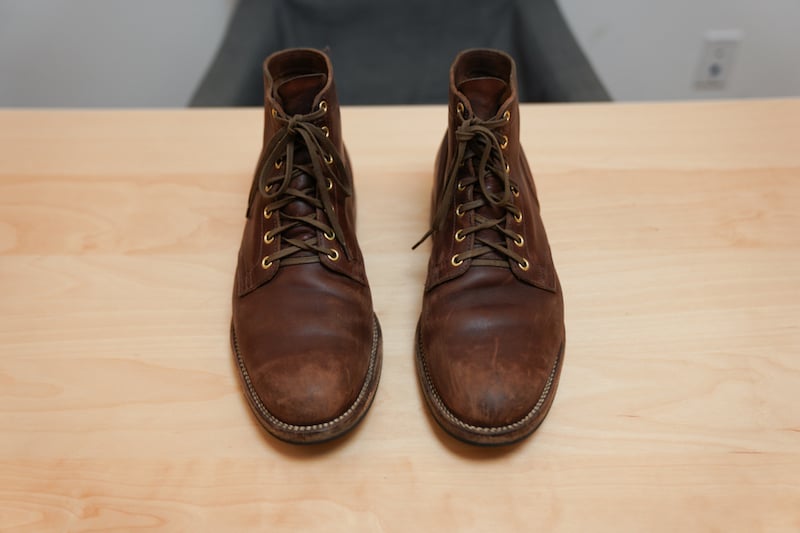 How to Use Cobbler's Choice Leather Conditioner
The "how to" section here really doesn't need to be very long.
Clean the boots. You don't want to condition them when they're dirty, or your risk hardening beeswax over dirt and packing it deeply into the leather, which can weather it. I used the Leather Spot Cleaner and let them dry for a few hours.
Buff the boots with a good horsehair brush. A horsehair brush is a must for any guy who owns boots; the thin hairs help to penetrate the pores of the leather.
Apply some conditioner to a lint-free cloth. A nice thing about Cobbler's Choice is that the conditioner comes out of a dispenser pump.
Wipe it on the boot in thin, even layers.

Wait a couple of hours and reapply as needed.
Here's what the boots looked like right after applying: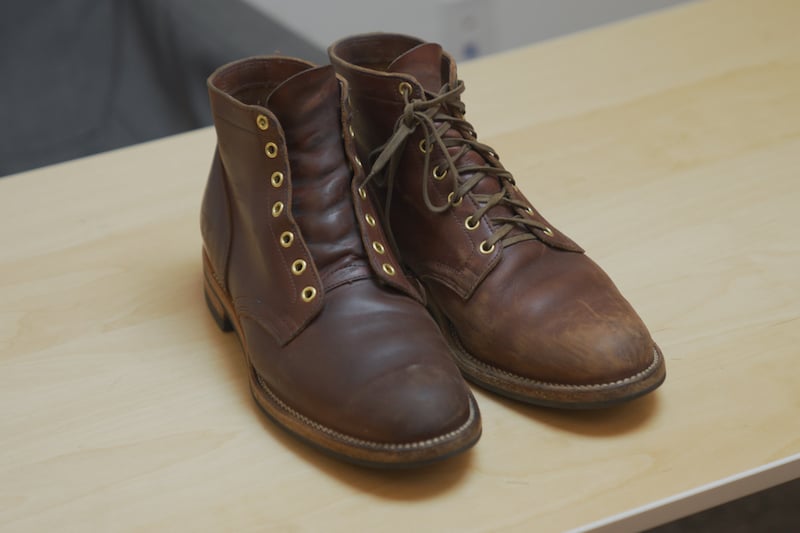 A little darker, but you're meant to wait 24 hours for them to lighten and before you wear them. The finished product:

We changed the lighting in the studio a little, but you get the point.
Here's another look.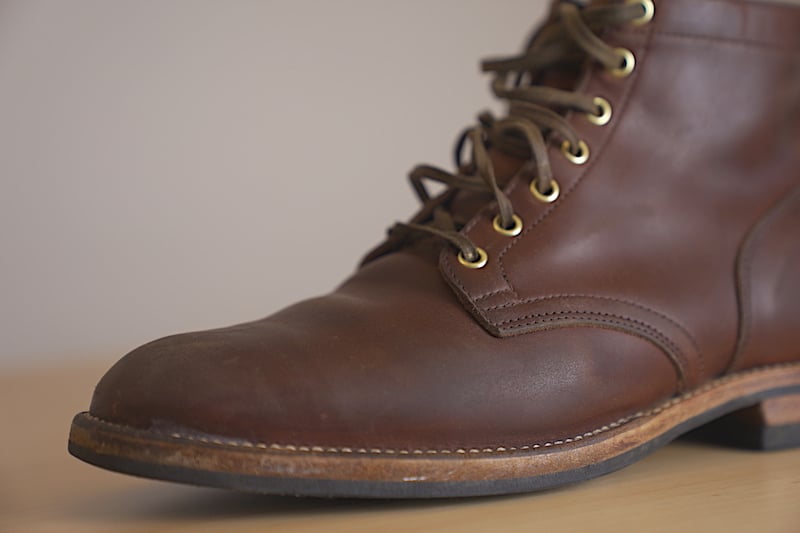 Like night and day. The deeper scuffing in the heel and forefoot still need a little polish, but the leather itself looks a thousand times better. It's added color, shine, greatly reduced the scuffs, the color hasn't changed, and the leather also became softer and more pliant.
That it softens leather means that in addition to being great at moisturizing, it can be useful for helping to break in tough boots. (Thats one of these 12 tips for breaking in tough boots.)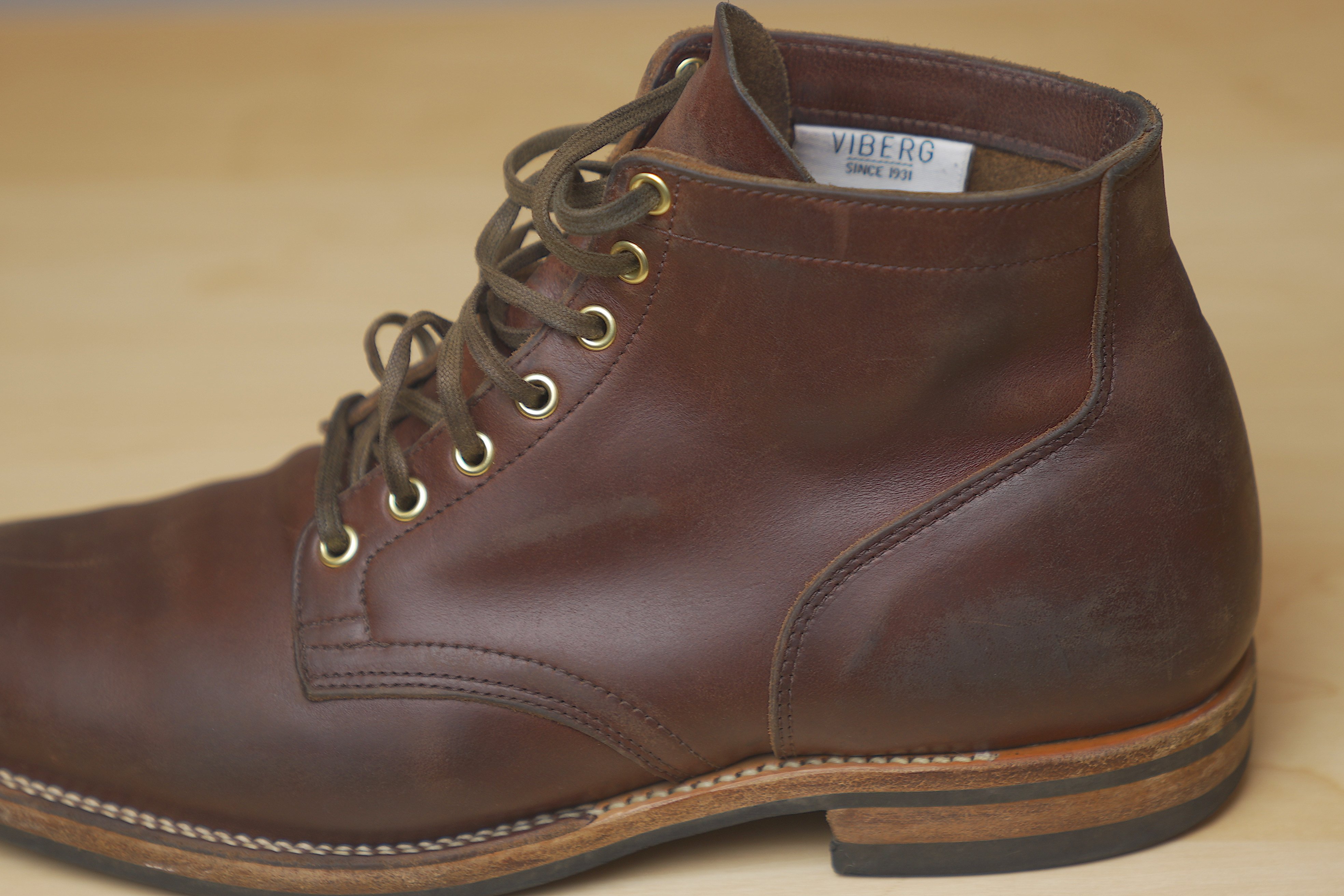 Cobbler's Choice Leather Conditioner Price
You're looking at about $18 for 8 ounce, or $2.25 per ounce. (Get the best price here.)
That's pretty darn inexpensive for the quality. It's hard to compare different leather conditioners because they all vary so much in ingredients. An example of an uber cheap option is Sof Sole's Mink Oil, but it darkens boots a ton and it's mostly made from beef fat.
I'd compare Cobbler's Choice to Bick 4 ($1/oz), Venetian Shoe Cream($3/oz) and Saphir's Renovateur ($12/oz).
Bick 4 is good at moisturizing without changing the color, but it's not as good at removing scuffs. Venetian Shoe Cream is a blend of waxes while Saphir Renovateur is waxes and mink oil. They're the go-tos for a lot of boot fans and while they're a tad better at giving the boot a shine, I think Cobbler's Choice is more effective. It might just be my favorite leather conditioner, and it's well priced to boot.
[See Saphir Renovateur in action here.]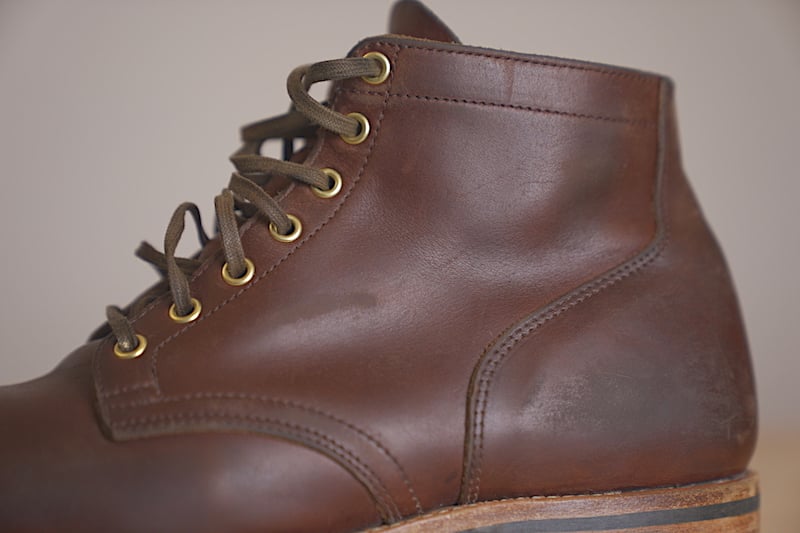 Cobbler's Choice Pros & Cons
Pros
Inexpensive.
All natural.
Actually tells you the ingredients.
Handy pump applicator.
Treats, waterproofs and softens.
Good for helping break in tough boots.
Neutral smell.
Cons
No alcohol or solvents — some prefer conditioners with these ingredients to enhance the cleaning properties.
May require a few applications.
Not ideal for making boots super resistant to the elements. The boots do bead water away nicely, but if you're looking for something that will build a very thick layer of wax around the boot you may want a hardier product. (Just know that it will darken the leather and really won't be friendly on Chromexcel.)
All in all, I'm very impressed with Cobbler's Choice, and given its price and how well it fixed up my Vibergs, I think they're here to stay.