If you're an American who likes boots there's a very good chance you own some Chromexcel. These days, it seems like every other boot on the market is made from this leather. It's on everything from $200 boots like Thursday to mid-range boots like the Wolverine 1000 Mile and the Allen Edmonds Higgins Mill to $700 boots like the Viberg Service boot.
So why is this the default leather for American service boots? In this article, we're joined by leather worker Weston Kay from Rose Anvil to learn all about:
What Is Chromexcel?
What Are the Benefits of Chromexcel?
Is Chromexcel full grain leather?
How to clean Chromexcel
How to condition Chromexcel
What Is Chromexcel Leather?
Chromexcel is the brainchild of the Horween Leather Company, a beloved American tannery that was founded in Chicago all the way back in 1905. It's had an interesting history (it was used on engine seals in tanks during World War 2) and it's known for its rich depth of color.
So why is it such a big deal? The unusual method of processing the leather. It's not chrome-tanned as the name might suggest, it's a combination tanned leather that has been processed largely the same way since its 1913 birth. (We say 'largely' because a couple of controversial ingredients, like whale oil, have been swapped out.)
According to Horween, Chromexcel (or CXL) undergoes "at least 89 separate processes taking 28 working days and utilizing all five floors of (their) facility." You can read about the lengthy processing from skin to CXL on their site but the long and short of it is that the leather gets imbued with an enormous variety of oils, greases, and waxes, including food-grade beef tallow and cosmetic-grade beeswax. They call this "hot stuffing" and it's responsible for the leather's "pull-up" quality, meaning that when you give the leather a good firm rub you can see the oils and waxes moving around the leather itself.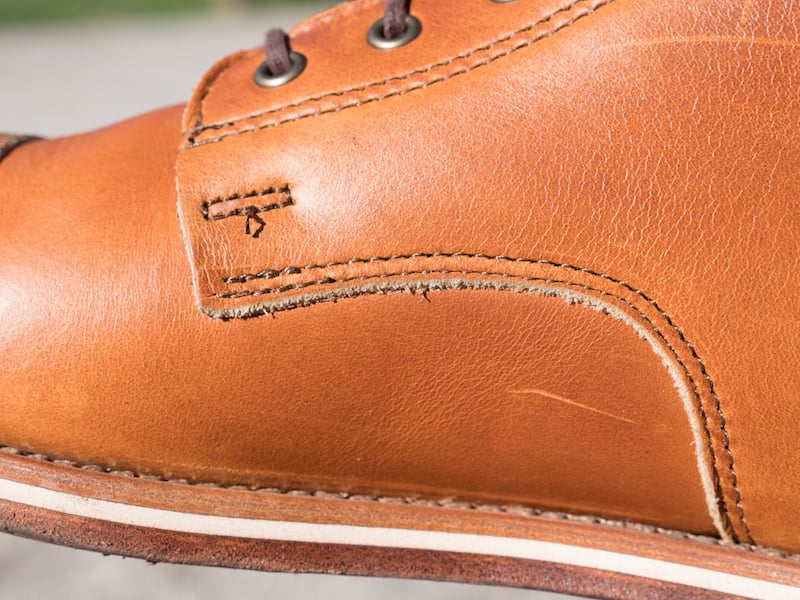 What Are the Benefits of Chromexcel?
All of these fatty, waxy ingredients give Chromexcel its famous lustre and depth that make it look pretty fantastic on a boot, particularly as it ages.
"Because they infuse so much into it, it's a really saturated leather. It's almost impermeable by oil and water because there's so much in there already," says Kay. "It's really great for a lot of different products. We use it in camera harnesses because of its strength and its malleability. It's one of those leathers you don't have to break in super hard, it's weather resistant, so it has a lot of characteristics that make it a really great leather."
As a combination tanned leather, some consider it to have the best characteristics of chrome tanned and vegetable tanned leather — it's softer, easier to break in, and retains color better than purely vegetable tanned, but it's more durable and lustrous than most chrome tanned leathers.
[Learn more: Chrome Tanned vs Vegetable Tanned vs Combination Tanned Leather]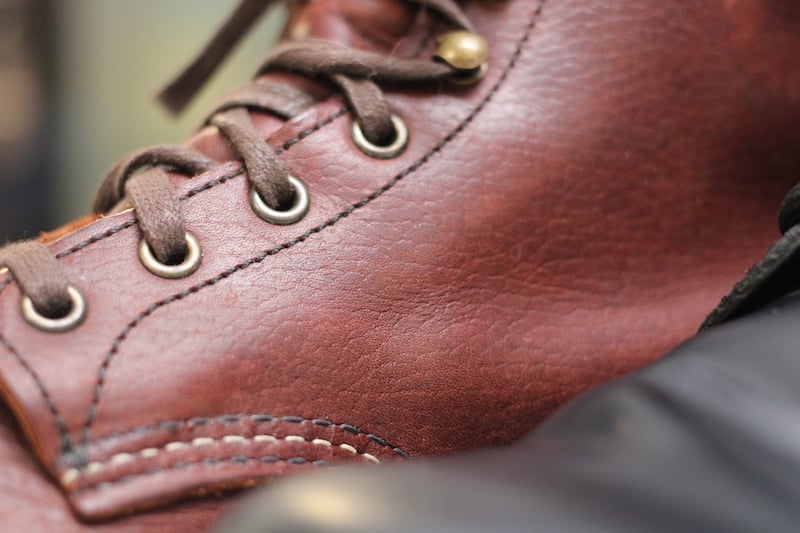 Is Chromexcel Full Grain Leather?
First up, definitions:
Full grain leather is generally defined as leather that leaves the skin's grain in tact, meaning you can see the pores and markings of the animal's actual skin
Top grain leather is generally defined as having the very top layer of the skin sanded away to produce a leather that's a bit more uniform in appearance
"Horween themselves consider it top grain," says Kay. "But that doesn't mean it's a poor leather. That just means they shaved off that very top layer to give it a more even finish and texture, because full grain can sometimes have too many flaws for whatever project or product you're trying to make. Horween does a great job of sanding away just enough that it's a really clean and evenly colored and textured leather, but still leaving enough grain in the leather to keep it strong and durable."
[Learn more: Horween Discusses Top Grain vs Full Grain Leathers]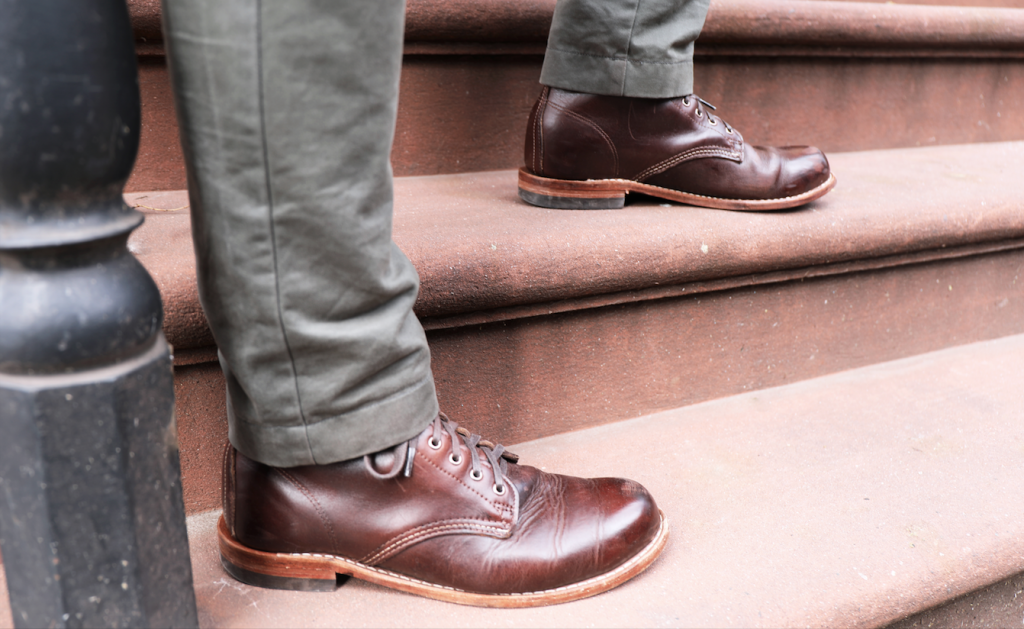 How to Care for Chromexcel
Caring for this leather comes in two stages: cleaning and then conditioning. It's smart to remove as much dust from the leather as you can before conditioning so that you're not trapping too much grime and bacteria in the hide when you apply the conditioner.
How to Clean Chromexcel
First, you want a good horsehair brush. Brushing vigorously — and you want to brush it vigorously — not only helps to remove dirt but it also heats up the leather, moving around the oils and helping to remedy scratches and scrapes. Chromexcel scratches pretty easily, but the "pull-up" nature of the leather means they can be buffed out pretty easily as well.
If dirt isn't coming off, consider cleaning it with Saddle Soap. Be careful, though, as too much Saddle Soap can strip the boot of oils, waxes, and color.
"Some people saturate the entire boot, soaked all the way to the flesh side, and it pulls as much of the oil as it can," says Kay. "What you're trying to do is put a light level on the top to remove dirt."
You can use the horsehair brush from earlier, but a dauber brush is best. When you open the tin, you'll see the Soap is hard, just like bath soap. Put some water in a dish, wet the brush, and rub it around the soap to work up a lather.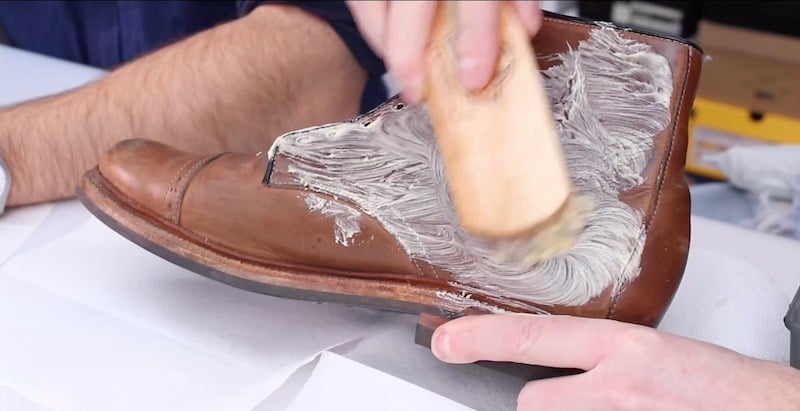 Rub it over the entire boot (not just the dirty spots), let it sit for just five or ten seconds, and wipe it off with a paper towel or a rag. If a stain remains, you can apply a little more just to that area itself and do the process again once or twice. Then wash all the Saddle Soap off with a wet towel and leave it to dry before conditioning.
Remember that most guys restrict using Saddle Soap to the times they're planning to condition the boots afterward, since Saddle Soap is a little alkaline.
[From my video comparing Saphir Renovateur vs Venetian Shoe Cream on Chromexcel]
How to Condition Chromexcel
Next, your job is to replenish the oils and waxes lost from the soaping. Even if you didn't go as far as using Saddle Soap, oils and waxes are lost simply by using the boots over months and years. It's skin, it gets dry, it needs moisturizing.
What's the best conditioner for Chromexcel? Plenty of products will do the job but if you ask Nick Horween, who makes the stuff, he likes these three:
1. Saphir Greasy Leather Cream
This is a neutral-colored shoe restorer that's neatsfoot oil and jojoba oil-based.
Renovateur is pigment-free and mink oil-based. It'll produce more of a shine on the Chromexcel, if that's what you're after.
Actually made in Chicago, this is one of the most popular creams for conditioning leather and is great for keeping it moist and flexible. The company is pretty cagey about the ingredients, but I do know it contains a blend of different waxes and it's widely recommended among leather experts, including Nick Horween himself. See it in action in my Venetian Shoe Cream review.
The video above — actually, both videos in this article — have step-by-step instructions for applying Venetian Shoe Cream to Chromexcel. In short: you'll get a better result with a few light coats than one heavy coat, so apply a thin layer with a rag or your fingers, let it sit for an hour or two, and see how the boot looks. How much luster and shine has returned to the boot will depend on how dry the leather is and how long it's been since its last conditioning, but I'd recommend using two coats. Once it's all soaked in, buff it with a horsehair brush one more time to restore some shine.
Avoid waterproofing sprays or creams if possible, since they can suffocate the leather and trap dirt and dust inside it — just clean 'em with a brush and rub in some cream once or twice a year, remove serious dirt and grime with Saddle Soap when needed, and your Chromexcel boots will age like a fine wine.
[Related: My list of The Best Boots]
The following two tabs change content below.
Nick English
By day: Manhattan-based journalist with reporting experience on four continents, published in Vice, Men's Health, Popular Science, and a bunch of other places.By night: ravenous consumer of anything and everything related to high end men's boots.Stridewise is where I nurture a maniacal obsession with footwear and share my findings. Say hey:
[email protected]
.
Latest posts by Nick English (see all)