These days, it seems like every other boot on the market is made from Chromexcel® leather. It's on everything from mid-range boots like the Wolverine 1000 Mile and the Allen Edmonds Higgins Mill to $600+ boots like the Alden Indy 403 and the brown Viberg Service boot.
Low-end, mid-range, and high-end boot companies alike are sold on Chromexcel. What the heck makes it so special?
What Is Full Grain Leather?
First off, it's a full grain leather. Full grain is widely considered the best leather for boots that you're planning to wear off of your office carpet. It comes from the top layer of the hide of the animal and it's not only super durable, it ages beautifully. If you like that nice patina, you want to get full grain leather.
It's often compared to top grain leather, which has the top layer sanded away. It's more uniform in color, sure, but it's less durable and again, you won't get that patina. Full grain is imperfect, just like us. It's not always consistent in color and sometimes you may even find a scratch on the skin that the animal endured, but that's why people like it. It's real, and as it ages and contours to the shape of your foot, it becomes more you.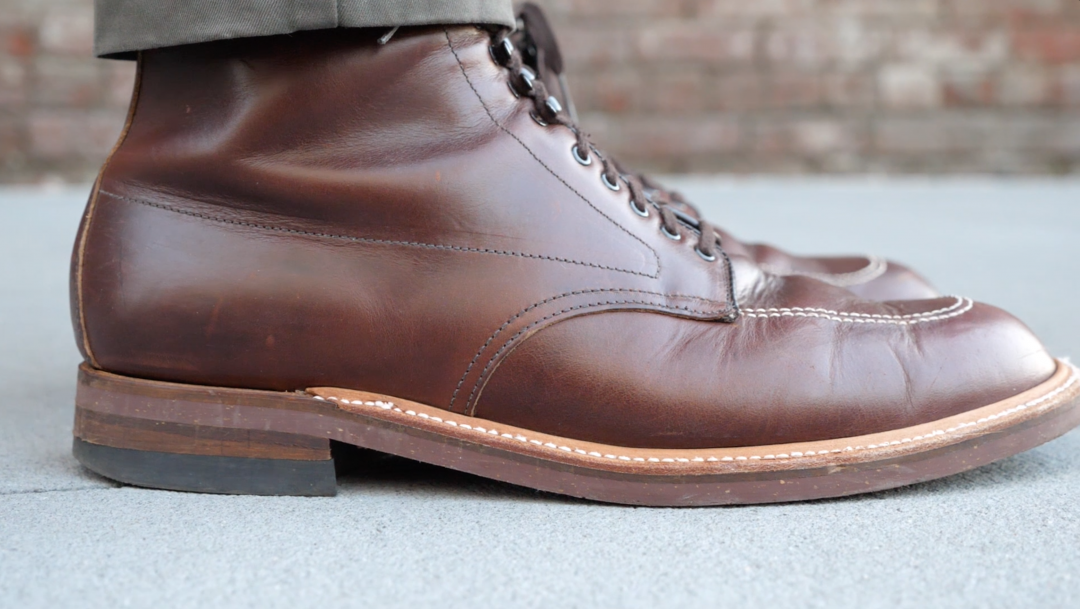 What Is Chromexcel Leather?
Chromexcel is the brainchild of the Horween Leather Company, a beloved American tannery that was founded in Chicago all the way back in 1905. It's had an interesting history (it was used on engine seals in tanks during World War 2) and it's known for its rich depth of color.
So why is it such a big deal? The unusual method of processing the leather. It's not chrome-tanned as the name might suggest, it's a combination tanned leather that has been processed largely the same way since its 1913 birth. (We say 'largely' because a couple of controversial ingredients, like whale oil, have been swapped out.)
According to Horween, Chromexcel (or CXL) undergoes "at least 89 separate processes taking 28 working days and utilizing all five floors of (their) facility." You can read about the lengthy processing from skin to CXL on their site but the long and short of it is that the leather gets imbued with an enormous variety of oils, greases, and waxes, including food-grade beef tallow and cosmetic-grade beeswax. They call this "hot stuffing" and it's responsible for the leather's "pull-up" quality, meaning that when you give the leather a good firm rub you can see the oils and waxes moving around the leather itself.
All of these fatty, waxy ingredients give Chromexcel its famous lustre and depth that make it look pretty fantastic on a boot, particularly as it ages.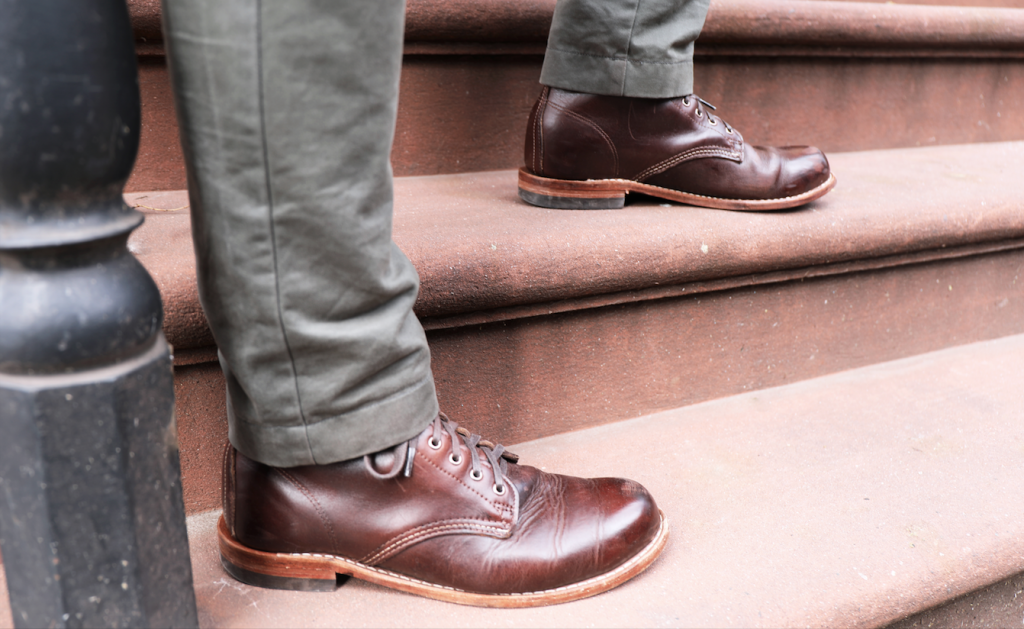 How to Care for Chromexcel
First, you want a good horsehair brush. Brushing vigorously — and you want to brush it vigorously — not only helps to remove dirt but it also heats up the leather, moving around the oils and helping to remedy scratches and scrapes. Chromexcel scratches pretty easily, but the "pull-up" nature of the leather means they can be buffed out pretty easily as well.
If you're planning to condition the boot, you can feel comfortable putting a dab of saddle soap on the brush when you're dusting them off. (You might want to restrict using saddle soap to the times when you're planning to condition the boots afterward, since saddle soap is a little alkaline.)
What about oils and waxes?
Here's where Chromexcel's popularity gets troublesome. Because so many companies use it on their boots, there's a tremendous variety of "official" opinions from boot manufacturers about the right way to care for it as it ages. Everyone wants that beautiful patina, so how do you make sure your boots look their best after a few years?
Wolverine says you should use their leather conditioner. Allen Edmonds recommends their leather conditioner. Who should you listen to?
I figured the best person to listen to would be Nick Horween, who makes the Chromexcel at Horween Leather Company. He has three recommendations.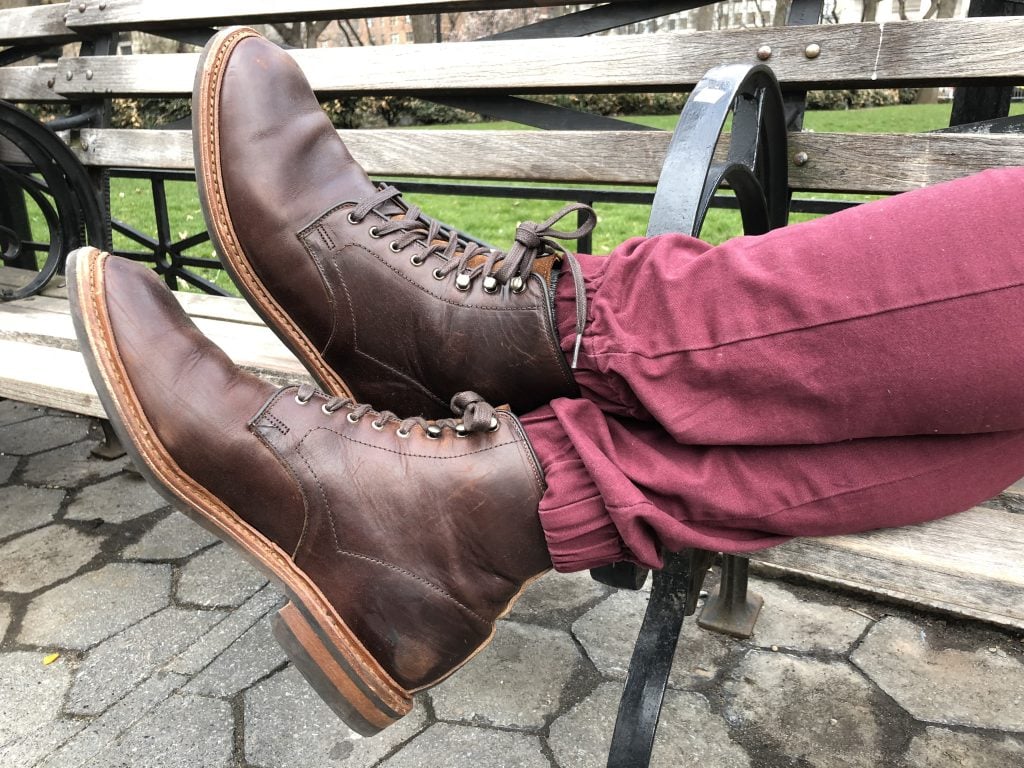 Products for Chromexcel
Before it leaves the factory, CXL is coated in neatsfoot oil, which is made from the rendered shin and feet bones of cattle. Horween says that's usually his go to recommendation, which is why one of his favorite products is:
This is a neutral-colored shoe restorer that's neatsfoot oil and jojoba oil-based.
Renovateur is pigment-free and mink oil-based. It'll produce more of a shine on the Chromexcel, if that's what you're after.
Actually made in Chicago, this is one of the most popular creams for conditioning leather and is great for keeping it moist and flexible. One downside is that the company is pretty cagey about the ingredients, but I do know it contains a blend of different waxes and it's widely recommended among leather experts, including Nick Horween himself. See it in action in my Venetian Shoe Cream review.
Wrapping Up
Those are the products most strongly recommended by Horween, who appears to lean a little closer to Venetian shoe cream or Renovateur. Avoid waterproofing sprays or creams if possible, since they can suffocate the leather and trap dirt and dust inside it — just clean 'em with a brush and rub in some cream every few months, and your Chromexcel boots will age like a fine wine.
The following two tabs change content below.
By day: Manhattan-based journalist with reporting experience on four continents, published in Vice, Men's Health, Popular Science, and a bunch of other places.By night: ravenous consumer of anything and everything related to high end men's boots.Stridewise is where I nurture a maniacal obsession with footwear and share my findings. Say hey:
[email protected]