Dayton is a Canadian company founded in 1946 by Charlie Wohlford after he developed quite a reputation for repairing loggers' boots, which led to pretty much anyone who had a tough, labor-intensive job coming to him to repair their boots, which ultimately led to Wohlford starting his own company.
While they didn't start Goodyear welting their boots until the '60s, Dayton has been handmaking their boots pretty much the same way ever since they launched in the 1940s. They're not a huge company by any means but they nonetheless have quite the cult following among boot aficionados for being super solid and for deftly pulling off the rare feat of looking both fashion forward and ruggedly masculine.
So let's take a closer look.
[GET 10% OFF THESE BOOTS! Click here and use the code 815ER0G7KF8K at checkout.]
Dayton Service Boot First Glance
Based on Canadian military design
7 pairs of eyelets
Plain toe
Tough pull up leather
Contrasts with natural welt
I went with Dayton's Service Boot, based on a classic Canadian military design. (Though the company states these are for the everyman.)
A lot of boot companies offer service boots and when they do, it's usually the model I'll pick. (See my review of the service boots from Chippewa, Viberg, and White's for examples.) The reason for this is that when the design is this simple and uncomplicated, it lets the leather and the construction shine through, plus it's such a popular design that companies usually put a lot of effort into making their service boot stand out from the pack.
Obviously, it's a pretty basic design, but this leather is really interesting. This is their brown pull up leather, an oil tanned beauty with streaks of black and different shades of brown. It sounds like it shouldn't work, but it does: it makes for a boot that's eye catching while remaining very classic and masculine.
There's a rubber sole with a Cat's Paw heel that has phenomenal traction, it's partly lined down the vamp, rawhide laces in seven pairs of eyelets (no speed hooks) and of course, a classic Goodyear welt. I particularly like the way the tan colored welt contrasts with the brown leather — this is a boot that looks great without looking like it's trying to look great. That's the kind of fashion a lot of guys are really going to like.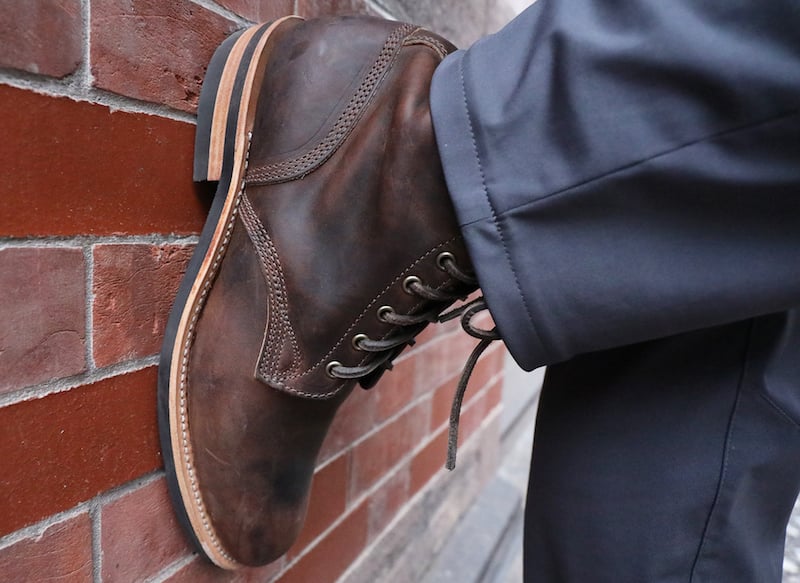 Dayton Service Boot Leather
Tier 1, 6.5 ounce full grain leather
Brown pull up
Oil tanned
Tough, doesn't need much care
Almost 20 leathers available to choose from
Because they make the boots when you order them, you can customize a lot of aspects. This boot is also available in nineteen leathers, everything from Italian cordovan to a dark plum hatchgrain to a bright yellow oil tan, really any kind of leather you like, including Chromexcel if that's your thing.
I went with the brown pull up, and I'm really happy I got it. I have plenty of Chromexcel service boots but I love the way this pull up looks. This is tier 1, 6.5-ounce, full grain leather from the United States. Dayton told me it comes from Horween or Seidel, I'm leaning toward Seidel (a well known Wisconsin tannery) but I could be wrong on that one.
One thing I really like about oil tanned leather is that it's a very hardy leather, especially when compared to something like Chromexcel, which scratches pretty easily. Now, oil tanned leather doesn't have quite the same lustre as something chrome tanned but it doesn't require much care, it doesn't need as much conditioning, and it doesn't scratch easily.
So it's a little bit more outdoorsy, which some guys might not like, but for something this hardy I think it's great looking leather.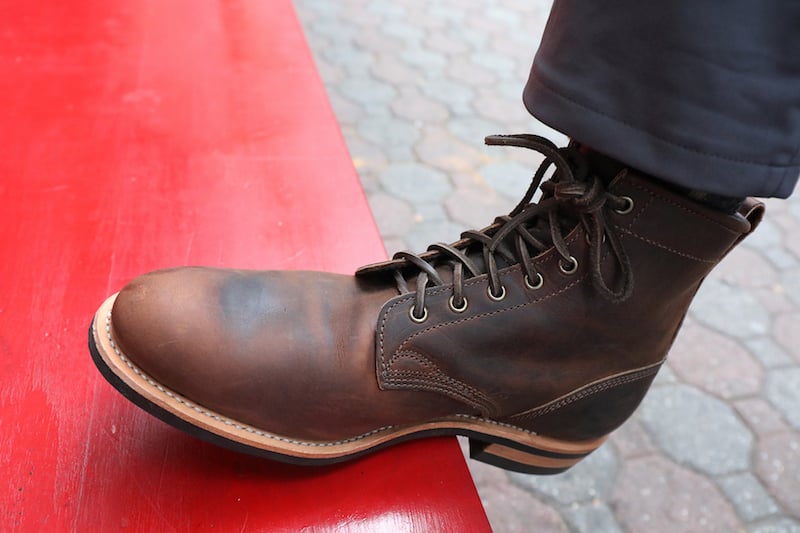 Dayton Service Boot Leather Care
Dayton makes "OK Oil"
Made of paraffin, beeswax, oils
Condition every 6 weeks
Don't use polish, animal fat, or silicone
Dayton has their own conditioner they recommend for their boots called OK Oil, which is made from paraffin, beeswax, and some oils and other ingredients. That combined with the Goodyear welt means these shoes will repel water just fine, though they're not technically waterproof.
You do need to make sure you clean your boots before applying the oil or you might trap dirt and stuff in the leather, and you're meant to condition them every 6 weeks or so depending on how often you wear them and what kind of damage you put them through. That's a recommendation for all of their leathers; the oil tanned, I think, is pretty hardy and it won't be a big deal if you don't rigorously stick to that 6-week routine.
You are told to not use shoe polish, animal fats, or silicone-based products, which is a bit surprising because that means you shouldn't use mink oil, even though that's what Red Wing suggests on their oil tanned leather. But Dayton says it'll clog the pores of the leather, so stick with their OK Oil or something similar.
[Read my guide to waterproofing nice boots here!]
Dayton Service Boot Sole
Cat's Paw heel
Vibram lug/nitrile sole
Fantastic grip
Leather midsole, cork filler, leather insole, steel shank
Resolable Goodyear welt
The heel here is Cat's Paw, a famous brand that boldly says right on the heel that it won't slip — but brother, these do not slip. The traction on these boots is really phenomenal, far surpassing a cork or even Dainite soles in that regard.
The rest of the sole comes from Vibram, it's a 100 lug and 700 nitrile so it's a combination of rubber and other materials that's anti slip and resistant to oil and chemicals.
After the outsole there's a leather midsole, cork filler, leather insole, and a steel shank for stability and arch support, which is decent with this shoe.
Finally, this has a Goodyear welt, which means you can resole them and it means they're very water resistant.
[Compare Goodyear welts with other popular kinds of stitching soles in my article!]
Dayton Fit & Sizing
Sizes 3 to 15
All widths available
Fit true to size
Rough break in period
As for the fit, I found they're true to size and you can get them in any width, from B to EEE, which is extremely rare. In fact, Dayton will make boots to your specifications: they ask you to send in a tracing of your foot and the measurements of your instep, ball, and heel, to get the best fit possible. It's basically a custom boot.
Now, the shock absorption's great, the grip is amazing, the fit is good, but the break in.
The break in.
Never in my life have I had as rough a break in as I have had with these boots. I saw God when I was breaking these in; it was an outer body experience. It was transcendent. This break in sucked.
For the first week I could only wear these for a couple of hours at a time before taking them off and giving my poor feet a full day's rest. The second week was better, but not great. The third week they were OK. But these are the kind of boots that take weeks to really break in and mold to your foot.
Full disclosure: I didn't send Dayton my measurements, I just gave them a rough idea. Maybe that would have helped, but they told me that tough break ins are pretty common with their shoes. That's why they recommended treating the shoes with a 1:1 ratio of water and isopropyl alcohol: the water softens the leather and the alcohol dries it so the leather isn't saturated for too long. That might help.
[Learn more: The Ultimate Guide to How Boots Should Fit.]
Dayton Service Boot Price
The price can always change but you're looking at between $480 and $530 (USD) for these shoes, and certain leathers are more expensive than others. The build time was about 4 weeks, so between ordering them and them arriving at my door it was roughly a month.
Now, $500 is not cheap. That said, these are really high quality boots and I like them more than some other shoes I own that are more expensive. After all, it's a custom made boot with super thick leather that will probably last decades, and there's a lifetime warranty against defects.
But they're expensive. There's no way around that, except this discount code which will give you 10 percent off! 815ER0G7KF8K — use it here!
The Verdict
Dayton Service Boot Pros
Custom made for your foot
Sole doesn't slip
Available in a ton of different leathers
Tough leather
Fashionable yet masculine aesthetic
Dayton Service Boot Cons
A little hard to dress up
Not technically water proof
No speed hooks
Some wheeling on stitches
Not fully lined
Ungodly break in
If you can handle the high price and the brutal break in, I think these shoes deserve a spot in your rotation. They're understated yet fashionable, pretty but masculine, and tough as all hell. Dayton deserves their rep.
The following two tabs change content below.
Nick English
By day: Manhattan-based journalist with reporting experience on four continents, published in Vice, Men's Health, Popular Science, and a bunch of other places.By night: ravenous consumer of anything and everything related to high end men's boots.Stridewise is where I nurture a maniacal obsession with footwear and share my findings. Say hey:
[email protected]
Latest posts by Nick English (see all)