This post may contain
affiliate links
that at no additional cost to you, I may earn a small commission from.
White's is a Spokane-based company with roots in West Virginia, where Otto White's father and grandfather made calked boots for the logging industry before the Civil War. In 1902, Otto and his dad moved west to Spokane with the goal of making the best boots in the world. A modest goal, right?
The company is very well known for their trademark Smokejumpers, extremely serious shoes that are designed to be worn by firefighters, but they also have a few more fashion-focused lifestyle options. Of those, their MP Service Boot is their best known and most celebrated. The guys on Reddit's goodyearwelt sub are constantly talking up this shoe and often mention it in the same sentence as Viberg and Alden.
There was no way I couldn't try out these boots for myself.
(Note that in summer 2019, White's changed the name of this boot from the MP Service Boot to the MP Sherman Boot. Without a toecap, it's called the MP Stuart Boot.)
White's MP Boot First Glance
Handmade
Thick waxes leather
Dainite sole
Toecap
Streamlined silhouette
"MP" stands for "Military Police" but these boots aren't severe or militaristic, at least not in the black army boot way you might be thinking. They have a really classic, streamlined appearance to them and when you put them on, you feel like you've been transported to a simpler time in men's boots. They're handmade, hand sewn, hand lasted, hand welted, and hand bottomed.
There's a single celastic toe box, meaning there's an insert on the inside of the toe to help it keep its shape, and if you look closely it's tougher than this slim silhouette might suggest. The leather is well over 2 millimeters thick, it's got triple stitching along the counter and shaft and there's quadruple stitching along the side of the vamp here and along the toecap.
So truthfully, while this may look like a daintier Iron Ranger it's actually a very tough boot that just happens to be exceptionally good at fitting a foot's natural shape, which is something I'll talk about a more in the fit and sizing section below.
White's MP Boot Leather
Cinnamon waxed leather
Full grain leather
Wax helps to protect against elements
Doesn't scratch very easily
Right now this boot is available in nine different kinds of leather, including a few Chromexcels — there's even a burgundy that I briefly considered getting — but to be honest, I'm a little tired of owning so many Chromexcel boots and felt like doing with something different. When I saw that the most popular version on Reddit was the Cinnamon Waxed Flesh, I decided to pull the trigger.
White's told me on the phone that this isn't a roughout leather, it's full grain leather, but it definitely is roughout. I think they were just trying to distinguish from their oil tanned leathers. So this is a pretty subtle kind of roughout, which is the underside of the leather. Basically, it's when you take the leather and turn it inside out. It's best known for its waxy finish, like a really waxy finish. I've called leather waxy before, but both the boot and the laces literally smell like they've been dipped in a candle and they've got a sheen to match.
It's worth emphasizing that the picture on their site makes this look quite a bit smoother than the boot you get. What you get is a mottled, light brown boot that shimmers in sunlight and hides scratches a lot better than a smooth leather would. While I was a little surprised at how rough it was, Cinnamon Waxed Flesh deserves its reputation as a distinctive, refreshing leather.
Plus, all that wax makes them pretty damn tough for outdoor boots.
Cinnamon Waxed Flesh Leather Care
White's sells their own products
Leather preservative for more heavy duty wear
Keep clean with saddle soap
Now, this wax can wear away if you don't take care of it properly. When I spoke with White's they said you can use Saddle Soap to keep it clean, though if you'd rather not spring for that you'd probably be fine using a wet cloth. In either case, you do want to make sure they stay relatively clean between wears because stagnant dirt can mess with the finish.
Whites sells their own Boot Oil and Boot Preservative on their site. They told me you can use either; the preservative has beeswax and will help protect it against mildew and salt, while the oil is a bit more of a conditioner that will help keep it soft. But don't use it too much — no more than once a month.
Whites MP Boot Sole
Dainite outsole
Good mixture of grip, flexibility, durability
Hand welted sole
Leather shank
This outsole is Dainite, a rubber that's very common in pricier boots like Viberg and Oak Street along with mid range boots like Allen Edmonds and some offerings from Taft. It comes from an English company that's been making it for about a hundred years and it performs really well: it's medium density and offers a really good mixture of grip, flexibility, durability and shock absorption, all while maintaining a pretty low profile that makes it welcome in both dress and casual boots.
Some people complain that they're not quite soft enough to stand in all day long if you're using them as workboots, but as a compromise between all those qualities, it's universally adored by boot aficionados.
When I spoke to White's, they described this shoe as "hand welted and hand sewn" which is responsible for the higher price. While Goodyear welts are done on a machine, this is made by hand — that's what they tell me anyway — but it's meant to be equally as easy to resole as a Goodyear welt.
After the Dainite there's a leather midsole, a leather insole, and a leather shank, which is interesting. The midsole is 10 iron leather, which refers to the weight and size of the leather (some people have called it 6 iron, but on the phone they told me it's 10). The shank is 11 to 12 iron leather, so it's even stiffer. Most people use steel shanks, or maybe fiberglass, but it's pretty rare for someone to find leather tough and thick enough to work as a shank.
But Whites pulled it off. The arch support is incredible with this boot and all that leather makes the sole feel relatively soft as well, but in a good way.
And the comfort?
Whites MP Service Boot Fit & Sizing
4 widths available
Built of Barrie last
Contours the foot
Very comfortable
Great arch support
These are available in a wide variety of widths: B, C, D and EE. I ordered a half size down to get an 11D, which fit well.
I mean really well. This is built on what's called the Barrie last, which is actually used a lot on dress shoes, but what's really going on is a design from Whites that they call Arch Ease Support. This is meant to duplicate the natural contour of your foot and I've got to say, they've done a fantastic job. It doesn't just support my arch, my instep also feels supported without anything being too tight.
White's absolutely knocked it out of the park. This is a very rare kind of fit.
[Learn more in my ultimate guide to how boots should fit.]
White's Service Boot Price
My pair cost $560, but today they cost a good $700. They can be a little cheaper if you get them from Baker's Shoes, especially from their Final Few section where they sell returned boots, though you can only buy what's been returned — probably not the model you really want. (Thanks to William Taylor on YouTube for pointing that out.)
But that's pretty darn expensive, and it's definitely the biggest "con" against these shoes. I should note that I seldom hear people really complain about the cost because they really are extraordinarily well made boots, but let's be honest, whenever boots cost over $600 the average person will quickly stop paying attention.
While I'm talking about the purchasing process I should mention that between clicking "buy" and receiving the boots in my mailbox I waited 5 weeks for them to arrive, and today the wait time is often up to 6 months.
So that's another huge downside. Don't get me wrong, a lot of people love the idea of boots being made for you after you make the purchase, but if you're the kind of person who only realizes they need boots on the first day of fall, you might not like the fact that fall will be half over before you get them.
White's Service Boot Pros and Cons
White's Boots Pros
Very comfortable
Relatively versatile
Tough leather
Water resistant
Great quality control
White's Boots Cons
Pricy
Long order time
Heavier than more casual boots
No speed hooks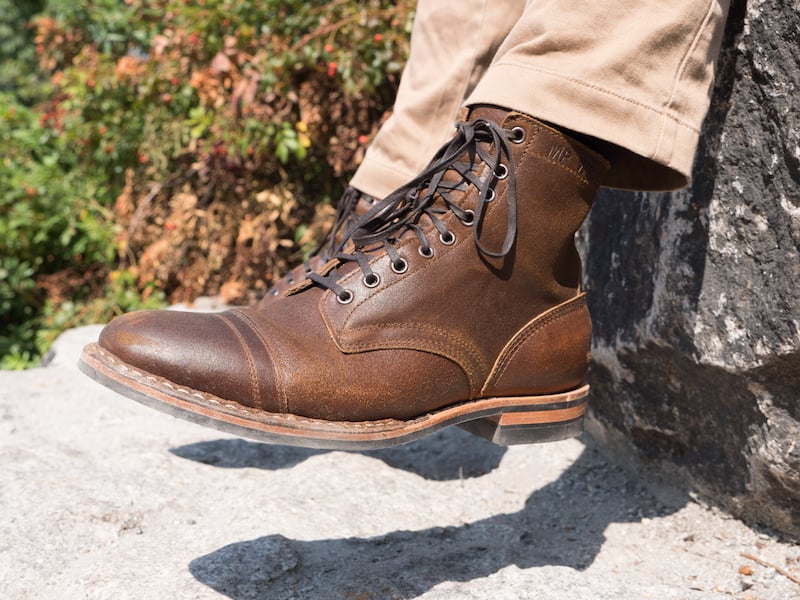 I really liked these shoes. They contour my foot perfectly, the arch support is great, the leather is tough yet attractive, they're water resistant, they can be resoled, and they're versatile.
The main downsides are the cost, the wait time, and there are no speed hooks so I confess they're a little annoying to get on and off. That's splitting hairs though, as speed hooks are easy for a cobbler to add, plus I'm pretty sure White's would customize them to have them if you asked.
If you can stomach all that, these boots look great and feel even better.