The Frye Company was founded all the way back in 1863 by John Frye, who opened the first store in Marlborough, Massachusetts and eventually launched its first boot in 1888. (Fun fact: In the 1890s, Marlborough made more shoes than any other city in America.) By their own account, Frye is the oldest continuously operated shoe company in the United States.They've made custom footwear for a lot of iconic men, including Richard Nixon, Bing Crosby, General George S. Patton, and legions of soldiers in World War 2.
Historically, they're maybe best known for putting out super rugged boots for the armed forces but I decided to take one of their dress boots for a ride: the Jones Lace Up.
[Love that color depth? They're about $20 cheaper when you get them on Amazon.]
Frye Jones Lace Up Overview
The most striking thing about the Jones is the rich color depth. Straight out of the box, the calf leather has several shades of brown that undulate darker and lighter along the vamp, making for a boot that looks damn classy and can easily pass with a suit. There's no metal or plastic on the eight pairs of external eyelets, the welt is subtle, and there are no flashy toecaps, weird stitching, or contrasts: all of the appeal comes from the simplicity and the color depth.
It doesn't scream rugged. The vegetable tanned leather looks like it can easily scratch (spoiler: it does) and while it does have a nice Goodyear welt, the sole has absolutely no grip — I can moonwalk when I'm wearing these on carpet.
On Amazon, these are called "Lace-Up Combat Boots." On Frye's official site they call them workboots. They absolutely are not: these are dress boots. They look good, but they're sensitive.
As far as quality control issues go, there were no loose threads or loose grain, however I did notice some wheeling on the stitches. That's when you can see the imprint of the machinery used to make the stitches, resulting in a choppy border alongside the thread. It doesn't affect the durability and you do have to look pretty closely to see them, but it's always disappointing to find.
[Related: The 10 Best Dress Boots]
Frye Jones Lace Up Leather
Full grain, vegetable-tanned calfskin
Imported from France and Holland
May have more tensile strength than steer leather
Great color depth, but scratches easily
Frye uses good leathers. For these boots, leather was imported from France and Holland, and the tanneries they work with in Mexico, which is where this boot was made, are pretty high quality.
The brown boots I picked up are made from vegetable tanned, full grain calf leather. The same goes for the black and "chocolate" varieties that are available, though neither have quite as much color depth as the brown. The boots are also available in suede, for a much lower price point.
Vegetable tanning is a pretty "old world," artisanal method of tanning leather — there's evidence of it being used as far back as 6000 BC. The process uses tannic acids found in tree bark and some other plant species and while it's more expensive and time consuming than something like chrome tanning, it's more environmentally friendly and a lot of people feel it makes for a better looking boot.
It's also full grain, which means it's taken from the top layer of the animal's skin and is more durable than something like top grain, which has the top layer sanded away. Pretty much everyone agrees that full grain is the best kind of leather for boots: it's durable, it ages well, and it gets a nice patina that a lot of guys covet with their boots.
But this is calf leather, which means it's lighter and thinner when compared to cowhide. People like to debate as to whether this affects durability: it is thinner than cowhide, but ounce for ounce it may have more tensile strength because the fibers are closer together. It also wrinkles more finely as it ages, so that can be a definite bonus for dressier boots like these.
There are a few downsides, though: the leather on the brown boot is very sensitive to scuffing. Sure, they're dress boots, but the very first time I wore these boots out — and I swear I was just going out to a pizza restaurant — they picked up some deep scratches. And now that I've had the boots for some time, they've picked up some unsightly spots by the sole where, presumably, they've been hit by some droplets of water.
Suffice to say that they're beautiful looking boots but they get pretty ugly pretty quickly if you don't take very good care of the leather.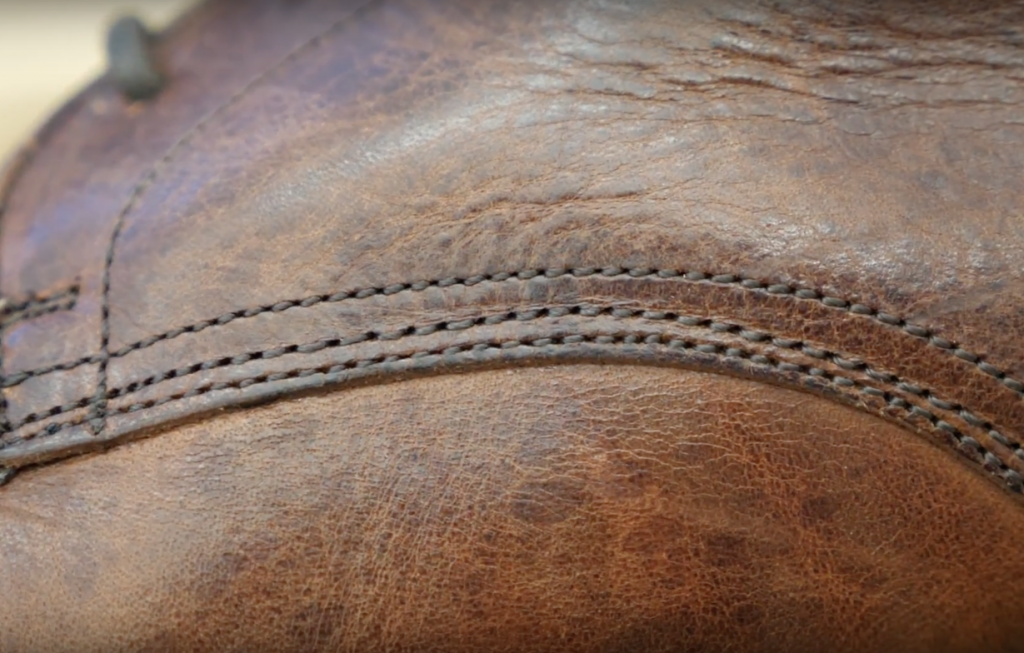 This boot picks up spots and scratches very easily.
Frye Jones Lace Up Leather Care
Should not be worn in rain or snow
Use soft buffing cloth, not a horsehair brush
Frye sells a leather conditioning cream
Venetian shoe cream will probably work
For what Frye claims are work boots, they're not all that hardy. I was sternly warned by a customer service representative to avoid wearing them in the rain or in inclement weather, which, again, means they're definitely not work boots or combat boots.
First up, you don't want to use a horsehair brush on these when they're due for a clean. It's a little too rough on this particular kind of leather and may scratch it; Frye instead recommends using a soft buffing cloth instead.
Calfskin loves to shine and when it's time to condition them, Frye recommends a light coating of leather polish cream every few months. I imagine that Venetian Shoe Cream would work fine, but Frye recommends their own neutral-colored leather conditioning cream.
Obviously, they stand to profit from such a recommendation, but the reason you might want to take them up on the offer is that if the cream results in some sort of defect, Frye will replace the boot up to a year after purchase if you've been using their own cream on it.
Frye Jones Lace Up Sole
Leather outsole is very slippery
360-degree Goodyear welt
Stitching on sole came loose after a few days' wear
The sole is almost entirely made of leather with a little bit of rubber covering part of the heel and it's attached to the upper with a Goodyear welt, widely considered the best way to welt a shoe. It's durable, it's pretty water resistant, and most importantly it makes for a shoe that's a lot easier to resole once it wears through. Of course, the water resistance isn't that big a factor here because you aren't allowed to wear these shoes in the rain.
It really bears repeating that there's absolutely no grip on the sole. I know, I know — it's a dress boot, I shouldn't expect commando soles. That's fair, but these shoes are so slippery that I actually fear for my safety when I'm walking down steps. Avoid stairs without railings to hold on to at all costs.
If you're just wearing these to go from front door to car to office, the lack of a grip isn't such a concern but if you're going anywhere else, you need to walk with caution. To be fair, after a few weeks I found that as the sole got beaten up from daily wear and tear, the grip improved somewhat. I still consider the grip to be a serious downside of the boot.
Some might say the slippage is forgivable. What isn't forgivable is that after just a few days of wear, the stitching on the base of the sole started to come loose.
This was particularly unexpected since the stitching is also recessed into the shoe, a nice touch that should mean the it wont' wear away as easily as external stitches. Instead, I'm less than a week into these boots and there are threads hanging out of the sole. Bad.
Frye Jones Lace Up Fit & Sizing
Fits true to size
Only one width available
Uneven fit
I found these fit pretty true to size. I fall right between an 11.5 and a 12 on a Brannock device but, of course, a lot of boots run large. I'm an 11 in Red Wing, Wolverine, Thursday, and a lot of others, but Frye's 11.5 fit me well.
I didn't find that this boot needed any break in at all, an upside of the soft leather. That said, the fit was a little strange. Frye is known for not taking fit testing all that seriously, and I noticed that the left boot fit differently to the right one. It was subtle, but the insole offered a hair more support on one side — my left heel had more shoe under it than the right. When clicking around Reddit, this is one of the biggest complaints with Frye boots and it was certainly the case with my Jones Lace Ups.
Another downside with these boots is that they're only available in one width: D. It's considered the "normal" width and it wasn't an issue for me, but anyone else on the B to EEE spectrum is out of luck.
Frye Jones Lace Up Price
A pair of these boots will set you back $348. That's the cost on Frye's official site, though on Amazon they usually run for about $20 less. Note that if you get a pair of Jones in suede, the price dips below $200.
The biggest criticism leveled at Frye is that they're overpriced. Frye only opened their first store in 2011 in New York's SoHo neighborhood, which is where I bought my pair. Traditionally, they've sold direct to consumer, which should result in a lower price point.
While the leather is good quality and they work with the same Mexican tanneries that are used by a lot of great boot companies, I don't think the construction warrants this kind of price. If they were in the $200 to $300 price range, I'd be a bit more forgiving about the issues I've described in this review.
[If you just want boots that look great in the office, the Jones is a great pick. Get the best price here.]
Frye Jones Lace Up: To Buy or Not to Buy?
f you're just after a pair of snazzy looking boots you can wear with a suit, these will fit the bill. It's controversial to ever say that boots can work with a tie, but I've taken these out on the town with a grey suit and a blue suit on separate occasions and I think they really spruced up the outfit.
I did find quite a few problems with this boot, though many are just what you should expect with a dress boot: they're slippery, they scratch easily, and you can't wear them in bad weather. Less forgivable are the inconsistency in fit, the limited width selection, and the fact that the darn sole threads started fraying in the first week of wear.
But hey, the depth of color might be worth it. I think you can make the call with this one.
The following two tabs change content below.
Nick English
By day: Manhattan-based journalist with reporting experience on four continents, published in Vice, Men's Health, Popular Science, and a bunch of other places.By night: ravenous consumer of anything and everything related to high end men's boots.Stridewise is where I nurture a maniacal obsession with footwear and share my findings. Say hey:
[email protected]
Latest posts by Nick English (see all)