Dressing up with boots can seem like a risky endeavor, but there are real benefits to picking boots over oxford shoes! Boots aren't just for factory workers: they offer more support and stability than shoes and reduce the risk of foot pain and ankle sprains, regardless of where or how you're wearing them.
While some people think boots with suits make you look like a Keanu Reeves wannabe, there are plenty of brands putting out sleek, refined models that pair effortlessly with formalwear.
The trick, of course, is that you pick a boot that's well made and aesthetically appropriate: a boot with resoleable construction and leather that's longlasting but doesn't look like it belongs on a work boot. After painstaking research and years in the trenches trying out boots from every one of these brands, we're confident you'll find what you need in this list.
What Is a Dress Boot?
The definition of a dress boot is somewhat prone to interpretation, but there are common elements. Not every boot in this article features every component on this list below, but this information should help you to make your decision when selecting a model.
Hidden Eyelets (a.k.a. Blind Eyelets)
If your boot has laces, they'll have eyelets with a metal ring that makes it easier to pass the lace through. When the metal ring is hidden on the underside of the lace panel instead of sitting on the exterior, they're called "hidden eyelets" or "blind eyelets." Blind eyelets are the norm on dressier footwear because they offer a less cluttered, more refined aesthetic.
Calfskin Leather
Dress boots tend to be made with calfskin. Because their skin hasn't stretched with age or accrued marks and scars from their lives, calfskin has a finer grain and smoother consistency, and it's great at taking a shine with the proper waxes and polishes.
It's refined, but not delicate: because the skin's fibers are closer together, calfskin is said to have more tensile strength than cowhide on an ounce-for-ounce basis. But it's smoother and wrinkles more finely with wear, so it doesn't have the same rugged, outdoorsy look of many bovine leathers.
For some guys, the crème de la crème is box calf leather, which is dyed and processed in a way that gives it extra sheen and uniformity.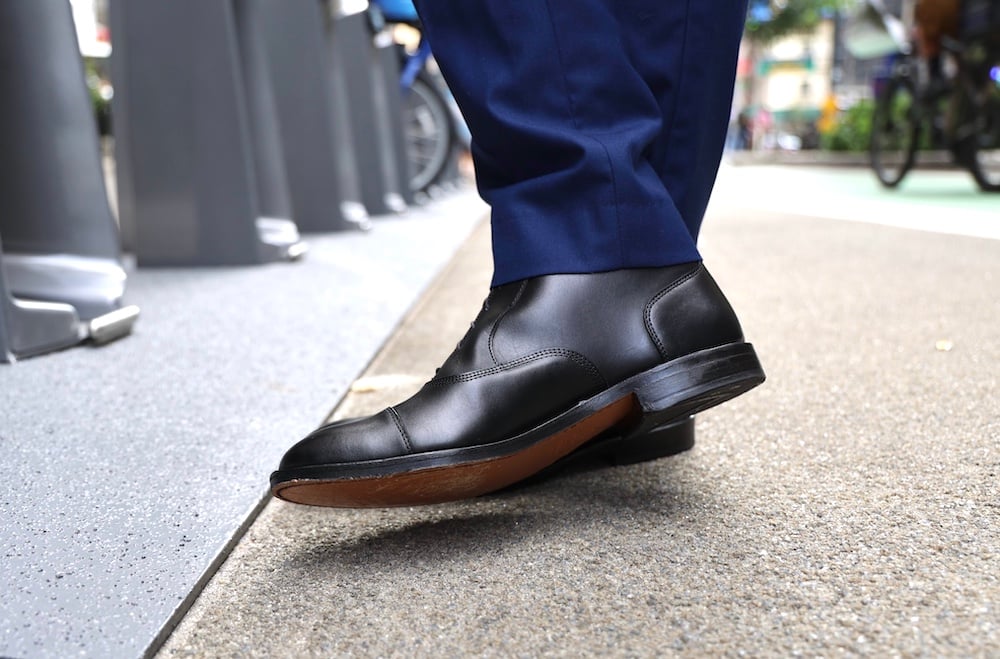 Silhouette
Dress boots are sleek and streamlined. This one really is a must if you want it to pair well with a suit. The silhouette of a dress boot mustn't be voluminous or bulky like a work boot or most moc toes. It should follow the shape of the foot closely and will sometimes have a more pointed toe. Chunky boots have their place, but since your suit isn't baggy then your boots shouldn't be, either. (Your suit isn't baggy, right?)
Low Profile Soles
In the same vein, like dress shoes, a dress boot's outsole should be flat without chunky, grippy lugs. Leather soles are the go-to for dressy footwear, but there are plenty of rubber soles that have a low profile, like Dainite. The point is to really have a sleek look; no beefy Commando lugs or similarly outdoorsy looking soles.
Closed Lacing
This refers to the quarters being stitched together under the vamp. In other words, it looks like the front part of the boot has been stitched on last, on top of everything else. If you're a rule follower (and look, dressy attire tends to have more rules), closed lacing signifies more formal footwear and is a definitive element of an oxford shoe.
A Balmoral Pattern (Sometimes)
See how instead of a heel counter (another layer of leather over the heel) there's a seam that runs around the boot's perimeter, dividing it into upper and lower portions? This is what defines a balmoral and it gives the boot a streamlined appearance. When combined with other dressy elements like a low heel, blind eyelets, and leather soles, it's not hard to imagine this kind of footwear peeking out from under a suit or even a tux.
Now that we've learned the typical signs of a dress boot, let's look at what makes the cut.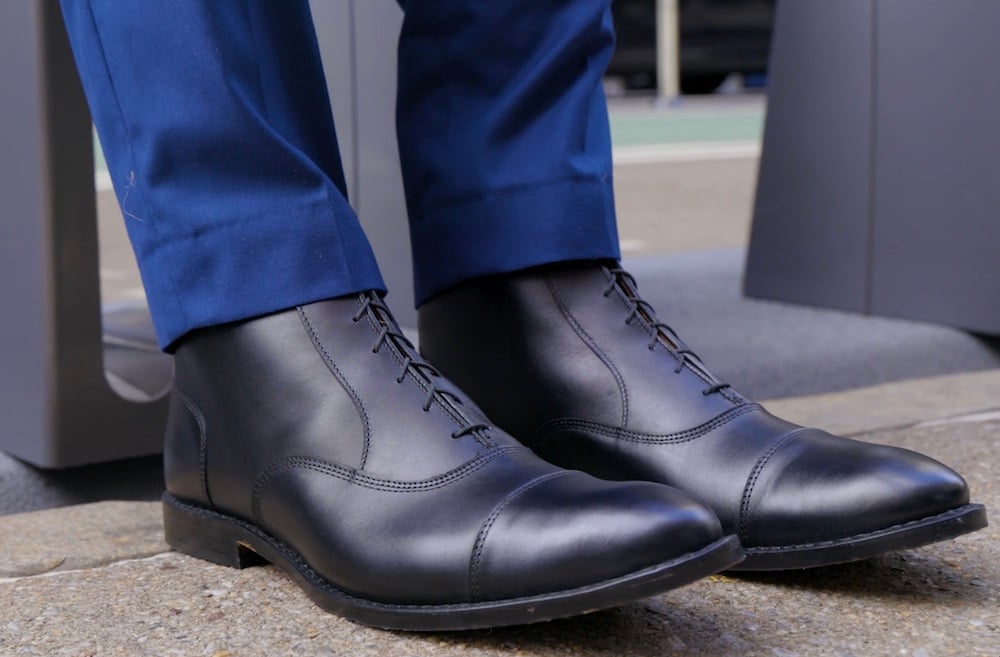 1. Best Dress Boot: Allen Edmonds Park Avenue
Anyone who has worn a suit for work knows (or should know) that the go-to dress shoe, the one everyone gets when you're leaving college to head to your corporate job, is the American-made Park Avenue Oxford from Allen Edmonds. With over two million pairs sold in the 40 years since its debut, now that it's a boot, it's a no brainer that the Park Avenue Boot is the best dress boot.
Allen Edmonds Park Avenue Boot Highlights
It's a great showcase of all the dress shoe ideals: hidden eyelets, closed lacing, premium calfskin leather, a sleek last, and a leather sole to match.
In addition to being American made at their Port Washington factory, Allen Edmonds is at the top of their fit game here with a massive range of widths from AAAA to EEE. Plus, it comes in four colors that include a navy calfskin that would look fire with a grey suit.
The Park Avenue has an utterly unparalleled influence in formal footwear, and the Park Avenue boot will convince any dress boot skeptic.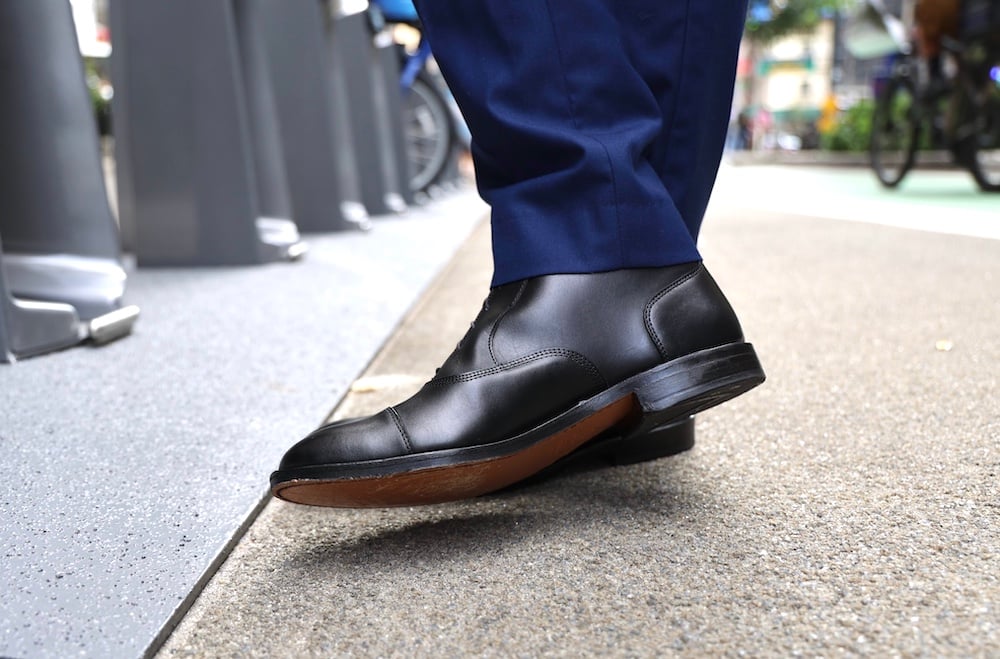 Who Should Buy the Park Avenue Boot
Guys who value American made footwear.
Anyone who wants a boot that can be resoled, which means extraordinary longevity.
Sticklers for dress shoe "rules": hidden eyelets, closed lacing, and a leather sole make this the traditional choice.
People who want premium calfskin leather that wrinkles finely and ages like a fine wine.
Those with hard-to-fit-feet: From AAAA to EEE, there's no one this boot won't fit.
Men with any colored suit to match: with black, navy, burgundy, and a medium brown "Dark Chili," there's a colorway for anyone.
Who Shouldn't Buy the Park Avenue Boot
Guys on a tight budget: At $495, this won't fit every budget.
2. Best Balmoral Boot: Beckett Simonon's Elliot
Allen Edmonds isn't cheap, so if you want a picture perfect Balmoral boot for $207, consider the Elliot from Beckett Simonon.
A Balmoral boot has a seam that runs along the side of the boot that splits it into a top half and a bottom half, which is thought to make it look dressier. The design accentuates the sleekness of the design and it eliminates a heel counter — and with it, just about anything that could make you think of a work boot. Indeed, a Balmoral is the most formal kind of boot.
Beckett Simonon Elliot Boot Highlights
The Elliot has all the dress boot touches of blind eyelets, closed lacing, flat sole, and a slim design that cinches at the midfoot in an oh-so-satisfying way. It follows the shape of the foot, in other words, but retains a slightly pointed toe that's capped off with broguing along the toecap.
Besides the Balmoral aesthetic, the Elliot differs from the Park Avenue in that its construction is Blake stitched, making it lighter and more flexible. (It's a bit less water resistant, though.) Blake stitches tend to be the construction method of choice for European footwear, further enhancing the continental appeal of the Elliot Balmoral.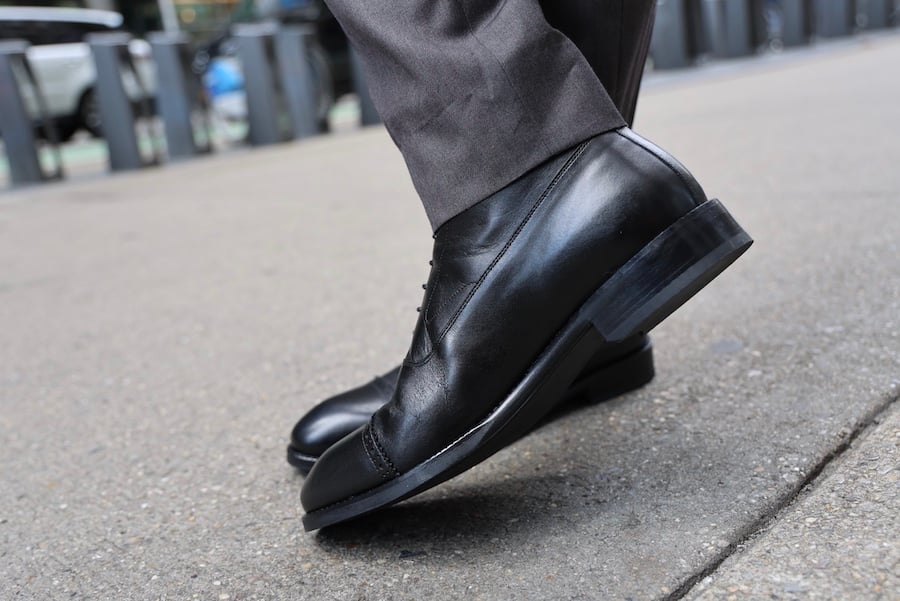 Who Should Buy the Elliot
Budget-minded guys: This boot is just $259, and you can get 20% off with the discount code STRIDE.
Men who need an unquestionably dressy boot: As a Balmoral boot, this is considered as formal as a boot gets.
Guys who dislike leather soles: The low-profile rubber sole offers more functional grip.
People who prefer lighter weight boots: The Elliot is Blake stitched for a more flexible fit.
Who Shouldn't Buy the Elliot
Impatient people: It's inexpensive because it's made to order, and will take 2 or 3 months to arrive.
Guys who want made in America: The Elliot comes straight from Colombia.
Wide-footed guys: There's just one width on offer.
3. Best Dress Chelsea Boot: Carmina's Simpson Chelsea
Carmina is the premier luxury footwear brand in Europe, tracing their roots to the late 19th century. Today, the Carmina brand is managed by the descendants of founder Matias Pujada, and their highly skilled shoemaking has been preserved for generations. Their boot catalog is large, but they're world renowned for their elegant, box calf Simpson Chelsea.
Carmina Simpson Boot Highlights
The Simpson last is famously elegant and shapely, bulging and tapering at all the right spots, and they're made with extraordinary attention to detail on the Spanish island of Mallorca. This is the only boot on this list to utilize box calf leather, the most revered material for dress shoes; the black box calf is from Germany's Weinheimer tannery, the others from France's Tanneries of Puy.
It's surprising to many that these boots are Goodyear welted, a construction method that usually leaves a bulky look to the welt. But the craftsmanship is so high and elegance has been emphasized so much that the Simpson Chelsea looks indistinguishable from a more subtle, formal Blake stitch, while remaining surprisingly durable and water resistant.
Finally, the sole is made with three layers of leather — insole, midsole, and outsole — for an incredibly soft and supportive feeling underfoot that only improves with time.
Who Should Buy Carmina's Chelsea Boot
Anyone who wants a laceless dress boot: There's no arguing that Carmina makes the best formal Chelsea.
Guys who want an easily resoleable boot: The Goodyear welt is slim and subtle, but still water resistant and easy to resole.
Men who want the finest calf leather on the market: Carmina is a step above the rest with their emphasis on box calf leather, which has a more uniform finish and sheen.
Who Shouldn't Buy Carmina's Chelsea Boots
Guys on a budget: The best leathers on a boot handmade in Europe produce a product that costs almost $600.
Men who prefer a wholecut Chelsea: That's a more minimalist look, but the wholecut Simpson is pricier at $625.
4. Best Value Dress Chelsea Boot: Thursday Boot Company's Cavalier
The mission of Thursday Boot Company is to provide "ridiculously high quality footwear at honest prices" and there's no better way to describe them. Almost all of their boots, including this one, are somehow under $200 and have stayed there since the company launched in 2014.
Thursday Cavalier Boot Highlights
They sell a few laceless boots, and at $190 it was easy to pick Thursday's Cavalier for the best value dress Chelsea. Less casual than Thursday's other Chelseas, the Cavalier is remarkably slim and streamlined. While its most popular variant is a casual suede called Sandstone — the one I own — it's sold in several smooth leathers that dress up nicely like Black, Rich Mahogany, and Hickory.
Being built on their elegant dress shoe last, the Cavalier presents a really sleek silhouette and fantastically smooth, rich leathers. Finally, the outsole is an interesting take on a leather sole: holes have been punched through the leather and rubber studs protrude through, combining the grip of a rubber sole and the aesthetic of a leather one.
Who Should Buy Thursday's Cavalier
Value-minded shoppers: Thursday Boot Company's bang for buck is off the charts. A Goodyear welted Chelsea with full grain leather for under $200 is hard to beat.
Guys who want variety: A bonus of Thursday's popularity is they're able to offer a wide variety of leathers that include full grain, snuff suede, and waterproof suede.
Anyone who prefers lighter weight boots: These are Goodyear welted, but Thursday uses leather and soles that weigh a little less than competitors. This also means there's no break in!
People who want a boot that's easy to take on and off. No laces, no problem.
Who Shouldn't Buy Thursday's Cavalier
Guys who prefer stompy boots: Again, Thursday's materials are lighter weight and they also have shock absorbing insoles, so they feel a little more like a sneaker than the average boot.
Anyone who prefers pull tabs on their Chelseas.
Men with wide feet: The casual suede Cavaliers come in wide, but not the smooth, dressier leathers.
5. Best Wingtip Dress Boot: Thursday Boots Wingtip
Wingtip boots were first designed to be hunting boots in the rainy British Isles. Originally, broguing was invented to help water run off of a boot's upper and it was common in country boots and hunting boots in England. That wound up making brogue boots associated with the landed gentry of the upper class, and over time, the style shed its forest stomping origins to be seen as a fairly sophisticated style of boot.
Thursday Wingtip Boots Highlights
We're not done with Thursday Boots just yet.
Today, you can find wingtip boots in just about any office space or formal event. We've worn them with jeans and flannel, and while you can certainly wear it in business casual environments, it won't suit a tuxedo.
While British brand Tricker's has the reputation for making the seminal wingtip boot, Thursday's is actually significantly slimmer, making it a more appropriate choice for dressing up — plus it's some three hundred dollars cheaper than Tricker's!
Like Thursday's other boots, the Wingtip is Goodyear welted and made with great quality leather, though at $235 it's on the pricier end of their offerings due to the extra leather and ornamental broguing. It's offered in four smooth leather and three suede options, which are easier to dress down.
Who Should Buy Thursday's Wingtip Boots
Business casual and smart casual customers.
Anyone who leans vintage with their formalwear. Suit fabrics like tweed and herringbone pair extra nicely with wingtips.
Guys who need durability: these are resoleable and water resistant, modeled after old fashioned, all terrain hunting boots.
Men on a budget: At under $250, these are tremendous value.
Folks with wide feet: Most of the colors come in wide widths.
Who Shouldn't Buy Thursday's Wingtips
Guys who need boots that are tuxedo-level formal.
People who prefer to American made: these ones are made in Mexico.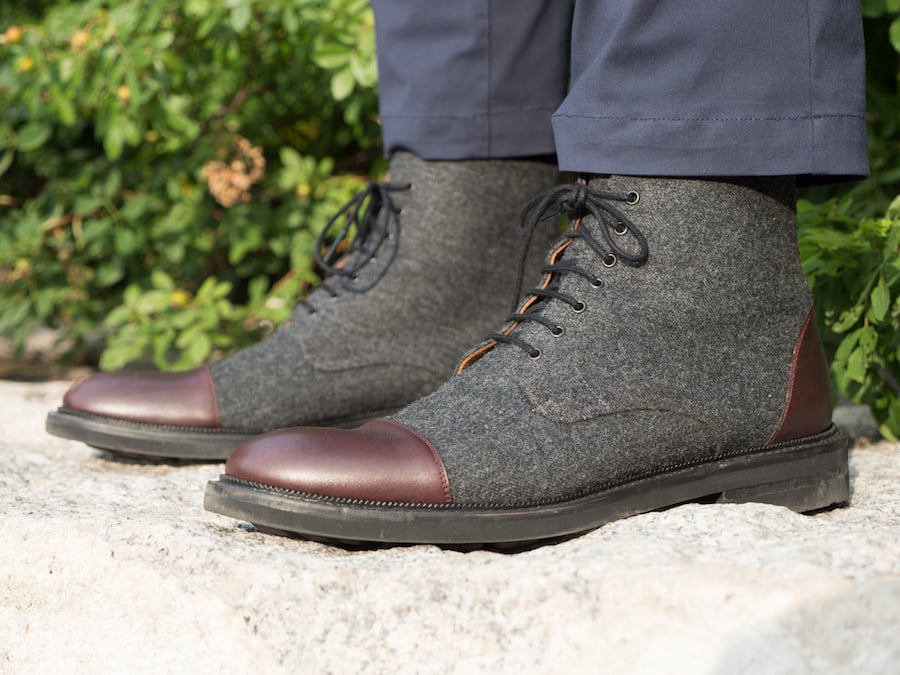 6. Best Boots for Weddings: Taft's Jack Boots
Attention, guys who want something flashy: without a doubt, you need to go to Taft.
Weddings can obviously go in a million different directions as far as dress codes go. But, as Big Love Parties, people tend to be a bit more playful with their style. And when spring rolls around, I am always astonished at how many friends (and friends of friends) I see at weddings on Instagram wearing boots from Taft.
Taft Jack Boots Highlights
There is no better brand if you're looking for fun footwear — and no, they're not leather boots. My own pair of Jacks have a less flashy grey wool upper with burgundy leather toe caps and counters, and I've worn them with a blue suit at many weddings.
But the six boots we put in that picture above aren't even half of the 20+ available styles. No matter what color suit you've got, you can find a colorway of the Taft Jack that will match your palette perfectly while still catching the eye.
These boots are made in Portugal, have uppers made of wool or fabric, and are attached to rubber or leather soles with a Blake stitch construction. That makes them lighter and more flexible than Goodyear welts, though a little less water resistant (but easier to dance in).
If you want to do a one-and-done wedding outfit, you can scratch your nonconformist itch with the Jack, but the boots are also resoleable and a lot of the seemingly wild styles can work pretty well with jeans and casual outfits.
Who Should Buy Taft's Jack Boots
Guys looking to amp up their style: Get ready for compliments when rocking your Jacks; no one has seen boots like yours before.
People who prefer lighter weight boots: the Blake stitch is lightweight and flexible.
Who Shouldn't Buy Taft's Jack Boots
Guys who want a really water resistant boot: These are Blake stitched, so they're not as great as Goodyear welts at handling rain.
Someone looking for a leather boot: The uppers are wool or fabric, with leather toecaps and heel counters. But they're leather lined, so they aren't shapeless or too bad in the rain.
Men who want a versatile boot: You'll find casual outfits to pair these with too, but versatile isn't the right word for such standout boots.
7. Best Customizable Dress Boot: Idrese's Balmoral
If there's something in particular that's in your mind's eye, something you wish you could own but nobody makes it… you should know about this company. A couple of brands allow customers to design their own boots online, but it's risky: the infrastructure is expensive, returns and exchanges are hard, and a lot of people just trust a designer more than themselves.
But if you're built different…
Idrese Customizable Dress Boots Highlights
Everyone is sleeping on Idrese. You can actually design any boot, shoe, or sneaker on their site. But since we're on a list of dress boots, we're highlighting their Balmoral.
You can pick absolutely every component of the boot. Curious about white box calf? Do it. Simply want a dressy black boot with a leather sole? Go for it. But the options aren't just different colored leathers: materials include blue leopard print, pink linen, Scottish tartan, and then there are the details. Go with a storm welt for extra water resistance, a perforated toe cap for style, any kind of sole, you can even have skull artwork painted on it.
The price is perfectly reasonable for what you're getting, and the speed is breakneck: customized boots delivered to your door from Spain in under a month. When some US boot brands regularly have six-month wait times, you can move fast with Idrese's custom boots.
Who Should Buy Idrese's Custom Boots
Creative guys: Just about any design you can dream of can be made for you.
Men who love color coordinating: If you've got an unusual suit (say, light tan), you can get a light tan or blue boot made to go with it.
Guys with particular needs: Maybe you live in a rainier climate, so you need a storm welt on your dress boot. Maybe it's icy, so you need a grippy Commando sole under a dress boot. You see what we mean.
People who like a good conversation starter: "These boots? Oh, I designed them myself."
Who Shouldn't Buy Idrese's Custom Boots
Guys used to overnight delivery: These will take a little under a month to be built and shipped.
Guys used to easy exchanges and returns: It's hard to do either with custom boots.
8. Best Dress Chukka Boot: Crockett & Jones' Camberley
There are few shoemakers in the world like Crockett & Jones, who sit alongside some of the highest end footwear manufacturers on Earth. Founded in Northampton in 1879, their quintessentially English heritage shows today, and their offerings are now made with durability and classic taste.
There's another reason guys seek out this brand: James Bond wears them.
Crockett & Jones Camberley Highlights
Coming to prominence in the 1940s, chukkas are ankle-high boots that are usually open laced and unlined, making them firmly casual. Like the idea of chukkas but want something more formal? Behold the Camberley, a chukka with an unforgettable double monk strap closure that has far more shape and dressiness than your standard desert boot.
An avid fan of the brand before he was cast in the role, Daniel Craig is actually the one responsible for the relationship between James Bond and Crockett & Jones. He sported the Camberley with a three-piece black suit at a funeral in Spectre, his penultimate film in the series. It has a chiseled toe and an upper made with a gorgeous European calfskin, all coming together atop a Goodyear welt with a thick leather insole and a proprietary Dainite-style outsole.
When buying Crockett & Jones, you're getting some of the best made boots in the world.
Who Should Buy Crockett & Jones' Camberley
Men who think long term: Boots like this aren't the kind to last just a few resoles before they get tossed out. These chukkas are heirloom quality, as many C&J's have gone through decades of wear and tear.
People who value British made: As countless competitors have moved overseas, Crockett & Jones remains steadfastly in Northampton.
Guys who want to stand out without standing out too much: this design is very distinctive, but understated at the same time.
James Bond. They're his favorite dress boots!
Who Shouldn't Buy Crockett & Jones' Camberley
Guys on a budget: At $815, the price is high. Now, with materials and construction like this, all made in England, there are actually a lot of British brands that charge over a thousand dollars for similar products, like Edward Green. Crockett & Jones is often considered one of the better value English brands.
Men with wide feet: The Camberley isn't offered in wide.
9. Best Dress Jodhpur Boot: Meermin's 101499
The Jodhpur style is the cooler cousin of the Chelsea. It has its roots in the Indian sport of polo, where riders needed a boot to easily slip on, but it's secured to the foot with a thin leather band that encircles the ankle. Needless to say, you're not going to wear these while playing polo, and the minimalist, laceless boot actually looks fairly dressy when worn under slacks.
Meermin's Jodhpur Highlights
Meermin makes their Jodhpurs with calfskin from France's Tanneries du Puy, the same place that supplies Carmina (and many other high end shoemakers) with their leather. However, Meermin keeps their prices astoundingly low — $265 right now — by making their footwear in Shanghai.
They're remarkably sturdy for boots with this many European style cues, and while they're not easy to break in, they become remarkably comfortable once you've softened the leather with wear.
Who Should Buy Meermin's Jodhpur
Guys who want versatility: Jodhpurs have about the same level of versatility as Chelseas, and many outfits can benefit from them.
People on a budget: At under $300, these are excellent value for resoleable boots.
Who Shouldn't Buy Meermin's Jodhpur
Guys who avoid China-made boots.
Anyone who dreads a tough break in.
10. Best Waterproof Dress Boot: Allen Edmonds' Hamilton
A lot of people think if you want to be able to wear boots in the rain, they need to be waterproof. It's not really true: while Blake stitched boots aren't great in the rain, the majority of boots on this list are Goodyear welted, which can stomp through most any puddle. You just can't stand in ankle deep water for extended period of time.
But if you live in an especially rainy area and want as much protection as possible while looking good and wearing an exceptionally well crafted pair of boots?
Allen Edmonds' Hamilton Boot Highlights
Fully made in America, the Hamilton comes in five different colors — including a nubuck and a suede — and is a very rare example of a boot that's waterproof and resoleable. The upper is attached to the sole with a fully sealed storm welt, a kind of extra water resistant Goodyear welt. This means the boot can still be resoled as many times as you like. In the leather upper, there's more protection: a "weatherproof membrane" beneath the boot's leather lining.
The term "waterproof" isn't really controlled and brands don't want to get complaints from customers who want to stand in a lake and catch fish in their boots, so Allen Edmonds prefers the term "weatherproof." But countless reviews on the site agree that the sealed storm welt and weatherproof membrane keep your toes dry in any weather, plus the Hamilton has blind eyelets and closed lacing, putting it firmly in the dress boot category.
Who Should Buy Allen Edmonds' Hamilton
People who value American made boots.
Owners of unusual feet: widths AAAA to EEE are available.
Men who need more grip than a dressy leather sole: the Dainite performs well in wet weather for a flat, rubber sole.
Anyone who wants a dress boot that's as waterproof as they come.
Who Shouldn't Buy Allen Edmonds' Hamilton
Guys on a tight budget: these run $495.
People who find broguing on a boot to be too informal.
Man who need a black boot: Weirdly, that's one color this doesn't come in.
11. Best Dress Cowboy Boots: Tecovas' Nash
Tecovas exploded onto the scene in 2015 with a familiar story: a consumer goods company selling directly to the consumer through the internet, enabling lower prices by avoiding the markups of brick and mortar retail stores. These kinds of brands are a dime a dozen but fortunately, as we learned in our Tecovas boots review, they actually make spectacular boots.
Tecovas Nash Boot Highlights
They sell a variety of ropers and Western boots, so why did we land on the Nash? Well, it's a roper boot, meaning it's two inches shorter than the typical 13-inch high cowboy boots that might have sprung to mind. That makes it easier to wear foramlly.
We also simply love the lizard leather. It's cheaper than the caiman leather boots yet it looks more refined, due to the smaller scales that give the appearance of a more consistent, less rugged boot. In addition to the size of the scales, the leather's consistency is due to the Nash boot's usage of Varanus salvator (Asian water monitor) hides: the animal is large enough that they don't need to stitch together multiple pieces of leather to make the boot's vamp. All of this comes together to make a smarter, cleaner looking boot.
Who Should Buy Tecovas' Nash Boots
Guys who want a smarter cowboy boot that still tells a story. Dress it up!
Anyone looking for a more versatile, easier to wear boot than 13-inch Western boots.
Men who don't want an agonizing break in. The calfskin leather and soft footbed make for a very easy break in.
Someone who needs durability: a Goodyear welt and hardwearing leather mean that this "dressy" Western boot can handle any weather.
Who Shouldn't Buy Tecovas' Nash Boots
Californians. Lizard leather is forbidden to send there!
12. Best Button-Up Dress Boot: J Fitzpatrick Puyallup Button Boot
There comes a time when a man wants something else. Something unique. These buttons boots, although a rare sight in today's men's fashion, are really not new at all: they were a staple of Edwardian dress-up in the late 19th to early 20th century. J Fitzpatrick is one of the first to bring this style back from the dead to the wider internet space.
J Fitzpatrick Puyallup Button Boot Highlights
These Button boots are awesome; the details put into play are different but in a fun manner. The tweed on the shaft makes a very vibrant contrast, the broguing is eye catching, and the buttons have a horn appearance. The result is a package that almost makes for a harmonious art piece. Justin Fitzpatrick knows a thing or two when it comes to great design. On top of this, the boots are constructed with a Goodyear welt and really great materials, making this already intriguing package a good value.
Who Should Buy J Fitzpatrick Puyallup
Guys who want a unique boot: this is especially so if you get it a down-to-Earth color like the one pictured.
Men who lean vintage in their style.
Who Shouldn't Buy J Fitzpatrick Puyallup
People who like leaving home in a hurry: the buttons take time.
The Different Types of Dress Boots
Dress boots can range. That's why we covered every kind of dress boot in this list! While the classic oxford cap toe is the seminal dress shoe — and that's why an oxford cap toe boot is our number one pick — there are several other models that can make it under a suit.
In general, the most common are:
Cap-toe boot: One of the most common style of all boots with a panel over the toe. Cap toes were originally to protect a worker's toes with an extra layer of leather, but we soon learned that, well, they just look cool. On a dress boot, cap toes are great for making a stunning polish stand out!
Plain-toe boot: Similar to the cap-toe, just without that leather panel on the toe. The plain-toe can be seen as more formal, as it's simpler than the cap-toe equivalent. Others find such a lack of ornamentation to suggest that the plain toe boot is more casual. Just pick whichever you prefer.
Wingtip boots: These are defined by the broguing, little holes stamped into the upper, as you can see in the picture above. Some boots, like Beckett Simonon's Elliot in our list, just have broguing along the cap toe, whereas others are completely ornamented. Originallly, broguing was meant to help water to run away from the boot's upper and it was commonplace on English hunting boots. Today, it's usually a decorative feature.
Chelsea boots: A laceless boot that's secured with elastic goring at the ankle, the chelsea boot can be an extremely versatile piece of footwear. Usually at home in business casual environs, some models are bulkier and uber casual while others are sleek and made with dressy box calf. It all depends on the last and the leather — just like lace ups!
Jodhpur boots: Because they're laceless they're sometimes put in the Chelsea category but Jodhpurs instead secure the foot with a slim leather band that encircles the ankle. It's invisible when you're wearing them, and as these erstwhile riding boots are typically slim and minimalist, they can dress up nicely with the right leather.
Balmoral boots: As we touched on above, these have a seam running the length of the boot that cleanly divides it into two parts. As it eschews a heel counter, Balmoral boots do a great job of eliminating anything that might remind someone of a work boot and it's considered the most formal kind of boot.
Chukka boots: Distinguished by their shorter height and smaller number of eyelets, a chukka is an ankle boot that's about as close to a shoe as you can get while getting some of that precious ankle support that boots are loved for.
Of course, the field is wide and broad and almost every kind of boot can be sold with myriad variations, but we're happy with this list as a primer for your options.
Wrapping Up
Boots can provide a fantastic piece of formal footwear for anyone, plus they offer support and stability in ways that your standard oxford doesn't. In this list, we presented some of the best, most unique options around, and provided some insight on what a dress boot is, their history, how to wear them and what can make them comfortable. Let us know in the comments which one you like best.