What happens when four self-proclaimed Red Wing experts drink four whiskeys and try to rank the five best Red Wing boots for sale in North America? Fighting. Lots and lots of fighting about men's boots.
By the end of debate, we mostly agreed that these are the best Red Wings available. It wasn't easy, but two Red Wing employees and two Red Wing vloggers all came together to land on this list, whittling down the options to land on the best of the best.
We put them in reverse order, so let's start with the fifth most iconic Red Wing according to four slightly buzzed boot bros.
The Best Red Wings
I feel like a parent choosing their favorite kid. Boots are usually made to serve a purpose, that's why a lot of us get into this hobby in the first place. So this is by no means meant to be the definitive list, but it's meant to encapsulate the core range of Red Wing boots, that just about any guy could buy and wear for years.
The Classic Red Wing Boot: The Blacksmith 3343
Innocuous
Versatile
Platonic ideal of a boot
The last two we have are both fantastic boots, just in different ways. Either one could take the top position — heck, you could argue that any boot on this list could take the top position depending on the criteria you used to choose a boot.
But the Blacksmith is the best boot that Red Wing makes. Here's why.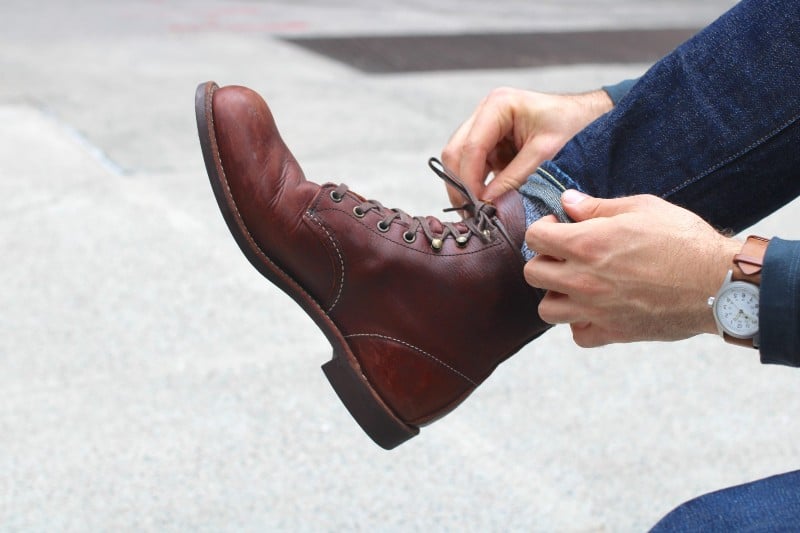 It might be the perfect plain toe boot. It's innocuous. It's more subtle. It blends in easily. A lot guys just want a timeless, masculine boot that speaks for itself — something that isn't too flashy and doesn't show off. For guys who want the most classic boot there is, go for the Blacksmith.
And of course, it has all the hallmarks of a great Red Wing boot: rich, full grain, oil tanned leather; a resoleable Goodyear welt; a grippy-yet-low-profile Vibram mini lug; and it's completely made in the United States.
"I like that it's not a loud boot," says Joe. "But it stands out because it's clearly well made. People will say, 'hey, he's wearing nice boots,' right away. For a lot of people, this is just the perfect boot."
[SHOP the Red Wing Blacksmith here!]
The Most Iconic Red Wing Boot: The Moc Toe 875
The most iconic Red Wing boot
Very casual and comfortable
Softer sole
If the Blacksmith is the perfect boot for the average guy, then the Classic Moc 875 is perfect Red Wing boot. It's the perfect entry level boot, it's the perfect casual boot, the perfect wedge soled boot, and it's the most streetwear-friendly Red Wing.
The 875 is not a refined, classy boot — don't even try to dress them up with a suit. It was made as a boot for sportsmen in 1952, sort of a like a sneaker or a lightweight hiking boot, and it was built for a variety of outdoor uses and meant to be comfy out of the box. Because this boot was meant for walking outdoors (as opposed to back and forth on a warehouse floor), it's more like a sneaker and doesn't have a shank.
The comfort comes from the super soft Traction Tred wedge soles which are the iconic moc toe sole. They have cork filler in between the durable leather insole and the outsole. The cork and leather in the sole mold to your foot over time and feel really nice underfoot, ultimately producing a boot that feels tailor made to your own foot.
These were my first Goodyear welted boots, and I choose them exactly for these reasons. It's stylish, comfortable, unique, and meshes with both heritage and modern fashion — plus it's the cheapest boot on this list.
[Related: The 5 Best Moc Toe Boots On the Market]
The Most Rugged Red Wing Boot: The Iron Ranger 8111
Rugged style
Leather toecap
Nickel eyelets
The beloved, chunky Iron Ranger is probably the most well known of Red Wing's heritage line.
So, we're choosing the Iron Ranger in Amber Harness leather as our favorite one. Amber Harness is another iconic leather from SB Foot that does a really good job matching the old-timey intended use of the boot. It may not seem it now, but back when these boots came out, the type of leather was a unique selling point.
The Iron Ranger was originally built for iron miners in the 1930s, and this oil tanned leather works very well at making a naturally water resistant, scuff resistant, low maintenance leather — perfect for the iron miners for whom they were originally made in the 1930s.
Its background as work boot for miners is the reason it has a toe cap, which provides some extra protection from rocks and other mine related injuries. (Think of it as the poor man's proto steel toe.) The double layer toe cap was the precursor to Red Wing's first steel toe boots, which came out around same time as the Iron Ranger in 1934.
[Review: Red Wing Iron Ranger – Is It Really the Ultimate Boot?]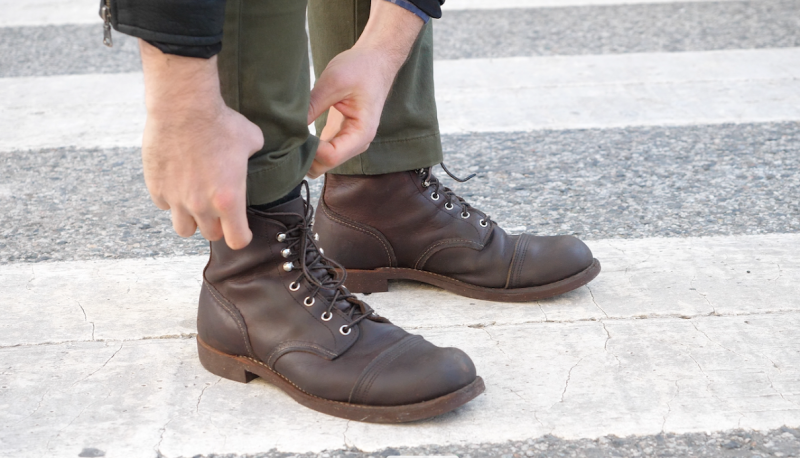 Because it started life as a work boot, the Iron Ranger has a rugged look and rugged style that resonates with hard working Americans. The details are all slightly rugged: the toe cap, the mini lug outsole, and the shiny nickel eyelets all work in concert with the full grain, oil-tanned leather. It's far from Red Wing's most versatile boot; all these details make it a firmly casual and outdoorsy piece of footwear that can't be dressed up, plus the somewhat bulbous toe has made many a fashionista dismiss it as a "clown shoe." But for guys that want a tough boot that looks great as it ages and adds to any casual outfit, they can't be topped.
[SHOP the Red Wing Iron Ranger here!]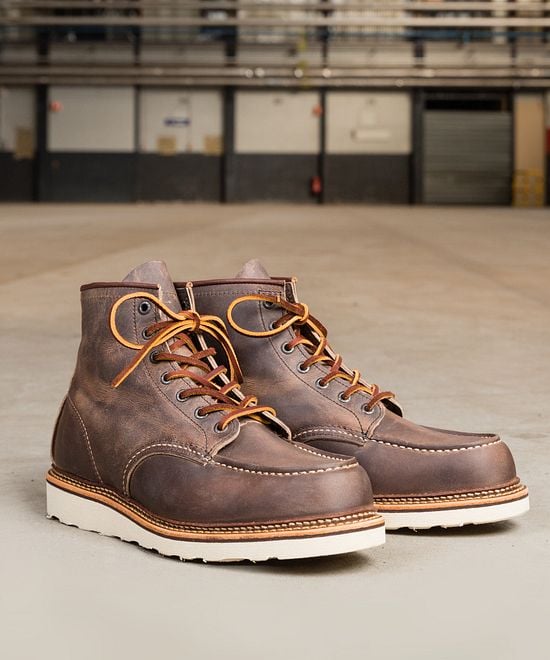 The Best Value Red Wing: The Moc 1907
Best Value
Double (Norwegian) storm welt
Lots of shock absorption
Removable leather footbed
The fifth best Red Wing boot is the Classic Moc 1907.
Most guys know about the 875 Moc Toe, which is the better known Red Wing Moc Toe, but the Classic Moc has some distinct advantages. First, the Copper Rough and Tough leather is really nice, its Red Wing's most popular leather and people really like the way it ages. It's also very durable because it's an oiled and waxed nubuck.
The next difference is that it has a Norwegian storm welt, which is more water resistant than Red Wing's normal Goodyear welt. The Norwegian storm welt uses a single piece of leather that's folded over and stitched to the upper and the midsole to help it keep water from getting the inside the boot. It's a very old-fashioned but extremely effective way of waterproofing a boot.
The 1907 is without a question the best value Red Wing. You get leather laces, which aren't cheap and don't always come with a Red Wing boot. It comes with a padded , shock absorbing leather footbed that Red Wing normally sells for 40 dollars. The Norwegian Welt requires more material and skill to build. Surprisingly, you get all this for only 10 bucks more than the 875.
To accommodate the removable footbed, Red Wing built the 1907 on the roomier No. 45 last, so Joe at Red Wing Heritage NYC recommends buying them a little on the small side. Take the footbed out and wear them for a month or two to let them mold to your foot, then put the footbed back in — and "you'll probably be the happiest you've ever been in a pair of shoes."
Red Wings mold to your foot the more you wear them because they have a layer of cork filling between the midsole and the outsole, and if you have something that's going to prevent that, like these leather footbeds, just leave them out for a month or so. After the cork compresses a little bit, they'll seem more roomy after you wear them.
[SHOP the Classic Moc 1907 here]
Best 8-Inch Boot: The 877 8-inch Classic Moc Toe
8 inches tall
Easier break in than 6-inch boots
Classic hunting boot
Red Wing likes this boot so much they built a giant version of it that sits outside of Red Wing HQ in Minnesota. The 8-inch Classic Moc started as hunting boots all the way back in 1952 and they're one of the more well-known boots in the Red Wing Heritage Collection. Like all their moc toes it has Traction Tred rubber outsole and moc toe construction, and of course it's a Goodyear welted boot, so it's water resistant and easily resoleable.
The 877 is built with Oro Legacy leather, which is a very, very famous and beloved leather from SB Foot, the tannery that Red Wing owns and which produces all of their leathers. What makes the Oro legacy a bit different from other leathers is that they don't use any pigment during the finishing process, which emphasizes the natural color of the hide, so you get this very old-school, natural look that fits the hunting boot aesthetics.
It's an 8-inch boot, which I don't wear very often, and customers will be surprised at how much sturdier it is than a regular 6-inch moc. In fact, these aren't just taller versions of the 875 either. For one, the 877 is partly leather lined down by the toes, a throwback to its original intended use as a hunting boot. Leather lining helps with water resistance and comfort, while the shaft remains unlined to eliminate heel slippage and keep you from overheating.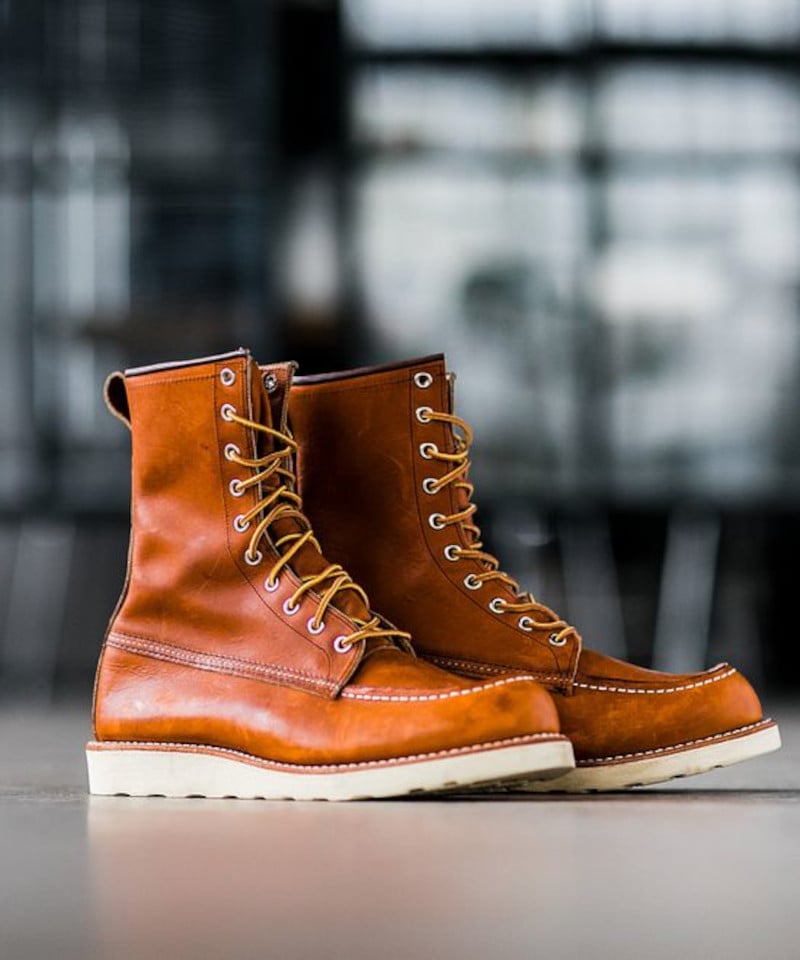 Another cool detail that isn't shared by the 875 is that the leather continues as one piece around the lower portion of this boot's uppers, so there's no break in the leather at the counter or anywhere else. Most boots, including the 875, are made with multiple pieces of leather stitched together and that can have a couple of downsides. First: the more stitches, the more water can get into the boot, which isn't ideal for a hunting boot. Also, they break in much more easily because there's less stitching and fewer seams, which can take longer to soften up. If you've got a big wide foot, it's much more open to you.
[SHOP the 8-inch 877 Moc Toe here!]
Wrapping Up
That's our list of the best Red Wing boots. Obviously, ranking classics from Red Wing is controversial undertaking, but we're fairly happy with this top five. The four of us think this is a useful list for guys who might be debating what their first pair of Red Wing boots might be, and hopefully even the experienced Red Wing fan will get something out of it.
Big thanks to the gentlemen who collaborated in the video and on this list: CJ Cook, and the guys at Red Wing Heritage NYC for being such gracious hosts. For more on our collaboration, take a look at our list of the best Japanese Red Wing boots!
The following two tabs change content below.
Nick English
By day: Manhattan-based journalist with reporting experience on four continents, published in Vice, Men's Health, Popular Science, and a bunch of other places.By night: ravenous consumer of anything and everything related to high end men's boots.Stridewise is where I nurture a maniacal obsession with footwear and share my findings. Say hey:
[email protected]
.
Latest posts by Nick English (see all)