Note that these boots aren't available anymore.
To Boot New York is a footwear company that's been in the business for about thirty years and while they're based in New York City, all their production takes place in Italy.
Adam Derrick runs the show and his name is on a lot of the products, claiming on their site that his mission is "to rethink, refresh, and redesign these classics to give them the update they need to work with the modern man's wardrobe." While the company sort of claims to be small — that's how the sales rep I spoke to on the phone described it — it has grown to the point where To Boot New York sells dozens and dozens of shoes, including boots, dress shoes, sneakers, wallets, belts, and more.
When it comes to boots, which as the name suggests is their specialty, they're definitely more of a fashion brand than a workboot brand. I picked up one of their best known boots, the Astoria, in the cognac color to see how it stood up to scrutiny.
To Boot New York Astoria Boot First Glance
The first thing you notice when you look at the Astoria boot in Cognac is the burnished toe. The rest of the upper is a light brown color but the toe and to a lesser extent the heel have been hand burnished to black, which is easily the most distinctive element of this otherwise pretty simple boot. (The Astoria comes in four varieties, including a Dark Brown which also has the burnished toe, but neither the Black nor the Brown Suede share this quality.)
A lot of folks think the burnished toe looks sharp and it really emphasizes the fact that this is a dressy boot, as does the pretty thin leather. It's calfskin and not particularly substantial, and I want to point out that this isn't always the case with calfskin — the Frye Jones Lace Up, for example, is delicate but doesn't fold as easily as the leather on this boot. There's also a decent amount of wheeling on the stitches, meaning that you can see the imprint left by the machinery used to make them. Not a deal breaker, but never a good quality.
It's also Blake stitched, making for a more flexible sole, and it's a very light boot. You're not clomping around in these, you don't feel like they can take a lot of damage or leave a deep footprint, they're light, dressy boots that seem made for walking on carpet. There's nothing wrong with that at all, just don't expect boots that work in and out of a suit. With the Astoria boot, fashion is the name of the game.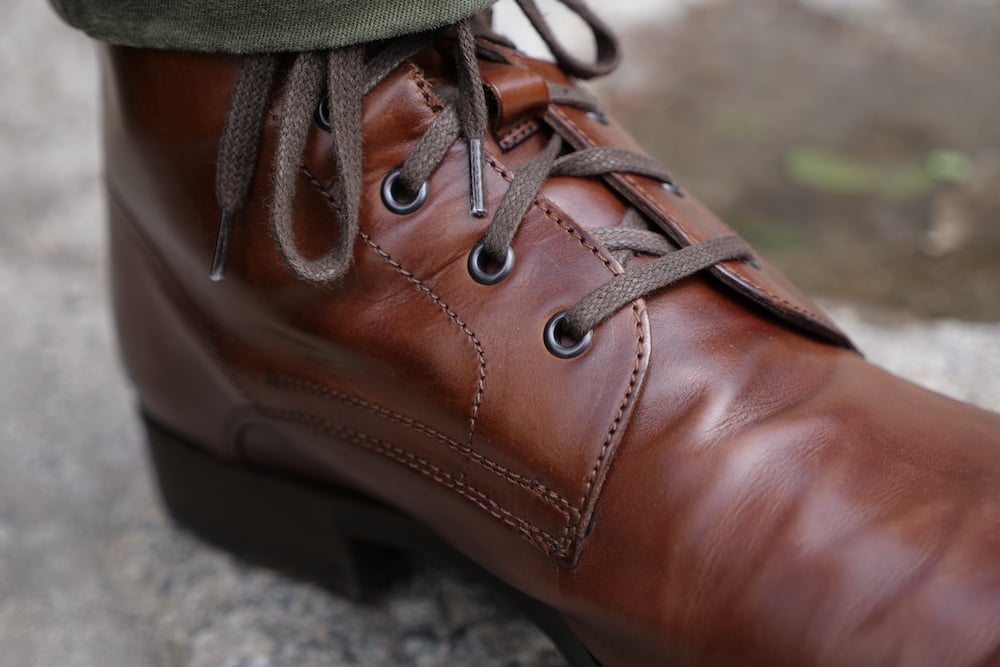 To Boot New York Astoria Boot Leather
Hand burnished Italian calf leather
Thinner and wrinkles more finely than steer
Hand cut and hand stitched
We're dealing with hand cut, hand stitched Italian calf leather, here, and one interesting aspect is that both boots are always cut from the same animal's hide. Sometimes they'll use deer or buffalo, but almost all of To Boot's leather is Italian or French calf, and there are a few potential reasons someone might pick calf over steer leather from grown-up cows: it's thinner and it wrinkles more finely. There's also an argument to be made that ounce for ounce, it's stronger than steer leather because the fibers are closer together.
In any event, calfskin is used in dress shoes a lot because it seems thinner, softer, and more delicate.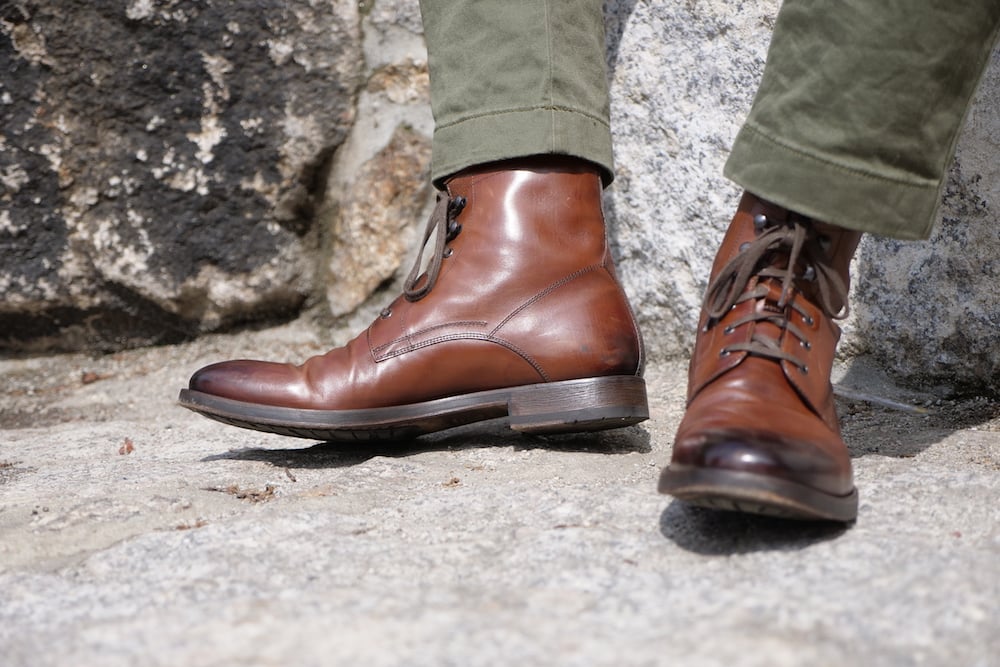 Like I said, this is some thin leather and while the hand burnished toe is super distinctive and really amps up the dressiness, the biggest complaint I hear about these boots is that the leather feels, well, plasticky. While it's very smooth, To Boot says this leather is full grain, meaning it comes from the top layer of the hide of the animal. Generally speaking that means it ages well and is pretty durable, though full grain means that nothing has been done to the grain of the skin — no smoothing or correcting or anything like that — but the Astoria's boot definitely feels very smooth and seems like it's been corrected a little bit. Not that there's anything wrong with that.
How does it get the color? To Boot clearly told me that this leather isn't vegetable tanned but wouldn't go into much more detail than that, mostly saying that "there are a lot of processes that go through it." It seems pretty likely that if it's not vegetable tanned it's chrome tanned, but it's possible that it may have undergone natural tanning, which mimics the conditions of a bog. (Yep, tanning is complicated.)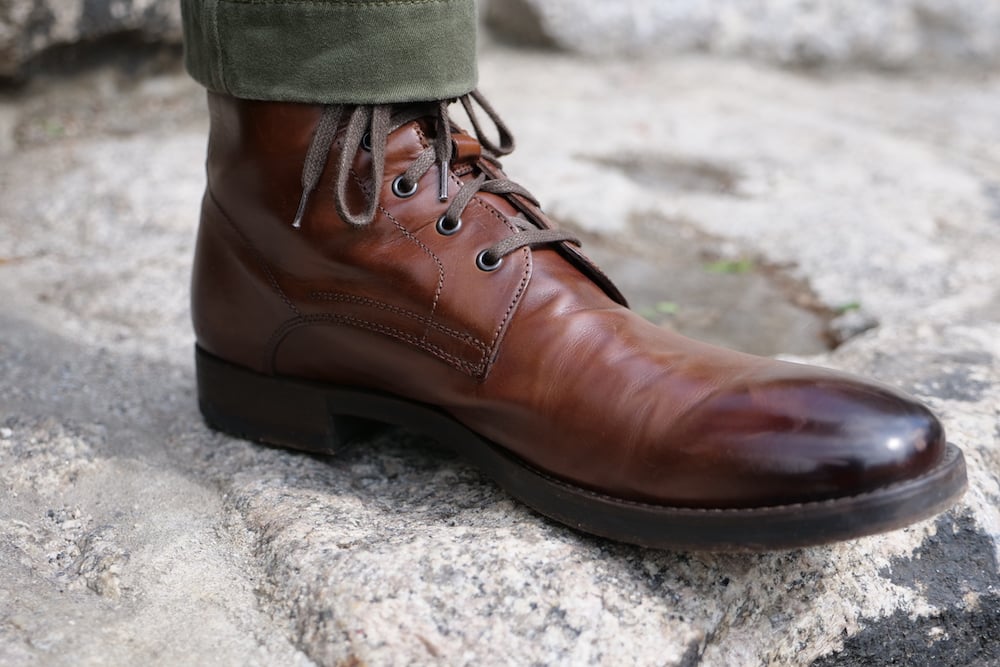 To Boot New York Astoria Boot Leather Care
Condition with neutral cream like Venetian Shoe Cream
Waterproof with Jason Markk's Repel
Use shoe trees between wears
To keep this leather looking great you want to steer clear of wax polishes, which can build up and create a cracked appearance, and instead use a neutral cream cleaner to condition and cover scuffs. Venetian shoe cream is a very popular choice for a lot of boots and it's perfectly fine for the Astoria's calfskin leather. If you want to really ramp up the water resistance, they recommend Jason Markk's Repel.
You might be surprised to hear that a Blake stitched calfskin boot can go outside in the rain, but To Boot did say that this leather can handle itself fine in inclement weather. However I should point out that Blake stitches aren't particularly waterproof.
It's also strongly recommended that you not wear these boots every day. Always let them rest for at least a day after they've been worn, and put them in unfinished cedar shoe trees so they can absorb moisture and smooth out wrinkles.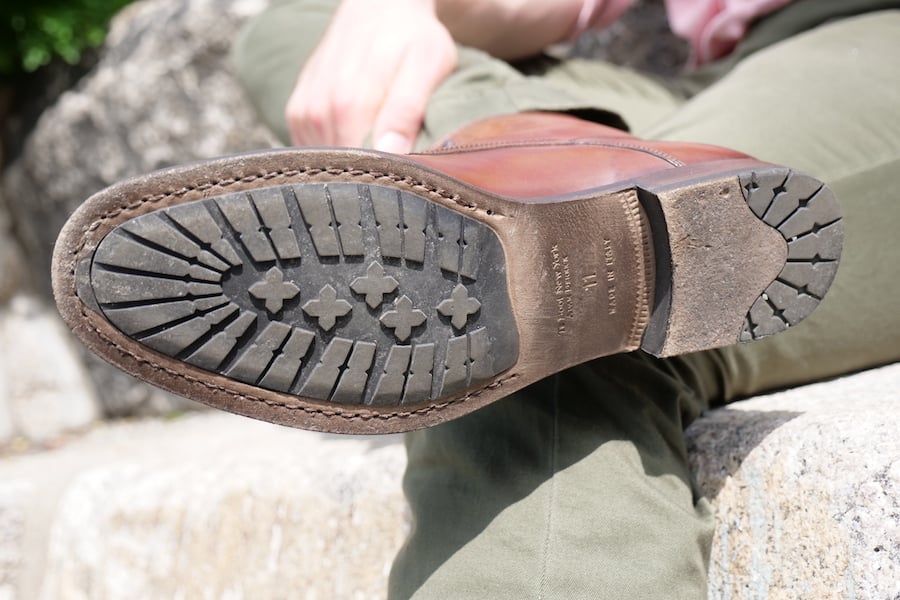 To Boot New York Astoria Boot Sole
Combination leather and rubber sole
Blake stitched
More flexible than Goodyear welt
The Astoria boot has a leather insole and a steel shank for stability, and while it's often described as having a leather outsole, as you can see above it does have some Commando-looking rubber on the ball of the foot and the heel for extra grip. This is a little unusual for dress boots, which typically have flat leather soles and provide very little grip. Since dress boots are more or less meant to be worn indoors and in situations that call for a suit a lot of people don't take issue with that, but I never like fearing for my safety when walking down stairs. I loved the grippy sole, but if you're looking for a really classic looking, dressy sole, you're out of luck.
If you do want to resole, you're going to have a hard time because this is a Blake stitched boot. Blake stitches are pretty common in Italian footwear and unlike a Goodyear welt, which has a layer of rubber or leather between the upper and the sole, these shoes have the upper stitched directly into the sole.That makes for a shoe that's more flexible because it has fewer layers, but it's harder to resole and it's less water resistant.
[Learn more about the differences between Blake stitch and Goodyear welt here!]
That's not to say the Blake stitch is objectively bad, a lot of people love the way it looks for dressy shoes, but you should know it does make for more delicate footwear.
To Boot New York Astoria Boot Fit & Sizing
Order a half size down
Just one width available
Easy to wear in
These boots run from size 7 to 15 and when you want to pick your size, just order a half size down from your regular sneaker size. That's a quality that's super common in boots; while I'm about an 11.75 on a Brannock device, almost all of my boots are size 11 including Red Wing, Thursday, Wolverine, Chippewa, Taft, you name it.
Width wise I'm a D, which is considered normal, and while there are six other sizes out there To Boot New York just has the one width available for the Astoria. That's a pretty big minus for the brand, but the good news is that the thin, soft leather was super easy to wear in.
To Boot New York Astoria Boot Price
These boots cost me $398 on To Boot New York's official website, they aren't available anymore. hile you can find products from this company on Zappos, Nordstrom, and a few other sites, at the time of writing you can only pick up the Astoria on their official site.
A week after I bought these shoes they went on sale for $280, which was a bit of a bummer, but I think that's a better price for these boots. As far as boots go, a lot of people consider these "mid-range" boots since they fall in that $300-$450 sweet spot where boots stop being decent and start being quality. I don't really think the Astoria deserves to fall into that category.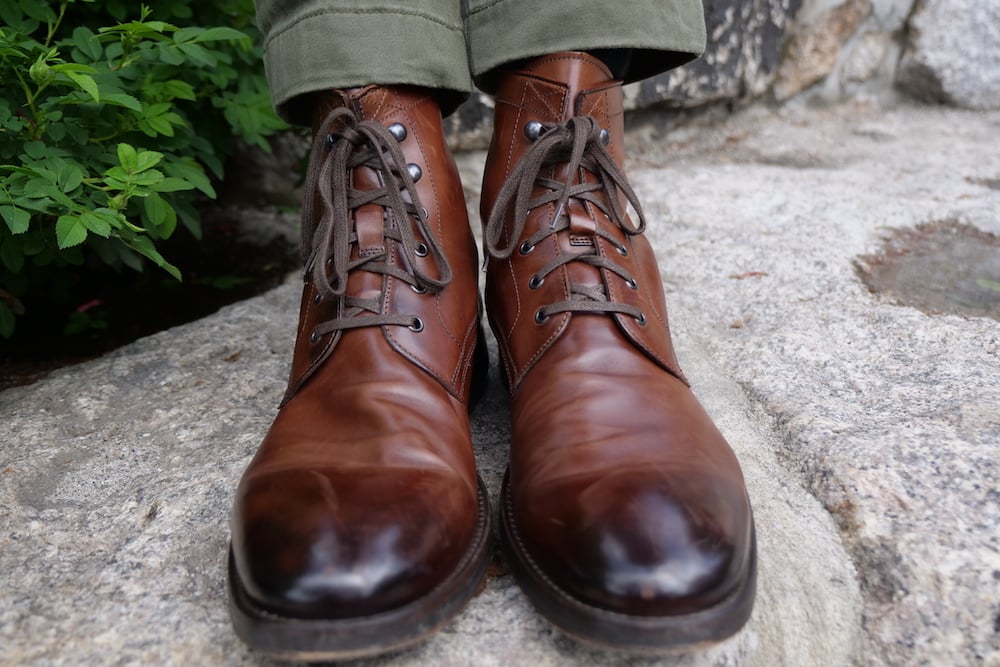 To Boot New York Astoria Boot: To Buy or Not to Buy?
I know that they're hand burnished, which takes a lot of time; they're made in Italy, which adds to the cost; and they're dress shoes so they're not supposed to be as rugged as other mid-range boots, which I completely understand. But they're not vegetable tanned, they're Blake stitched, and above all the leather just doesn't feel great. It's thin and plasticky and wrinkles on the foot when you're walking in them or even standing in them, as you can see in the picture above. I feel like there are plenty of other calfskin boots that will last longer than these.
They do look great with a suit, they're super lightweight, and they offer more grip than other dress boots. If you do see them on sale for under $300, I think that's a fair price.
The following two tabs change content below.
Nick English
By day: Manhattan-based journalist with reporting experience on four continents, published in Vice, Men's Health, Popular Science, and a bunch of other places.By night: ravenous consumer of anything and everything related to high end men's boots.Stridewise is where I nurture a maniacal obsession with footwear and share my findings. Say hey:
[email protected]
.
Latest posts by Nick English (see all)