Red Wings Shoes started out as a work boot company that catered to miners and blue collar workers in the Midwest. But the brand slowly took the fashion world by storm with their now famous, more fashion-focused Heritage line. With their Heritage boots, Red Wing opened up its doors to new types of consumers.
Now, these types may not necessarily work with their hands all day, or use equipment that isn't a smartphone, but they too have found comfort in Red Wing boots. Recent college grads, style conscious dads, hunky actors, there are no limits to who looks good in a pair of classic Mocs.
With so many types of people embracing Red Wings, there are a myriad of styles popping up on social media. Below are my top 5 ways to style Red Wing boots.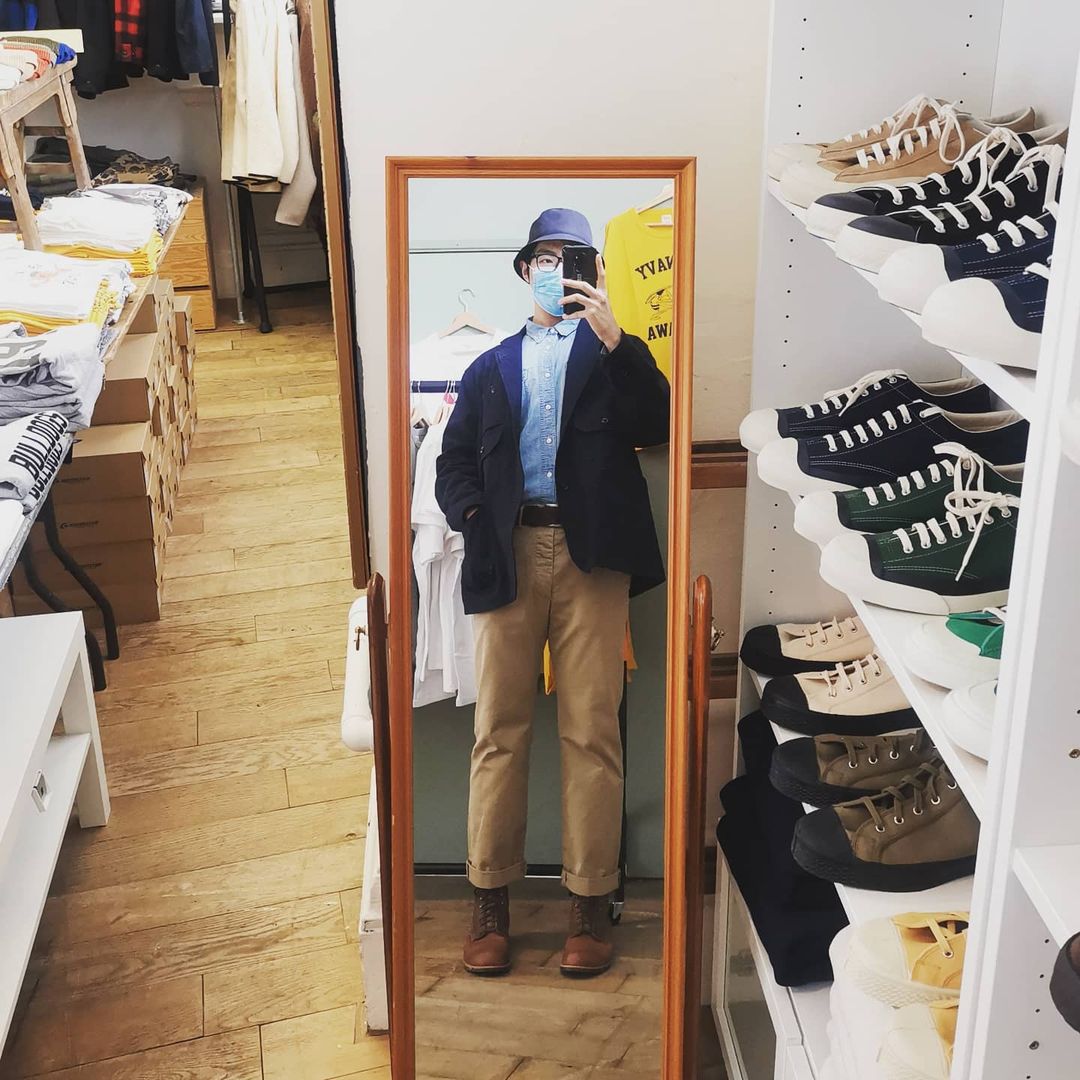 1) Business Casual/Office style
The term "business casual" by itself doesn't convey much more information than, say, the term "dressed up". What is considered "business casual" in one environment may be too casual in another setting and vice versa.
In this entry, I am simply defining business casual as any attire than one might find themselves wearing to their regular 9 to 5 office job. This can range from khakis and a shirt all the way to pants with a blazer.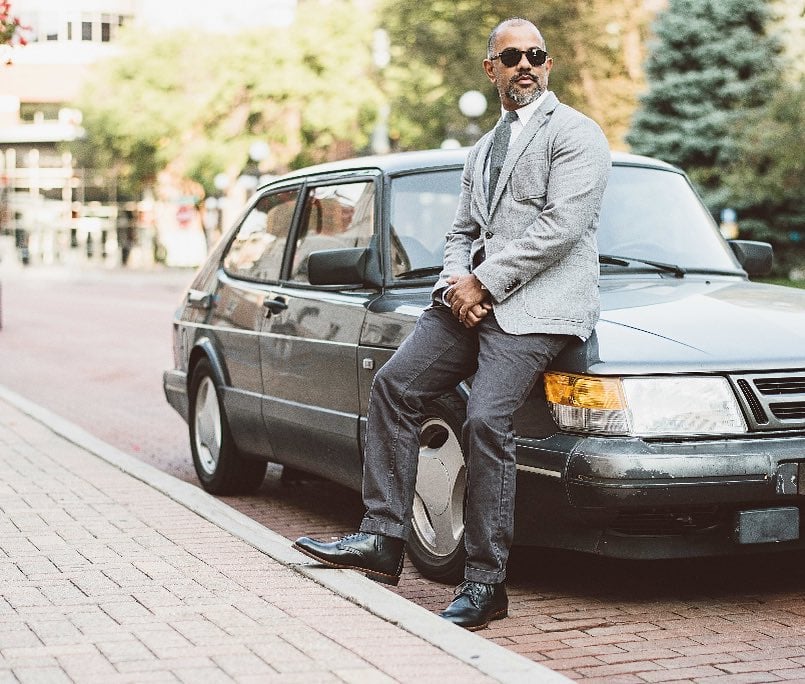 I love this style with Red Wings because the wearer generally has to make a conscious decision on their styling. Red Wing boots are work boots first and fashion accessories second. No one in their right mind would wear their Timbs (or Timberlands for non New Yorkers) at a meeting, so why Red Wings?
Certain models of Red Wings have the right characteristics that help them blend in with more formal attire. This, however, does not make them dress shoes! Before you try this look out, I will give you this warning. This style is not easy to pull off and takes a certain amount of menswear knowledge to execute confidently. You will be intentionally breaking established menswear norms, but you can do it in your own unique way.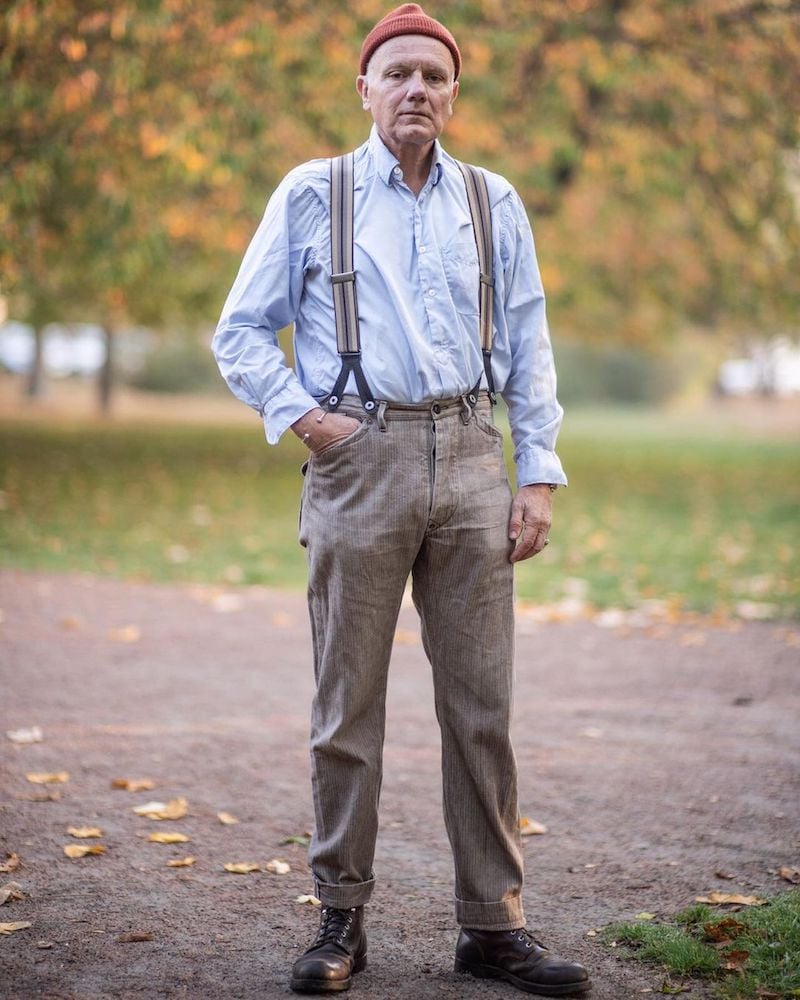 1. Chinos Pants + Button Down style
Perhaps the epitome of the term "business casual", chino pants paired with a button down is the most casual in this category. It sends a very down-to-earth tone without being overly offensive to any professional setting. This is a style that you can rock to the office and then to happy hour afterwards.
Due to the super casual nature of this look, you can get away with wearing bulkier style boots.
Some Red Wings to consider for this category include:
Merchant 6-in
Sheldon 6-in
Williston 6-in
In my opinion, if you choose to go with any of these models, it is best to wear thicker fabrics. Thick fabrics will help compliment the boot's larger size. I would avoid denim jeans though. Seeing that this look is meant to "dress up" your boots, wearing super casual pants like jeans would have the opposite effect. I recommend chinos made from herringbone twill and shirts from oxfords cotton, but there are other fabrics to consider such as Corduroy or duck canvas.
One final remark to consider about this look is that your belt should match the color of your shoes, and that you should not wear a tie unless you're also wearing a jacket (blazer, sport jacket suit jacket). This is because while some styling rules are more forgiving, we should still adhere to the fundamentals of menswear to avoid looking silly or offensive — especially in front of our bosses.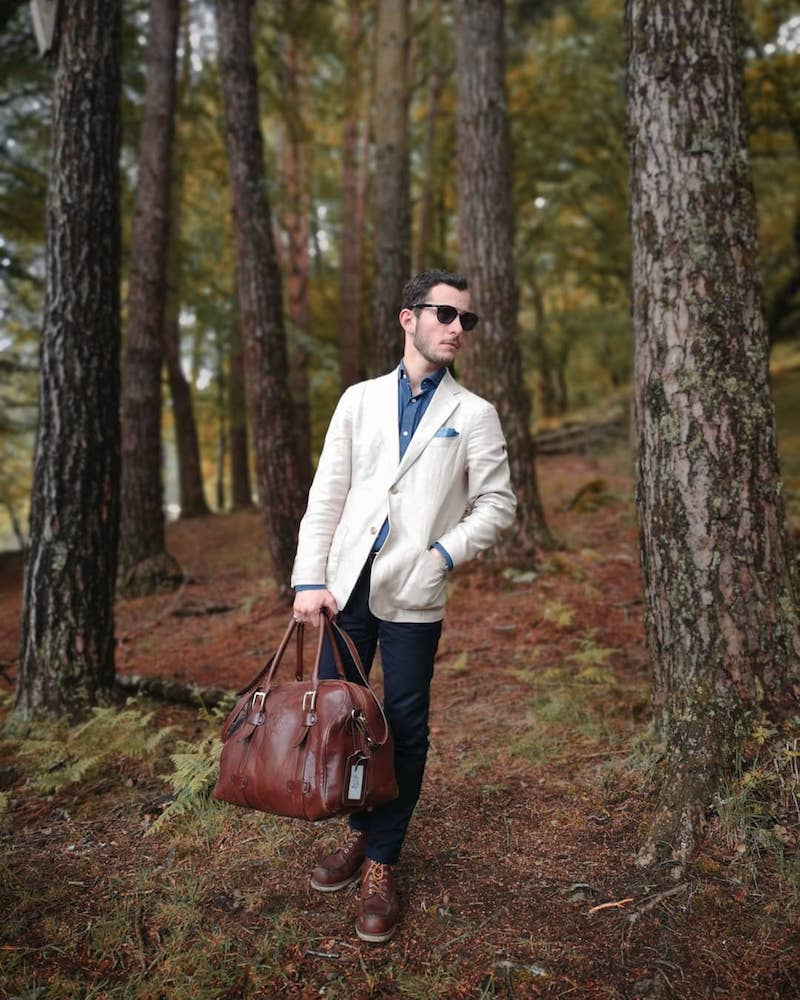 2. Sport Jacket
If you want to build another level of sophistication to your outfit, then consider pairing your boots with a sport jacket. In my opinion, the jacket is what separates the associates from the interns, and men from boys.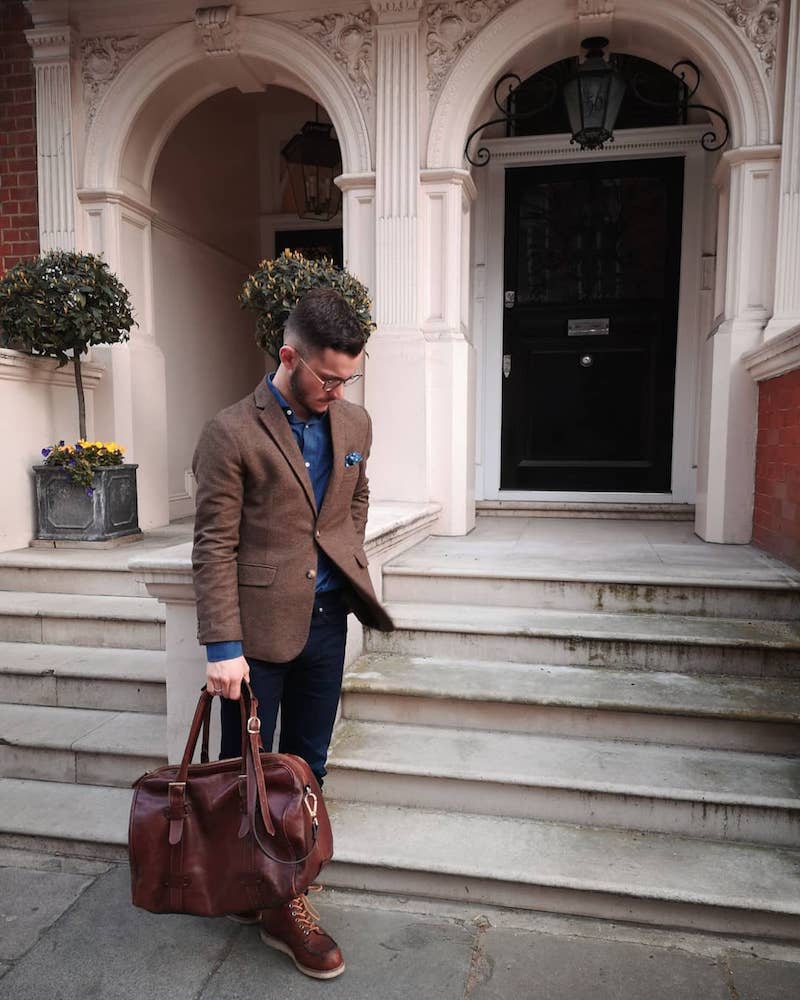 Like the style above, wearing a jacket with your Red Wings will dress them up considerably. The main difference between the two business casual styles is that by wearing a jacket, you unlock the styling potential of the neck tie. Neckties are great because they can really personalize your outfit. Five guys in a room can wear the same shirt and pants, but I guarantee that no one person is going to wear the same tie as you on the same day.
On top of that, you can also coordinate your shoe laces to match your tie.Some Red Wings to consider for this category include: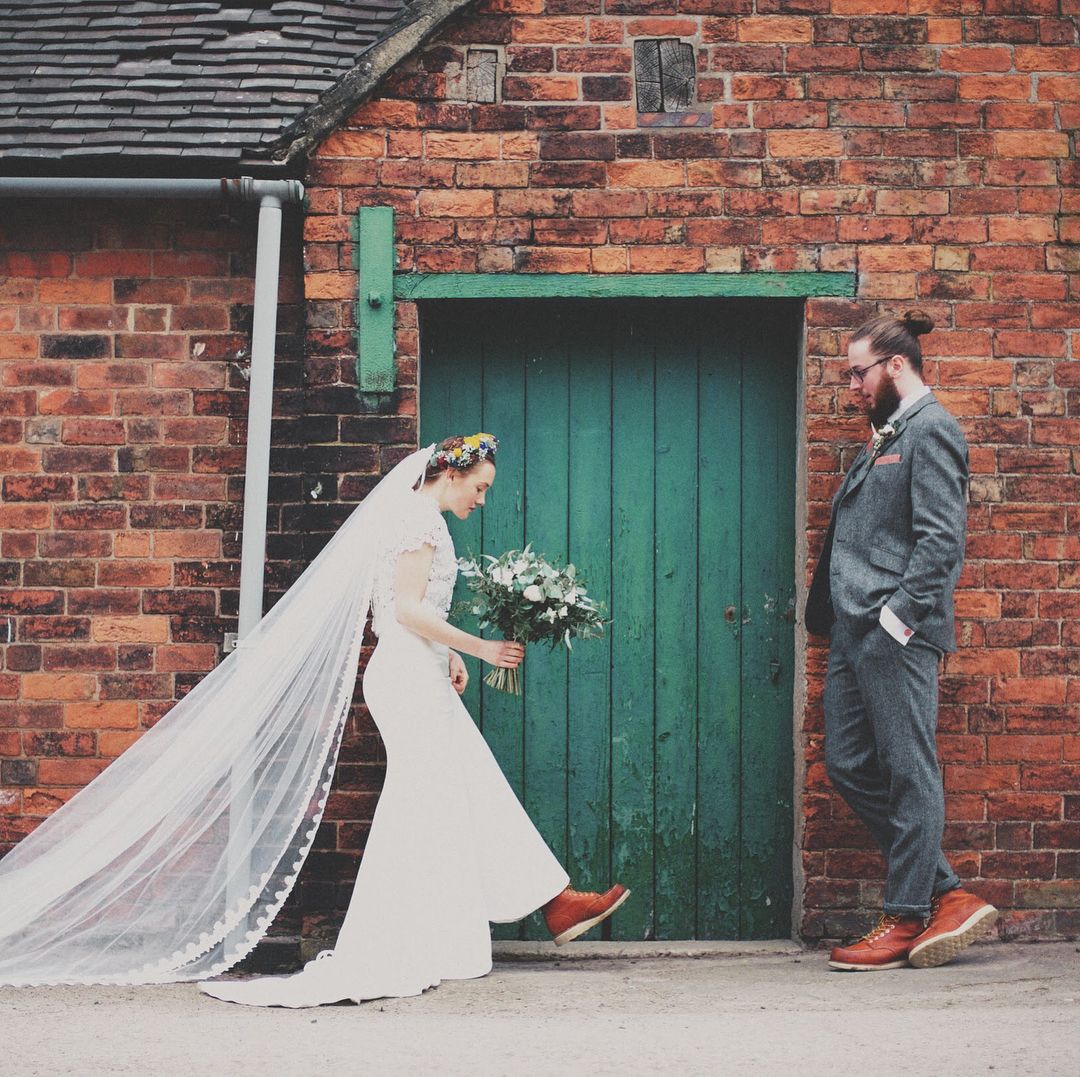 3) Rustic Wedding Style
I call this the Rustic Wedding Style because I often see this look in wedding photos, but essentially it is just a two-piece suit paired with Red Wings. I love this style because it gives a very carefree vibe that matches my lifestyle. I currently do not work in an office environment but I still get the urge to dress up from time to time. This style is satisfies that feeling.
As summer approaches in NYC, I think this style is the ideal balance for summer outings. It keeps you looking mature but not old fashioned. Feel free to ditch the tie, and boring dress socks. Opt for more vibrant ones or go for no-show socks if you're wearing a derby style shoe. Additionally, if you want, you may pop open a button or two or three…
View this post on Instagram

Some Red Wings to consider for this category include:
View this post on Instagram
4) Streetwear style
In a nutshell, streetwear is basically clothing deemed cool by the urban youth. Throughout the last decade, this style could be seen as a blend of hip-hop, punk and skateboarding culture. I feel that street fashion is unique because unlike traditional menswear where rules apply, rules mean little to nothing in streetwear. Owing to its rebellious roots, this style is constantly reinventing itself through breaking down old ideas.
With that said, there is a lot of space for creative expression in this style and I love it!
View this post on Instagram

Currently, pants with a wider silhouette are in style and I think they are pair best with a chunkier boot. Take full advantage of this and grab a pair of Moc toes that you can use for yard work as well as for the catwalk.
Some Red Wings to consider for this category include:
View this post on Instagram
4) Biker Style
Going back to the boot fashion basics, we have the classic biker style. Popularized by mid-century bad boys like Marlon Brando, and James Dean, this is a minimalistic looks that centers around your leather jacket.
View this post on Instagram

The jacket could be a double rider (think Schott Perfecto), cafe racer or flight jacket. Whatever it is, it will make you look like a certified badass.
I like this style with Red Wing Boots (or any boot for that matter) because it is an effortless look that can enhance your appearance. The leather jacket widens your shoulders a bit giving you a more masculine silhouette.
View this post on Instagram

While in this look, I would avoid busy t-shirts or distressed jeans. Both of those are super distracting and would take away the overall smoothness of the fit.
Although not necessarily required, your boots can match your jacket for extra style points.
Some Red Wings to consider for this category include:
STYLE NO. 8111 (Amber Harness)
STYLE NO. 8084 (Black Harness)
STYLE NO. 9011 (Black Cherry Featherstone)
STYLE NO. 9014 (Black Featherstone)
If you want to make this your signature style, buy boots that are either dark brown or black. This is because they will be colors that you will find most leather jackets in.
View this post on Instagram

I recommend Red Wing's black harness or amber harness leather as a starting point but the company does offer a bunch of other leathers with a similar hue.
View this post on Instagram
5) Denim Dude Style
I am guessing that since you're into Red Wings, then you also have a slightest interest in denim.
The denim on denim is another classic style that have lasted the test of time. I love it because like the biker look, it's effortless. Just grab a pair of jeans and a denim jacket and roll with it. You can wear the same outfit for a week and still get away with it. If someone questions you, just say you're working on the sick fades.
View this post on Instagram

There are multiple approaches to this look. You can wear your Red Wings with boot cut jeans or you can go for slim fitting jeans. I prefer the later because it has a more modern aesthetic. Wearing denim on denim is cool and all until your friends point out that I look like I came out of a time machine (but hey, some people prefer that style)!
Things that you can do to spice up this style include adding enamel pins, or chain stitching a design on the back of your jacket. Little add ons like this can really personalize the outfit to show everyone that you're not just another guy in denim.
View this post on Instagram

Some Red Wings to consider for this category include:
Honestly, ANY Red Wing Heritage Boot will do just fine!
A Big Shout Out To Red Wing Shoes
Red Wing makes exceptional boots and their Heritage line is a collection of modern classics that inspire us to be sustainable, yet creative in how we dress. The stylish aspect of these boots make them multipurposeful and that's exactly what I think the fashion industry needs to focus on. As you can see you can wear these boots to almost any occasion. Whether that be work, date night, or getting something from the bodega, Red Wing has you covered.
The list above is only my favorite ways to style Red Wings. There are many ways to style them and I do not want to discourage you to experiment with your outfits!
Featured image via sonnidur, chicagodenimhangs, and rstbaptiste on Instagram.
The following two tabs change content below.
Humphrey Tsui
Humphrey is a native Brooklynite who loves to talk about personal styling! He is an expert on leather, shoe construction, and the history of American pop culture. Message him
on Instagram
. here!
Latest posts by Humphrey Tsui (see all)