This is it: the original yellow boot that made the Timberland Company so famous. The company was founded in Boston in 1928 when it was called the Abington Boot Company, then bought by Nathan Schwartz in 1952 and renamed Timberland in 1973, the same year this boot was launched. Intended for wear by New England's working class, the boot became popular among construction workers and farmers who spent northeastern winters working outside on their feet.
They were popular from the drop, but sales more than tripled in the 1990s when the boots became an icon in the rap and hip-hop communities.
The story goes that the reason the boots were so popular is the insulation: they keep your feet warm when you're standing on chilly street corners dealing drugs. I don't know how true that is, but rappers (and former drug dealers) like Notorious B.I.G., 50 Cent, and Jay-Z famously sport Tims, or reference them in their music, and there's no doubt they're enormously popular in the African American community generally and the hip-hop community specifically.
But these shoes have extremely widespread appeal. Here in Brooklyn I see them on absolutely every kind of person, from trust fund hipsters to construction workers and everyone in between, and there's no doubt that Tims have a rare crossover appeal that gives them a place in just about any wardrobe.
So is the boot worth the hype?
Timberland Boot Style & Look
6 inches high
Wheat nubuck leather
Completely insulated
Gripstick rubber lug outsole
Taslan nylon laces
These are the classic 6-inch Premium Waterproof boot. They're available in a ton of colors — regular colors like black and brown, but they can also be found in more out-there shades like pink or neon green. But I got the wheat color because when you hear "Timberlands," this is the boot you think of. Like I said, it's ubiquitous.
[Related: My list of The Best Boots for Men]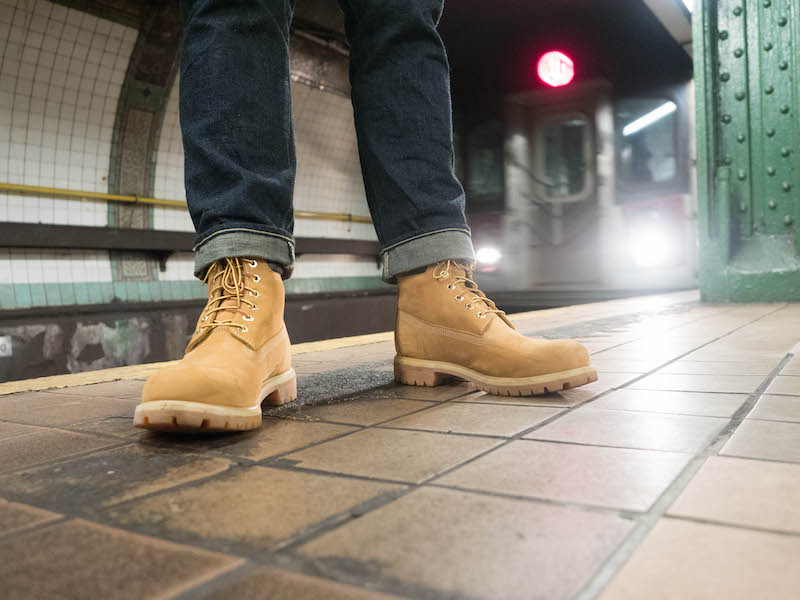 They're pretty bulky, so they don't look great with slim pants or skinny jeans, if that's your thing. They're versatile in that they can fit into a variety of different styles, but they're not dressy by any stretch of the imagination.
A pair weighs about two pounds, and a lot of that comes from the insulation, which is made by a US company called PrimaLoft. The inside of the upper is totally insulated and at least half of that is made from recycled plastic bottles, which is a pretty cool touch that's on brand with Timberland's eco-friendly ethos.
Other signature features of the boot are the chunky, grippy rubber lug called Gripstick, the iconic laces made from Taslan nylon, and the leather collar, which helps with insulation.
But look, before we go any further, we need to talk about this leather.
Timberland Leather
Wheat nubuck
Sanded on leather's grain side
Slight nap of protein fibers
Totally waterproof
The leather is, in fact, nubuck. A lot of people assume it's suede, which is a similar texture, but it's not; nubuck is a top grain leather which means that it's made from the top layer of the animal's hide, and it's been sanded or buffed on the grain side (the outside of the leather) to give it a slight nap of protein fibers.
There's some disagreement about this definition of top grain leather. The world famous Horween Leather Company, makers of the beloved boot leather Chromexcel, told me that full grain is actually considered a type of top grain. But I'm not going to get into all that here — check out my interview with them for more information.
The crucial difference is that suede, which is similarly buffed, is made from the inside or flesh side of the leather, while nubuck is made from the slightly tougher outside. Unlike some kinds of suede or traditional leather, nubuck won't really develop a patina over time, so you'll want to take some care if you want to keep it looking good.
[Learn more about the differences between nubuck and suede and what they mean for keeping your boots looking good!]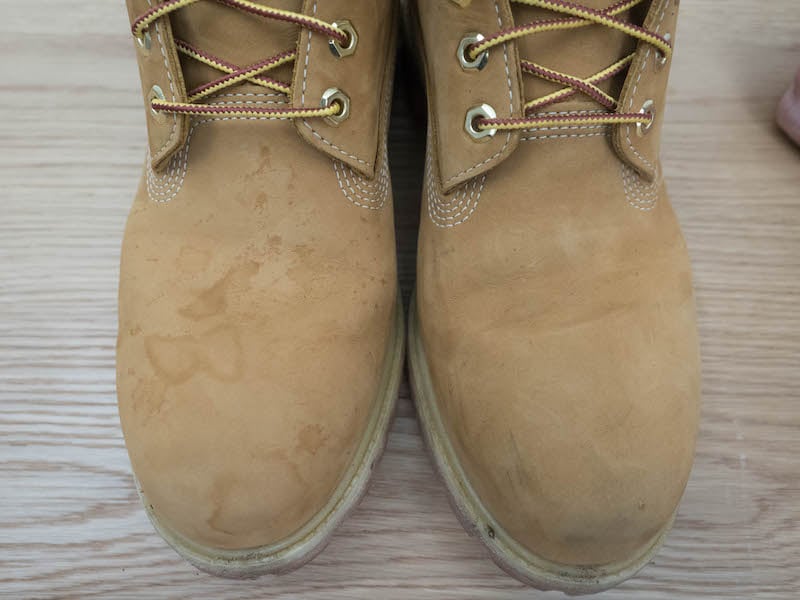 Timberland Boot Leather Care
Use stiff brush to remove dirt
Pencil eraser may remove stains
Use "Renewbuck" for cleaning
Hard to keep clean
As it says in the name, these boots are waterproof. So waterproof, in fact, that a lot of people find that the usual leather conditioners don't work because they can't seep into them. Which is fine, because nubuck isn't really something you condition, so don't go pouring Venetian Shoe Cream on your Tims.
To be clear, these boots get dirty really easily. There are a lot of ways to take care of them, but I think the biggest downside of the boots by far is that they get dirty way more easily than regular leather. I actually had to delay publishing this review because the boots got too dirty on my walk into the office! So if you're someone who likes having pristine boots, know that it's gonna take some work with Tims.
Timberland recommends simply brushing them to keep the dirt off. You can use a nylon brush or a toothbrush – you'll want something stiffer than your standard horsehair. That'll also raise the nap of the nubuck and brighten the color. If the boots get stained, allegedly you can use a pencil eraser to clean them up, but I haven't tried it. Sounds complicated? To make things easier, Timberland makes their own dry boot cleaning kit you can get on Amazon here.
If brushing or an eraser doesn't do it, and you need to give your boots a really good cleaning, Timberland suggests you use their very cleverly named nubuck cleaner called "Renewbuck" which is a water-based cleaner. Spray it on a cloth, rub it all over the shoe, and then let it dry.
If you've had yours for a long time and the waterproofing is wearing off, or if you're particularly worried about salt or oil stains, you can use Timberland's Balm Proofer, another water-based all-purpose protector.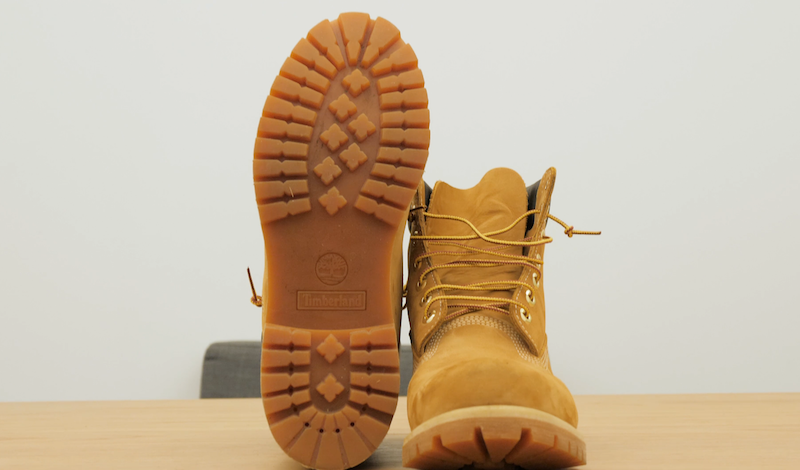 Timberland Boot Sole
Gripstick rubber outsole
Made from 10% recycled materials
Steel shank
Urethane insole
Removable foam insert
Hard to resole
This outsole lives up to its name: Gripstick. Out of the box it's very, very sticky and it gets stickiness all over you and sticks to the ground. It's a little annoying, but it doesn't take long for it to wear off. The rubber is made from 10% recycled materials, again in line with Timberland's Earth-friendly branding.
There's also a rubber midsole and a urethane insole — no leather or cork to be found here. These Tims have a removable foam insert, which doesn't really mold to your foot over time the way those other, more expensive materials would, but is pretty comfy from the get-go. They also have a steel shank, which makes for good stability and arch support.
The sole is bonwelted, not Goodyear welted, meaning the sole is cemented to the upper in a manner not totally dissimilar to your standard pair of sneakers. That doesn't necessarily mean it's poor quality — it's very waterproof, made with sealed seams — but if and when you go through this sole, that's it. The advantage of a Goodyear welt is that it makes the shoe easy to resole; you can't usually resole a bonwelted shoe like these.
That said, Timberlands are so popular that there are some cobblers who specialize in resoling them, and they're just a Google away if you want to try your luck.
[Learn more about why Goodyear welts matter for quality boots.]
Timberland Boot Fit & Sizing
Order at least a half size down from sneaker size
Very roomy fit
Great shock absorption
Insole is a tad slippery before it's worn in
Available in full and half sizes up to size 18. (Shaquille O'Neal famously got a pair made in size 23 so maybe if you ask nicely, you too can get an extra-large pair.)
A lot of people say they're true to size, but I wound up returning my true size (11.5) for a size 11. (My Brannock size is about an 11.75.) They fit fine but they're actually still pretty roomy — I'm not slipping around in them, but I can't really get away with the cool open laced look that's so popular. I think I would have even been fine with getting a size 10.5, which is something I've never said before.
They're easy to walk around in and don't really have a break-in period. The urethane insole makes for really nice shock absorption, and the arch support is solid. All in all, they're comfy boots.
[Don't miss my ultimate guide to figuring out the perfect fit for your feet.]
Timberland Boots Price
About $180. The price varies a ton — I paid $174 — but one advantage of the boots' popularity is that they're available absolutely everywhere, so it's not crazy hard to find them on sale if you're patient, and they're often under $150 on Amazon.
People who usually just wear sneakers might try to tell you they're expensive but I'm here to tell you that's not expensive for nice boots. Sure, they're bonwelted, not Goodyear welted, and there's no leather or cork in the sole, plus the nubuck is pretty pedestrian leather; all that said the price feels right to me. It'd be pretty nuts if they were over $200.
Timberland 6″ Premium Waterproof Boot: Worth the Hype?
PROS
Relatively inexpensive (for boots)
Waterproof
Insulated
Great shock absorption
Good arch support
CONS
Hard to keep clean
Hard to resole
Hard to wear with slim pants
For a pair of boots this popular and inexpensive, I confess I was ready to be disappointed, but I wasn't at all. They're sturdy, comfortable, functional, and damn cool. They're not that much more expensive than a pair of good sneakers and they'll last you a lot longer. They're not dressy and sure, they're tough to resole, but I give them high marks: these boots deserve their reputation.