I do not necessarily consider myself a well dressed man (yet), however, I do pay attention to the clothes I wear and how I present myself. In a way, I always had. There was always a style that I wanted to capture or an aura that I wanted my clothing to emit.
I cannot tell you how successful I was, but looking back at the pictures from a few years ago, it was evident that I needed help in the style department. Part of the reason was because I wore clothing that did not fit me properly. I was too engrossed with the ideas associated with an item that I did not pay attention to how the item actually looked on me.
Things began to change when I ventured into the world of quality footwear during the winter of 2016. At that time, the Timberlands that I was using as my go-to winter boots were on their last breath. It was apparent that my feet would be too if I did not find a replacement quickly. I went to the nearest shoe store and made impulsive purchase at Aldo. The boots were stylish, however they did not fare well in the winter.
After a few months, I took my concern back to the drawing board and searched the internet for well built boots that could potentially last a long time. A few brands immediately came up. They were,
View this post on Instagram
a) Red Wing Shoes
Red Wing Shoes is a footwear company that makes work boots for the everyday worker as well as boots for the more style focus commuter. Their made in the USA Heritage line is based on their vintage collections that have stood the test of time.
[See the Stridewise review of the Iron Ranger and classic Moc Toe]
b) Wolverine
Wolverine is also a footwear company that has its roots in work boots. Similar to Red Wing Shoes, they have a more stylish model called the 1000 Mile, which comes in a huge variety of leathers. Though used to be primarily made in the USA, in recent years, more models of the 1000 Mile line have been made in neighboring countries such as Mexico.
[See the Stridewise review of the Wolverine 1000 Mile]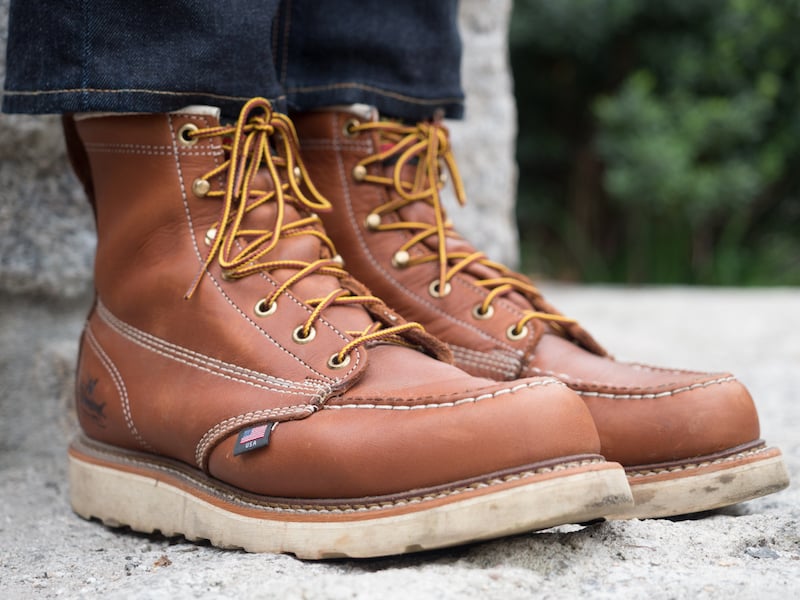 c) Thorogood
Thorogood is a work boot company that focuses on boots that are famously comfy out of the box. Many attribute this to their shock absorption footbed as opposed to the leather footbed often found in its competitors.
[See the Stridewise review of the Thorogood moc toe]
d) Chippewa
Chippewa is another work boot company that focuses on traditional footwear both in terms of construction and style. They are made in Wisconsin and are often compared to the Red Wing Heritage line.
[See the Stridewise review of the Chippewa Service Utility Boot]
I spent countless hours reading reviews about these brands, and articles about leather types, shoe construction and care.
View this post on Instagram
How Better Shoes Led to a Better Wardrobe
Here's how learning about men's shoes helped me to not only sort through the endless amount of garbage found in a department store, but also helped me become a better dressed man overall.
[Related: How I Fell Head Over Heels In Love With Boots]
For starters, it taught me that:
Sizing can vary between brands and models.
Prior to learning this, I had purchased the same size for all my footwear. If the shoe was not comfortable, I told myself that that is just how this shoe fits on my feet. Learning that sizing can even vary within the same brand made me pay attention to things like where my toes are, how the shoe creased and the overall shape of my feet. Together, these details helped me find the perfect fit in many styles.
Since learning this, I began to try on different sizes when it came to other articles of clothing. I may not always be a Small, sometimes I am a Medium and other times I am a 38S as opposed to a 36R.
[Related: The Ultimate Guide to How Boots Should Fit]
Another thing that boot shopping taught me is that:
View this post on Instagram

You can wear the same item in many styles.
Don't let workwear Instagrammers fool you. You can wear your Red Wings with a streetwear style or even elevate it with a smart casual look. Although Red Wings has its roots in workwear, that doesn't mean it needs to stay there. Choosing a more versatile boot can come in handy if you're still trying to find out what style suits your lifestyle.
[More from the author: My 5 Favorite Ways to Style Red Wing Boots]
Lastly,
View this post on Instagram
Researching well-made boots lead me to find other quality clothing and accessories.
Namely, artisan denim jeans, jackets, and watches.
While reading a review about a boot, one commenter asked the author about the jeans he was wearing. I got curious as well and decided to follow the thread. It turned out he was wearing $200 APC jeans. At that time, I was appalled that jeans can get that expensive. I was was rocking $78 Abercrombie jeans that I paid $19 for them with my employee discount. I remember thinking that $200 jeans were total rip-offs.
My opinion changed when I dug deeper and found out how they were made and what fabrics they were made from. I made a similar epiphany when I clicked on an article about watches after scrolling through one about boots.
[Related: 7 Reasons Japanese Denim Is Worth the Price]
I am going to apologize ahead of time for using such a cliché line, but there is no better way to describe it. Forrest Gump is right when he says
life IS like a box of chocolates, You never know what you're gonna get.
I wanted to get better boots for the winter but I came out more informed about clothing, style and consumer responsibilities.
Follow the author on Instagram.
The following two tabs change content below.
Humphrey Tsui
Humphrey is a native Brooklynite who loves to talk about personal styling! He is an expert on leather, shoe construction, and the history of American pop culture. Message him
on Instagram
. here!
Latest posts by Humphrey Tsui (see all)