This post may contain
affiliate links
that at no additional cost to you, I may earn a small commission from.
Red Wing is one of the most popular and influential American boot brands of all time. Heck, it may well be one of the most influential of all time. Around these parts, I rarely stop talking about them; I review them, I compare them, I interview the CEO of their Japanese office, and I own multiple pairs. They're a hugely influential brand in not just high quality footwear, but men's fashion at large.
Founded by Charles Beckman in 1905, they started out mostly selling knee-high boots and many of their offerings were designed for oil workers and iron miners. They still make hardy work boots today but they're perhaps best known to the broader community for their more fashion-focused Red Wing Heritage line. This is the home of their iconic Iron Ranger boot but for guys interested in boots that are a bit less formal and can be worn more easily with a t-shirt and old jeans, Red Wing's moc toe has always held a special allure.
Worn by Drake, Ryan Gosling, David Beckham, and a lot of other men's style icons, the Red Wing Moc Toe was the very first pair of boots I ever purchased. I didn't know anything about leather care and had never heard of shoe trees, but I've worn these boots through three years and three dreadful New York winters and put them through a whole lot of punishment. How did they hold up? Are they worth the price? Take a look.
[See my comparison of Red Wing vs. Thursday boots!]
Red Wing Moc Toe Overview
The 8890 is made of charcoal-colored leather and it is a real, genuine moc toe. (Unlike that fake moc toe, the Alden Indy.) Don't try to wear it with a suit, don't wear it with slacks, and if I'm being honest I sometimes feel a little weird wearing them with khakis and an oxford button down — they are quite blocky and super informal, especially when you take into account the sneaker-like white crepe sole.
But the upside is that they don't make you feel like you have to wear a button down. Iron Rangers, informal though they may be, are still a little tough to pull off with a t-shirt but the moc toes great with a henley or anything from Levis.
Another upside is that you can really knock these boots around. The blocky toe and the darker leather do a good job of deflecting scratches, it's triple and double stitched along the vamp, and the Goodyear welt means you can happily wear down the sole without worrying about ruining the shoes.
The sole is probably one of the biggest downsides for some folks, though: it's made of crepe rubber and there's no shank, so it may lack some of the stability and durability you expect from higher end men's boots.
[SHOP THE RED WING MOC TOE IN 6+ LEATHERS HERE]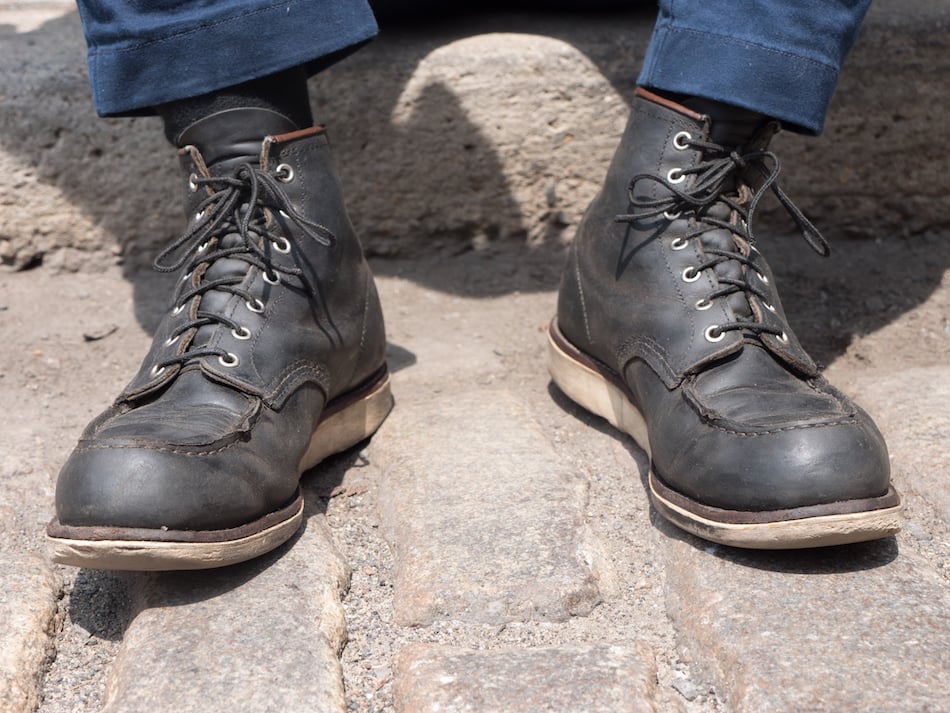 Red Wing Moc Toe Leather
"Rough & Tough" leather
Very moist pull up leather
Oil tanned
This is called "Rough & Tough leather." It's a full grain leather so it comes from the top layer of the hide of the animal — most people like full grain for their boots, it's understood to age better and to mold around your foot better — and it's also oil tanned, which is important to remember for taking care of them.
Red Wing actually owns their own tannery called S.B. Foot Tanning Co. and while the language on their site leaves it a little ambiguous as to whether or not this leather is made there, Red Wing has reached out to me and confirmed that they do indeed make their own Rough & Tough. So, why did they go with that name?
It's a kind of pull up leather so it's extra moist, having been saturated with more oils and waxes than other leathers from Red Wing. There's an argument to be made that this make it more durable and easier to take care of (see the next section) and while it doesn't look quite as Old West cowboy as some of Red Wing's other leathers, it makes up for that with the durability.
As you can see from these photos, they really have held up very well throughout the years. Sure, they've creased a little, but as someone who (again) had no idea how to take care of boots I'm always amazed at how good they look. They don't look new, but damn they look cool.
Red Wing Moc Toe Leather Care
Rough & Tough doesn't need much conditioning
Red Wing suggests an oil made of mink, lanolin, and beeswax
Obenauf's also worked great
Regardless of whether it's tougher, there's a consensus that Rough & Tough needs less conditioning compared to your run of the mill full grain. You probably only need to oil it once or twice a year, depending on how much you wear them.
Unlike a lot of Red Wing's leathers you aren't instructed to use mink oil with this. Instead they suggest Red Wing's All Natural Leather Conditioner which, to be fair, is over ninety percent mink oil but it also has lanolin and beeswax so it might do a better job of increasing water resistance.
But you don't have to use that if you don't want to; with oil tanned leather, there are a lot of products you can use to care for it. Red Wing's Leather Cream will probably maintain the original color the best, but Venetian Shoe Cream would also be fine, and both should do a decent job of preserving the color.
Personally, I've been using Obenauf's Leather Oil. It's a vegetarian mixture of tree resin and beeswax and I think it worked really well. I confess I maybe shouldn't have used them on my Amber Harness Iron Rangers, since it really darkened the leather, but it didn't darken my moc toes much at all (and after all they were already pretty dark to begin with).
[Related: Red Wing's Mink Oil vs Boot Oil]
Red Wing Moc Toe Sole
Crepe sole
Leather insole
Molds nicely to the foot over time
No shank
I was very surprised when I learned that these shoes have a crepe sole, the same kind of inexpensive rubber used on the very, very flimsy Clarks Desert Boot. A crude form of natural rubber, it's made from running coagulated latex through rollers and it has a reputation for being soft and comfortable but not all that durable.
But this isn't like the Desert boot. It's got a lug grip, the rubber is much more sturdy and densely packed, and over the many years I've been wearing these it's never felt remotely like the quasi-slipper that is the Desert boot. Even though it's more porous than leather or a high quality rubber like Vibram I've never had an issue wearing these boots in wet weather.
There's also a cork midsole and a leather insole on the inside. Note that Red Wing doesn't put shanks in any of their wedge-soled shoes so you may miss the stability that they confer.
Lastly, this shoe is made with a Goodyear welt, so it's relatively easy to resole once it wears through. As you can see in these pictures I have worn down the sole somewhat and should probably start thinking about doing that.
[Related: Our complete guide to boots with crepe soles]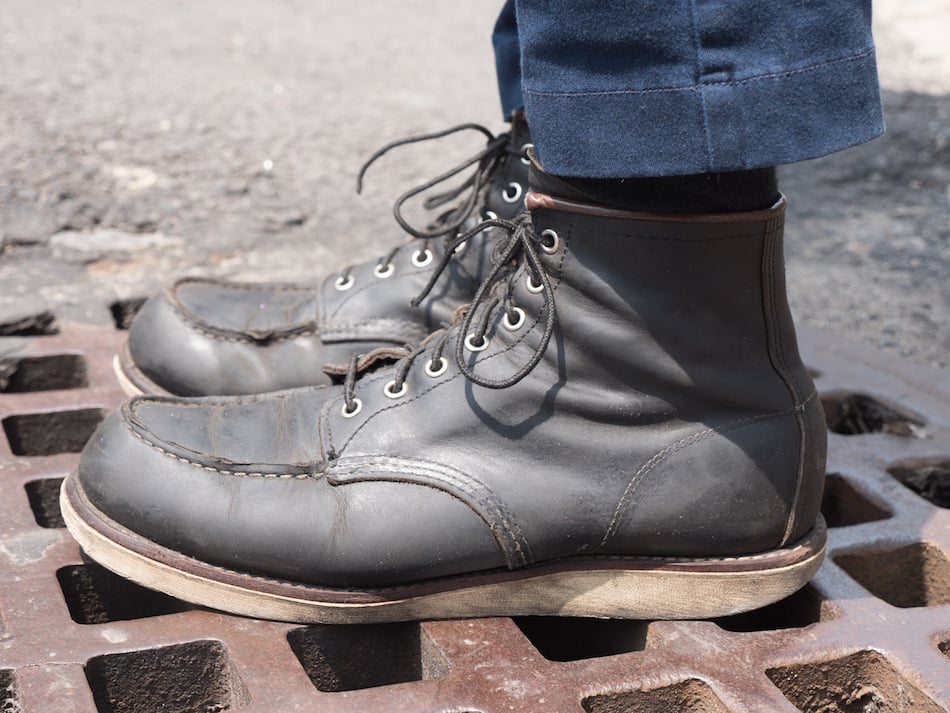 Red Wing Moc Toe Fit & Sizing
Order a half size down from sneaker size
Tough to find widths beside D
Expect a tough break in
Crepe sole is quite soft
These shoes run from sizes 7 to 13 and are available in both D and E widths, though I should point out that they don't seem to restock the E widths very frequently. So that's a relatively limited width selection, since shoes are sold in anything from B to EEE.
You should order a half size down when you get these. I'm between 11.5 and 12 on a Brannock device and I wound up wearing size 11 in these shoes.
[Read more: The Ultimate Guide to How Boots Should Fit.]
Breaking them in wasn't fun. I was in pain for the first week and you should remember to space out your wears by a good day or two at the beginning. It got better, and over time the midsole and insole really did mold to my foot and when the nice crepe sole is added to the equation you wind up with some very, very comfortable shoes that are almost sneaker-like.
Give them time. Good boots usually need it.
[Related: My list of the 10 Best Boots for Wide Feet]
Red Wing Moc Toe Price
You can expect to pay about $280 for a pair of these shoes, which is pretty reasonably given they're made in America with Goodyear welts. It's very rare to see any American made boots for under $300, so while this isn't a cheap boot, people familiar with the industry would agree that it's not overpriced.
[SHOP THE RED WING MOC TOE IN 6+ LEATHERS HERE]
The Takeaway
The weeks I spent researching my first pair of boots ultimately led to me wanting to launch a blog like Stridewise, so the shoes I ultimately landed on are very near and dear to my heart. And frankly, I think I knocked it out of the park. The leather doesn't need much care, they're far cheaper than most of Red Wing's other boots, they're super comfortable and they look damn cool. The downsides are the lack of a shank, they're hard to dress up, and it's for this relatively vulnerable sole. But even though I've worn my sole down quite a bit, I don't think the crepe is a huge downside.
I like these boots.