This post may contain
affiliate links
that at no additional cost to you, I may earn a small commission from.
Suede shoes and suede boots are not always the dirt magnet you may imagine. With a little proper care, waxed suede can be kept clean, dirt free, and water resistant. Interested in more than waxing? You can also check out our general guide on proper suede care and maintenance.
If you are the owner of desert boots in light colors or black suede, this ultimate guide is precisely what you have been searching for all this time.
[Related: The 10 Best Desert Boots for Men]
What you will learn
Today we'll provide you with the lowdown on caring for wax suede shoes and leather hide footwear with products like Otter Wax and about the added benefits of a more heavy duty, beeswax based product like Sno Seal. All of these tips will cut the time consuming work involved in keeping your footwear looking good if it gets wet.
If you have dirty suede covered in stains or it just needs to be waterproofed, then this guide is for you. By the end, you will be able to breathe new life into any waxed look shoes or boots and keep them that way.
[From our visit to a suede tannery]
How Suede Is Made
When cowhides are being processed, they are typically cut into three segments called 'splits.' These are usually referred to as the top grain, the interior, and the underside. The top grain and the interior splits are chosen to become the soft and shiny leather we are all familiar with, and suede is made from the remaining third split, the underside. Note that sometimes leather is simply split in two to make suede — in either case, suede is thinner than regular leather. (This is the big differentiator between suede and roughout, which is simply full grain leather that has been flipped inside out.)
This underside layer is ideal for making suede as it has a lot more flexibility than the other splits. It is this flexibility that makes natural suede so comfy.
The History of Waterproofing Suede
Given its shortcomings — it's thinner than full grain leather and stains more easily — why do we even use suede to clad our feet?
Suede has been used to cover our feet for at least 5,500 years, possibly longer. It's made by splitting leather down the middle, so while it's thinner than the leather you might be used to it's also more flexible. Because of its flexibility, suede was a valued fabric for ancient peoples the world over.
So there's a very long history between humankind and dirty fuzz.
Whether dashing through a rain shower to the office today or herding cattle millennia ago, suede inevitably gets wet and stained — but our ancient forebears were on the case. Records suggest the first kind of preservative coating used involved a combination of salt and clay.
Over time, the salt and clay were replaced in 2200 BC by early tanning techniques using alum salt. This tanning process was a big step forward in preventing the deterioration of the hide.
The first attempt to treat leather with cedar oil occurred in central Europe around 1000 BC. Our ancestors had figured out that natural oils will soften the leather and give it some much-needed water repellency.
In today's 21st century, we are still doing much the same, though more often with modern treatments that are petroleum-based or silicone-based. Both of these methods use synthetic products and lately, many customers have shown an interest in returning to more "natural" solutions.
Enter waxed suede.
[Related: Leather vs Suede vs Nubuck | Which Is For You?]
Giving your suede character
For this guide, we used heavy-duty wax on suede leather. We are big fans of suede, and it's our no.1 favorite fabric to waterproof due to its glorious texture A little TLC adds heaps of character to this natural material and its texture. And most people will be pretty happy about that.
The Best Products for Waxing Suede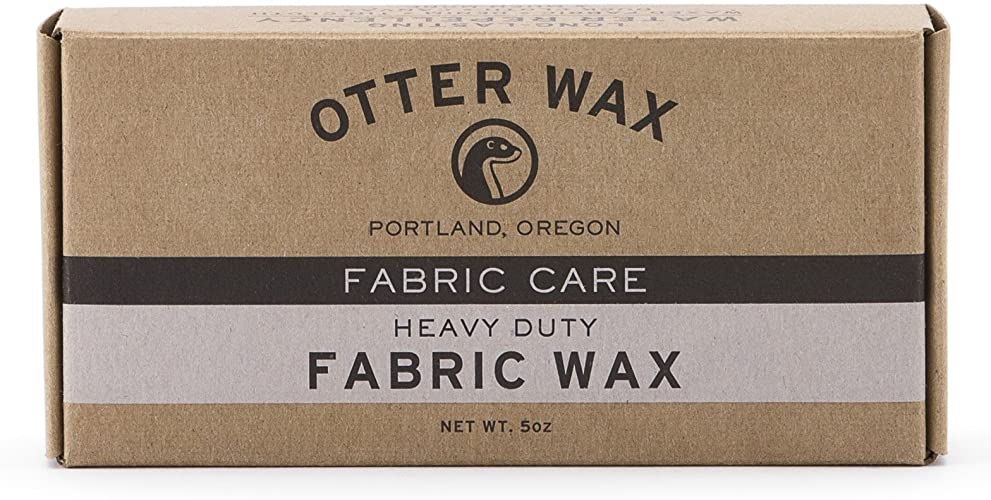 How to Wax Suede with Otter Wax
Applying Otter Wax or a similar cream polish product or wax bar is fairly straightforward. We have tweaked the process a little in our guide and added a few optional steps. You can skip these depending on which type of finish you wish to obtain.
How we conducted the tests
We timed the entire process, and it took around 30 minutes. Generally, each time we got through around three-quarters of a regular-sized wax bar.
For our tests, we used suede with a medium-sized nap. Whatever the length of the fibers you're working with, the waxed suede product applied (Otter Wax, in this instance) lays down the leather fibers.
Though we used boots for our experiments, the same holds for suede shoes as well.
Color warning
You should also be aware that once waxed, boots or shoes will become considerably darker in color. So it's best to be aware of this before you start so, you won't be in for any surprises.
Without any further delay, here is our step-by-step guide to transforming any pair of suede shoes or boots.
Step 1
Remove the laces.
Pro tip: This is a good opportunity to inspect the pair of laces for signs of damage and replace them if they appear frayed. If the laces are okay, a quick wash might be in order.
Step 2
Stuff each boot with crumpled-up newspaper or waste paper to ensure the body of the shoe or boot is evenly supported. Paper is best, as a shoehorn doesn't offer support for the top half of a boot.
Step 3
Make sure the suede is clean and free of dirt, dust, or any debris picked up by wearing them. A suede brush like Shacke's or similar is gentle on the leather and does a good job. However, if there is heavy soiling or stains, you may have to use saddle soap before brushing.
Step 4
When you are sure the boots or shoes are as clean as you can get them, start rubbing in the wax. Use gentle pressure while moving the bar to-and-fro to create some friction. This action will soften up the wax and help make it easier to spread.
Step 5
It is best to be methodical and apply the wax to one boot area at a time. Once you have applied the wax to a reasonably large area, begin to smooth out the wax with your fingers to ensure an even coating.
Pro tip: In awkward difficult-to-reach areas, use the edge of the bar to ensure you don't miss anywhere.
Step 6
Check that you have thoroughly coated all the seams. This is important in making leather boots/shoes water resistant.
Step 7
If you have one, a heat gun applied to the end of the bar will help spread the wax more quickly. But don't overdo it with the heat — when the wax becomes shiny, that's your cue to apply the melting wax directly onto the suede.
Pro tip: Always ensure that the heat gun is on its lowest heat setting. Take care when using a heat gun to avoid burning the leather or yourself.
Step 8
If you prefer a more matte-looking finish to the material, stop at this stage and go directly to Step 10.
Step 9
If you want a shinier look to the suede, add an extra layer of wax. This time apply this additional wax directly to the leather without using heat.
Step 10
The next step is to use a dull wooden tool to smooth out any stubborn spots of excess wax. You can also use it to even out any areas that appear uneven. Clean the tool on cloth as you go along.
Pro tip: You can buy a special wax smoothing tool for the job. Otter Wax sells them on their website for less than $5; it's made from birch and gives you a two-inch-wide surface for smoothing out and removing any excess. You can also use the tool on other waxed fabrics like bags to eliminate creases by heating the surface first with a hairdryer.
A few final thoughts
If you want to appreciate the difference truly, take before and after pictures. You may be surprised.
Over time, waxed suede develops a lovely patina on the toe, heel, and other pressure points. This gives your footwear extra character and a little bit more shine on the front and sides.
It's up to you how often re-waxing is required.
[Related: How To Clean Suede Boots]
Frequently Asked Questions
What type of polish should I spray on suede?
Avoid leather polish — it's too harsh for use on suede. To get your suede looking like you have spent time with polish, use a specialized wax-based polish that's designed for suede instead.
How do you make suede look shiny?
When suede is shiny, you're looking at waxed suede. Adding a layer of wax increases shine and makes it more stain and water resistant as well. Grab a product like a bar of Otter Wax and rub it all over clean suede, smoothing it out with your fingers.
What kind of brush should I use on a suede shoe?
Both crepe and brass bristle brushes are used on suede, depending on how dirty it is. Your best bet is to pick up Shacke's 4-way leather brush cleaner, which has both soft rubber and hard, brass-like bristles for any kind of suede.
What will make suede repel water?
Suede is not naturally waterproof, but you can dramatically increase the water and stain resistance by applying a layer of wax, like Otter Wax, or a silicone spray like Kiwi's Boot Waterproofer.
What is the nap on leather?
This refers to the fuzzy appearance of the little 'hairs' — which are actually flesh — that protrude from suede.