Let's face it: summer is not boot weather. As much as those Vibergs will go well with your chinos, we'd rather not have a swamp forming in our boots. In comes the desert boot, a charmingly crude, very light, and casual staple in any man's wardrobe.
What Is a Desert Boot?
The desert boot is a sort of chukka, which in itself is basically a short boot, in most instances only covering the ankles and sporting two or three pairs of eyelets. Desert boots rose to prominence from the late 1950s to the mid-70s, when many movie stars like Steve McQueen and Marlon Brando wore them in their casual get-ups! Since then, they have remained a staple of casual wear.
Desert Boots vs Chukka Boots
We've explained that the chukka is a shorter variation of the boot. The technical difference from a regular boot is the height: chukkas are below 6 inches tall, usually around 4 or 5 inches.
The desert boot is a type of chukka, but there are three differences. The most widely accepted difference is that desert boots have crepe rubber soles (or at least white rubber soles), whereas chukkas can have anything from Dainite to leather soles.
Second, in terms of construction, it's more unusual to find a Goodyear welted desert boot than a Goodyear welted chukka; most desert boots are made with stitchdown construction. Lastly, you'll also find that desert boots typically don't really have much structure; they lean more towards floppy than refined.
[Related: Chukkas vs Chelseas, How to Pick Your Boot]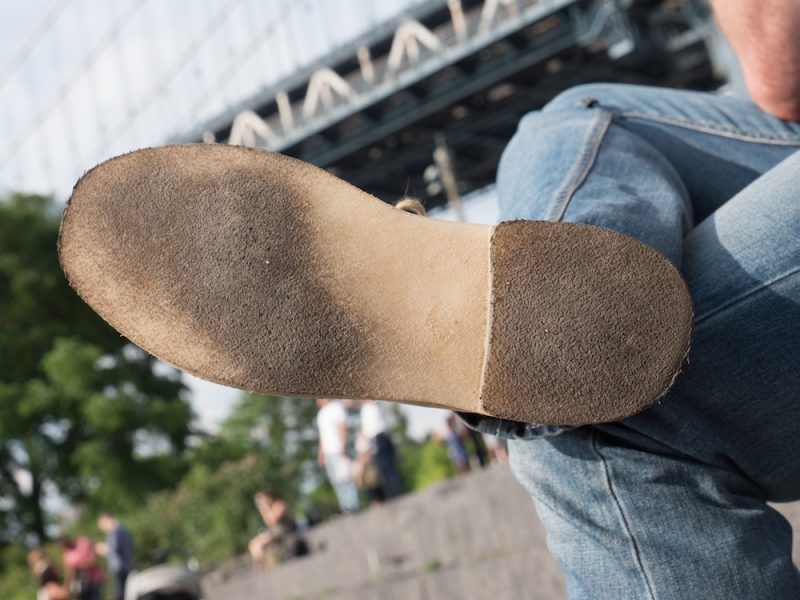 Desert Boots and Crepe Soles
Let's talk a little more about the biggest differentiator. The crepe sole is really what most people associate with desert boots.
Crepe usually comes from mother nature herself. In many parts of South America, rubber trees are tapped the way maple trees are tapped for their syrup. Instead of syrup however, rubber trees produce a liquid that'll eventually turn to your crepe soles.
Most desert boots usually come with crepe, but in more recent cases, polyurethane-based outsoles like Vibram's Gumlite or Christy soles have become popular. Whatever the precise chemical formulation of the squishy sole, it makes the desert boot a very casual choice of footwear and a surprisingly rugged boot for the warmer months.
[Related: The Ultimate Guide to Crepe Soles]
Desert Boots and the Military
The origins of the desert boot start with Nathan Clark, the great-grandson of Clarks' founder. Nathan noticed many soldiers wearing a form of the desert boot while stationed in Burma during World War 2. Initially a cost-effective but comfortable design for soldiers in North Africa, Clark wanted to make this design for potential customers back home in England, but found little success. (Suede and crepe were considered fairly "low class" back then.) Clark decided to instead sell his desert boots in the US during the late 1940s and found great success there.

Now, onto our top picks.
1. Best Original Desert Boot: Clarks Desert Boot
There's no complete article about anything desert boot related without talking about THE desert boot: Clarks! As one of the best boots for men, there's over eighty years of history in this design alone.
Clarks Desert Boot Highlights
The classic iteration of these boots is a suede upper, stitchdown construction, and a crepe sole. It's not the cheapest desert boot around, but it's priced fairly for retail, especially given how massively popular it is. Made with suede from Britain's word famous C.F. Stead tannery, these probably can't be resoled, but the overall look is just iconic — you can't get more desert boot than this!
Who Should Buy Clarks Desert Boots
Guys who want the original; this boot is consistently recommended by style enthusiasts as one your wardrobe just can't do without.
Folks who value the low price and British leather.
Who Shouldn't Buy Clarks Desert Boots
Desert boots are casual and shapeless by nature, so know that if you're looking for a more structured chukka (like Thursday's Scout, below) this isn't for you.
Those who value American made; these are made in southeast Asia.
Overall, this is an excellent choice for the most purist style of desert boot! Without this boot, the rest on the list may have never been born.
[Buy the Clarks Desert Boot here!]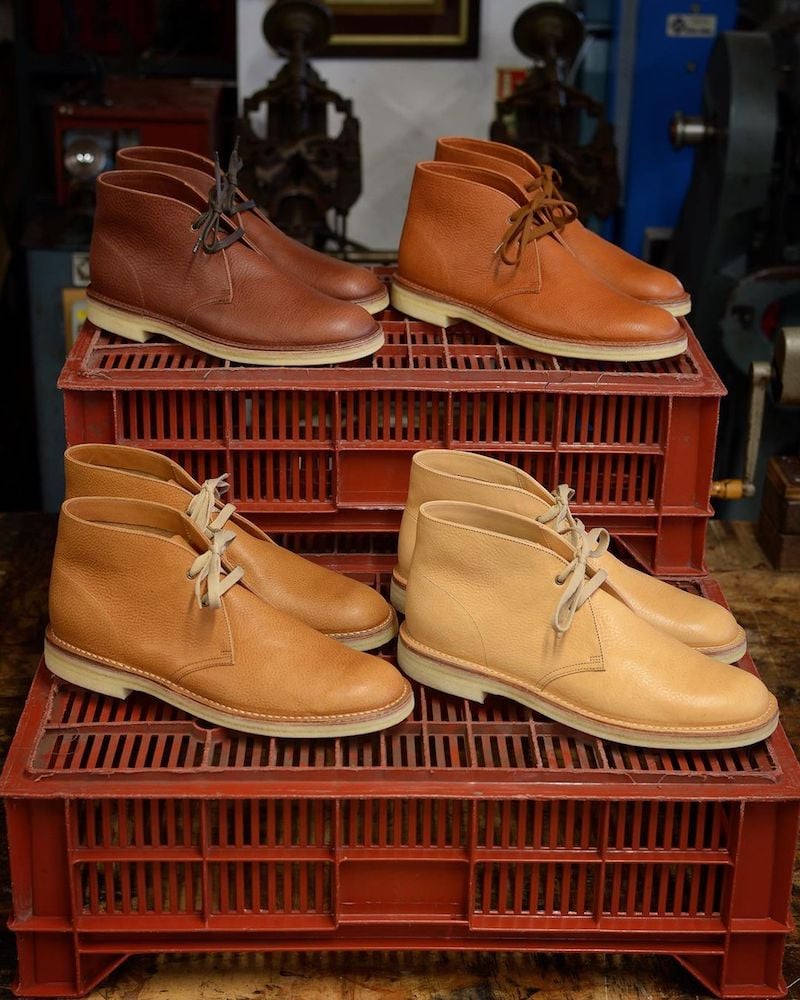 2. Best Vegetable Tanned Desert Boot: Jadd Desert Boot
Jadd is a relative newcomer to the game. Starting in 1998, Jadd was a family-owned business making individual orders in the backroom of their shoe repair shop. Today, Jadd makes multiple models that have deep desert boot inspirations.
Jadd Desert Boot Highlights
Their desert boot model isn't too different from the Clarks variant: crepe sole and stitchdown construction. The difference lies in their widespread use of vegetable tanned leather. It's stiffer and pricier, but it's more old fashioned, it's tougher, and it ages beautifully. The model shown here is a full-grain vegetable tanned upper, insole and crepe outsole all attached via the traditional stitchdown method.
Who Should Buy Jadd's Desert Boot
Jadd's version of the desert boot may be appealing to you if you appreciate quality materials and want something better made than the Clarks.
Folks who value the cache of a made in England product.
Guys who prioritize vegetable tanned leather.
Who Shouldn't Buy Jadd's Desert Boot
This desert boot may not be for you if you don't want to pay the almost 300 dollar price tag; once again, there's better value stuff out there!
This boot presents the ultimate version of what the Clark's desert boot was: a high-quality made in England model with great materials.
[Shop Jadd's all-veg tan Desert Boot here]
3. Most Environmentally Friendly Desert Boot: Astorflex Greenflex
"La scarpa buona" is Astorflex's tagline: the good shoe! These desert boots follow that same principle by being eco-friendly.
Astorflex Greenflex Highlights
The uppers are tanned using a simple vegetable tanned method of water, oak bark and mimosa and the soles use all-natural rubber. These materials along with their lack of of dyes and emphasis on water-based adhesives makes for a very environmentally conscious product. The result is a great looking boot with similar proportions to the desert boot, although with a slightly lower, more avant garde style than is common.
Who Should Buy Astorflex Greenflex
Astorflex is a great alternative for those who want a more importantly, environmentally conscious product.
Guys who love the idea of Italian made chukkas.
Who Shouldn't Buy Astorflex Greenflex
These shoes have more structure than a typical desert boot, which means the break in can be a tad tougher than usual.
Guys who need half sizes.
The Astorflex Greenflex isn't just another high quality desert boot entry, but one with an interesting philosophy behind it.
[Shop the Astorflex Greenflex on Huckberry!]
4. Best American Made Desert Boot: Red Wing Weekender Chukka
Being the classic Americana bootmaker, Red Wing is usually known for a tough, heritage style boot.
Red Wing Weekender Chukka Highlights
That being said, they also make something very akin to a desert boot they dub the "Weekender Chukka". Featuring a few tough leather options, a stable stitchdown construction and a flat crepe sole, you'll definitely find these supremely comfortable. Red Wing is known for their American craftsmanship and extraordinarily thick, tough leather, which makes for a chukka that looks cool and ages well.
[Related: The 14 Best American Made Boots]
Who Should Buy Red Wing's Weekender Chukka
You'll find the Weekender Chukka best if you appreciate keeping your money in the US economy; a lot of pride goes into that Made in USA badge!
Red Wing offers a great resoling service for all of their heritage line.
If you're all about getting a rugged patina and long life out of your shoes, Red Wing is hard to beat.
Who Shouldn't Buy Red Wing's Weekender Chukka
At about $230, these aren't for penny pinchers.
The available leathers also have a very casual feel, limiting what to wear them with.
These have more structure and tougher leather than most desert boots, so the break in can be tougher.
This is a solid entry into the desert boot style, especially if Made In USA matters to you! Not to mention with a few robust leather options, the uppers can take a beating.
[Shop Red Wing's Weekender Chukka here!]
5. Best African Desert Boot: Jim Green Vellie
The sub-200 dollar boot world is a battleground. There are competitors in the retail market, direct-to-consumer giants like Thursday Boot Company, and then there are smaller makers like Jim Green.
Jim Greene Vellie Highlights
Jim Green is a South African brand that focuses on rugged, simple, but stylish footwear. The Vellie is not only one of the most affordable entries at $90, but it's also the most "shoe-like": it's casual, yes, but the eyelets are spaced far enough apart that many wouldn't consider it a chukka at first glance. Besides these factors, the Vellie retains the classic features of the desert boot with a genuine rubber crepe sole and a stitchdown construction.
Who Should Buy Jim Green Vellies
If you want desert boots that can be worn with shorts, these might be your best pick.
Guys who don't find chukkas very versatile may prefer this style.
Penny pinchers; at just $89, this is great value for money.
Who Shouldn't Buy Jim Green Vellies
Jim Green's contender may also be controversial for some for that same reason; it's too much like a shoe and not quite desert boot enough.
Many like desert boots because they can often be worn with business casual outfits, but not these; the Vellies are very casual.
Vellies are an awesome choice for those who want something for true summer wear; shorts, sunny days, and all. After all, they don't call the vellie style the official South African shoe for nothing!
[Jim Green Vellies are available in 4 leathers here!]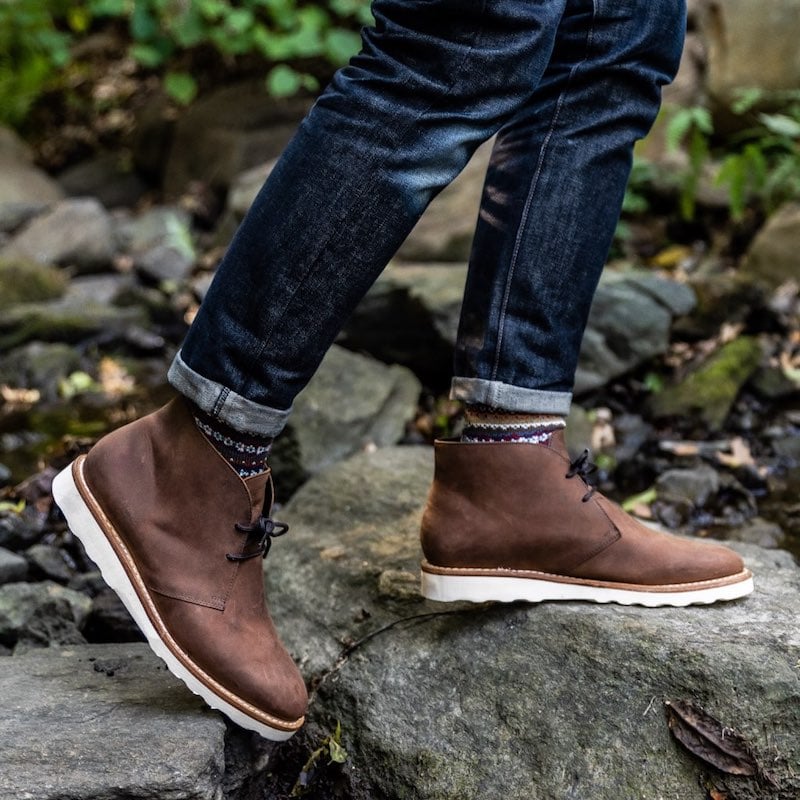 6. Best Value Desert Boot: Thursday Boot Company Scout (Rugged & Resilient)
Thursday Boot Company is the value king in the world of boots. Almost all of their offerings are made with a Goodyear welt, there's a massive variety of great leathers, and their quality-to-price ratio can't be beat.
Thursday Boot Company Scout Highlights
The Rugged & Resilient Scout from Thursday is no exception. The Vibram wedge sole and waterproof leather options make for a tough, weatherproof boot that can also be resoled, which means the longevity is top notch. On top of the value proposition, Thursday has some of the best customer service; the price is really captivating for all that you're getting. Note that while most of the Scouts don't have the signature white sole of a desert boot, the "Rugged & Resilient" options do — and their leather requires practically no care or conditioning.
Who Should Buy Thursday Boot Company's Scout
The Scout is a perfect match for those who love a desert boot but want something that can stand up to harsh weather.
Guys who want plenty of options to choose from will love the ten-or-more options for leathers.
Those looking for a good deal shouldn't go past the Scout; for a resoleable desert boot, this value is unparalleled.
Who Shouldn't Buy Thursday Boot Company's Scout
This offering may not be for you if you want a more traditional desert boot; it has a much more functional, modern aesthetic thn most offerings.
This desert boot is leather lined; that means it's ultra soft and comfy, but it won't breathe as well as something unlined.
The Scout is unmatched in value because of the Goodyear welt, rugged leather and pricing. It can especially be a great contender if you see a lot of un-desert like weather!
[Shop Thursday's Rugged and Resilient Scout here!]
7. Best Moccasin Style Desert Boot: Rancourt Acadia
Rancourt is one of the big handsewn manufacturers here in the US, and they're especially beloved for their moccasins and rugged New-England style footwear.
Rancourt Acadia Highlights
The fusion of the two results in rugged moccasins and the Rancourt Acadia. Now, I know some would not consider this a desert boot, but with all the features aligning with the Platonic ideal of a desert boot, plus a moccasin style toe / construction, I'd consider it a variation of the desert boot in the best ways. It's got excellent craftsmanship and it's made in the US, with the cherry on top being the unusually hardy leather uppers like Chromexcel.
Who Should Buy Rancourt's Acadia
The Acadia is the boot to have to stand out in the sea of desert boots. The recipe is simple in name, a desert boot with a moc stitch.
The reality is the moccasin construction is a really labor intensive and skilled practice. Lovers of handwork/handmade will love!
Guys who prioritize "made in the USA" will be delighted with this boot.
Who Shouldn't Buy Rancourt's Acadia
This desert boot may not be recommended if you really aren't keen on the moc toe. It's a very certain aesthetic.
At $275, it's one of the pricier models on this list.
The Rancourt Acadia is indeed a desert boot; the difference is a change in the formula, adding the unique appeal of a handsewn moccasin construction!
[Get the Rancourt Acadia here! You can smell the Chromexcel from here!]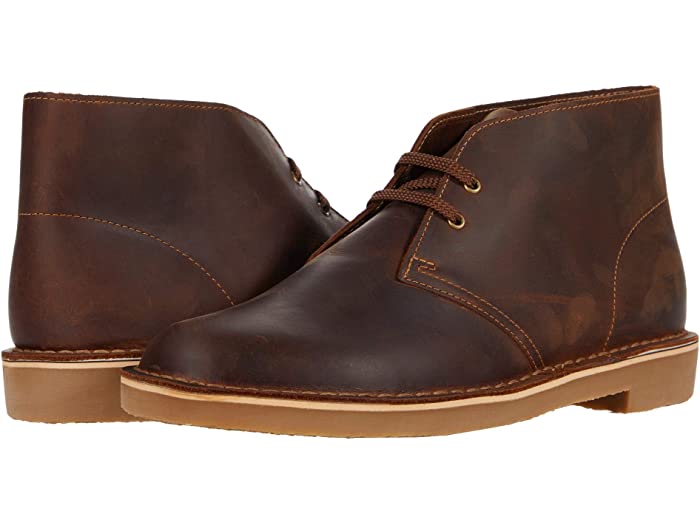 8. Best Sub-$100 Desert Boot: The Clarks Bushacre 2
Let's face it; you were waiting for when Clarks was going to appear again. Their Bushacre (the 2 or 3 model) model is an example of cutting costs where it is efficient and keeping it where it matters.
Note there's really minimal differences between the 2 and 3 models. The biggest factor is the 3 includes a new removable footbed. For the sake of simplicity, we'll talk about the Bushacre 2, a more common model.
Clarks Bushacre Highlights
With the Bushacre 2, you're not going to get the crepe sole; it's a synthetic one that might actually last you longer. The leather choices are more limited than with the original Clarks Desert Boot, but they'll appeal to most palettes! These choices range from the classic tan suedes, beeswax leathers to unique colors like blue or even a blacked out version. Basically, the Bushacre is a great pick for guys who want a cheaper Clarks desert boot with a more durable outsole.
Who Should Buy Clarks Bushacre 2
This is the perfect boot for guys who want a Clarks desert boot but want a more durable outsole.
The price is fantastic; most models are selling for under 100 dollars.
Who Shouldn't Buy Clarks Bushacre 2
Guys who want a soft, quiet, classic crepe sole.
While some purists may shun the Bushacre 2, you can expect a stylish and functional shoe for your wardrobe!
[Shop the Clarks Bushacre 2 on Amazon here!]
9. Best High End Desert Boot: John Lofgren Bootmaker Desert Boot
This company was started by John Lofgren in an effort to capture the vintage American style he loves with Japanese craftsmanship. The combination resulted in some of the finest non-bespoke boots on Earth.
John Lofgren Desert Boot Highlights
This guy's basically a perfectionist when it comes to footwear. To put things into perspective, these Desert Boots are made in Japan, home of all things precision (see Grand Seiko Spring Drive). With John Lofgren, you won't have loose grain, fraying stitches or any quality issues. You'll also get the guarantee that some of the best materials are used: German steel shanks and a thick veg tan insole are among them, features you won't find on any of the other boots on this list.
Who Should Buy John Lofgren Desert Boots
John Lofgren desert boot is for the perfectionists among us; John put a lot of time and effort into making this desert boot "the one" desert boot.
With a Japanese suede upper, a fully-lined interior, robust German-made steel shanks and a thick leather series of insole and midsole, you're getting the cream of the crop.
Who Shouldn't Buy John Lofgren Desert Boots
Not everyone will like the almost-$500 price point.
They're heavier than most desert boots, which some find to be a sign of quality, others may feel it defeats the point of the lightweight desert ready boot.
John Lofgren's Desert Boot is the ultimate nerd desert boot; this is the desert boot form at peak!
[Shop the stunning John Lofgren Desert Boot here!]
10. Best Well-Balanced Desert Boot: Taylor Stitch Unlined Chukka
Taylor Stitch as a brand focuses on high-quality menswear for reasonable prices. (We've reviewed their Chelsea boots and Ojai jacket, among other offerings.) Their current footwear lineup presents an interesting combination of rugged, stylish workwear.
Taylor Stitch Chukka Highlights
Although a chukka by name, the unlined version of the Taylor Stitch's Chukka is a desert boot at heart. The unlined chukka features a rich brown waterproof suede, a Goodyear welt and a brick red Vibram Gumlite sole. The combination results in a great balance of ruggedness, durability and grip.
Who Should Buy Taylor Stitch's Unlined Chukka
Taylor Stitch's entry can be great if you want to balance everything out on the qualities of a desert boot.
Some may find a Goodyear welt beneficial in the long run, allowing for easier and more resoles!
The waterproof suede provides a tougher alternative to most leathers (with perhaps only the Red Wings and Thursdays beating it out) than others on this list.
Unlined suede is among some of the most breathable leathers; you can't beat it on a hot summer day.
Who Shouldn't Buy Taylor Stitch's Unlined Chukka
With only one model at this time, there's not much of any choice when it comes to color or sole options.
At $298, this is one of the pricier options on this list.
The Taylor Stitch Unlined Chukka strikes that balance to make a well-rounded, upscale desert boot. But in the Henry Ford fashion, you can have it in any color as long as it's brown suede.
[Check out the Chukka by Taylor Stitch here!]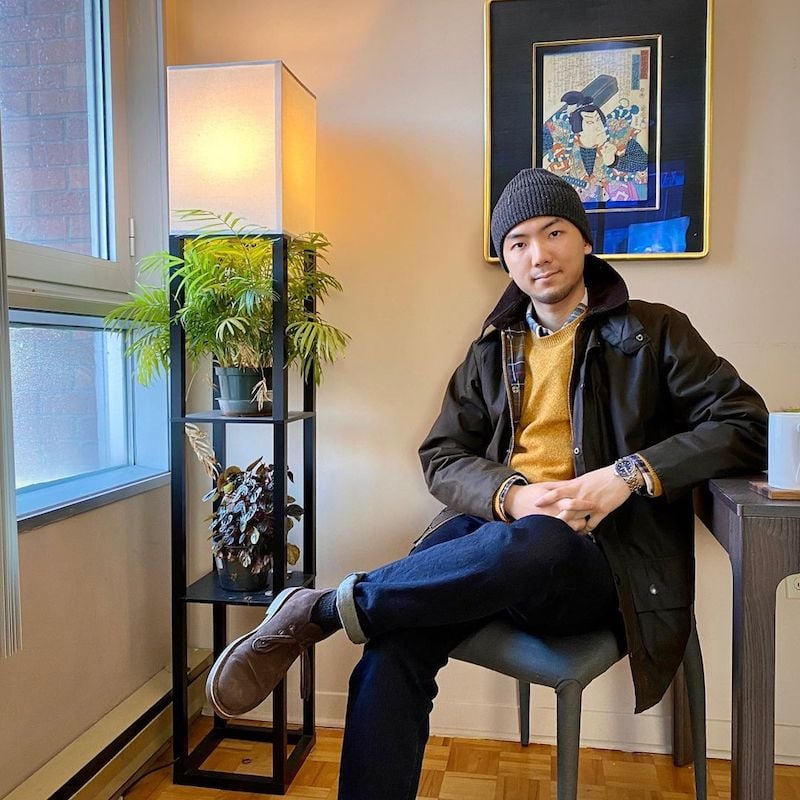 How To (and How not to) Style Desert Boots
Desert boots are remarkably simple things; they don't expect sophistication in dressing up and they can be dressed down a fair bit. Smarter looking desert boots like our Goodyear welted lineups can pair well with some chinos or dark denim, while traditional desert boots like the Clarks Bushacres to the John Lofgrens are best saved for the most casual of days. The traditional approach is to pair your desert boots with casual clothes: T-shirts, casual polos and casual jackets like denim jackets work really well.
The desert boot is best kept out of formal scenarios; you could wear them for an avant garde approach, but they're inappropriate in most formal situations. The crepe sole and unstructured nature makes for a mostly blobby, unrefined look. There are plenty of chukkas that work well in business casual outfits, but the white sole of a desert boot makes it much harder to dress up.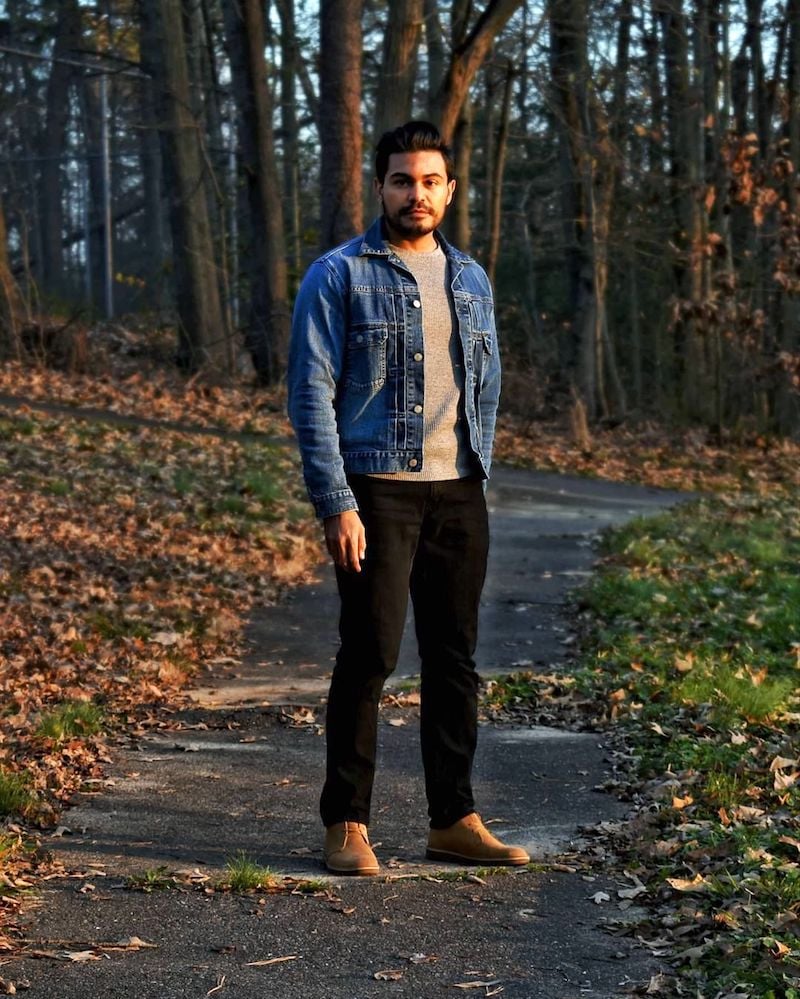 Wearing Desert Boots Casually
The most likely way you'll encounter desert boots is out on a crowded street or in a mall. These boots aren't exactly the choice of business executives, but they do make a killer casual look. Historically, desert boots were worn with denim, t-shirts and very casual jackets like patterned cardigans, trucker jackets, and more. To imagine the typical great casual outfit, let's pair up a pair of tan suede Clarks Desert Boots with some rich medium blue denim jeans and a simple white t-shirt. This combination alone is killer, and the addition of a neutral colored trucker jacket completes the look for a more late summer/early fall aesthetic.
Desert Boots in the Business Casual Environment
The line for wearing desert boots really blurs when you start dressing up. The key to wearing desert boots in a business casual aesthetic is matching your colors and ensuring everything else in your outfit conforms to business casual rules: everything should fit perfectly.
Because the business casual spectrum is quite huge, (ranging from an oxford button down and chinos to a sport coat and trouser combinations) desert boots will probably cater your more "casual" business casual choices. Now, the ideal outfit will have a slimmer desert boot, something like Taylor Stitch's universally appealing model. One of our favorite ideas is to have a nice pair of tan chinos, a light blue oxford, and if you're feeling a touch fancy, a navy blue hopsack blazer goes with most business casual ensembles.
Are Desert Boots Really for the Desert?
As you may have guessed from the title and the name of the boot, the original purpose for the desert boot is in fact the desert. It was mentioned earlier but the design was used for the North African campaign for the British during WW2. Many believe desert boots should be unlined so that they can breathe better in hot environments. In this sense, the desert boot is really reserved for the warmer parts of the year.
This isn't to say that there are desert boots that have tougher qualities; Thursday made a really tough desert boot to combat harsher parts of the year with a Goodyear welt, a chunky Vibram Christy outsole, and a soft glove leather lining.
To sum up: while all unlined desert boots can be worn in warm environments, few desert boots can be worn in the rain.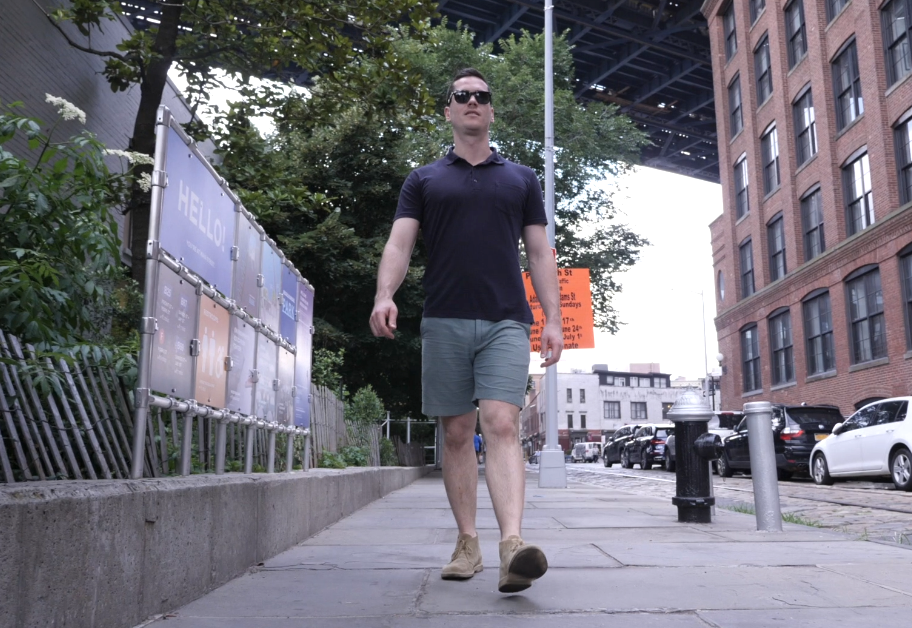 Should I Wear my Desert Boots with Shorts?
"No."
Hah, actually, there are ways to do this! I'm not going to lie and say anyone can do this, but the look does take some confidence to do. (Stridewise's founder Nick copped a lot of flak for doing so in his review of Clarks Desert Boots.)
I believe the secret is to find a desert boot with a very short shaft. I'm talking lower than the Clarks variant, like Jim Green's Vellies. Because of the nature of the vellie, being short and commonly seen with shorts in South Africa, it's pretty acceptable to wear shorts with those.
Wrapping Up
The world of desert boots is something really vague; and while we stretched some definitions here on Stridewise, we solidly confirmed their status of chukkas with casual crepe/rubber soles. We listed ten great contenders for most considerations and led a quick but handy guide to styling desert boots. This was Top Ten Desert Boots here at Stridewise and thank you for reading!
[Related: My list of The Best Boots]
The following two tabs change content below.
I'm a native South Texan attending TAMIU, a part of the Texas A&M system! Currently a freelance journalist trying to form a trail into more professional matters. I'm by no means a good writer, but sometimes these guys hire me so I guess I'm not half bad? I focus on menswear, but I'm just a little bit of a nerd of the history of everything.Check out
my Etsy shop
where I make leather goods! In addition to that, I have
a Youtube channel
where I talk about all things heritage menswear and budget. Yes, quality menswear can be affordable!
Latest posts by David Garcia (see all)