You probably already know that leather is made from hide, and that not all leather is created equal. The same is true here. Both roughout and suede are leather — they've been sanded to create a velvety texture, rather than the typical leather smoothness, but there are critical differences between the two.
So what's better: roughout or suede? Well, it depends…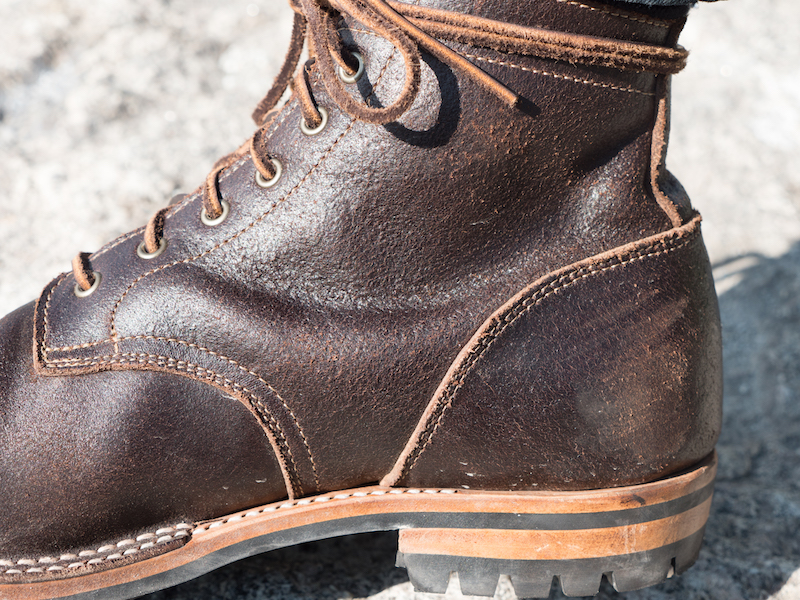 What Is Roughout Leather?
To start, let's get clear about the terminology, which can be confusing because roughout goes by many names.
"Full grain suede, reverse, flesh out and roughout are all the same," says Michael Batson, owner of North Star Leather. "Roughout (and all the other terms) includes the grain side of the leather, so it's basically a top or full grain leather that's been flipped to use the 'fuzzy side'."
Roughout leather is the underside of a hide's grain, the underside of the skin. Leather turned inside out.
Despite some popular internet myths, there isn't an inherent difference in quality between top grain leather and full grain; both just mean that the hide isn't split before being treated.
"If you were to look at the [whole] hide you'd have a smooth side and a fuzzy side," says Batson. "Think of a loaf of bread: typically the smooth crust faces out, just as most leathers show the outer side of the hide. With roughout leather, the fuzzy inner surface is exposed and sanded to enhance the texture, while still retaining the full grain of the leather. It's textured and tough, generally used on workboots built to take a beating."
[Related: Top Grain's Better than Full Grain and Other Leather Myths]
What Is Suede?
Suede is a soft, velvety material made from the split and sanded underside of an animal's hide. Unlike roughout, suede is made by splitting the hide and taking only the soft, inner part.
"Suede is a split from off of the grain side and would be fuzzy on both the top and bottom," says Batson. Even "shoe splits" a.k.a. "thicker suede meant to be used for shoes" still come from split hides.
So roughout is from the underside of the skin, whereas suede is made by splitting the skin down the middle.
The name comes from the French "gants de Suède" or "gloves from Sweden" because this material was originally used exclusively for garments with maximum softness and flexibility — the kind of thing you wear next to your skin. Boot suede is typically hardier than the kind of suede you would use for, say, gloves, but still thinner, more flexible and dressier than roughout.
[Related: Leather vs Suede vs Nubuck – What's the Difference?]
Look and Feel
"Suede and roughout can vary greatly in look and feel," Batson told us — just like any other kind of leather. Beyond their signature fuzzy, velvety texture, there are no hard and fast rules. It all depends on how the material is treated, both during and after the tanning process .
The Taft Dragon 2.0 sports a waxed suede for a weird, stylish effect that has the added bonus of being water resistant. Adding a coating of wax is a traditional and effective way to make it more water resistant. Waxed roughout, like that on Stridewise favorite Truman Boot Company boots, is less velvety than it is straight-up rough, like its namesake.
"If you check out (popular tannery) CF Stead, you can see some really crazy wax and other effects that they apply…" says Batson. (The "scaly" look of the Taft Draon is a good example.) "In Red Wing's lineup, Hawthorne Muleskinner is a roughout that's had some oil and wax applied, whereas Spitfire has so much that it appears smooth, and Mohave feels like a normal suede."
Bottom line: if the grain is raised, it's probably roughout or suede. Other than that, there are no hard and fast rules about how these materials can look.
Suede vs Roughout Cost
A lot goes into figuring out the cost of a leather, and so it's hard to generalize if roughout or suede is more expensive.
On the one hand, roughout uses a full grain leather, which is typically more expensive than a split. On the other hand, suede has a longtime association with luxury that means there's some really, really nice suede, with hefty price tags to match.
Batson agrees. "Generally, suede is cheaper if you're comparing tanneries of the same quality tier, however, you can still pay a lot for a good suede," he says. "In fact, a suede from a top tannery like CF. Stead would easily cost double the cost of full grain from a tannery like Leader in Pakistan."
No matter what you shell out for your boots, you're going to want to protect your investment with some proper cleaning and care.
Suede vs Roughout Care and Cleaning
Ease of care is one of the biggest differences between suede and roughout. Generally, you're fine getting roughout wet, which is part of why it was such a popular option for soldier's boots back in WWII, but a soaking can ruin suede.
If you do get caught in a sudden storm, though, don't panic and put your suede shoes in front of the radiator. That's bad. Instead, towel them down gently with a soft cloth and, if you have them, wrap a cedar shoe tree in some plain printer paper; this will absorb water from the inside.
Conditioning is generally not necessary or recommended for suede or roughout, because they will permanently change the signature texture of the material. Of course, if you decide that you like the look of waxed suede, or that your roughout workboots are looking cracked and in dire need of conditioning, you should have at it, but find out from the company the best way to go about it. With Rider's roughout, for example, they recommend using neatsfoot oil.
If you're very concerned about water damage to your boots, you can always try a silicone-based waterproofing spray, like this one from Saphir, which can add a bit of protection without affecting the appearance of the shoe much.
If this all sounds like a headache, take a look at Thursday Boot Company's Weathersafe Suede, which is imbued with hydrophobic materials during the tanning process to make for a great looking suede that's very water resistant.
[Related: Everything You Should Know About Caring for Suede]
Cleaning is more straightforward: a stiff-bristled brush is your best friend when it comes to both suede and roughout. Dirt and grime get trapped in the pile of the fibers and mats them down, which is what makes the whole shoe look dingy.
Take out your laces and gently work the brush from the front of the shoes to the back, buffing in all directions to loosen the nap and release those dust particles. A horsehair brush will do in a pinch, but even better is a wire bristle brush. It sounds counterintuitive, especially considering the fragility of suede, but it's definitely the most effective tool. Just go easy — a little brushing goes a long way.
There you have it! The definitive guide to two iconic boot materials. Whether you're looking for something suave and dressy, or tough and fuzzy, there's a textured leather out there for you.
The following two tabs change content below.
Mel Compo
Mel Compo is a writer, editor, and general word-geek from Brooklyn, New York. When they're not writing about the finer side of men's footwear they can be found lurking around the streets, trains, and museums of NYC, ostensibly doing something urgent but actually just looking around for menswear style inspiration.
Latest posts by Mel Compo (see all)