In the realm of quality footwear, few styles are as timeless and versatile as the classic moc toe boot.
But there's a big difference between the way most companies approach this style and what genuine hand sewn moccasin footwear is.
Today, we delve into the craftsmanship of Rancourt & Co., a renowned American footwear company in Lewiston, Maine, that continues to uphold the tradition of creating exceptional hand-sewn moccasin-style boots. In this article, we explore the meticulous processes behind their Harrison Boot Redux and the significance of American boot making.
Make sure you watch the video below that we filmed on location!
Why Rancourt?
Rancourt & Co. was founded in 2009, but its heritage stretches back to the 1960s, when David Rancourt opened his own factory in Lewiston producing handmade moccasins.
With a legacy spanning over half a century, the Rancourt family has accumulated extensive experience and generational knowledge of the art of shoemaking.
What sets them apart from many other bootmakers is their steadfast focus on using premium and largely natural materials. The uppers are mostly from the world famous Horween Leather Company and England's CF Stead, universally considered masters at their craft.
Instead of Vibram soles, they opt for Lactae Hevea, which are softer and made of 100 percent natural latex rubber instead of synthetic compounds. The soles go through a 12-day curing process to build a structure of microscopic air bubbles within the soles, resulting in their signature comfort.
And while they offer plenty of traditional plain toe boots, here we arrive at their secret sauce: the moc construction.
[Further reading: Our review of Rancourt's handsewn penny loafers]
Genuine Hand-Sewn Moccasin-Style Boots
"It involves using a piece of leather, known as the vamp, which wraps around the 'last' or form of the boot," says Mike Rancourt, the company's President and the son of its founder. "Skilled craftspeople then pull the leather up on the last, securing it in place by tacking the tip, also referred to as the plug. Following this, they proceed to punch holes and employ waxed thread to create the genuine hand-sewn stitching."
You can almost think of it as an upside down shoe: you're essentially standing on the leather upper, which wraps up and over the top of the foot, where it's then stitched to the rest of the upper. This means there's one piece of leather wrapped around the foot, so there are no seams to irritate and it conforms to the foot's shape like nothing else on the market.
The Harrison Boot Redux
"When the dirt, oils, and greases come into contact with the mud guard, they tend to rub against it," explains Mike. "To keep it clean, all you need to do is wipe it off. This design is actually an adaptation of the genuine moc, where it features a wrap-around style with a soft sole. The sole is made in the moccasin style, attached to the last, and then a hand-sewn leather piece is stitched onto it."
This design not only adds a nice aesthetic touch, but makes the Harrison boot easier to clean and a tad more durable around the bottom of the sole.
The Harrison Boot Redux combines the best of traditional hand-sewn construction with functional design elements, resulting in a boot that is not only stylish but built to last. It's a casual boot for sure, but its quality shines through wherever you decide to take it.
[Further reading: Our review of Rancourt's Harrison boot]
Lactea Havea Rubber Soles
When you tap a rubber tree, it releases latex — without any need to cut down the tree, mind you. This raw material then undergoes a process involving coagulating rollers, resulting in the creation of the coveted crepe wedge sole.
While other brands may incorporate various additives, Rancourt stays committed to using only 100% latex, making their Lactea Havea Rubber Soles completely natural.
The use of pure latex in the production of these rubber soles brings remarkable advantages. First and foremost, the inherent softness of latex sets these soles apart from their counterparts. It offers a cushioned and gentle feel underfoot, ensuring exceptional comfort with every step.
In addition to its softness, the 100% latex composition has the natural flexibility and elasticity and lightness of latex, allow for enhanced ease of movement and a remarkably lightweight feel underfoot.
We've been wearing our Baxter boots around Manhattan since we left the factory, and the unlined upper combined with the lighter Blake stitch construction and the airy latex sole make for an incredibly light feel on the foot. It's certainly a welcome change after all of the heavy, Goodyear welted boots we're usually wearing in!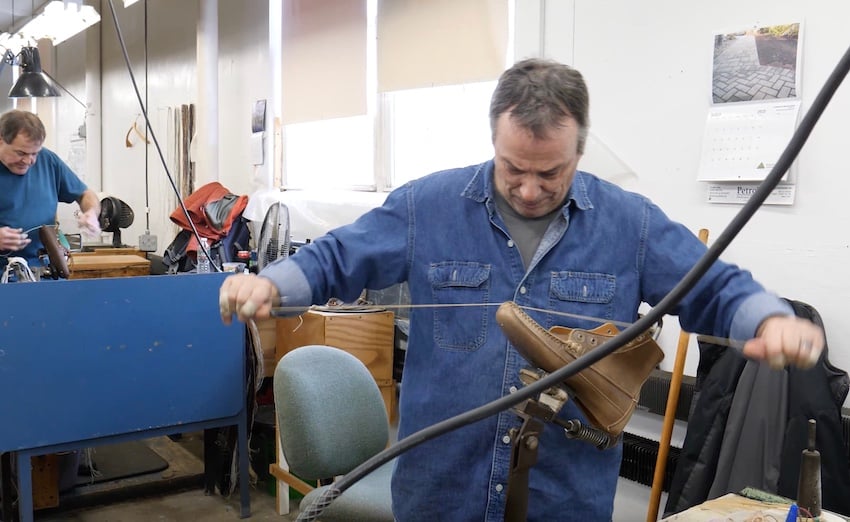 Why American Boot Making Matters
"My family's been in this community since `67," says Mike. "We've employed lots of people, and that is so important to us as a society. We are customizing our production and it's for our community as well. So a lot of consumers are understanding that now. They're recognizing, 'hey man, we got to have something here that we own, we control, that we can feel good about.'"
In an era dominated by mass-produced footwear, and the shuttering of countless American operations, Rancourt represents a beacon of quality and homegrown artistry. By supporting American shoemaking, consumers are contributing to the preservation of heritage craftsmanship, sustainable practices, and the growth of local economies.
Wrapping Up
In conclusion, Rancourt exemplifies the true essence of American bootmaking with their exceptional craftsmanship and dedication to creating the realest moc toe boots you're likely to find. The Harrison Boot Redux is just one example of their classic approach to footwear, showcasing their commitment to pushing boundaries and delivering unmatched quality.
Discovering Rancourt was a revelation, as it opened my eyes to the rare and unusual methods employed in crafting their moc boots. It became evident that the moc toes we had encountered in the past paled in comparison to the authenticity and craftsmanship found in Rancourt's creations.
As a company based in Maine, Rancourt stands as a testament to the resilience of the American manufacturing industry. Their dedication to something truly special sets them apart, and their diverse range of offerings only adds to their appeal.
The following two tabs change content below.
Nick English
By day: Manhattan-based journalist with reporting experience on four continents, published in Vice, Men's Health, Popular Science, and a bunch of other places.By night: ravenous consumer of anything and everything related to high end men's boots.Stridewise is where I nurture a maniacal obsession with footwear and share my findings. Say hey:
[email protected]
.
Latest posts by Nick English (see all)