The perennial work boot question: Moc Toe Versus Plain Toe Boots. And what, if any, are the differences?
There is a multitude of opinions on this question as there are work boots. For every cap toe boot in the world, someone is willing to expound on the subject of round toe vs cap toe vs square toe and so on — getting a definitive answer on moc toe vs plain is no less difficult or confusing. It can seem nearly impossible to zero in on the one pair of steel toes you need with so much rhetoric around.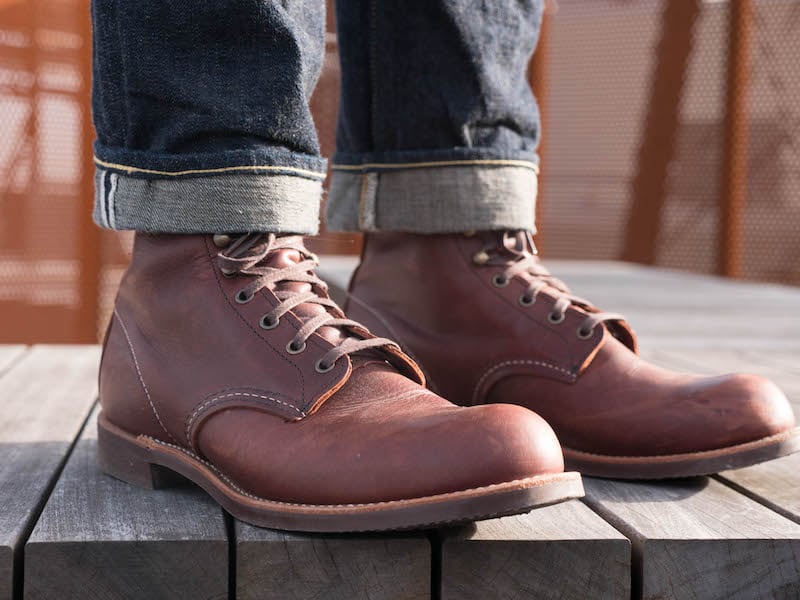 Moc Toe Vs Plain Toe
If you have gotten here, you probably already have a good idea about what's under discussion: you're here to define which type of toe box you want on your boots, or which one will suit your circumstances. (But one thing that none will dispute is that you can never have too many boots.)
Classy plain toe boots look good with casual slacks, any of your casual outfits, or even dress pants — for sure, the classic plain toe boot can be a great alternative to your normal shoes while offering good slip resistance and protection. The key to wearing them with the right outfit tends to be the silhouette: a slimmer boot like the Thursday President can dress up with relative ease, while a chunky plain toe boot like the Red Wing Blacksmith is a firmly casual, rugged boot.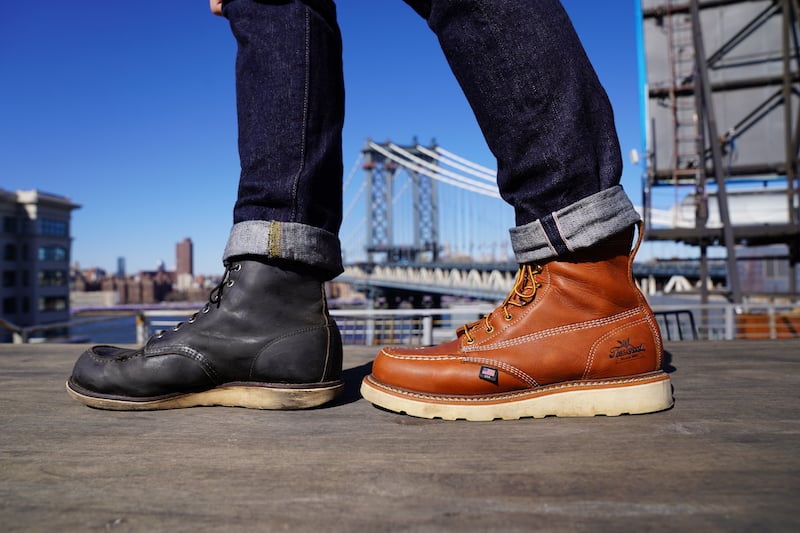 Moc toe work boots, steel toe, and safety toe boots have existed for decades as workwear, but in more recent times they have gained a reputation for being both stylish boots and functional footwear as well.
Before we dive into a head-to-head comparison of the two boots and boot styles (moc toe vs. plain), familiarize yourself with moc boots and their raised seams on the uppers of the toe boxes. This helps set these boots apart, makes them more utilitarian (for reasons we'll discuss), and complements wider fitting pants. The Danner Bull Run range of shoes and boots is just one example.
Both kinds of boots feature styles and designs that are quite distinct. With the right pairing, your work boots can double duty on nights out without the leather stretching your budget too much. Cap toes, plain toes, or moccasin-style boots with decorative pin holes, the choice and style are yours. You could even impress the power suits in your organization with your casual wear fashion sense and alternative dress shoes.
Head to Head Comparison: Moc toe boots vs. Plain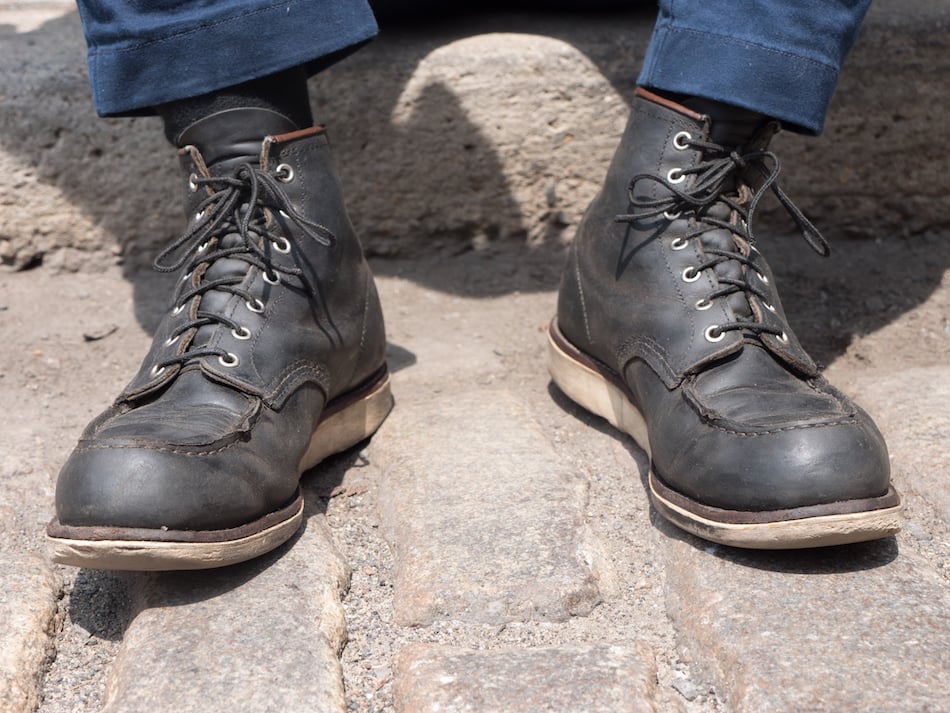 Moc toe boots
Material – Leather
Comfort – Comfy, typically lighter than plain toe
Design – U-shape stitching or raised seams on the uppers. Two or more panels.
Water and dirt resistance – Largely dependent on sole construction, but potential problem with seepage through the toe box seams and stitching. Cleaning is awkward.
Outsoles – Usually wedge soles.
Safety standard – ASTM international standards-compliant, depending on the brand — check with the manufacturer
Plain toe boots
Material – Usually leather, but more likely to vary with other materials like suede, denier, canvas, Goretex
Comfort – Typically heavier than moc toes, though comfort is more dependent on construction method
Design – Simple and classic. Single panel design.
Water and dirt resistance – Good resistance to water and dirt. Easy to keep clean.
Outsoles – Wedge-shaped and heeled soles available. Good grip.
Safety standard – ASTM international standards-compliant, depending on the brand — check with the manufacturer
What Are Moc Toe Boots?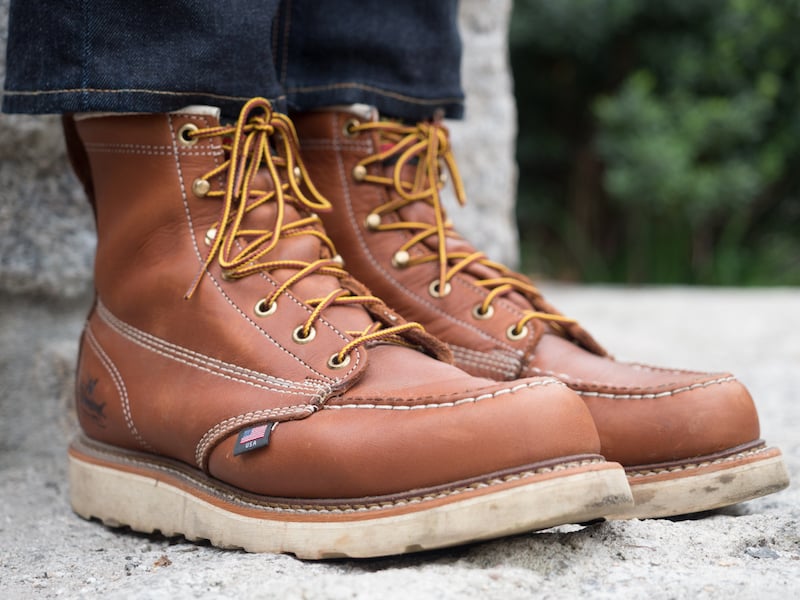 First off, you should know that the moc style boot is short for moccasin. The moc toe work boot, then, draws its inspiration from the traditional footwear favored by indigenous First Nation peoples.
Traditionally, these shoes were made from the skin of buffalo, which once roamed the entire continent. Today, moccasin shoes and toe cap boots are still made of leather, but not limited to buffalo skin.
Moc toe boots are easy to spot due to their narrow toe design, u-shaped stitching, and the raised seam work typical of these types of shoes. Some may have decorative holes or a medallion toe instead.
Generally, the boots' uppers comprise two or more separate panels rather than a single leather piece and the soles are typically made with a wedge sole. As a result, these boots — and shoes — are renowned for being lightweight, flexible, comfortable, and near-silent. The distinctive stitching is what's responsible for the flexibility.
Therefore, many construction workers prefer them as the moc toe helps protect their feet. In addition, the toe box area gives them an extra toe area. Moreover, they are extremely stylish these days, and the boot styles mean they are suitable as workwear and casual wear.
[Related: Is Thursday's Diplomat the World's Most Versatile Moc Toe?]
What's a Plain Toe Boot?
Plain toe boots, aka round toe boots, are terms you can use interchangeably in any moc toe vs plain toe work boots debate.
What is perhaps most striking is their lack of embellishment compared to moc toes: they're simpler. This can have the effect of making round toe shoes and boots seem a little boring by comparison, but it can also mean they're more versatile — it's much harder to dress up a moc toe than a plain toe. With the lack of toe seams, they're easier to clean as well.
Generally, they are leather, but some brands also use synthetic fabrics and suede.
Plain Toe Boots
Due to their minimalist design, plain toe work boots are the toe style of choice for those who prefer the extra toe area offered by round toes. In addition, since they are low-key as work boots and can double up as shoes, they are the more versatile choice in the moc toe vs plain argument.
Any "moc toe versus" argument is about which are best. The plain toe work boots edge ahead for some folks, as you can also use them for riding, casual wear, and sometimes business casual wear, and still feel rugged and reliable. The moc toe works in many areas, but the high durability and comfort put the plain toe style in a marginal lead.
What Similarities and Differences Are There in Moc Toe vs Plain?
Let's look a little closer at what separates and unites the moc toe boot from the plain toe boot. Is it more than merely the toe box?
Material
Leather is the go-to material for toe box boots like moc toe work boots and cap toe and square toe footwear. This choice is because leather is durable and relatively breathable — plus, of course, it looks cool.
However, unlike most moc toe work boots or snake proof boots, plain toe is more likely to be made from a range of different materials, including Goretex. The downside to synthetic material is that it's rarely as breathable, and suede stains easily. That said, it's easy to just look at the product description to make sure you're getting quality, full grain leather.
[Related: The 9 Best Leathers for Boots]
Comfort
When it comes to a moc toe vs comfort, it's typically n a par with comfort vs plain toe. Each has its strengths and its weaknesses. Both can feature a padded tongue, orthotics, arch support, laces, and an energy-return system. (That last quality is typical in boots with a material like EVA foam in the insole.)
The main thing to keep in mind when comparing these boot styles is that moc toes are typically roomier, with high side walls and spacious toe boxes. This is because they're more often associated with workwear. If your toes tend to brush against the upper of your shoes, you may prefer moc toes.
Lightweight and Comfortable
Moc toe boot construction makes them more comfortable, roomy, and usually (by virtue of the wedge sole) lightweight, flexible, and quiet.
On the other foot, a plain toe boot is constructed with other functions in mind, so it tends to be more heavy and rigid in comparison. As a result, they can squeak when you walk.
If you're on your feet every day, the moccasin edges ever so slightly ahead as the one to choose. The flat sole is likewise good for trekking, tackling gradients, or climbing ladders, for example — there's no heel to catch and risk tripping.
It's worth remembering that the moc toe box is wide vs plain toe toe boxes. You may, therefore, find mocs offer more wearer comfort, but this is in a minority of cases.
The Design
Moc toe and plain toe boots are completely different, design-wise. It's the first thing you noticed: moc toe boots feature U-shaped stitching on the toe box area. The plain toe box adheres to a simpler simple design throughout. In a historical context, plain toes are more similar to military service boots while moc toes are more similar to work boots.
You can wear both without raising any eyebrows, however, the plain toe has a slight edge in the fashion stakes and is more versatile. Again, it's very hard to dress up a moc toe.
Resistance to Water and Dirt
The boot with the better water and dirt resistance is the plain toe boot due to its construction: there aren't seams and stitches running over the toes so water cannot easily leak through nor can dirt get snared in the seams. Plains are also much easier to keep clean due to their functional design.
However, you can improve any boot's water resistance by treating it with oil and conditioner every couple of months to improve their water resistance.
[Related: The 5 Best Boot Conditioners]
The Outsoles
Now, there are plenty of moc toes with heels, like Grant Stone's. But you're far more likely to find moc toes with wedge outsoles than you are with a plain toe boot. (Again, there are exceptions.)
The big advantages of a wedged outsole are that you aren't vulnerable to catching your heel on anything and tripping the way you are with heeled soles — which is why wedge soles are more popular for work — and they distribute your weight more evenly.
Safety Standards
This is entirely dependent on the boot, not whether it has a moc toe or not. As previously noted, moc toe boots are typically more likely to be used for work in factories, oil rigs, and the like, and so they often meet ASTM standards for shock resistance and other factors. But a boots' safety standards compliance will hinge on the manufacturer: Irish Setter is a popular brand with a variety of ASTM certified boots, and plenty of them are plain toe.
And if your safety standards are about steel toes then again, both moc toes and plain toes can be fitted with them. Check the product description, not the toe.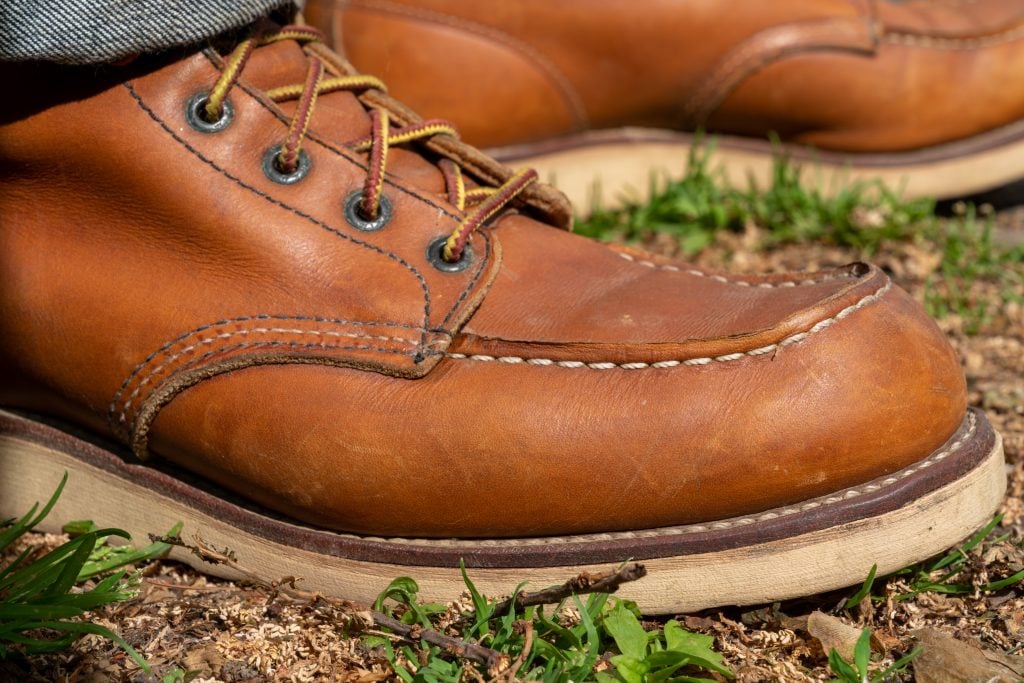 Final Thoughts on Moc Toe Boots vs Plain Toe Boots
Now that you know how moc toe and plain toe boots differ, there may be more similarities than you thought. While moc toes tend to be roomier and made with more functional soles, any manufacturer can produce a plain toe boot with a wedge sole and/or ASTM specifications. The main difference in setting them apart comes down to style and design.
While both work fashion-wise, the plain toe boot can more easily be worn with more outfits and it dresses up more easily. While fashionable with slim jeans and the ideal choice for casual outfits, you can not always pair up moc toe boots with every outfit.
Best, then, to hedge your bets and get both.
The following two tabs change content below.
Emilia Wilson
Emilia Wilson is a professional freelance writer and enthusiast of all things fashion. A voracious reader and avid writer, by day she is constantly researching and writing articles, with a bias for all things fashion and DIY. By night, she grapples with the mind-boggling world of website design and development as she looks to put together her own DIY blog. Say hello:
[email protected]
Latest posts by Emilia Wilson (see all)