If you've spent any time shopping for boots, you've come across the never-ending barrage of boot jargon: moc toe, plain toe, cap toe, steel toe — we've not even gotten past the toes and it's already confusing.
To help you with your boot buying journey, we're going to break down two of the most popular styles of boots on the market – moc toe boots versus plain toe boots.
We'll look at what exactly separates moc toe from plain toe boots, how to style them, and which ones are the best.
[Check Out: The 7 Best Moc Toe Boots On The Market 2022 | Best Value, Toughest, Best for Work, and More]
Moc Toe Boots Vs Plain Toe Boots
Moc toe boots tend to be more casual than plain toe boots, plain toe boots are a bit more versatile, you can have very dressy plain toe boots or rugged plain toe boots. Moc toes have a round toe and are suited to casual wear.
Plain toe boots, like their cousin the cap toe boot, feature a narrow toe design and can be worn with casual outfits or as a dress boot.
What are Moc Toe Boots?
Moc toe boots are defined by their moccasin-style stitching on the toe box. They are a relatively modern boot style. One of the first moc toe boots was designed by Red Wing in the early 1950s. They were influenced by native first nation people's moccasins and recognizable by the folded stitching at the front of the toe box.
Red Wing made these boots for farmers and hunters. They were designed for people who spend a lot of time outside in wet cold conditions. Over time, people started using moc toe boots for work, and brands like Red Wing, Irish Setters, and Thorogood added steel toes and produced the first steel toe work boots.
Now Moc toe boots are commonly sold as either functional work boots or stylish casual boots.
What are Plain Toe Boots?
Plain toe boots encompass a wide range of boot styles, basically, any boot that doesn't have a cap toe, moc toe, or decoration on the toe is a plain toe. I dare say most boots you've seen are plain toe boots.
They feature clean lines, are narrower, and have a lower profile than moc toe boots. Plain toe boots are more versatile and easier to wear with casual slacks or even dress pants than moc toes because they're not too bulky or bulbous.
A quality pair of Goodyear welted plain toe boots provide good slip resistance, water resistance, and protection.
Before we dive into a head-to-head comparison of the two boots and boot styles (moc toe vs. plain), let's take a look at a few boots we've reviewed in the past, so that you can understand the differences a bit better.
[Related: Is Thursday's Diplomat the World's Most Versatile Moc Toe?]
The Best Moc Toe Boots
As I mentioned before, moc toe boots are often fairly casual. Some people see moc toes as the sneaker of the boot world. They have cushier outsoles than a lot of plain toe boots and roomy toe boxes.
Like sneakers, they are best suited for casual wear. They also tend to have bulbous round toes that don't look very good with slacks or more formal attire.
Best Value Moc Toe Boot: Thursday Diplomat
Features durable, waxed, and oiled leather
Resolable, Goodyear welted construction
Steel shank
Vibram Christy outsoles
$199
The best value moc toe is from Thursday Boot Company. Thursday completely redefined the high-end Goodyear welted boot game by offering high-quality resolable boots for under $200.
Their Diplomat boot is the perfect example of this commitment to style, comfort, and value. Thursday uses high-quality leather uppers, attached to super comfortable cork-bed midsoles that form to your feet, and a cushy Vibram wedge sole. You also get a steel shank for stability, which is rare for a casual boot.
Usually, at this pricepoint brands cut corners, Thursday on the other hand actually adds more features than you'd find on a more expensive boot.
They are Goodyear welted and resolable, meaning when you wear out the sole of the boot, a cobbler can attach a new one. These boots will last a very long time, and you'll get a lot of wear for your dollar.
[SHOP THE THURSDAY DIPLOMAT IN 5+ LEATHERS HERE]
The Best Moc Toe Boot: Grant Stone
Made-in-China
Uses very high-end leathers and materials
Versatile, not too casual
$298 – $360
The price varies depending on the leather. At the time of writing,
The "Earth" waxed suede is $298
My Saddle Tan boots are $340
The Chromexcel variants are $360
This is my favorite moc toe. Like Thursday, Grant Stone sells boots for far less than competitors who make similar boots. While Thursday saves money by making their boots in Mexico, Grant Stone makes their boots in China. They don't use low-quality materials and labor though, they've partnered with the most experienced artisans in the country, people who have been making high-quality Goodyear welted boots for decades.
I like Grant Stone because they have a narrower toe box than other moc toe boots, so you can wear them with chinos or nice denim jeans. They look a bit classier. You can also buy them with a lug sole instead of a wedge sole.
Grant Stone also uses very high-quality materials from the best tanneries in the world like CF Stead, Horween, and Carlos Balassi. These leathers are often found on boots in the $400+ price range.
[SHOP THE BRASS BOOT IN 9 LEATHERS HERE]
Best American-Made Moc Toe: Red Wing Classic Moc
Made in the USA entirely from American sourced materials
Iconic and popular boot style
A variety of leathers, including a GoreTex option
$299-350
I couldn't leave Red Wing's classic moc toe off the list. It's one of the most iconic boots on the planet. It's been worn by Drake and Ryan Gosselin and you'll see people wearing this boot from Japan to Amsterdam.
It's made in America using 100% American-sourced materials. The leather, the cork, and the soles are all made in the USA.
They were also my first pair of moc toe boots, and my first pair of nice Goodyear welted boots. They are very comfortable, come with a nice grippy sole, and break in fast.
The only downside is that some guys don't like the very bulbous round toe. These are very casual boots. But if you're looking for durable round-toe boots, this is the moc toe style for you.
[SHOP THE RED WING MOC TOE IN 6+ LEATHERS HERE]
The Best Plain Toe Boots
On the opposite end of the style spectrum, you have plain toe boots. They don't have as much of a round toe as moc toes. Their narrow toe allows for a more versatile look. You can even wear some moc toe boots with dress pants.
Best Value Plain Toe Boot: Thursday Boot Company – President
11 types of leather to choose from
Goodyear welted construction
Comfortable and supportive
$199
Thursday Boot Company makes a very nice plain toe style boot called the President. It's a fantastic example of a comfortable, nice-looking Goodyear welted boot.
Unlike other Goodyear welted boots, it's not too chunky. It has a nice silhouette and can be dressed up, or worn with a pair of jeans.
Thursday sells this boot in 11 different styles, so if you're looking for something very rugged you can get their Rugged & Resilient leather, or you can opt for a classic look and get a full-grain black or brown leather.
You can also check out their much-loved Captain boot, which is very similar but has a cap toe instead of a plain toe.
[
Shop Thursday's President HERE
]
Best Made-in-USA Plain Toe Boot: Red Wing Blacksmith
Oil-tanned leather
Vibram sole
Bump toe, informal
Red Wing's Blacksmith boot is my favorite made-in-USA heritage-style, plain toe boot.
This boot is made much the same way as boots were over 100 years ago, meaning you get a durable, nice-looking boot, that will last a very long time — just like people needed before our modern throw-away culture took over.
The Blacksmith is also one of Red Wing's dressier boots. I wouldn't wear these with a suit, but they do look good with khakis or a nice pair of jeans.
[SHOP THE RED WING BLACKSMITH]
Best Plain Toe Dress Boot: Carmina Whole Cut Chelsea Boots
I wanted to add a true dress boot, something you could wear with a suit or for nicer occasions. Some people will argue whether a boot can be as dressy as dress shoes, I think they can, but that's a personal preference.
These boots are primo and tick every box needed for a stylish dress boot. Chelsea boots work very well as dress boots.
They also have a leather sole, which is indicative of a classier style, but note that if you've never worn a leather sole, they take a bit of getting used to as they are slippier than rubber soles.
Lastly, these are wholecut boots, meaning they are made with a single piece of leather attached at the heel, unlike most boots that are made from at least two pieces of leather stitched together. Wholecut boots and shoes are amongst the most difficult to make and only found on the highest quality boots out there.
[SHOP CARMINA'S CHELSEA BOOTS HERE]
What Similarities and Differences Between Moc Toe vs Plain Toe?
Let's look a little closer at what separates and unites the moc toe boot from the plain toe boot.
Materials
Leather is the go-to material for all high-quality boots including moc toe work boots, cap toe, and square toe footwear. This is because leather is durable and relatively breathable — plus, of course, it looks cool as it gets older and develops character.
Plain toe boots are made from a range of different leathers. You are more likely to find plain toe boots with a steel shank, lug soles, and a variety of slip-on styles like Chelsea boots. They also have a variety of lacing systems.
[Related: The 9 Best Leathers for Boots]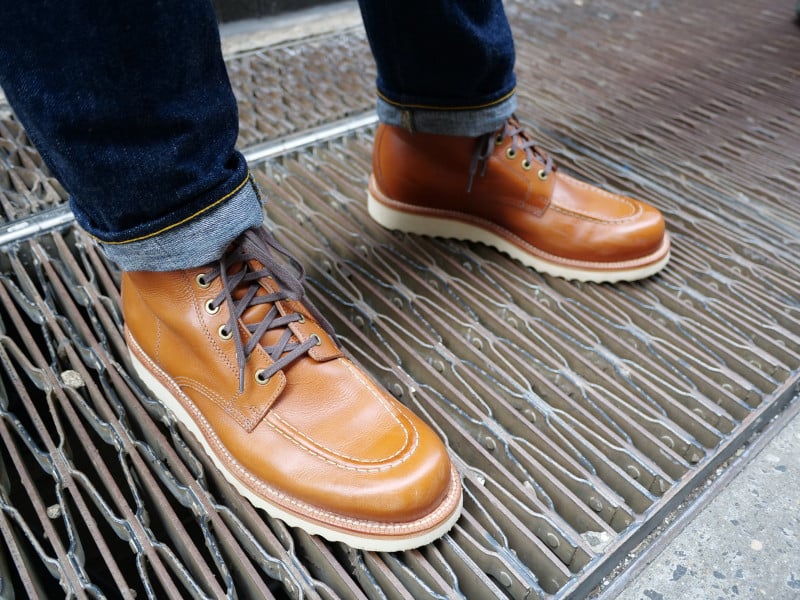 Comfort
When it comes to moc toes and comfort, they are typically on par with plain toes. Each has its strengths and its weaknesses.
The main thing to keep in mind when comparing these boot styles is that moc toes are typically roomier, with high side walls and spacious toe boxes. This is because they're more often associated with workwear. If your toes tend to brush against the upper of your shoes, you may prefer moc toes.
Because moc toe boots were originally designed for a wide range of activities like hunting and farming you can move easier with the roomy toe box.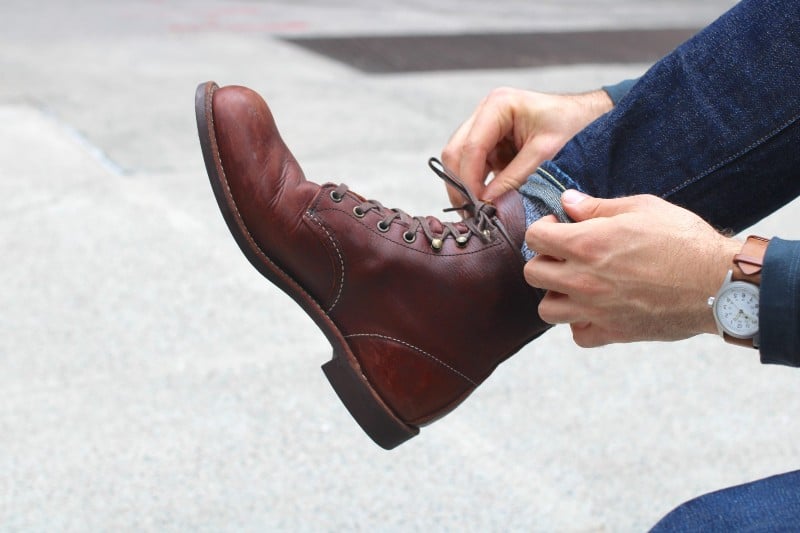 The Design
Moc toe and plain toe boots are completely different, design-wise. It's the first thing you noticed: moc toe boots feature U-shaped stitching on the toe box area.
The plain toe box adheres to a simpler simple design throughout. In a historical context, plain toes are more similar to military service boots while moc toes are more similar to work boots.
You can wear both without raising any eyebrows, however, the plain toe has a slight edge in the fashion stakes and is more versatile. Again, it's very hard to dress up a moc toe.
The Outsoles
Now, there are moc toes with heels, like Grant Stone's. But you're far more likely to find moc toes with wedge outsoles than you are with a plain toe boot. (Again, there are exceptions.)
The big advantages of a wedged outsole are that you aren't vulnerable to catching your heel on anything and tripping the way you are with heeled soles — which is why wedge soles are more popular for work — and they distribute your weight more evenly.
Wrapping Up
Now that you know how moc toe and plain toe boots differ, hopefully, you can make a more informed purchase.
While moc toes tend to be roomier and made with more functional soles, any manufacturer can produce a plain toe boot with a wedge sole and/or ASTM specifications. The main difference in setting them apart comes down to style and design.
While both work fashion-wise, the plain toe boot can more easily be worn with more outfits and it dresses up more easily. While fashionable with slim jeans and the ideal choice for casual outfits, you can not always pair up moc toe boots with every outfit.
Best, then, to hedge your bets and get both.
FAQS: Moc toe vs plain toe boots
What are Moc Toe Boots?
Moc toe boots are any boots with moccasin-style stitching on the toe box area. Sometimes this stitching is functional, sometimes it's decorative.
What does plain toe mean?
Plain toe style boots and shoes do not have any stitching on the toe area.
Are moc toes better?
If you are looking for boot styles that work best with casual outfits, then moc toes may be better than plain toes. Some plain toe boots are dressier. Moc toe boots are often more comfortable out of the box and require less break-in than plain toe boots.
What is the point of a moc toe boot?
Moc toe boots were originally developed as a sport boot for hunters and farmers. They are comfortable on your foot for long periods of time while you are doing outdoor activities.
Do moc toe boots have more toe room?
Yes, moc toes are often roomier in the toe area than other boot styles.
What does plain toe mean for boots?
A plain toe means there is no stitching in the toe area. For example, they do not have a cap toe box, wingtips, moc-toe stitching, or any decorative stitching on the toe area.
The following two tabs change content below.
Emilia Wilson
Emilia Wilson is a professional freelance writer and enthusiast of all things fashion. A voracious reader and avid writer, by day she is constantly researching and writing articles, with a bias for all things fashion and DIY. By night, she grapples with the mind-boggling world of website design and development as she looks to put together her own DIY blog. Say hello:
[email protected]
Latest posts by Emilia Wilson (see all)