If you've spent any time shopping for boots, you've come across the never-ending barrage of boot jargon: moc toe, plain toe, cap toe, steel toe — we've not even gotten past the toes and it's already confusing.
To help you with your boot buying journey, we're going to break down two of the most popular styles of boots on the market – moc toe boots versus plain toe boots.
We'll look at what exactly separates moc toe from plain toe boots, how to style them, and which ones are the best.
[Check Out: The 7 Best Moc Toe Boots On The Market 2022 | Best Value, Toughest, Best for Work, and More]
Moc Toe Boots Vs Plain Toe Boots
Moc toe boots are typically seen as more casual than plain toe boots, plain toe boots are a bit more versatile.
You can have very dressy plain toe boots or rugged plain toe boots. Moc toes tend to be bulkier, which makes them more suited to casual wear and less tapered pants. The fact that moc toes are more likely to come with white rubber "wedge" soles, as seen in the image above, makes them even harder to dress up.
Plain toe boots, like their cousin the cap toe boot, can be either bulbous, like the Red Wing Blacksmith above, or narrow, like the Thursday President.
If we're strictly talking about casual wear and style: plain toes are easier to dress up, moc toes are easier to dress down.
Plain toes are easier to dress up, moc toes are easier to dress down.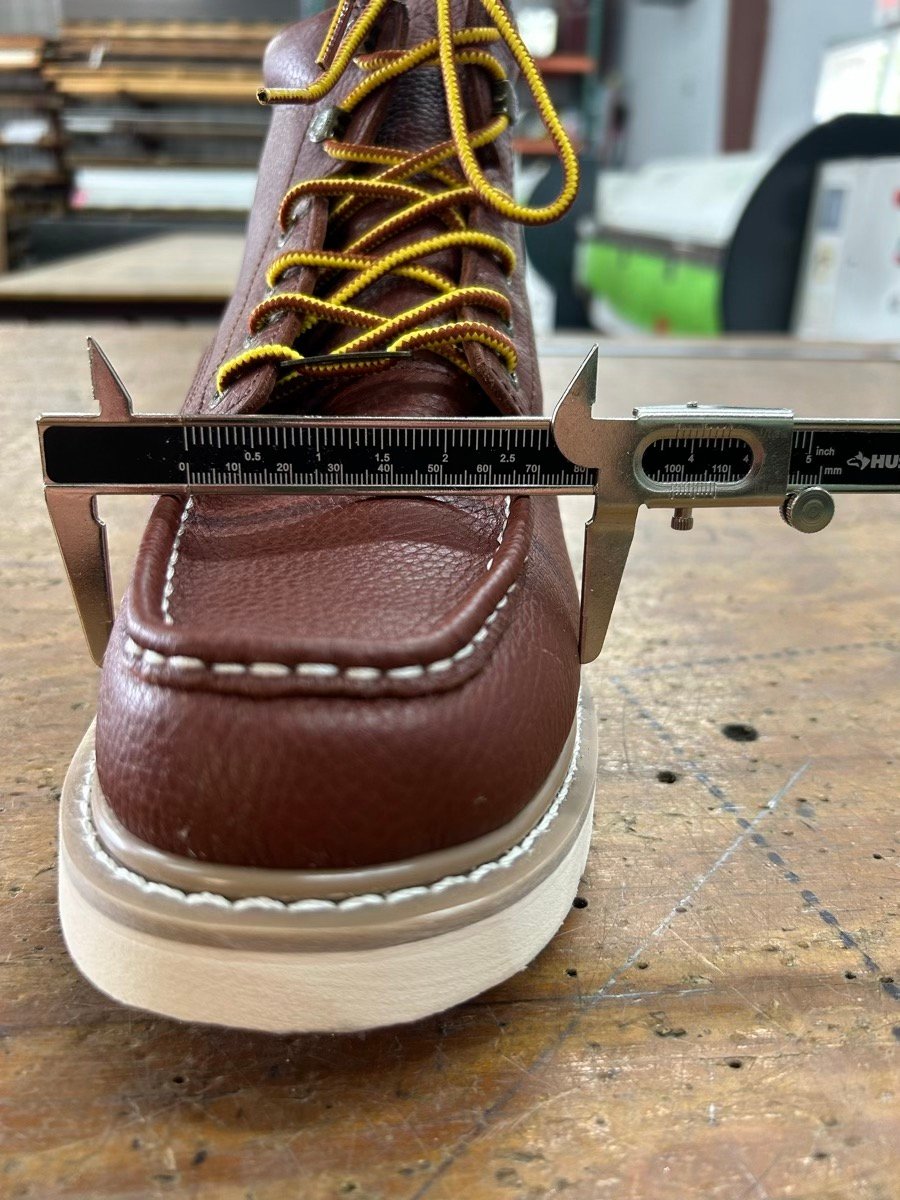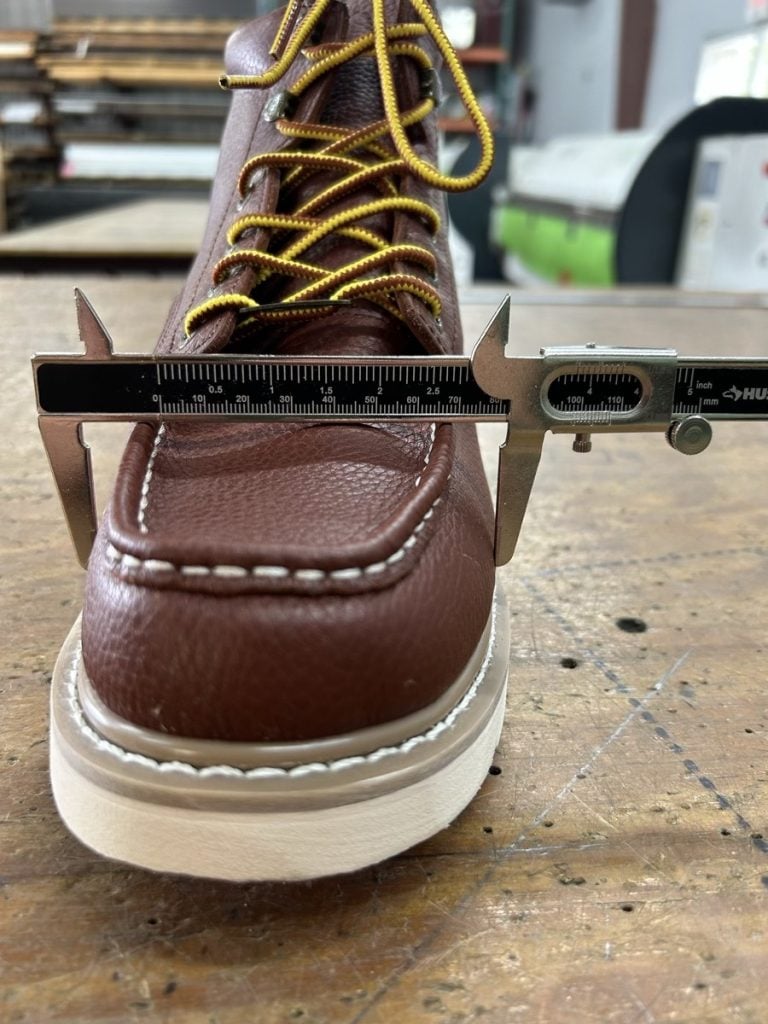 What are Moc Toe Boots?
Moc toe boots are defined by their moccasin-style stitching on the toe box. While influenced by native first nation people's moccasins, they are a relatively modern boot style. One of the first moc toe boots was designed by Red Wing in the early 1950s. They're recognizable by the folded stitching at the front of the toe box.
Red Wing made these boots for farmers and hunters. They were designed for people who spend a lot of time outside in wet cold conditions. Over time, people started using moc toe boots for work, and brands like Red Wing, Irish Setters, and Thorogood added steel toes and produced the first moc toe boots with steel toes.
Now Moc toe boots are commonly sold as either functional work boots or stylish casual boots.
Rancourt is one of the few brands making genuine, handsewn moc toe boots.
Is Moc Toe Stitching Just Decorative?
Oftentimes, the moc stitching is decorative: popular models like Grant Stone's Brass Boot just put stitching on the toebox without actually stitching two pieces of leather together.
Genuine handsewn moc toes, though, are totally different kinds of footwear. Think of it like standing on a piece of leather, pulling it up over the sides of your foot, and then stitching that piece of leather to another piece of leather laid over the top of your foot.
This produces a boot or shoe without seams under or at the edges of your feet, meaning the leather more easily conforms to the shape of your foot and stitching is less likely to irritate it.
While it's universally considered more comfortable as a result, this traditional construction requires a lot of skill and time, so few companies still do it. If you're interested in trying it out, Rancourt and Oak Street are known for their genuine mocs. (They're made in the same factory in Maine.)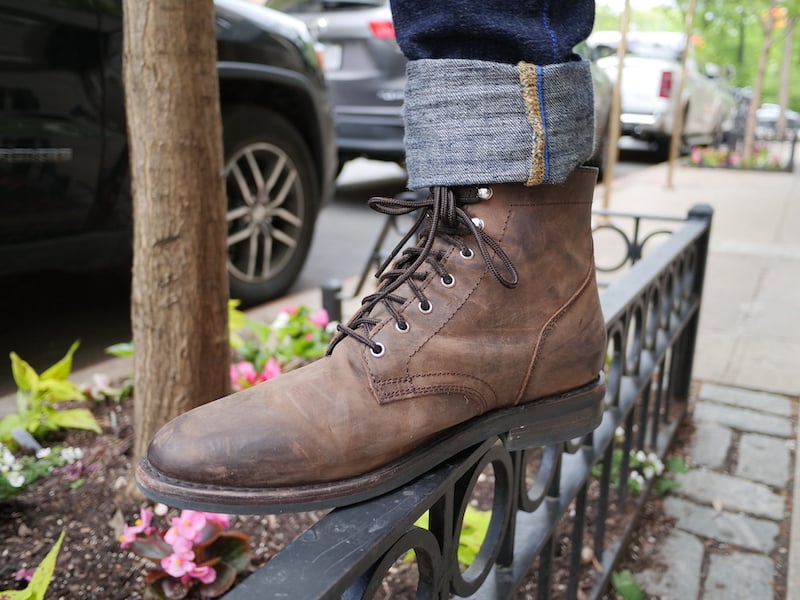 What are Plain Toe Boots?
Plain toe boots encompass a wide range of boot styles: basically, any boot that doesn't have a cap toe, moc toe, or decoration on the toe is a plain toe. I dare say most boots you've seen are plain toe boots.
They feature clean lines and tend to be less roomy and lower profile than moc toe boots. Plain toe boots are more versatile and easier than moc toes to wear with casual slacks or even dress pants. Of course, this depends on the leather; the rugged Tobacco leather in the picture above is a bit harder to dress up.
[Related: Is Thursday's Diplomat the World's Most Versatile Moc Toe?]
Are Moc Toe Boots Better for Work?
You might have noticed moc toes are more associated with manual labor jobs than plain toes. Is that just because plain toes dress up more easily, so moc toes fell into the realm of "casual" wear? Is it purely about fashion, then?
Whether a boot is good for work depends on more than its toe style. Depending on your job, features you want in a work boot might include a safety toe, waterproofness, abrasion resistant soles, a flat sole that won't catch on nails, heeled soles that will give you more purchase on a ladder, electrical shock resistance, slip resistance, and shock absorbing insoles, just to name a few.
They tend to be roomier, with higher side walls, which some guys like because they find it comfortable and they get extra space for the thicker socks they might need.
Moc toe boots are so popular for work because they were pioneered by Red Wing and Thorogood as work boots. They tend to be roomier, with higher side walls, which some guys like because they find it comfortable and they get extra space for the thicker socks they might need.
Moc toe boots tend to come with wedge soles more often than plain toe boots. Wedge soles are flat, so it's harder to trip on nails and uneven ground, plus they're usually softer on the joints and thus more comfortable if you're spending all day on your feet.
But whether it's moc toe or plain toe has practically no importance compared to the other specs — and the fit —' a work boot might have.
Most well known work boots tend to be moc toes because people associate them with work, not because there's anything special about that construction.
What Similarities and Differences Between Moc Toe vs Plain Toe?
Everything! The only difference is an aesthetic one on the toe. Let's look a little closer at what separates and unites the moc toe boot from the plain toe boot.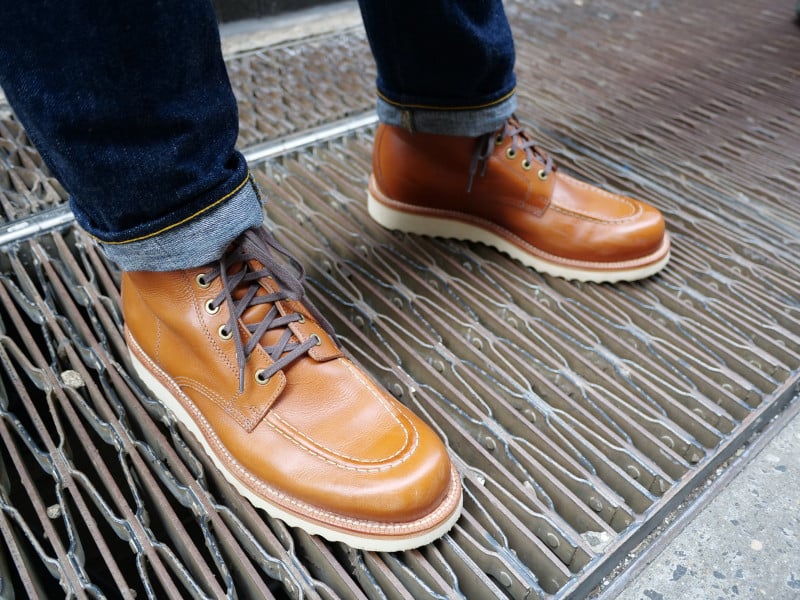 Materials
Leather is the go-to material for all high-quality boots including moc toe work boots, cap toe, and square toe footwear. This is because leather is durable and relatively breathable — plus, of course, it looks cool as it gets older and develops character.
It's easier to find cheaper moc toe boots because they're more likely to be sold as work boots. So while some moc toes have very high quality leather, like Grant Stone's Brass Boot, you're a little less likely to find high quality leather on moc toes simply because they tend to be cheaper because they tend to be made for work rather than smart casual wear.
[Related: The 9 Best Leathers for Boots]
Comfort
When it comes to moc toes and comfort, they are typically on par with plain toes.
The main thing to keep in mind when comparing these boot styles is that moc toes are typically roomier, with high side walls and spacious toe boxes. This is because they're more often associated with workwear. If your toes tend to brush against the upper of your shoes, you may prefer moc toes.
Because moc toe boots were originally designed for a wide range of activities like hunting and farming you can move a little more easily with the roomy toe box.
Someone could make a plain toe boot that's just as roomy (and some moc toes, like Thursday's Diplomat, are slim) but speaking generally, moc toes tend to be roomier.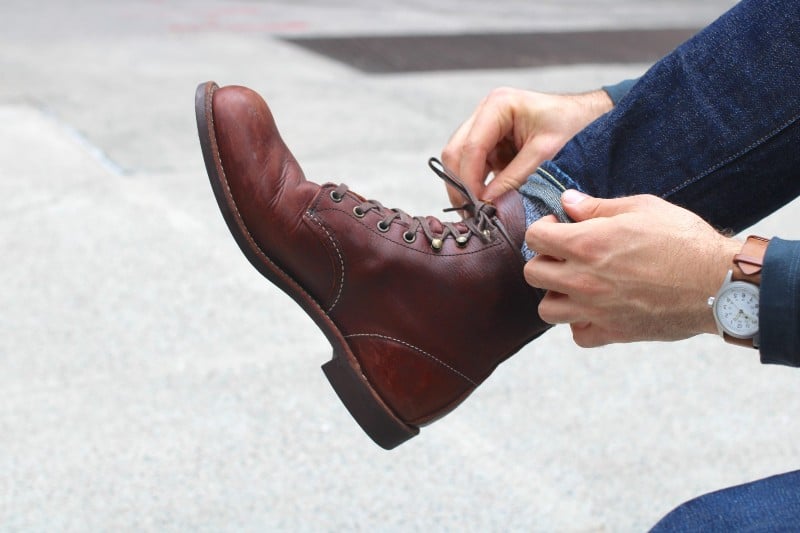 The Design
It's the first thing you noticed: moc toe boots feature U-shaped stitching on the toe box area.
The plain toe box adheres to a simpler simple design throughout. In a historical context, plain toes are more similar to military service boots while moc toes are more similar to work boots.
You can wear both without raising any eyebrows, however, the plain toe has a slight edge in the fashion stakes and is more versatile. Again, it's very hard to dress up a moc toe.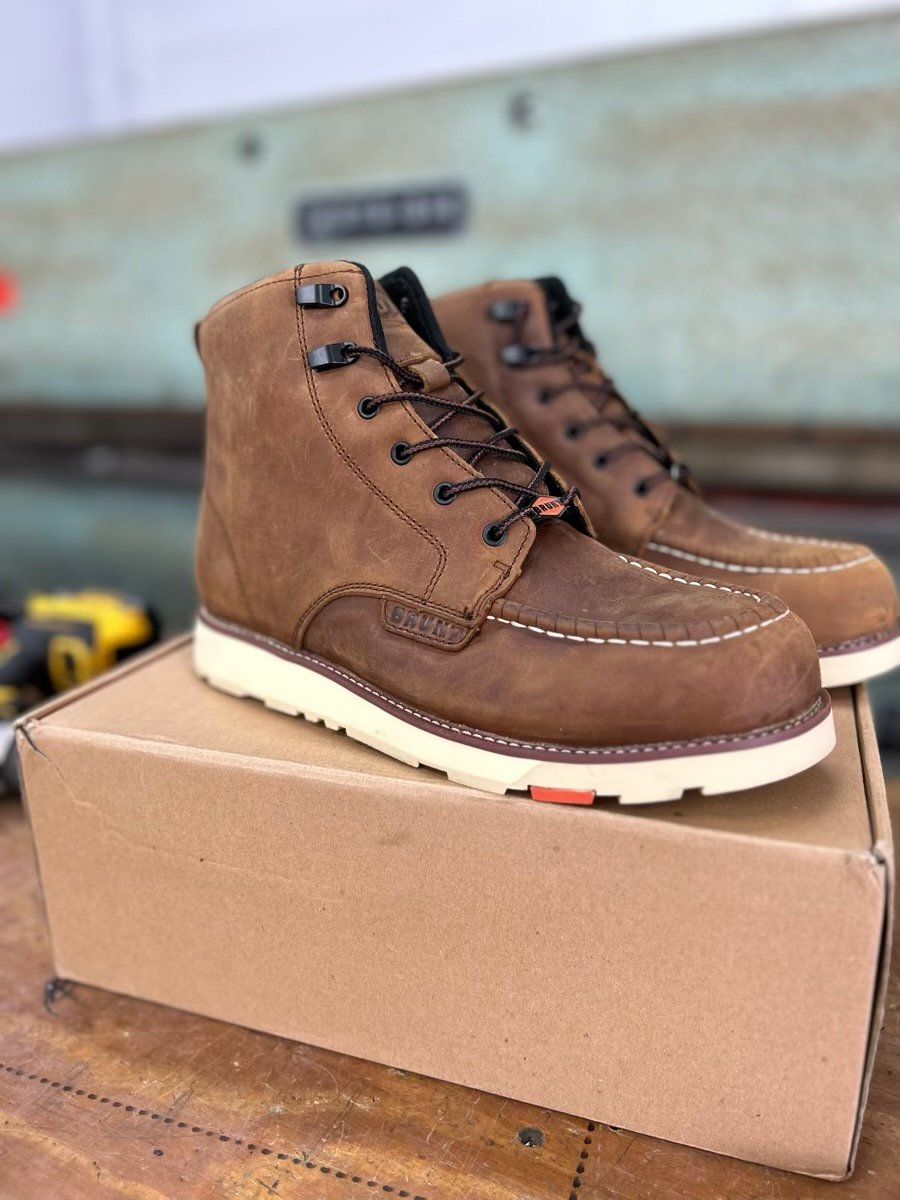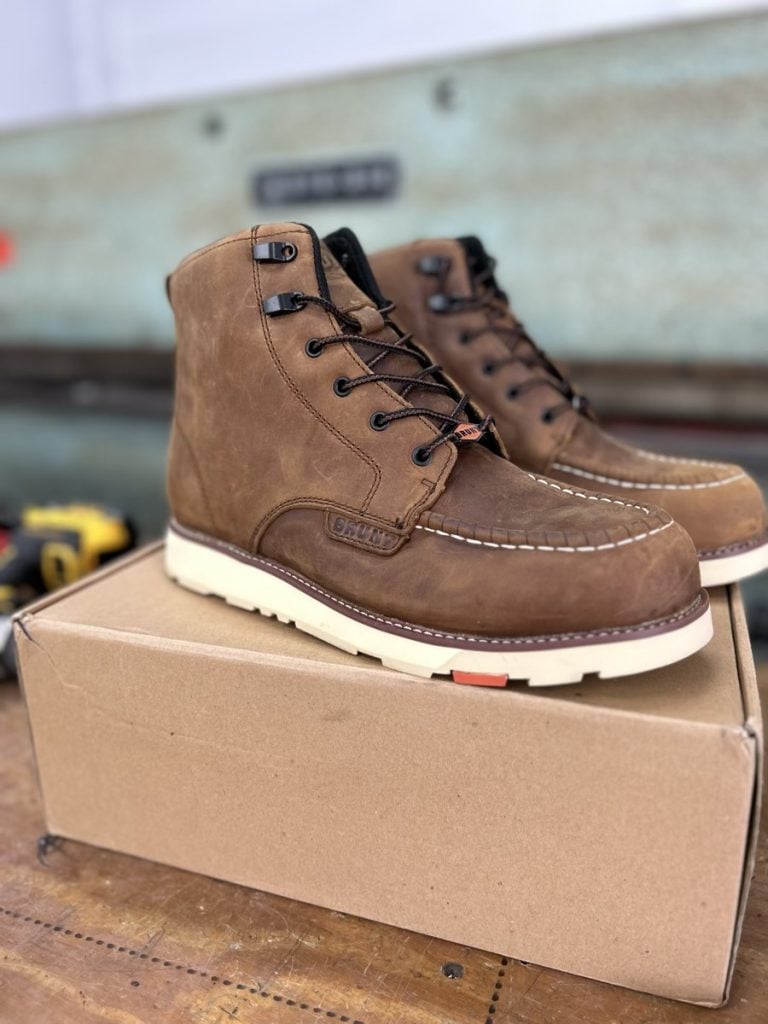 The Outsoles
Now, there are moc toes with heels, like Grant Stone's. But you're far more likely to find moc toes with wedge outsoles than you are with a plain toe boot. (Again, there are exceptions.)
Moc toe boots are more likely to have chunky "wedge" soles with no heel, as some find that more suitable for work environments. The big advantages of a wedged outsole are that you aren't vulnerable to catching your heel on anything and tripping the way you are with heeled soles — which is why wedge soles are more popular for work.
Flat soles also distribute your weight more evenly and a wedge sole's material — usually crepe or polyurethane — offers better shock absorption than harder, luggier soles.
The Best Moc Toe Boots
Let's take a look at a few boots we've reviewed in the past so you can see some top contenders from each category.
As I mentioned before, moc toe boots are often fairly casual. Some people see moc toes as the sneaker of the boot world. They have cushier outsoles than a lot of plain toe boots and roomy toe boxes.
Like sneakers, they are best suited for casual wear. They also tend to have bulbous round toes that don't look very good with slacks or more formal attire.
The Best Moc Toe Boot: Grant Stone
Uses very high-end leathers and materials, like Italian vegetable tanned leather
Versatile, not too casual
$328 – $380 depending on the leather
This is my favorite casual moc toe. Grant Stone sells boots for far less than competitors who make similar boots by having them made by artisans in Xiamen — don't worry, boots this good simply couldn't be made by sweatshop labor. These are well paid, highly skilled workers who have been making high-quality, Goodyear welted boots for decades.
I like Grant Stone because they have a narrower toe box than other moc toe boots, so you can wear them with chinos or nice denim jeans. You can also buy them with a lug sole instead of a wedge sole.
Grant Stone also uses very high-quality materials from the best tanneries in the world like CF Stead, Horween, and Carlos Badalassi. These leathers are often found on boots in the $500+ price range.
Best Value Moc Toe Boot: Thursday Diplomat
Features durable, waxed, and oiled leather
Resoleable, Goodyear welted construction
Steel shank
Vibram Christy outsoles
$199
The best value moc toe is from Thursday Boot Company. Thursday completely redefined the high-end Goodyear welted boot game by offering high-quality, resoleable boots for under $200.
Their Diplomat is a great example of their commitment to versatility: the toe is narrower and lower profile than most moc toes, making for a boot that's much easier to dress up. Thursday uses high-quality leather uppers, attached to comfortable, shock absorbing insoles that are layered over leather and cork that molds to your foot over time. You also get a steel shank for stability, which is rare for a moc toe boot.
These boots will last a very long time, and you'll get a lot of wear for your dollar.
Best Moc Toe Boot for Work: Thorogood Heritage
Made in the USA
Iconic and popular boot style
A variety of leathers, including steel toe
$250
Thorogood's Heritage Moc Toe is a superb boot for work. Made in Wisconsin, the heritage moc is a great multi-purpose boot: it's resoleable, it has extra water resistant "storm welt" construction, it's got a shank for stability, they're lightweight, and the shock absorbing insoles are very friendly on the joints.
Some guys don't like how chunky they are, and they're impossible to dress up, but they can be worn casually, which is rare for work boots. Rock them under work pants then toss on a button up and take them to the bar.
[Further reading: The Best American Made Boot Brands]
The Best Plain Toe Boots
On the opposite end of the style spectrum, you have plain toe boots. Their narrow toe allows for a more versatile look. You can even wear some plain toe boots with dress pants.
Best Value Plain Toe Boot: Thursday Boot Company – President
10 types of leather to choose from
Goodyear welted construction
Comfortable and supportive
$199
Thursday Boot Company makes a very nice, plain toe style boot called the President. It's a fantastic example of a comfortable, nice-looking Goodyear welted boot.
Unlike a lot of welted boots, it's not too chunky and, depending on the leather, can be fairly easily dressed up with slim jeans and a button up.
Thursday sells this boot in about 10 different leathers, so there's something for you whether you're looking for a daily beater or something for smart casual wear.
You can also check out their much-loved Captain boot, which is very similar but has a cap toe instead of a plain toe.
Best Made-in-USA Plain Toe Boot: Red Wing Blacksmith
Oil-tanned leather
Vibram sole
Bump toe, informal
Red Wing's Blacksmith boot is my favorite made-in-USA heritage-style, plain toe boot.
This boot is made much the same way as boots were over 100 years ago, meaning you get a durable, nice-looking boot, that will last a very long time — just like people needed before our modern throw-away culture took over.
As a fairly chunky work-style boot, I wouldn't wear these with a suit, but they do look great worn casually with khakis or jeans.
Best Plain Toe Work Boot: Irish Setter's Edgerton
A terrific all-rounder boot made by Minnesota's Irish Setter, it's hard to make one recommendation for every kind of job — some need lightweight boots that won't fatigue your legs, others need something as heavy and puncture resistant as they can find.
But the Edgerton is a great go-to. It has a non-metallic toe that meets ASTM Safety Standards, it's completely waterproof thanks to Irish Setter's famous UltraDry™ system, the tongue's patented design reduces pressure on the shins, the insole has high-rebound and shock absorption to fight fatigue and joint pain, and they're even ASTM-compliant for slip resistance and electrical hazard.
Wrapping Up
Now that you know how moc toe and plain toe boots differ, hopefully, you can make a more informed purchase.
While moc toes tend to be roomier and made with more functional soles, any manufacturer can produce a plain toe boot with a wedge sole and/or ASTM specifications. Technically, the difference in setting them apart is just aesthetic. Practically, moc toes are more likely to be roomier and to come with wedge soles.
Technically, the difference in setting them apart is just aesthetic. But practically, moc toes are more likely to be roomier and to come with wedge soles.
While both work fashion-wise, the plain toe boot can more easily be worn with more outfits and it dresses up more easily.
Best, then, to hedge your bets and get both.
FAQS: Moc toe vs plain toe boots
What are Moc Toe Boots?
Moc toe boots are any boots with moccasin-style stitching on the toe box area. Sometimes this stitching is functional, sometimes it's decorative.
What does plain toe mean?
Plain toe style boots and shoes do not have any stitching on the toe area.
Are moc toes better?
If you are looking for boot styles that work best with casual outfits, then moc toes may be better than plain toes. Some plain toe boots are dressier. Moc toe boots are often more comfortable out of the box and require less break-in than plain toe boots.
What is the point of a moc toe boot?
Moc toe boots were originally developed as a sport boot for hunters and farmers. They are comfortable on your foot for long periods of time while you are doing outdoor activities.
Do moc toe boots have more toe room?
Yes, moc toes are often roomier in the toe area than other boot styles.
What does plain toe mean for boots?
A plain toe means there is no stitching in the toe area. For example, they do not have a cap toe box, wingtips, moc-toe stitching, or any decorative stitching on the toe area.