This post may contain
affiliate links
that at no additional cost to you, I may earn a small commission from.
When it comes to leather, few tanneries can match the quality and craftsmanship of Horween Leather Company. Based in Chicago and founded in 1905, Horween has been producing some of the finest leather on Earth for over a century, making not only the most popular Shell Cordovan and boot leather (Chromexcel), but also dominating football leather, supplying tens of thousands of balls to the NFL each year through their partner, Wilson Sporting Goods.
With a reputation for durability, richness, and distinct character, Horween's leather is prized by leather workers, craftsmen, and fashion designers alike.
In this article, we'll take a closer look at what sets Horween apart from other tanneries, and why it has earned a place as America's best. From its unique tanning process to its commitment to sustainability, there are plenty of reasons why Horween's leather is the gold standard in the industry.
History of Horween Leather Company
Horween Leather Company has a fascinating history that began in 1905 when Isadore Horween, the great grandfather of the company's current owners, founded the business in Chicago.
"We were founded in 1905 by my great grandfather Isadore, who had come here to the United States, specifically in time for the world's fair in 1893," says Arnold "Skip" Horween, the current President of Horween Leather Company. "Leather tanning was a big deal, and there was a leather exhibit, and he went to the leather exhibit and met the man who would be his first employer. And then 12 years later, he went off on his own."
Over the decades that followed, Horween Leather Company continued to grow and innovate. The company became the leading supplier of football leather in the United States, and also produced some of the most beloved footwear leathers in the industry, including the popular Chromexcel boot leather.
Despite changes in technology and production methods over the years, Horween has remained committed to its traditional approach to leather production. The company's leather is still tanned using a process that takes several weeks or even months, and the hides are carefully selected for quality and consistency.
What Is Chromexcel Leather?
Chromexcel leather is a type of leather that is known for its lustrous, oily finish and pull up quality, meaning it's imbued with so many waxes and greases (including food grade beef tallow and cosmetic grade beeswax) that the color changes slightly based on wear, as the oils move around the leather. It is a trademarked product of the Horween Leather Company, and is made using a combination of chrome tanning and vegetable tanning processes. Any boot company worth its salt has at least one Chromexcel boot, from sub-$200 Thursday Boots to $800+ Vibergs.
The chrome tanning process involves using chromium salts to treat the hides, which helps to make the leather more supple and resistant to water and stains. The vegetable tanning process, on the other hand, uses natural tannins found in places like tree bark to treat the hides, which helps to give the leather a more natural and organic appearance. It's a "best of both worlds" approach that results in a boot that's both hardy and not too difficult to break in, thanks to the stretchiness added by the chrome tanning.
Chromexcel leather is known for its rich, deep color and unique character. It quickly acquires a distinctive, lived-in look that only improves with age and wear.
"From the time we start to the time we finish, it takes 6 weeks," says John Culliton, Horween's VP of Sales. "There are tanneries that are making pull-ups that can do it in two weeks, but it's not as good as what we do."
What is Cordovan Leather?
Shell cordovan is a type of leather (or a membrane, depending on who you ask) that is highly prized for its strength, durability, and lustrous finish. Shell cordovan doesn't crease with wear and is self shining, making for a shoe (or boot) that looks new for years, if not decades.
It is made from the fibrous flat muscle (or shell) that lies just beneath the hide on the rump of a horse. You only get that small piece from an entire horse, and it's already tough to find horsehides to make leather out of. Combine that with the fact that tanning cordovan takes many more months than regular leather, and you've got a very expensive material. Cordovan boots tend to run $900, at a minimum.
Cordovan leather is tanned using a process that involves treating the hides with a special blend of oils, waxes, and tanning agents that takes six to nine months for Horween to complete, but it's world renowned as the best: brands like Carmina in Mallorca, Ludwig Reiter in Austria, Paraboot in France, and Heinrich Dinkelacker in Germany all exclusively use Horween's Cordovan.
"It accounts for a big part of the size of the building, a lot of that is it gets to rest," says Skip. "You get it to certain stages and it sits for a while. That's always been a part of the process. The temptation to do it faster is one that's been easy to resist."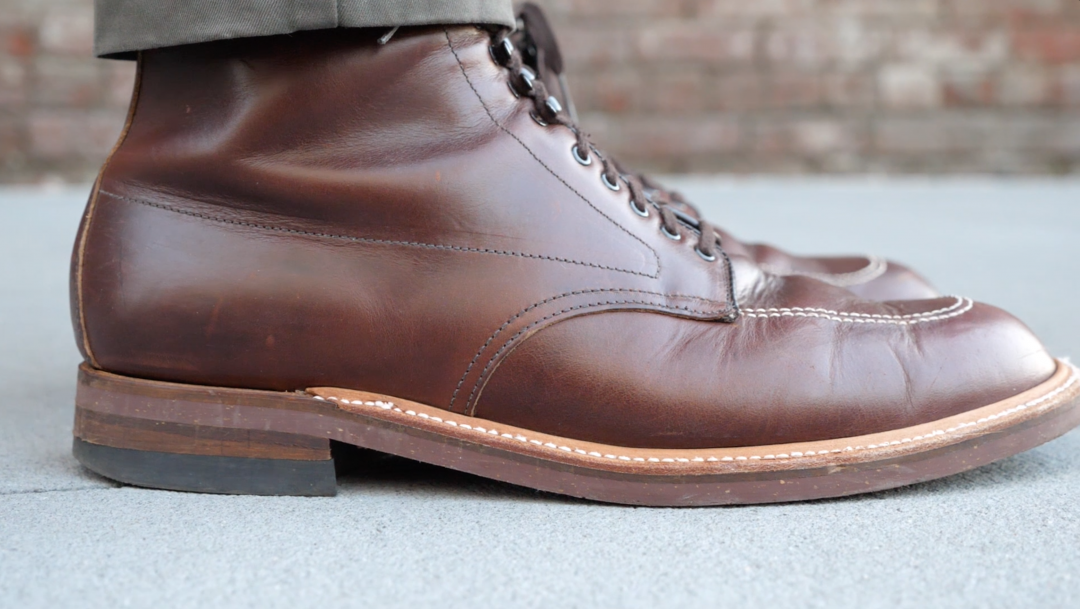 Why is the Horween Leather Company America's Best Tannery?
"I always compare it to a bakery," says Culliton. "Bakeries have formulations, we have formulations, and our formulations are second to none. When we make a piece of leather, we're making the leather to be the best leather. If you look at our products — Cordovan, Chromexcel, and football — those are the best products that you can buy. I would put it to any tannery in the world."
The company's leather is tanned using a process that takes several months, which allows the leather to develop a deep, rich color and unique character. This meticulous approach to leather production results in a product that is not only durable and long-lasting, but also has a distinct aesthetic appeal.
Additionally, Horween sources its hides from some of the best and most reputable suppliers in the world. The company uses only the highest quality raw materials, which are carefully inspected and selected to ensure consistency and quality.
Horween is also committed to sustainability and environmental responsibility. The company uses natural and biodegradable materials whenever possible, and has implemented a variety of eco-friendly practices to reduce waste and minimize its impact on the environment. As members of the Leather Working Group, they voluntarily submit themselves to regular audits to ensure responsible waste disposal and environmental practices.
We work with guys from the Aldens, Allen Edmonds of the world, and shell cordovan, which was our original product, has found its way into some of the finest names and some of the finest shoes around. In the UK it's been folks like Edward Green and Crockett and Jones, Ludwig Reiter in Austria, Paraboot in France. Dinkelacker in Germany, Vass in Hungary.
"Someone once told me that the first day you get a Horween product is not the best that's going to be, but five or ten years from now, it's going to age, it's going to patina, it's gonna last longer than any other leather in the marketplace," says Culliton. "And that's what we're trying to achieve with our leather. It's going to age beautifully, look beautiful, and last a long period of time."
Wrapping up
Horween Leather Company has established itself as a renowned and trusted tannery for over a century, with a commitment to producing the finest leathers in the world. Their dedication to quality, craftsmanship, and innovation has earned them a prominent position in the industry, supplying top brands in various sectors, including footwear, accessories, and sports equipment. Horween's legacy is based on their time honored approach to leathermaking, where their formulations and attention to detail result in products that are not only beautiful and durable but also designed to age beautifully over time.
As America's best tannery, Horween Leather Company is a shining example of how tradition and innovation can work together to create a legacy that withstands the test of time.