If you ever watched the smash-hit TV series, The Walking Dead, you will almost certainly have pondered 'What kind of boots does Rick Grimes Wear?'
And that's completely understandable as Rick's boots are an essential part of the Rick Grimes costume throughout the show's entire run, from the first season onwards. As one of the most popular characters on the show, whatever Rick Grimes wears is the subject of scrutiny.
And no wonder, the former deputy of the King County Sheriff Department has his work cut out in the post-apocalyptic world.
Though there is intense interest in his sheriff uniform, from his sheriff shirt to his King County Sheriff badge, there are probably more people keeping note of what he wears off duty. Rick's style is nothing if not distinctive.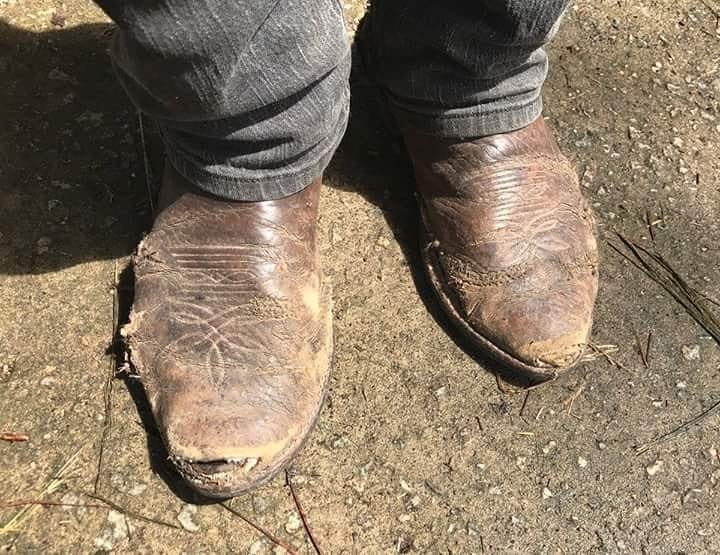 [BUY RICK GRIMES BOOTS HERE]
Rick Grime's Boots – The Walking Dead
There's a certain worn-out charm to his cowboy shirts, suede jacket, and black jeans combo. The one indisputable certainty about Rick Grimes is that he has his own style.
Despite having his own fashion ideas, the one item that always arouses interest is not his Sheriff hat, his pants, jackets, or his red tag Levis. Instead, what stands out for many people are the boots worn by Rick.
And we can reveal that The Walking Dead star wears Justin Boots. In particular, the discontinued Western Boot model #2222, which is similar to the Buck range in Justin Boot Co's Classic Western Boots line. This is the boot you're looking for.
These are classic cowboy boots, resplendent with traditional embroidery work. However, that is often difficult to make out from the TV picture a lot of the time.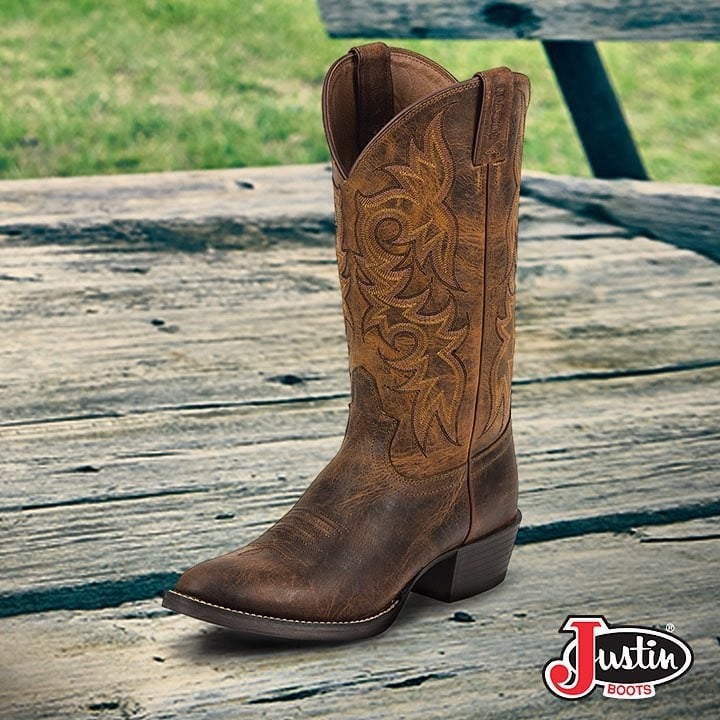 Overview: Rick Grime's Boot Brand
Throughout the show's entire run, Grimes has been sporting Justin Boots. While the exact pair of boots worn by Grimes isn't available, you can buy similar boots in a variety of earthy tones, including Chestnut, Dark Brown, and Bay Apache.
So now that you know what Rick wears, you can grab yourself a little Justin Boot style too.
If you are into Walking Dead cosplay, the Rick Grimes costume would be the ideal cosplay outfit.
But if dressing up in a Sheriff hat isn't your bag, you probably just want to know more about wearing and walking in the same pair of boots as Rick Grimes.
And who wouldn't, quite frankly?
[Related: How Cowboy Boots Should Fit]
The Justin Boots Co Background
Rick Grime's boots are made by Justin Boot's Co, a heritage boot company founded 140 years ago and are currently manufactured in El Paso, Texas.
And why them, you might ask?
Justin Boots pioneered — or at least popularized in the modern era — putting stitching across the top of the boot.
This was more than mere decoration, however. This innovation has the effect of stiffening the shaft and ensuring the boot doesn't flop downwards toward your ankles.
Today, this stitching is now a standard Western design and is still used on Western bucks.
It's no contest when Rick is the cool dude's cool dude. And we are talking specifically about his boots!
Rick Grimes Boots: Justin #2222
After much rigorous investigation, there's little doubt as to what he wears. They are the discontinued Justin Boot Co Model #2222, which are unavailable for purchase. It's a very detailed costume design that Rick is wearing an old discontinued pair of boots, almost as if time stopped because of some sort of zombie-related disaster.
The #2222 pops up on eBay every once in a while but we have a list of similar boots that are available.
Rick Grimes Cowboy Boots Alternatives
Since Rick Grimes's exact boot is very rare, we have found two great alternative footwear suggestions for those not so obsessed by the detail of the Rick Grimes look.
The boots we recommend are sure to appeal to those urbanite and on-a-budget shoppers among us.
To be clear, the Rick Grimes boots are authentic cowboy boots in every season of The Walking Dead. This is entirely contextual as Rick is a King County Sheriff Department member and was most likely part of a Georgia-mounted patrol unit.
So a pair Rick could use for riding horses would be a very close match to reality.
Thumbs up, then, to the show stylists for getting that one spot on for the Rick Grimes sheriff character.
The Rick Grimes Boot Design
The boot design is lace-free, tall shafted, and made from leather. Durable cowhide is the norm, but many people opt instead for alligator or snakeskin for dress boots.
It's hard to imagine Rick Grimes ever having to dress up very often, given his character exists in a zombie-ridden hellscape.
Like leather, his clothing is always practical, be it shirts, jackets, pants, or jeans. However, the Rick wardrobe is limited in scope, bar the odd suede jacket and large brown Levi tag that could double up for a night out with his King County Sheriff buddies.
Where there is no compromise whatsoever is with Rick Grimes boots. No substitutes will do. It has to be Justin Boots Classics. And the iconic Buck model with the patterned uppers at that.
Similar Justin Boots to Rick Grimes: Justin Western Classics
Justin makes several types of Western-style boots all of them are made from quality leather and has a shaft that extends upwards from the insole for at least 11 inches. The stacked heel is a shade short of 2 inches.
He gets splattered with zombie blood all the time, so it's difficult to be sure which color Rick's clothing, pants, and shirts are, let alone his boots.
From what we can tell, however, the pair usually worn by Rick, though dirty and beaten up, are usually in this trio of colors: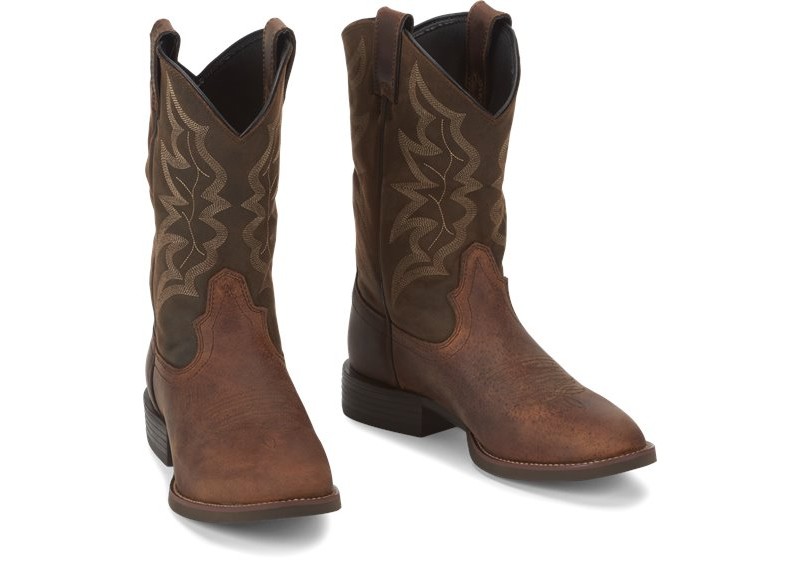 The Buster #7221 Distressed Brown
These are deep mocha brown leather which has a distinctive distressed appearance. Not quite as much as Rick Grimes boots, but for a new boot, you will get a bit of a zombie apocalypse look.
They cost $170.
[Shop the Justin Boot Co Buster Here]
The Buck 1560 in Chestnut Leather
These, too, are likewise distressed and marbly. You can tell when Rick is wearing these ones as the uppers have blue and beige stitch work and gold-colored threads around the collar for a more refined look.
These are a good choice when you need to dress up a little, like Rick Grimes at his wedding in King County.
However, they are equally at home with just about any casual shirt, jeans, pants, or hat combination, as you can see when worn by Rick Grimes.
[Shop the Justin Boot Co Buck 1560 in Chestnut Leather Here]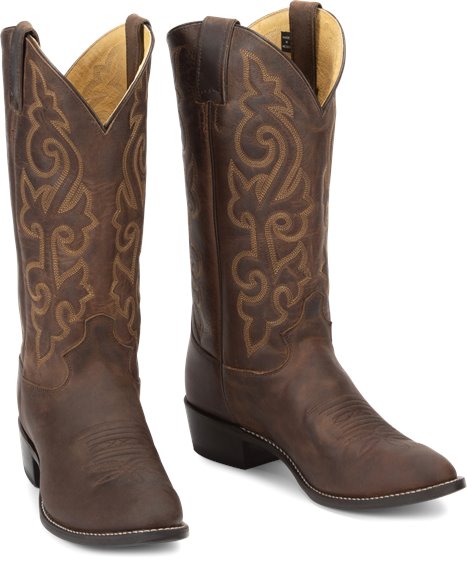 The Buck Bay Apaches
Rick Grimes occasionally is seen around King County in these cream/brown stitched bad boys.
They are more subtly colored with a lovely rustic gold tone. Perfect for upstaging Shane Walsh, at the very least.
The Justin boot range boasts the company's patent-protected J-Flex system.
This technology is a proprietary covered and cushion insole featuring a triple-density board.
The upshot is that the Bucks are super comfy and flexible, just what you need when trying to outrun a horde of zombies like Rick.
[Shop the Justin Boot Co Buck Here]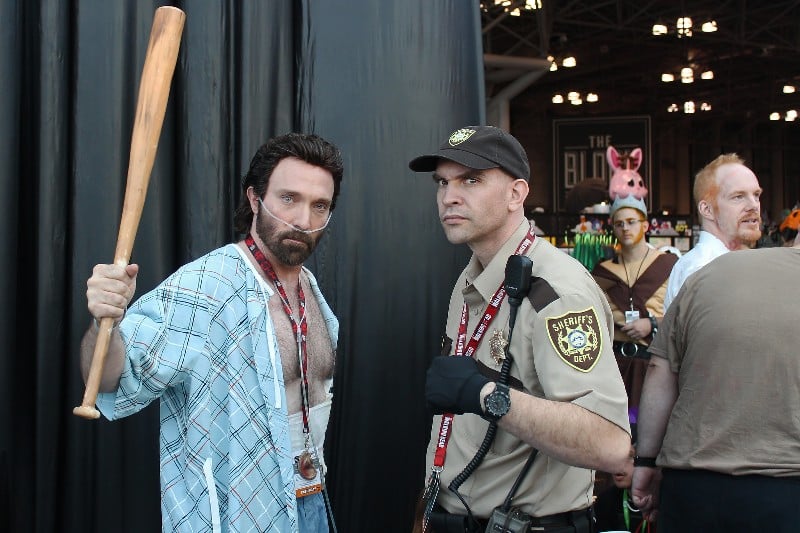 Rick Grimes Boot Substitutes
If you wish to look like Rick with his macho, casual look, the Ariat Men's Workhog H2O makes for a great alternative.
Pounding urban streets
Workhogs are ideal when you need something a little more practical. In essence, they are the work-boot iteration of the Justin Classic Bucks.
Most Versatile Rick Grimes Alternative: The Ariat Workhogs (H2O)
You have the shirt and jeans like Rick's, but don't fancy walking around in his boots. The solution: the H2O with its composite toe, top-quality leather, and intricate stitch work.
What you get is a cowboy feel, but with a low-riser heel. This makes walking large distances a whole lot more comfortable.
As heretical as it sounds, Ariat has a reputation for using athletic footwear tech in its riding boots.
This tech is the major reason they feel so comfy and have a rapid and pain-free break-in time.
[SHOP THE ARIAT WORKHOGS HERE]
Best Discount Western Boot: Old West Distressed Polanil Western Boot
For boots with a less budget-hostile price, take a look at Old West Boots. They are way less than what you would pay for Justin's to look like Rick.
The reason for their discounted price is that they are not made from single-piece leather. Instead, they are constructed using Polanil, a process where leather scraps are glued and bonded together.
That said, they still look the part and are great stand-ins for Rick's boots. They feature a low 1.75-inch heel and come in distressed brown leather.
Kudos to Old West for the traditional Western embroidery even at this modest price point. You'll be walking with a smile and a heavier wallet.
[SHOP THE OLD WEST POLANIL BOOT HERE]
What are cowboy boots?
The same work ethic extended to the boots Rick wore throughout. Whatever costume he was wearing, he almost always wore cowboy boots as these are designed specifically for horse riding.
They have a highly slanting heel to stop your feet from sliding in or out of the stirrups. And another well-thought-out feature is the traditional heel stack created from separate slabs of tough leather. As a result, a stacked heel is easier to replace whenever they wear down.
Image available under Creative Commons License. Source: Heather Paul
More thoughts on Rick Grimes and his footwear
Rick Grimes is the type of guy we all secretly want to be, even for a few minutes. So while you may not have his zombie-slaying chops, you can at least capture something of the Rick Grimes costume.
Many viewers love the Rick Grimes shirt or the Rick Grimes hat style. But the fascination with looking like Rick and adopting his style of shirt, pants, jeans, hat, and jacket combos, there's one thing that unites all The Walking Dead viewers.
And that's what the Sheriff Deputy has on his feet. Never mind this week's pants or Rick Grime's shirt two episodes ago. It's his cowboy boots everyone drools over.
The actor behind Rick Grimes
Andrew Lincoln in costume as Rick Grimes does a brilliant acting job.
He brings a steely edge to The Walking Dead and the Rick Grimes role. Yes, he may be halfway there with the Rick Grimes costume, but you cannot detract from the acting ability on display.
Quite simply, The Walking Dead would not be the same without Mr. Lincoln to inject some passion and realism into the Rick Grimes costume, which is a mere platform for his acting.
Conclusion
We can't all jump into a Rick Grimes costume to fight off marauding zombies. You can bet your shirt on that.
Tough, craggy guy styling
However, we can find some inspiration from his fashion. You may already have a passable Rick Grimes shirt hanging in your wardrobe. Maybe even an on-point hat or vaguely reminiscent jacket to underpin your Rick Grimes costume.
Less likely that you will have the boots, the Classic Western cowboy boots, the Bucks model from Justin Boots that Rick Grimes wears on The Walking Dead TV show.
Stepping out to kill zombies – hold my jacket!
While the zombie apocalypse may not be around the corner, it's good to know you have the right footwear when it happens. And you could do worse than the classic cowboy boots old Rick Grimes sports with their traditional Western embroidery. In over ten seasons, the constant has been Grimes' boots in Dark Brown, Chestnut, and Bay Apache.
Unfortunately, despite their outwardly tatty appearance on the show, the Rick Grimes boots are considered the finer things in life.
For a low heel…
Check out Ariat Workhogs instead.
For a low price tag…
Opt for Old West Boots. Both of these come highly recommended in our tests.
Team these up with an unfaltering sense of responsibility and the occasional foray into undead beatings, and you'll be well-placed for the upcoming global catastrophe.
Featured image via Andrew Lincoln and The Walking Dead on Facebook
Frequently Asked Questions about Rick Grimes
What Boots Does Rick Grimes Wear on Set?
Rick Grimes wears Justin Western Boots. However, he always opts for the classic Western Buck model.
The following two tabs change content below.
Karl Wasson
Karl is an IT product manager living in South East Asia who gets a kick out of durability and dependability. He believes form and function are not mutually exclusive. When he's not working, he's searching for the best bespoke menswear in South East Asia and beyond.
Latest posts by Karl Wasson (see all)