You can get good boots for under three hundred bucks.
It's a real sweet spot, price wise, and I know because I've reviewed dozens of boots and gone through the trouble of making a list of the best boots for under two hundred bucks. I can tell you, it was way easier coming up with a lit of the best for under three hundred.
You can get seriously high quality footwear at the price point: full grain leather, Goodyear welts, robust construction, comfort — you can even get all of this and boots that are made in America. And that brings me to the first entry on the list…
Thursday Boot Company isn't the oldest boot company on Earth, but they've had stratospheric success in the industry by marrying quality and value in a way that no one else does. You might be acquainted with their Captain boot. I know I am; I've got two pairs of them.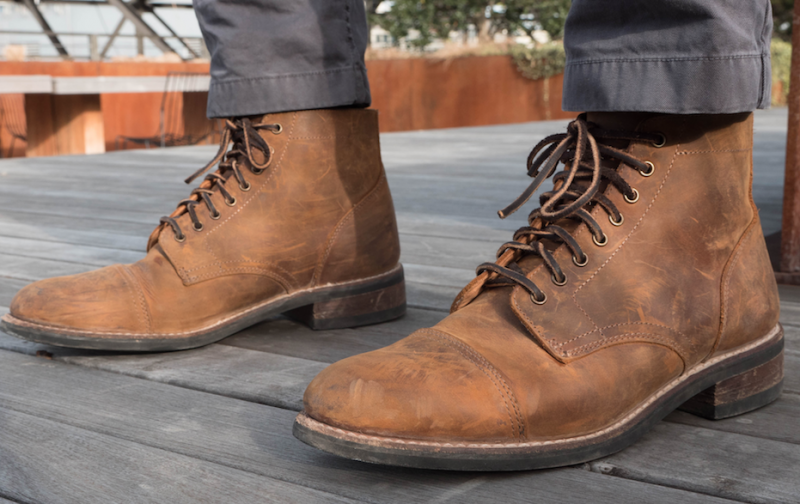 Thursday Vanguard Highlights
But the Vanguard stands out from their product line because it's made in the United States from start to finish. The laces are made in the US. The steel shank is made in the US. The eyelets are made in the US. Even the shock-absorbing poron in the insole is made in the US — which means it's slightly different from the poron used in the Captains.
It's a little bit more old fashioned and less sneaker-like than Thursday's other models, which are a bit softer underfoot and almost 70 bucks cheaper at $199. But the Vanguard has that home-field advantage of being made in the US, plus, it has that heritage look and feel that I think most guys crave with American service boots like this. You can grab them for $265.
[SHOP THE THURSDAY VANGUARD BOOT HERE]
Who should buy the Thursday Vanguard
Men who want a versatile, quality crafted pair of boots
Guys who are looking for a 100% Made-in-America boot
Rugged dudes who want rugged leather — this stuff, Thursday says, needs no care at all
Who shouldn't buy the Thursday Vanguard
Budget-conscious guys who would do better with the $199 Captain
Wide-footed men — the Vanguard doesn't come in wide widths just yet
Thursday does a great job making great quality boots for a great price; I mean, their entire line is under $300. The most expensive pair they sell is the Logger for $285.
[SHOP THE THURSDAY VANGUARD BOOT HERE]
[Watch my Thursday Vanguard review]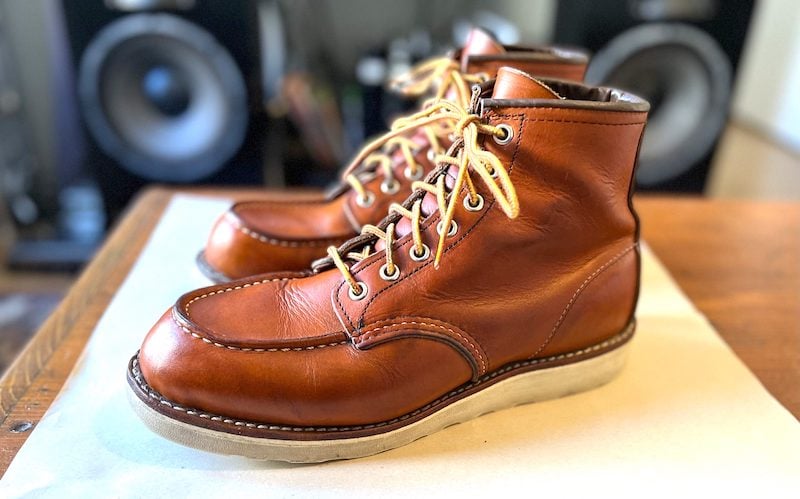 Every guy's first pair of quality boots tends to be Red Wing Heritage. You might think of Red Wing Heritage as a brand for boots that are over $300, and after a price jump in 2022, many of them are now past that threshold, including their industry defining Iron Ranger. But fortunately for you, their best offering under $300 is also their most iconic boot: the Classic Moc.
Red Wing's Moc Toe Highlights
An absolute classic that's famously worn by Ryan Gosling, Drake, and other celebrities, the Red Wing Moc Toe is often imitated, never replicated. The boot is made with a soft-but-sturdy crepe sole and tough-as-nails oil tanned leather from Red Wing's own tannery, SB Foot Tanning Company. Owning their own tannery gives Red Wing a ton of control over their final product, and if you're no fan of the moc toe, the company sells many other options for under $300 including their Weekender Chelsea and the famous plain toe Blacksmith — all made in the USA.
[SHOP THE RED WING MOC TOE HERE]
Who should buy the Red Wing Moc Toe
Patina-loving guys who want boots that look great as they age
Men who like wearing boots loved by Hollywood actors, warehouse workers, and everyone in between
Freedom-loving Americans who want a boot that's Made in the USA
Who shouldn't buy the Red Wing Moc Toe
The break-in is not fun on a Red Wing boot, but once that leather softens up, you've got boots for a long, long, long time, and they're American as all hell.
[SHOP THE RED WING MOC TOE HERE]
[Watch my Red Wing moc toe review]
3. Adelante – The Havana ($285)
Adelante is a brand that is not talked about nearly enough.
First of all, it may be the best company period for wide or narrow feet: these guys make all of their footwear to order and you can get them in C (narrow), D (normal), E (wide), all the way up to EEEEE — and the sizes go up to 17. I've had many guys email me to say they could never get a pair of boots that fit until they found out about Adelante.
Adelante Shoes Highlights
But there's a lot more to this company. I actually went to their facility in Guatemala to make my own boots and learn just how much skill goes into making these extremely handmade shoes. It was a fun trip, but the company's mission is just as impressive: it was founded by a couple of Americans with backgrounds in aid work and international relations with the goal of improving the standard of living for the artisans in the famous shoemaking town of Pastores, Guatemala.
Employees make double the standard wage, they have health insurance, they have formal employment, and a ton of other benefits that are exceedingly rare in Pastores. In short, there's no reason to fault your footwear because it was made in Guatemala — the facility is Edenic and the conditions are top notch.
And you get well made shoes and boots for under three hundred bucks.
Who should buy Adelante's Havana
Guys who like boots made just for them; as made-to-order footwear, your boots are specifically made for you — and you even get a video showing the process when they're complete
Anyone who likes made-to-order footwear but not the long wait it usually entails; Adelante sends them to you in under two weeks
People who like ethically made goods that are improving the standard of living in developing countries
Fellas with wide or big feet who have trouble finding boots that fit
Who shouldn't buy Adelante's Havana
4. Beckett Simonon – Dowler ($239)
Beckett Simonon boots are made to order from Colombia, and with my discount code STRIDE, the price drops from $239 down to about $191. But even without a code, it's very solid value.
Beckett Simonon Dowler Boots Highlights
My Dowler boots have a leather outsole, midsole, and insole, and when you've got all three layers of the sole made from leather it's tremendously comfortable. The boot comes with a shank to further help stability and arch support, the leather is Italian calf, and I'm a big fan of the design: it's a nice balance of dressy and casual, but it's not as pointed at the toe as Thursday Boot Company or Parkhurst.
The main downside is that it takes two or three months for the boots to arrive at your door because they are made-to-order. This keeps the price low because it saves on manufacturing, storage, and so on. But if you're comfortable with the wait, you can save serious green with Beckett Simonon.
[GET 20% OFF BECKETT SIMONON HERE WITH THE DISCOUNT CODE 'STRIDE']
Who should buy Beckett Simonon's Dowler Boots
Guys who want to save as much money as they can on a nice pair of boots
Men who need a versatile boot that works for most occasions
Anyone who enjoys the comfort of leather outsoles and insoles
Who shouldn't buy Beckett Simonon's Dowler Boots
Impatient consumers who can't deal with the lengthy order time
Guys who only want Goodyear welts; these are Blake stitched, but they're still resoleable
So you get a great price, but you have to wait a while to get them. That's a fair tradeoff to a lot of guys.
[GET 20% OFF BECKETT SIMONON HERE WITH THE DISCOUNT CODE 'STRIDE']
[Watch my Beckett Simonon review]
5. Helm – Zind ($295)
Next up is Helm, which I named one of the most underrated boot brands on the market.
The trouble with Helm is that every time I visit their site, their prices have changed by up to a hundred bucks. I've seen these same boots selling for $400 but right now, they're $295 — and with the discount code STRIDEWISE they're an extra 15% off!
Helm Boots Highlights
That code applies to any of their footwear, which today ranges from boots to sneakers, but their flagship model is the Zind, a low profile service boot with a modern edge. The signature touch with Helm is their white rubber midsole that results in a funky white strip running along their perimeter, which I really like. It helps to distinguish them in the market and add a touch of style that many guys find missing in traditional welted footwear.
These boots, though, aren't made with Goodyear welts. This comes with what's called Blake rapid stitch, a relatively rare form of construction that essentially combines the lighter weight of a Blake stitch with the water resistance of a Goodyear welt (or, at least, more water resistance than a typical Blake stitch).
Helm sells some laceless boots and some crepe soled boots as well, and they're all under 300 bucks for now. If you like them, run don't walk to their site because God knows when the prices are going to change again.
[GET 15% OFF HELM WITH THE DISCOUNT CODE 'STRIDEWISE'!]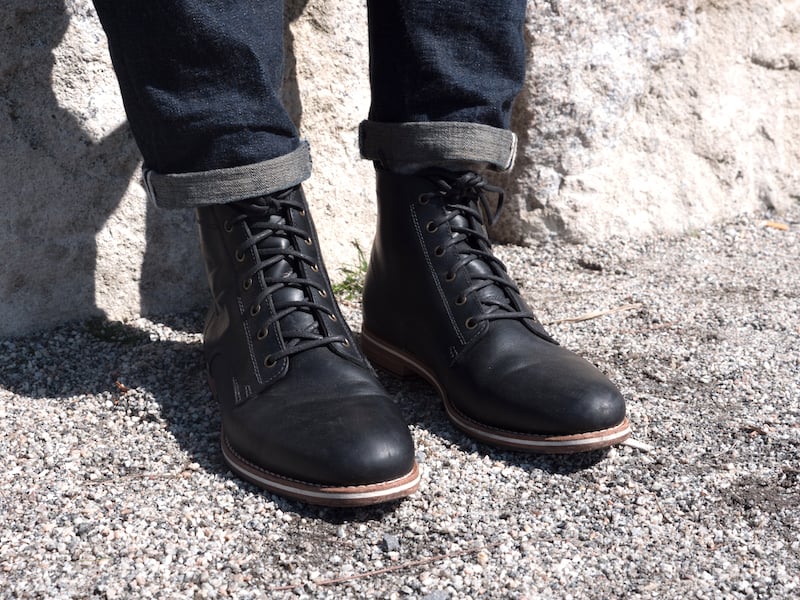 Who should buy Helm's Zind Boots?
Guys looking for a lighter weight, more flexible boot than traditional heritage footwear
Folks who like the more modern look of the sleek silhouette and white midsole strip
People who like a more casual vibe
Who shouldn't buy Helm's Zind Boots?
There's no shortage of guys who can't stand that white strip!
People who don't like a tough break in
6. Oliver Cabell – Chelsea ($199)
I have two pairs of Oliver Cabell boots and these are my favorites. As with most of the companies on this list, Oliver Cabell is a direct to consumer business, so they save money by not having any brick and mortar stores. But they're not made to order like Beckett Simonon, so you don't have to wait as long.
Oliver Cabell's Chelsea Highlights
This is a great pick if you want a casual, slip-on-and-go boot. The Italian suede is soft and comfy, the boot's lined with surprisingly durable vegetable tanned leather, and what really makes one think of these boots as casual and sneaker-like is the crepe outsole. Far softer than Red Wing's crepe, this is spongy to the touch and almost slipper-like. You immediately get an imprint of dirt on the outsole but if you're comfortable with that, these are the best boots from Oliver Cabell.
[SHOP THE OLIVER CABELL CHELSEA BOOT HERE]
Who should buy the Oliver Cabell Chelsea?
Men who appreciate Italian materials and craftsmanship
Guys who want a nice, soft outsole
Customers looking for casual Chelseas
Who shouldn't buy the Oliver Cabell Chelsea?
Guys who don't want to deal with suede that needs protecting
Those with wide feet; these are a tad on the narrow side
These are fun, simple boots with soft suede, a soft outsole, and no break in.
Next is a brand I don't talk about anywhere near enough: Meermin. When I reviewed them a few years ago, they didn't have many boots so I didn't pay them much attention. But now, today, Meermin has a great variety of footwear for under 300 bucks.
Meermin Highlights
In my opinion, the real draw here is Meermin's whole cut Chelseas. When made with just one piece of leather — note the absence of seams under the elastic goring — it costs a lot of money to make a Chelsea. It's hard to find one large piece of leather that's consistent enough in appearance to make a boot, and the best known is probably R.M. Williams' Comfort Craftsman, which costs over $500.
Meermin's are 250 dollars, and they're made with world renowned leathers like the famous Waxy Commander suede from Britain's C.F. Stead. Meermin also sells lace up boots and loafers for similarly low prices. Why are they so inexpensive? They're made in China. But if you're OK with having top of the line materials in boots that happen to have been assembled and stitched in the Middle Kingdom, it's hard to go wrong with these Goodyear welted, water resistant, full grain leather boots.
Who should buy Meermin boots
Guys who appreciate the comfort and class of whole cut Chelseas
Anybody looking for durable, water resistant construction
Folks who value world renowned leathers
Who shouldn't buy Meermin boots
People who prefer to avoid Chinese-made purchases
Guys with wide feet; there's just one width available here
I own no boots that are like the Urban Shepherd Original.
Urban Shepherd Original Natural Highlights
They're made in Portugal and while a lot of boots are made in Portugal, they really deliberately made them… Portuguese. They're made a fifth-generation owned workshop in Benedita, the traditional home of Portuguese shoemaking, and they're modeled after traditional Portuguese boots worn by shepherds and farmers and masons in the mountains of Portugal. Notice that the toe isn't round or sleek. It's kind of oblong.
The calfskin is undyed as well, which makes for a great patina. The sole is a super soft one from Vibram called the 2656 Cape Town Gumlite. It's true that some guys don't like the red stitching the boot uses, but I think this is a boot that's a good balance of unusual and understated. If you want something a bit different but not weird, they're pretty cool.
Who should buy the Urban Shepherd Original Natural
Guys who want a unique look, but not an over-the-top, weird look
People who wants a soft outsole
Men who appreciate a lightweight pair of boots
Who shouldn't buy the Urban Shepherd Original Natural
You fall into the group that dislikes the red stitching
Guys who prioritize durability may be skeptical of this ultra soft outsole; a resole probably won't be far away
If you really hate the red stitching, note this company also sells the Backroad with plain stitching, but I dig these "Original" boots.
[Watch my Urban Shepherd review]
But what if you want boots that belong on a warehouse floor? People have a lot of opinions about when a boot is good for work, and when a boot is more workwear inspired, but the best balance of form and function, it seems, is the classic Thorogood moc toe.
Thorogood Moc Toe Highlights
Any time I mention workboots on my YouTube channel, commenters jump in saying this is their favorite boot for warehouse work, roofing, plumbing, and everything in between.
The sole is the MAXwear Wedge Outsole, which Thorogood designed to be more resistant to wear than your standard Vibram Cristy soles. (25 percent more longlasting, in fact.) The sole is also resistant to a degree of electrical shock, plus it's oil and it's slip resistant — all important qualities for work. Adding to that tough outsole is a rubber midsole, a poron insole, and a removable Dual Density Ultimate Shock Absorption™ Insert, so the shock absorption is absolutely phenomenal.
It's also got a storm welt and full grain leather, so, it's water resistant, resoleable, and the boots look pretty good as they age. It's not the best quality leather on Earth, but it's a fantastic boot.
[SHOP THE THOROGOOD MOC TOE HERE!]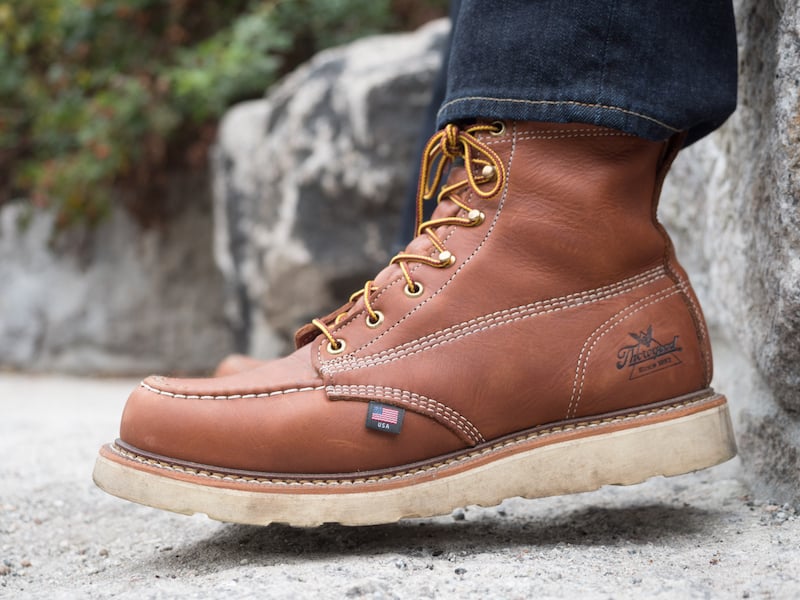 Who should buy the Thorogood Moc Toe?
You want a good work boot that you can wear out on the town
Anyone who wants a water-resistant, resoleable boot
Guys who want great shock absorption
Who shouldn't buy the Thorogood Moc Toe?
Men who dislike the branding and flag
Guys looking for something easier to dress up
So, overall, it's a good boot. It's inexpensive, work-friendly, and it's got a little flag on it.
[SHOP THE THOROGOOD MOC TOE HERE!]
[Watch my Thorogood moc toe review]
10. Astorflex – Bitflex ($215)
The tenth entry on this list goes to a little-known Italian brand I think deserves more love.
Astorflex Highlights
This is a truly unusual brand. They don't have much info in English on their site, but what I was able to learn is that the company is run by Fabio Travenzoli, whose family has been making shoes in Northern Italy since the 19th century.
Astorflex have a big emphasis on soft crepe soles and flexible construction. They're probably better known for their chukkas and travel slippers but I prefer Chelseas these days. Whichever model you pick, they're made with very rare construction method called Ideal stitching, which is sort of like stitchdown — the long and short of it is that they can be resoled. They're also unusually roomy for a Chelsea, coming with a flatter and wider toe than is usually found for this model, making them great picks for casual wear and for those with slightly wider feet.
I have worn them, I've reviewed them, I can't work out why they're so cheap because something like this is always over three hundred bucks. Congratulations, you've found a legitimate bargain.
Who should buy Astorflex
Folks who love the soft, cushy feeling of a crepe sole
Dudes looking for a more casual Chelsea that's easier to wear with a t-shirt than the more common, sleeker models
People who prefer a roomier fit
Who shouldn't buy Astorflex
Guys looking for a dressier Chelsea; these are unusually casual for this genre
People who prefer more durable soles
Anyone who prioritizes a shank in their heeled boots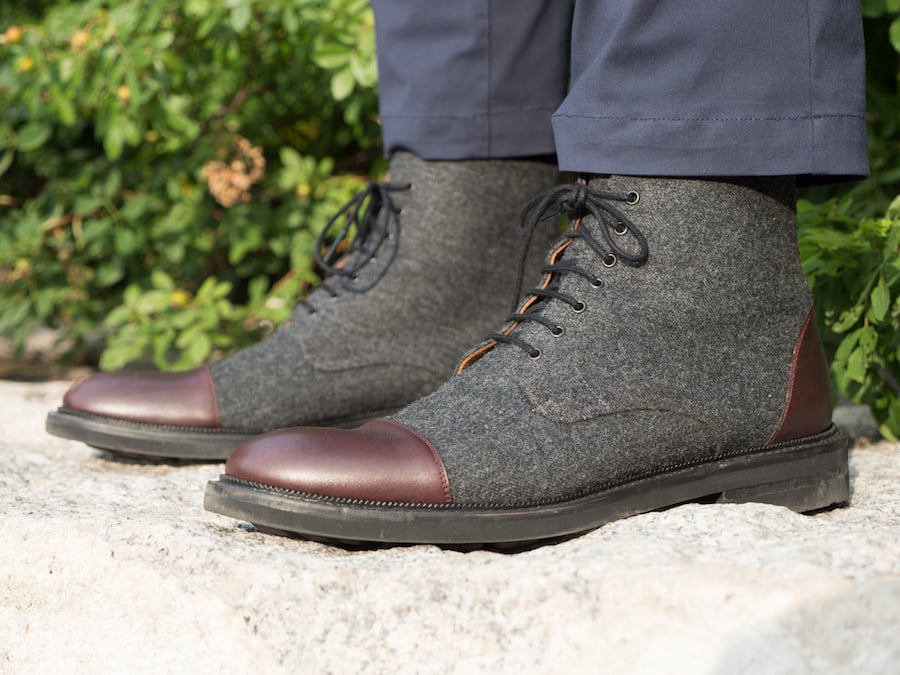 Let's get a little weird. Taft is a company known for its unusual, standout boots and while they are unusual, they have such a wide range of weird that you're likely to find the kind of weird that you can pull off. (If I were running their advertising, I'd make their slogan "Find Your Weird.")
Taft Jack Boot Highlights
Their signature boot is the Jack boot. It's not a leather boot, rather it's made of wool with leather toecaps and counters.
These are fun boots that are great with jeans, but I'll also find myself reaching for them when I'm wearing a blue suit or blazer at not-too-formal event. I understand that woolen boots can be divisive, but these boots grow on you — and if they don't, there are about a dozen different Jack boots on sale at Taft that will certainly be able to work for you.
If you want something a little daring, Taft will have something for you.
[SHOP 10+ KINDS OF TAFT'S JACK BOOT HERE]
Who should buy Taft's Jack boots?
Fashionable guys who want an eye-catching pair of boots
Guys looking for a boot with a soft outsole
Who shouldn't buy Taft's Jack boots?
More traditional guys who prefer the simple look
Wide footed men; Taft boots are definitely on the narrow side
The Jack boot and Taft's second most popular boot, the Rome boot, are only 275 bucks.
[SHOP 10+ KINDS OF TAFT'S JACK BOOT HERE]
[Watch my Taft Jack boot review]
12. Solovair – Black Hi-Shine 8-Eye Derby Boot ($219)
Don't buy Dr. Martens, buy their non-evil twin from their old manufacturer, Solovair. Here's why.
Solovair Highlights
With their very distinctive look, Solovair's 8-Eye Derby Boot looks like nothing else on this list, though it may bring to mind a brand deliberately left off of this list. Dr. Martens are one of the most iconic boots on Earth, but to be honest, they aren't that great. While Docs used to be made in England, today 99 percent of their manufacturing has been outsourced to Asia and the materials have taken a real hit as well: the leather's flimsy, they're extremely hard to resole, they don't hold their shape well over time, and they don't even offer half sizes.
Solovair used to make Docs before the company cut ties with their factory, but they continued making real similar boots anyway — but better. The leather's higher quality, they're easier to resole, they come with a shank to enhance stability and longevity, and the arch support is better too. They're also still made in England and maintain the surprisingly low price of $219. If you like the look, the choice is easy.
Who should buy Solovair
Guys who vibe with the punk rock heritage of this distinctive look
Folks who wish their Dr. Martens were more easy to resole
People who want boots that actually last as long as they look like they do
Want different colors? There are dozens to choose from
Who shouldn't buy Solovair
Anyone who wants a boot that's easy to dress up
[SHOP SOLOVAIR'S BOOTS IN DOZENS OF COLORS HERE!]
[Watch my comparison of Solovair vs Dr. Martens]
13. Bridlen – Captoe ($226)
This is something really special. Bridlen is a brand new brand out of India, a country not as well known for their footwear as Indonesia or Japan, but they're making a name for themselves in the industry.
Bridlen Highlights
With a diverse array of styles and leathers, Bridlen punches far above their weight — don't fall into the too-common trap of assuming that a boot made in Asia must be of inferior quality. We've had hands on experience with this company and the finishing is great, the patterns are on point, and they use leathers from world renowned tanneries with a particular emphasis on the calfskin from Tannerie d'Annonay.
Who should buy Bridlen
People looking for boots that would easily cost $200 more if they were made stateside
Guys who value resoleable boots that'll last for years
Who shouldn't buy Bridlen
Guys who'd rather spend their money in the US
Folks looking for harder wearing boots suitable for job sites
14. Indonesian Boots
I couldn't make a list of sub-$300 boots without mentioning Indonesian boot brands like Txture and Junkard that make so many amazing boots for under $300. To get a better idea of what I'm talking about, get our complete guide to the best Indonesian boot brands.
Here's a summary.
Indonesian Boots Highlights
Boots made in Indonesia are amazing. The prices are fantastic. The craftsmanship is world-class. The selection and customization options are endless. I could go on and on about how much I like Indonesian boots, but I'll just highlight a few here.
Take the brand Txture, which sells a wide variety of boots ranging from 270 to 410 bucks. Starting at $270, you can buy a pair of leather-lined, handmade, Goodyear welted Chelsea Boots. Their boots are a nice balance between dressy and casual, so you get a very well-crafted, versatile boot for a good price.
Then there's Junkard, who makes just about everything under the sun: they have Shell Cordovan boots from world class tanneries for hundreds of dollars less than you'd pay in the US, but they also have dressy boots, fun and casual moc-toes, and everything in between. You can get made to order boots with a dozen different leathers but if you navigate to their shop you'll see the NVM moc toe (below) plus Chelsea boots and their bestselling SC plain toe service boots for well under $300.
The major downside that these boots have to come all the way from Indonesia and are typically made to order, meaning you'll wait months to receive your pair.
Who should Indonesian boots?
Boot nerds who want to try something unusual and amazing
Cost-conscious buyers who want to get a level of craftsmanship at a great price that's nearly impossible to achieve with other brands
Someone who doesn't mind waiting for a great MTO boot
Who shouldn't buy Indonesian boots?
Anyone who is impatient or doesn't have 6 weeks to 2 months to get a pair of very nice boots
Those who are squeamish about ordering via Whatsapp; a lot of these brands (though not all of them) don't actually have functioning websites. Again, check out our guide to Indonesian boot brands to find one you like.
Indonesian boots have come at a great price with tons of customizability. The best of them can keep up with the best heritage footwear from around the world. I'm looking forward to my next purchase.
Wrapping it up
We're living at a pretty amazing time if you're a boot lover. The world is a lot smaller, so it's possible to buy handmade Indonesian boots made with American leather for less than 300 bucks. Or you can buy some fantastic Italian calfskin from Columbia, as with the Beckett Simonon Dowler Boots, or boots made in China with British leather, like Grant Stone. In other words, we're lucky that there are so many great companies out there using innovative methods to keep prices low and quality high. I hope this list helps you find that perfect boot for you at a price that works.
[Related: My list of The Best Boots]
The following two tabs change content below.
Nick English
By day: Manhattan-based journalist with reporting experience on four continents, published in Vice, Men's Health, Popular Science, and a bunch of other places.By night: ravenous consumer of anything and everything related to high end men's boots.Stridewise is where I nurture a maniacal obsession with footwear and share my findings. Say hey:
[email protected]
.
Latest posts by Nick English (see all)