This post may contain
affiliate links
that at no additional cost to you, I may earn a small commission from.
So, you've bought yourself a few pairs of high-quality leather boots. Congratulations! Your wardrobe and I thank you. Not only have you upped your fashion game, you've made a long term investment in your appearance. (Those babies will only get better looking with age.)
But now that you've spent the money, how do you ensure that you get the most bang for your buck? Aside from the physical maintenance you can do with the best boot conditioners and scrub brushes, one of the best ways to preserve your favorite boots is to support them with shoe trees. Here's why they're worth the investment.
What Exactly is a Shoe Tree?
A shoe tree is a foot-shaped device one nestles inside a shoe to help retain its shape and prevent the development of creases. The gadget is also useful for wicking away potentially harmful moisture from the interior of leather boots. All in all, this accessory is a practical must-have for anyone serious about taking care of their favorite kicks.
When it comes to picking shoe trees, you have a few options, but it basically comes down to choosing ones made of plastic, stamped sheet metal, or cedarwood. While all three are technically fine for maintaining the integrity of your boots, most experts agree that the only shoe tree really worth its stuff is one built entirely of cedar.
Here's why.
[Related: The Best Boot Conditioners On the Market]
The Benefits of Cedar Shoe Trees
Though they might seem innocuous, there are quite a few reasons to opt for a cedar shoe tree, which I'll highlight below.
Smell
One of the most obvious benefits of cedar is its fragrance, a woodsy scent that's both pleasant to the olfactory system and remarkably good at covering up offensive odors. When incorporated into a shoe tree, this potent perfume results in a fresh-smelling closet free of the noxious stench of well-worn boots.
Moisture
Cedar is a resilient type of wood notable for its imperviousness to water. Whereas other materials may warp, bend, or rot when exposed to the moisture released from leather boots, cedar has been shown to preserve both its shape and quality in the face of it. In fact, it actually absorbs this moisture, resulting in dry boots all season long.
Repellent Properties
Cedar wood contains natural oils that actively repel pesky insects(1), including termites, cockroaches, beetles, and cloth-eating moths. Keep a collection of cedar shoe trees at the ready will not only help your closet smell effortlessly wonderful, but it will also rid your shoes of creatures that could damage your clothes and footwear.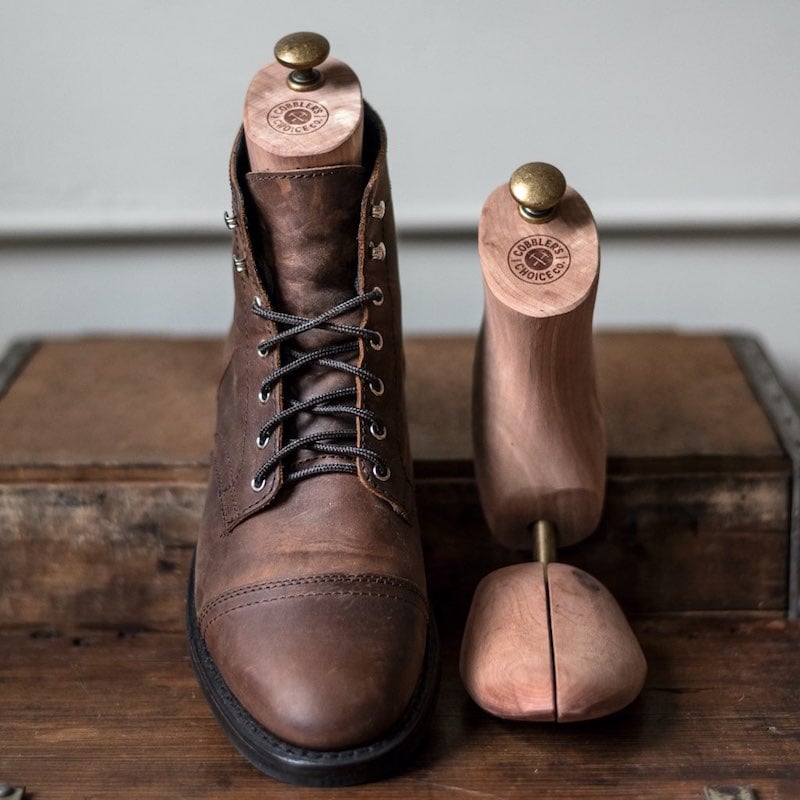 Shoe Trees vs Boot Trees
Do boots need boot trees, or will shoe trees suffice? It's a question as old as time,
Boot trees are what they sound like: shoe trees that are shaped more like boots. The sections of a boot tree fill not only the heel and toe but also the boot shaft, helping it to maintain its integrity and shape over time.
Will you have the same results using a shoe tree in a boot? Well, the good news is that boots are typically made with thicker leather than shoes, so in some respects they're in less danger of losing their shape than a pari of dressy Oxfords. However, after several years of use you can usually tell if someone used a boot tree or a shoe tree: boots that have had no support for their shaft wind up with wrinklier, floppier shafts. This becomes more obvious the taller a boot is.
Boot trees help to avoid a shapeless and wrinkly boot, but given they require so much more wood than shoe trees, they're a lot costlier. Red Wing's boot trees, for example, cost about 50% more than their shoe trees.
So what are the best value options?
The Best Cedar Shoe Trees
The average pair can run anywhere from $16 to $50 a pop, which adds up to a pretty sizable sum if you're in the market for more than just one.
My favorite brands:
I would be remiss to write about cedar shoe trees without acknowledging that there are more expensive ones made out of plastic or metal. They won't be as effective, though. I'd recommend cedar over anything else.
Reference
1. Eller, FJ et al. Bioactivity of cedarwood oil and cedrol against arthropod pests. Environ Entomol . 2014 Jun;43(3):762-6.