There's a new Dragon boot in town. American bootmaker Taft has kicked their Dragon 1.0 to the curb — see my original Dragon review here — and upgraded to the Dragon 2.0.
Founded in 2013 by Kory and Mallory Stevens, Taft has become extraordinarily successful — they were worth $15 million in 2017 — by producing memorable and totally unorthodox boots like the wool Taft Jack boot and the Rome Boot.
The Dragon, though, is their first model made with a Goodyear welt, widely considered the gold standard of soling techniques for hardy boots. How does the tougher Dragon measure up? I found it to be a versatile, comfortable boot that stands out from the crowd.
[Like this shoe? Well, it's been upgraded to a smoother suede — Buy the Taft Dragon 3.0 boot here!]
Taft Dragon 2.0 Boot Aesthetics
Versatile profile
Distinctive embossed leather
Goodyear welt
Ridgeway sole
The Dragon is a super versatile shoe that I wear with just about any outfit that starts with jeans. The somewhat wrinkly, waxed commander leather isn't that easy to dress up, but the combination of this rustic leather with the slightly dressy last make for a refreshing way to make a casual outfit pop.
Compared to the original Dragon, the main change is the sole: instead of the studded rubber Dainite it's now a grippier and more flexible Ridgeway sole. They also changed the pull tab to nylon (so it doesn't stick out the bottom of your pants), and Taft added a heavy texture to the leather. Let's take a closer look at it.
Taft Dragon 2.0 Boot Leather
Waxy Commander from C.F. Stead
"Wrinkly" appearance
Fiber structure is shrunk
Completely waterproof
The boot comes in six leathers right now and they're all different colors of the same rugged fashion leather called Waxy Commander, a suede from the British tannery CF Stead.
It has a lot of character. The wrinkles are embossed by Taft, and when I first posted it on my Instagram, I had some people say it looked like dragon skin — others said it looked more like wrinkly human skin from a certain body part but hey, I like it. It's unusual, but not so bizarre that it comes off as loud. (Like a lot of Taft's other boots do. I like the brand but some of these shoes…)
Note that my London Fog boots' appearance did change over time. Here's what they looked like when they came in the mail.
But after a few weeks of regular wear, the leather started to look a lot less like dried out skin and it acquired a softness and nappiness that made it more reminiscent of regular suede, though the "wrinkles" are certainly still obvious.
It's worth pointing out that the tannage used by CF Stead shrinks the fiber structure by up to 25 percent to help prevent any opening or stretching over the toe. Bonus: it's waxed in such a way to make it completely waterproof.
Taft Dragon 2.0 Boot Leather Care
Use Dubbin Wax
Helps maximize water repellency
Clean boots before applying
This unusual leather is meant to be conditioned with Dubbin Wax. It's intended to maximize water repellency, offer protection from dirt and stains, and keep the leather supple. Just make sure they're clean, apply a little to a cloth, rub it evenly over the leather, and leave it for at least an hour (preferably overnight) before wearing them.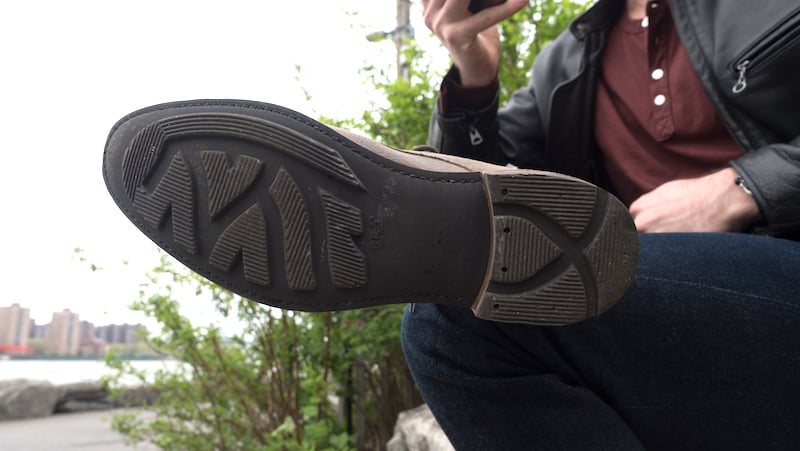 Taft Dragon 2.0 Boot Sole
Ridgeway outsole
Better grip than Taft 1.0
Rubber midsole
Leather insole
Goodyear welt
This outsole is Ridgeway, which is made by the same people that make Dainite soles but it's a little softer and, according to Taft, it's more flexible than Dainite. The pattern gives it better grip than Dainite and while it's not quite as aesthetically pleasing as the studded rubber, the Ridgeway retains a flat look from the side and in any case, it's not like a lot of people look directly at the outsole of your shoe.
There's also a rubber midsole, a shank, a leather insole and the upper is attached to the sole with a Goodyear welt. As I mentioned earlier that's rare for a Taft boot, but the Goodyear welt means it's easier to resole and it's more water resistant than the dressier Blake stitch that's more common in Taft shoes.
[Learn more: The 6 Types of Boot Soles You Should Know About.]
Taft Dragon 2.0 Boot Fit & Sizing
No half sizes available
No other widths either
No break in
So-so arch support
Good shock absorption
The biggest issue I have with Taft is the sizing: they have no other widths and no half sizes. I'm an 11.5 when boots are true to size, and while they urge you to size down if you're a half size, I found the 11 too small. So I have a 12 which is fine, but look, it's a tiny bit big.
It's not a huge deal and as I wore the boots in and they molded to my foot and it became less of an issue, but it's not perfect and I think Taft's lack of half sizes is a big blind spot.
The good news I didn't really have any break in and while the arch support is so-so, the shock absorption is pretty decent. I'm pretty happy with the comfort overall.
[See my ultimate guide to how boots should fit!]
Taft Dragon 2.0 Boot Price
While they go on sale a few times a year and dip below $300, normally the Dragon costs $349.
For a Goodyear welted boot that's not unusually expensive, but given the boot is made in Portugal and Taft sells direct to consumer, I think $300 would have been a more appropriate price.
[Like this shoe? Well, it's been upgraded to a smoother suede — Buy the Taft Dragon 3.0 boot here!]
That's a Schott leather jacket, by the way
Taft Dragon 2.0 Boot Pros & Cons
Pros
Snappy aesthetic
Waterproof
Goodyear welt
Good shock absorption
Cons
No half sizes
Not everyone likes the leather
Pricy
I like these boots and wear them a ton. They go well with just about any outfit that incorporates jeans, and while not everyone loves the unusual leather, I find the combination of a dressy last and rustic leather makes for a great way to make an outfit pop without being too ostentatious.
They're waterproof, they'll last through multiple soles, there was no break in and they're comfortable. I wouldn't wear them with anything formal, but I think they're worth the price.
The following two tabs change content below.
Nick English
By day: Manhattan-based journalist with reporting experience on four continents, published in Vice, Men's Health, Popular Science, and a bunch of other places.By night: ravenous consumer of anything and everything related to high end men's boots.Stridewise is where I nurture a maniacal obsession with footwear and share my findings. Say hey:
[email protected]
Latest posts by Nick English (see all)