This post may contain
affiliate links
that at no additional cost to you, I may earn a small commission from.
If you're dropping real money on your boots, you want to be sure that you've got the best from the sole up; we've got this quick and handy guide so you're ready when the rubber (or leather, or cork) hits the road.
1. Leather Soles
Usually considered the dressiest of all soles, it's also the oldest: leather soles have been around for thousands of years, and today they're usually vegetable tanned. Because they're so slim and low profile, they're best known for being used on formal shoes and boots like the Carmina Chelsea (below), but you'll also find them on some more rugged footwear like the Wolverine 1000 Mile (a little further below).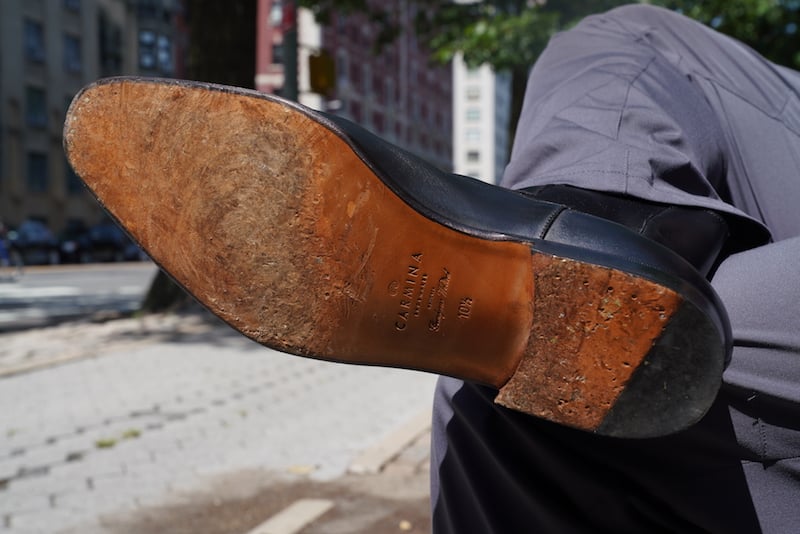 The upsides of leather outsoles are many: they're breathable, flexible, they break in easily, they sound great when you're click clacking on linoleum, and the big one is that they're soft, so they mold to your foot over time — in that regard, many consider them very comfortable.
The downsides are that it's not that durable, they wear down relatively quickly, they don't perform well in wet weather, and when they're fresh out of the box they have zero grip — it's really easy to fall on our butt, something I've done in my Frye boots more than once.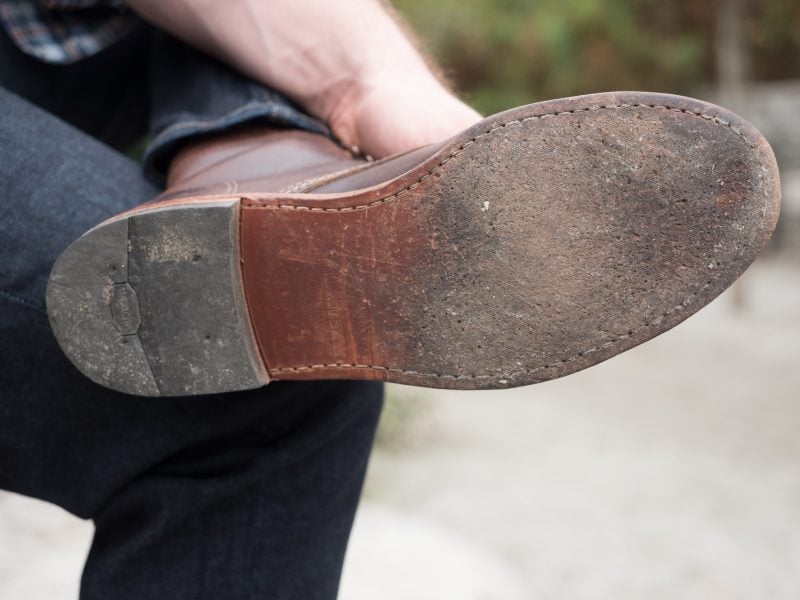 TheWolverine 1000 Mile after a couple of weeks of wear.
Now, they scratch up as you wear them in, and that does confer more grip — but then the shoes are not as smooth and dressy. and that does confer more grip. But then you've got ugly soles that all of a sudden don't look that dressy.
It's worth noting that there's no shortage of combination leather-rubber soles, like the Fineline rubber strip on these Helm Zind boots, or the studded rubber added to these Thursday Cavaliers. But if you're going for straight leather soles, you might want to look for double or triple soles (which take longer to break in, but they're more durable) or "oak soles," which is a certain type of extra hardy veg-tanned leather.
[Learn More: The Pros and Cons of Leather Soles]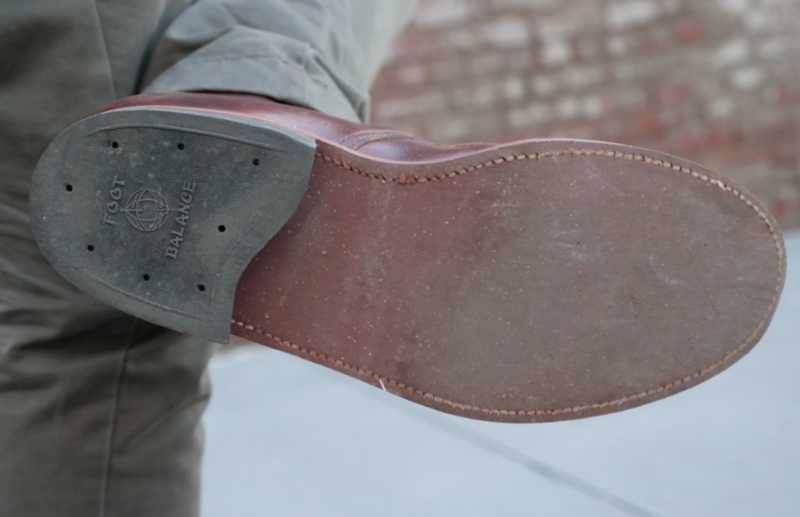 The famous Alden Indy's cork nitrile sole
2. Cork Nitrile Soles
As we transition away from natural products to rubber, I wanted to mention this midway point between natural and unnatural: nitrile cork.
If you're looking for the durability of rubber but not the weight, it's worth looking at. This is a composite material that's made by mixing pieces of cork with rubber. This makes it more lightweight and (subjectively) more comfortable than a lot of rubber outsoles, and it doesn't wear down as fast as leather. It's also much more wear resistant and oil resistant than leather — believe it or not, they much grippier than you'd think. This is why I added the Alden Indy's to the list of best boots for men.
That said, cork nitrile soles often have no tread so they're not ideal for slippery conditions. But they're a fine option for an everyday boot and certainly grippier than a flat leather sole, but if you're looking for something for inclement weather (and aren't excited to ice skate to your destination) then skip this one.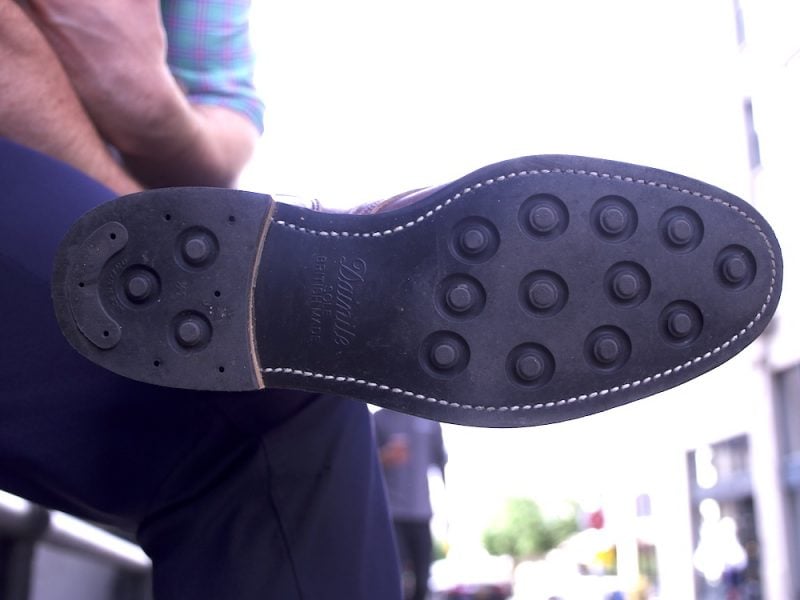 3. Dainite
Perhaps the most popular rubber sole manufacturer is Dainite, from the UK. Made by Harboro, the sole's grippy recessed lugs provide grip with a sleek flat appearance, and while it looks hyper modern, it actually debuted all the way back in 1910. Today, it appears on higher end (read: over $350) boots like the Higgins Mill and the Viberg Service Boot.
The Dainite brand is usually seen on higher end boots like these as they're widely considered a great compromise on grip, aesthetics, flexibility, and durability. With recessed lugs that are their trademark, these boots have a smoother line and far better traction than a flat leather sole.
It's worth noting that while Dainite is the inventor and popularizer of this kind of recessed-lug sole, they've inspired countless other brands. The Thursday boot has a really cool custom studded rubber sole, as does the Grant Stone Chelsea, without the heftier price tag of Dainite.
[Related: Why Do All the Good Boots Have Dainite Soles?]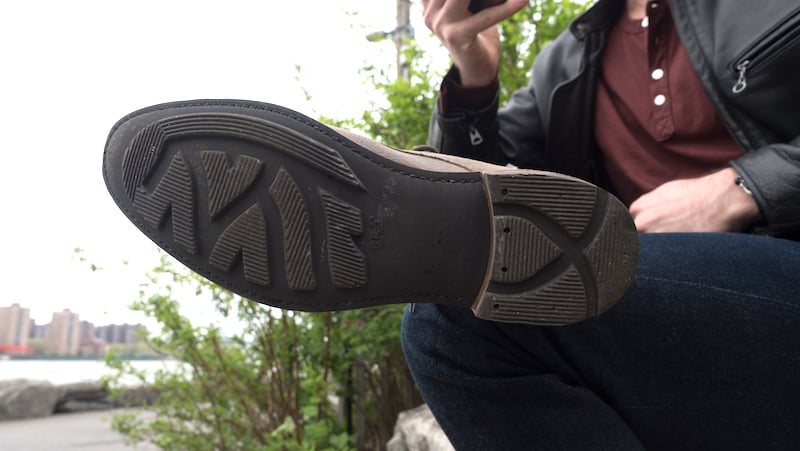 4. Ridgeway
I only wanted to quickly touch on this one, since it's not all that popular, but it is made by the same company as Dainite.
Ridgeway soles, like the one you can see above on my Taft Dragon boots, are also made by Harboro and are also nice and flat when viewed from the side. It looks great and provides superior grip and a tiny bit more flexibility, though it's less dressy.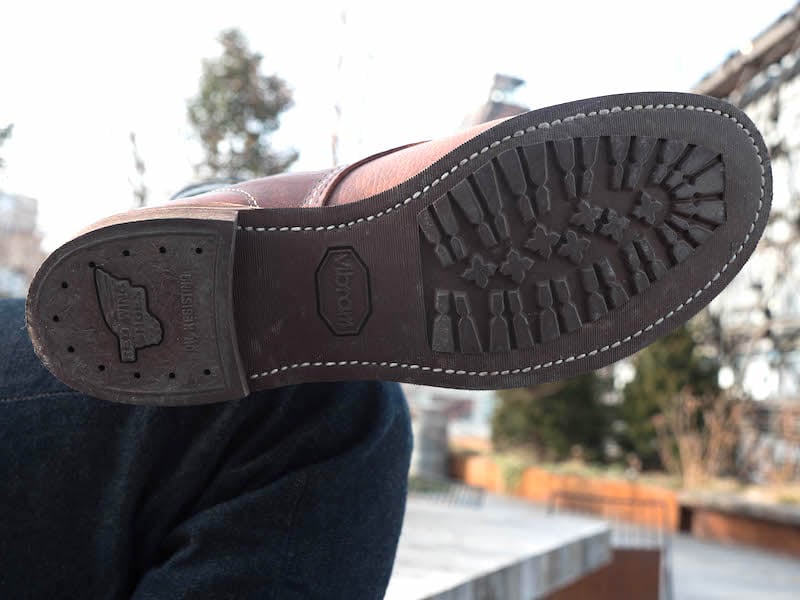 The lower profile Vibram mini lug on the Red Wing Blacksmith.
5. Vibram Mini Lug
While we're looking at flat but grippy, let's talk about Vibram mini lugs.
Right beneath this section, you'l learn a little more about the story of Vitale Bramani, who is responsible for this iconic tread pattern. The mini lugs are on all modern versions of the Iron Ranger and Blacksmith from Red Wing, along with many other brands, like the newer Ranch boot from Taylor Stitch.
Like the Ridgeway, this rubber sole confers good grip and a low profile, plus it's cheaper to make example than Dainite — it's one of the finer combinations of style and utility, and perhaps the grippiest low profile sole.
The Vibram Commando sole on Division Road's Tricker's Stow Boot
6. Commando Soles
Durable, hardwearing, and weather resistant, rubber soles like the famous Commando are thicker, chunkier, and much more suited to casual wear than the other entries on this list. Basically, if you're wearing a suit, you don't want Commando. One downside is that rubber can be heavy, and has a tendency to stiffen and crack over time.
Vibram is one of the most popular manufacturers Commando soles. The company was founded by an Italian mountaineer Vitale Bramani after a number of his friends died in a climbing accident and he blamed it on their (leather-and-hobnail-soled) footwear. Since they were released in 1937 they've been incredibly popular with outdoorsy types of all flavors and they're still everywhere today.
Commando soles are what you'd call a generic rubber sole; they're clunky and give your boots a rugged, outdoorsy profile. The things that protrude from the bottom of the sole are called lugs or treads (like a tire); they give you extra traction on all kinds of surfaces and weather conditions, though they can also trap mud and rocks and make a mess. These are one of the most informal of all boot soles.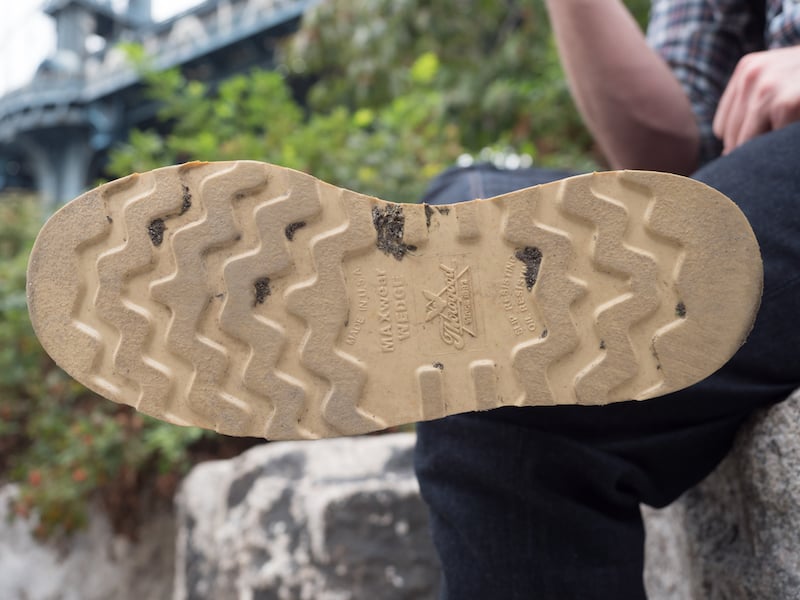 7. Polyurethane Wedge Soles
Wedge soles are not a type of material, but rather a style. It's the name given to boots that are typically all one flat piece of rubber, so there's more contact with the ground.
The idea of wedge soles is that besides usually being softer and a bit more sneaker-like than heeled boots, they help to avoid tripping hazards and they track less mud. So while they look more modern and sneakery, they're very popular in work boots today.
Oftentimes, wedge soles are made out of polyurethane like the Thorogood Heritage workboot pictured above. Relative to the next entry on this list, polyurethane soles tends to be a bit more work friendly — they're often certified by OSHA, resistant to electrical shock, that kind of thing. Very generally speaking, it tends to be a bit harder and have more longevity than the softer…
8. Crepe Soles
Also called plantation rubber, it's a crude, cheap form of natural rubber that's usually obtained when coagulated latex is passed through heavy rolls called "crepers," after which the resultant material is air dried. Wedge soles made from crepe, like the one you can see above on the Red Wing moc toe, are considerably softer and better at shock absorption than polyurethane, although they wear down a little faster.
You may have been surprised to see Red Wing there, because when crepe rubber is discussed, most guys think of the unbelievably soft, slipper-like sole on shoes like the Clarks Desert Boot: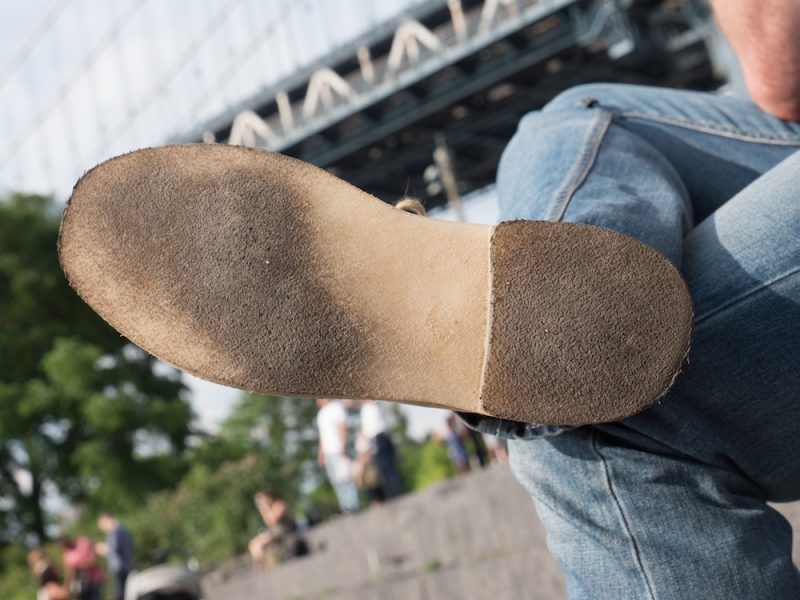 The iconic Clark's Desert Boot
That's because crepe comes in a variety of forms. Red Wing's is very compressed and reasonably durable, but boots like the Clark's Desert Boot and Oliver Cabell's Chelsea are far softer.
A lot of guys love it for that reason, but it gets unbelievably dirty with wear, it sucks up everything it touches — you'll find hair and pebbles in it after a day of wear — it slips kind of easily in the wet, and it absorbs water and oil very easily. They're for desert boots, after all, not wet conditions.
But they are soft and comfy.
[Related: What are crepe soles?]
Left to right: Red Wing's nitrile cork, Chippewa's low profile Vibram, and Thorogood's Christy wedge. Read the full comparison here.
Wrapping Up
Different soles serve different purposes and we're not about to say any of them are the "best." It depends on your own needs: Dainite soles are a great compromise, leather is nice and soft, wedge soles look more modern and they're harder to trip in… we could go on. Let us know which sole is you favorite and why!