If you're dropping real money on your boots, you want to be sure that you've got the best from the sole up; we've got this quick and handy guide so you're ready when the rubber (or leather, or cork) hits the road.
1. Leather Soles
Leather, usually considered the dressiest of all soles, gets that designation because it has the slimmest profile, so it looks best with your dress pants. Leather soles have lots of breathability and will mold to your foot (just like leather uppers do), but relative to the other soles on this list they aren't great at withstanding a lot of walking — they're easily damaged by inclement weather and they're pretty slippery overall. They also get scratched and beaten up pretty quickly, as you can see in this image of the Wolverine 1000 Mile.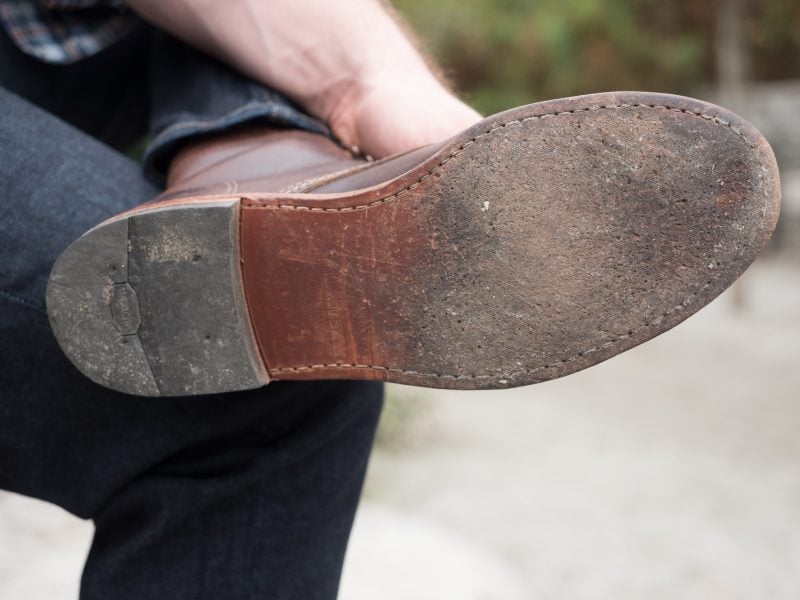 TheWolverine 1000 Mile after a couple of weeks of wear.
An upside of leather soles, though, is that they're flexible, they have a great "click clack" sound on hardwood, and they offer a really nice groundfeel. Single, double, or triple leather soles refer to the number of layers that make it up: the more layers, the thicker the sole, which means increased durability and more time to break in. Also keep an eye out for "oak soles" which are not made of wood, but rather vegetable-tanned in it, which supposedly makes the leather hardier.
The Vibram Commando sole on Division Road's Tricker's Stow Boot
2. Commando Soles
Durable, hardwearing, and weather resistant, rubber soles like the famous Commando are thicker, chunkier, and much more suited to casual wear than leather soles. Basically, if you're wearing a suit, you don't want Commando. One downside is that rubber can be heavy, and has a tendency to stiffen and crack over time.
Vibram is one of the most popular manufacturers Commando soles. The company was founded by an Italian mountaineer Vitale Bramani after a number of his friends died in a climbing accident and he blamed it on their (leather-and-hobnail-soled) footwear. Since they were released in 1937 they've been incredibly popular with outdoorsy types of all flavors and they're still everywhere today.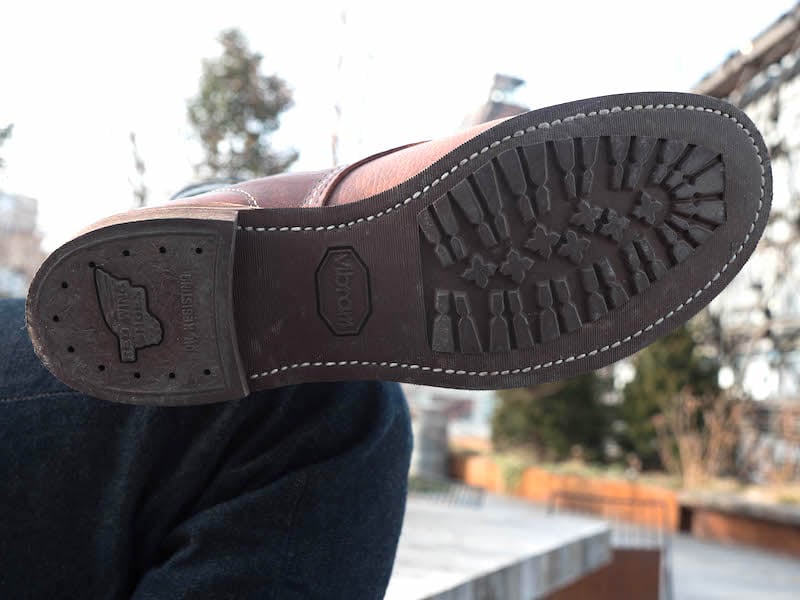 The lower profile Vibram mini lug on the Red Wing Blacksmith.
Commando soles are what you'd call a generic rubber sole; they're clunky and give your boots a rugged, outdoorsy profile. The things that protrude from the bottom of the sole are called lugs or treads (like a tire); they give you extra traction on all kinds of surfaces and weather conditions, though they can also trap mud and rocks and make a mess. These are the most informal of all boot soles. For the best style-and-utility combo, we like the grippy, low-profile mini lug sole on the Red Wing Blacksmith or the newer Red Wing Iron Rangers.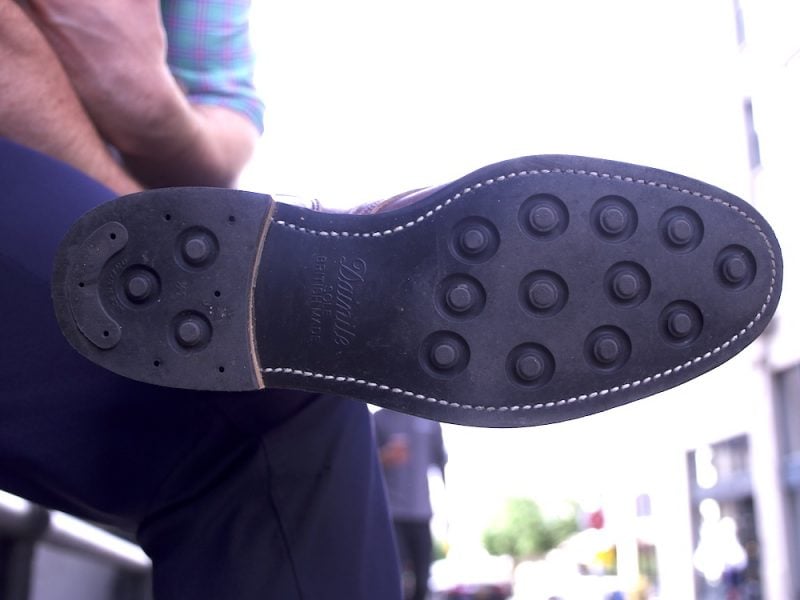 3. Dainite
Another popular rubber sole manufacturer is Dainite, from the UK, best known for their "studded" sole, which appears on boots like the Higgins Mill and the Viberg Service Boot. The Dainite brand is usually seen on higher end boots like these as they're widely considered a great compromise on grip, aesthetics, flexibility, and durability. With recessed lugs that are their trademark, these boots have a smoother line and far better traction than a flat leather sole.
It's worth noting that while Dainite is the inventor and popularizer of this kind of recessed-lug sole, they're not the only ones who make them. The Thursday boot has a really cool custom studded rubber sole, as does the Jack Erwin Chester Boot without the heftier price tag of Dianite.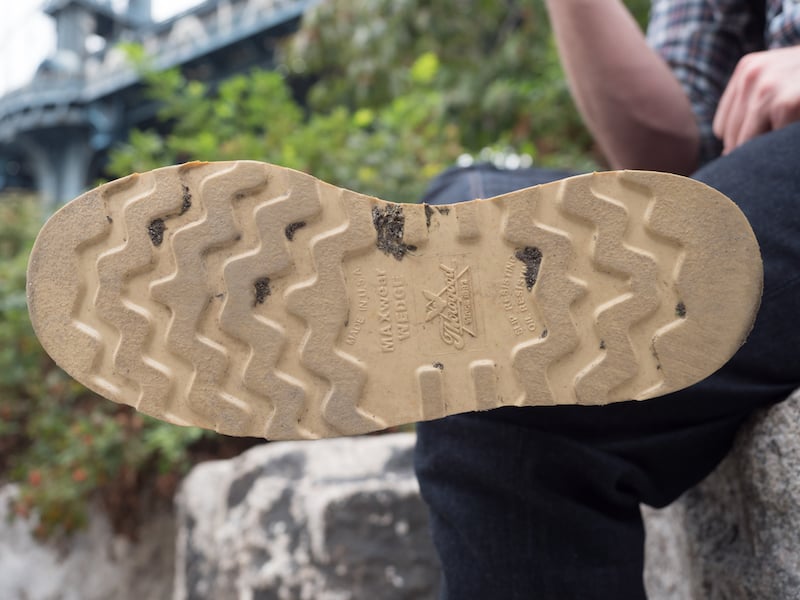 4. Wedge Soles
Usually white and chunky, wedge soles (also called Christy soles) are popularized by mid-century work boots by companies like Danner and Red Wing. People who love them will say they're as comfortable as a pair of sneakers: soft, squishy, and shock-absorbing. They're also not quite as durable as some other entries on their list, but they've usually got a bit more grip in them than flat soles and they're a nice balance of soft and tough for folks who are more used to wearing sneakers. As a nice bonus, they'll add a few inches to your height.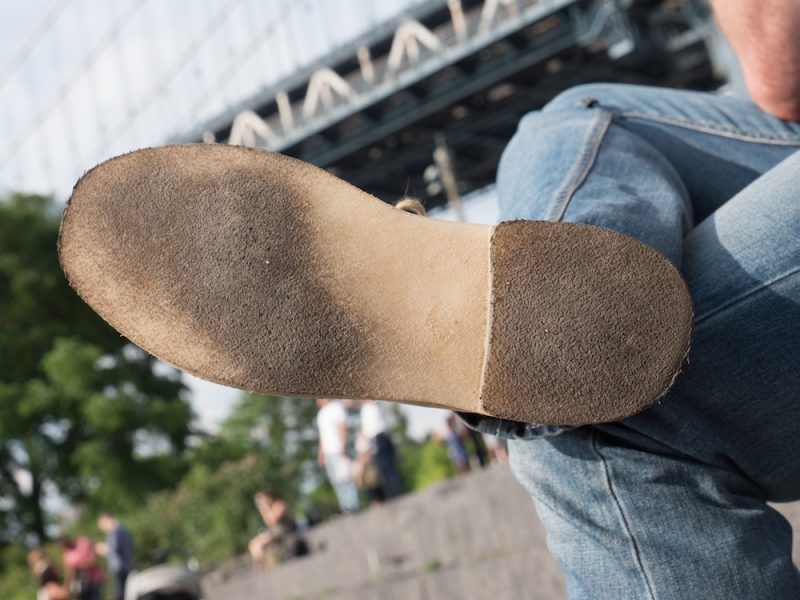 The iconic Clark's Desert Boot
5. Crepe Soles
Also known as plantation crepe, they're made from the same stuff as wedge soles, and are characterized by a yellowish color and a squiggly pattern. The difference is that they're way less sophisticated: made from a crude, cheap form of natural rubber derived from coagulated latex, they're light and squishy and super informal. They're crazy soft, almost like a pair of slippers, but they're not durable, stuff sticks to them, they get dirty really easily, and there are even reports of them melting on hot asphalt.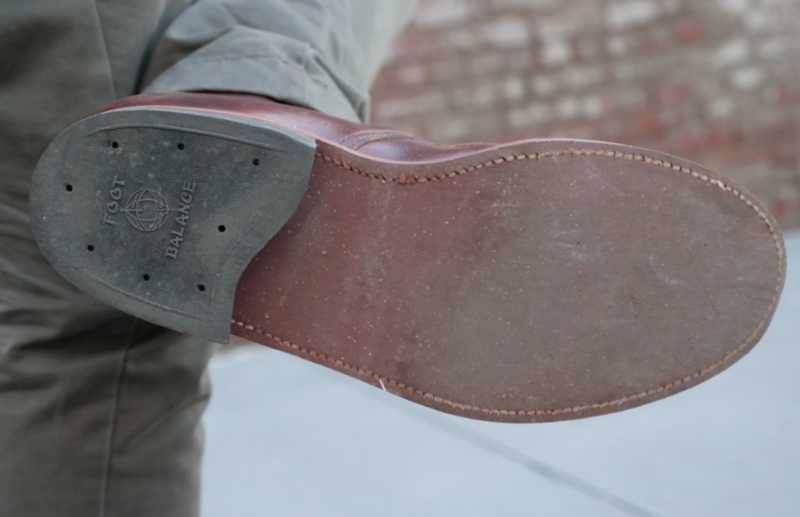 The famous Alden Indy
6. Cork Nitrile Soles
If you're looking for the durability of rubber but not the weight, you might want to consider cork nitrile, which mixes rubber and cork to make a comfier, lighter sole. Nitrile is a synthetic rubber that's also oil-resistant; the addition of cork makes them much lighter than traditional rubber-soled boots. They're more wear-resistant and weather-resistant than leather — you can wear them more comfortably in the rain — but that doesn't make them an all-weather sole. Cork nitrile soles often have no tread and are, as a result,pretty darn slippery in icy conditions. A fine option for an everyday boot and certainly grippier than a flat leather sole, but if you're looking for something for inclement weather (and aren't excited to ice skate to your destination) then skip this one.
Left to right: Red Wing's nitrile cork, Chippewa's low profie Vibram, and Thorogood's Christy wedge. Read the full comparison here.
Wrapping Up
Different soles serve different purposes and we're not about to say any of them are the "best." It depends on your own needs, but for our money, Dainite soles do offer the best compromise on all fronts. What's your favorite kind of sole for boots? Let us know in the comments below.
The following two tabs change content below.
Mel Compo
Mel Compo is a writer, editor, and general word-geek from Brooklyn, New York. When they're not writing about the finer side of men's footwear they can be found lurking around the streets, trains, and museums of NYC, ostensibly doing something urgent but actually just looking around for menswear style inspiration.
Latest posts by Mel Compo (see all)