This post may contain
affiliate links
that at no additional cost to you, I may earn a small commission from.
Rider Boot Company! Not a company that makes horse riding boots, a company that makes svelte and snappy boots that's run by Ron Rider and his family. It's a pretty small outfit based in Richomnd, Virginia, but the boots are actually made in the Italian region of Giussano, between Milan and Como.
The Dundalk is the company's flagship boot (Rider told me that this and their Chelsea boot make up 80 or 90 percent of their sales) and it's known for combining hardy American construction with a European aesthetic. If a shop has Alden and Crockett & Jones in their dressy section and Red Wing and Wolverine as their casual boots, Rider says, his boots would sit right in the middle, using dressy lasts and rugged materials to make what he calls a "sophisticated casual" vibe.
After impatiently waiting months to get my pair — yep, you sometimes need to order them in advance — the dressy-but-not boots arrived and I spent a couple of weeks in them to bring you this review. This is the Dundalk Reverso 750, also called the 6+1 Dundalk II Derby Boot.
[GET 15% OFF THESE (OR ANY) BOOTS WITH THE DISCOUNT CODE "SW15" AT CHECKOUT]
Rider Dundalk Boot Aesthetics
"American style construction, European aesthetic"
Roughout leather
Dainite outsole
Blake rapid construction
Quite svelte and elegant
The "6 + 1" in the name just means that these have six pairs of eyelets and one pair of speed hooks, and the shoes really do stand out in my collection for the way they mesh American and European style.
The shoes have sturdy Blake rapid construction, a Dainite outsole, and tough roughout leather, all mainstays of US heritage footwear. But the last is quite svelte and elegant, making for an understated boot that's surprisingly versatile.
As Rider says, they're right between Alden and Red Wing as far as dressiness goes, and I've worn them with my standard jeans-and-henley outfits and with slacks and a blazer. It's a boot that can be worn with many outfits, provided you keep the leather clean — and this leather is a little hard to keep clean.
Rider Dundalk Boot Leather
Reverso calf leather
Made by Lo Stivale in Italy
Shorter "hair" than most roughout
Vegetable tanned, but tannage includes fish oils
This leather is called Reverso calf leather and it comes from Lo Stivale, an Italian tannery near Pisa.
It's roughout leather that's 1.8 millimeters thick, though with the calf leather lining it's 3.3 millimeters thick. It might look like suede, but suede is thinner and it comes from splitting the outside of the skin — roughout is made from the inside of the skin, which is why it's called Reverso. (If you think of skin as a loaf of bread, the suede is made from the "crust" but roughout if made from the bread.) Fluffy bread analogies aside, roughout is actually quite tough — it used to be more or less standard on soldiers' boots during the world wars.
This leather is a tad unusual for a roughout because the nap, the "hair," is shorter than the roughout you'll sometimes see in competing brands, so it's a little like roughout with a buzzcut.
Reverso is considered vegetable tanned, an old fashioned method of making leather which many folks prefer because it tends to be tougher than chrome tanning. (See my comparison of veg vs chrome tanning here.) It changes a fair amount as it ages; here's a year-old pair from Reddit user u/a_robot_with_dreams:
Reverso Calf Leather Care
Pretty water resistant, but add wax if you want to maximize water resistance
Use stiff brush (like a nubuck brush) to clean
Rider recommends neatsfoot oil or cod liver oil to condition
Now, I was told this leather is waterproof and requires "virtually no care," but water does not roll off of this leather. Here's what they looked like after a rainstorm in Manhattan during my first week of wear: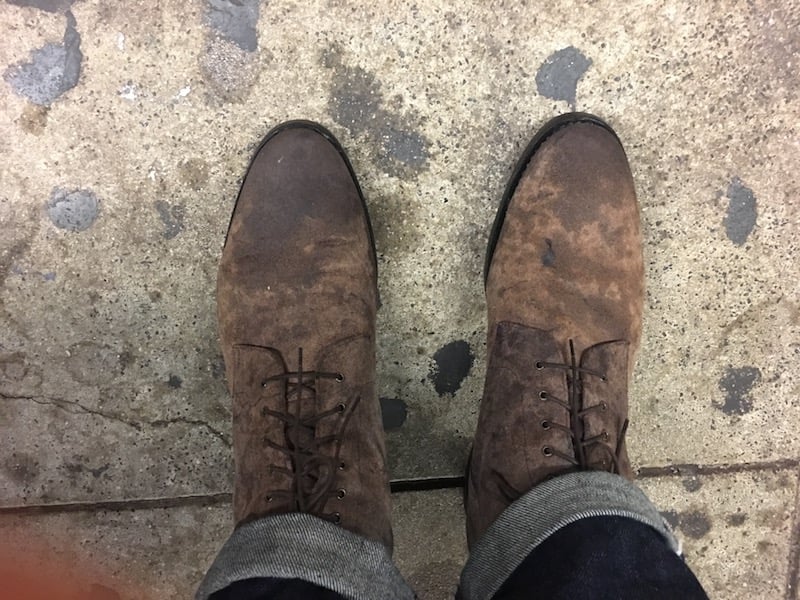 Now, they were quite water resistant and my toes only got wet in one of about five storms, so I'm not complaining that much, but the notion that they're "waterproof" isn't quite right. I feel like applying some wax, like Otter Wax, might be useful if water resistance is really important for you.
As for regular care, if it gets caked up with dirt you can use a brush, but you want something a little stiffer than a horsehair brush, like this nubuck brush.
As for conditioning, plenty of people have success applying Lexol with a brush, but Rider recommends neatsfoot oil, which is made from the rendered shins and feet bones of cows, or (believe it or not) cod liver oil, as the tannage includes some fish oil. Neatsfoot is more common and a lot cheaper, but hey, you can always use the extra cod liver oil as an Omega-3 supplement.
[Related: The 5 Best Boot Conditioners on the Market]
Rider Dundalk Boot Sole
Dainite outsole
Two (sometimes three) leather midsoles
No shank
Blake rapid stitch
The 0utsole is Dainite, which is seen by many as the gold standard sole for quality men's boots. You'll see it on boots that cost 700 dollars like Tricker's and Viberg, and we wrote a whole article about why Dainite is so popular here. In short: it's low profile, hard wearing, and absorbs shock well.
Rider is also pretty famous for having two leather midsoles, which traditionalists will be happy with: the leather molds to the shape of your foot over time and two leather soles means the boots will be very comfortable and soft underfoot as they age.
Now, there is no shank here, which may disappoint some people because shanks help to improve arch support and help the boot to maintain its shape as it ages. But Ron Rider maintains that metal shanks annoy his customers because they set off metal detectors, noting that because the Dundalk doesn't have a welt, it doesn't need a shank.
Indeed, this is not made with a Goodyear welt, common on American work boots, nor is it made with a Blake stitch, common on European dress shoes. It's made with a kind of a compromise between the two called a Blake rapid stitch. While it's not as lightweight or flexible as a regular Blake stitch, it's much more water resistant and easy to resole, although it's not quite as water resistant as a Goodyear welt.
[Related: Goodyear Welt vs Blake Stitch- What's Best for Boots?]
Rider Dundalk Boot Fit & Sizing
Fits true to size
D and EE widths available
Fully leather lined
Great shock absorption
Right now these run from 5.5 to 15 and you can get them in D or EE (extra wide) widths. That's an impressive range of fits. The boots fit true to size, so I went with an 11.5 and was very happy with it.
These really are very comfortable boots. The two leather midsoles do indeed conform to your foot shape over time and when that's combined with the vegetable tanned calfskin lining, they honestly become almost like slippers as they age. Sure, a shank might have given better arch support, but slippers never have good arch support, do they?
Rider Dundalk Boot Price
When I first bought the shoes they were under $300, but that was when the boots were direct made to order. They no longer are, and the price has increased to$ 425.
When the boots cost under $400 I thought it was a fair price but over $400 is a tad steep for my tastes. That said, you can get them for about $362 with the discount code SW15, which I think is a very fair price.
Plus, they have a unique look, they're tough, they're made in Italy, the leather is gorgeous and will age well, there are two veg tanned leather midsoles, plus they're resoleable. Plenty out there will be happy to pay extra for features like these.
[GET 15% OFF THESE (OR ANY) BOOTS WITH THE DISCOUNT CODE "SW15" AT CHECKOUT]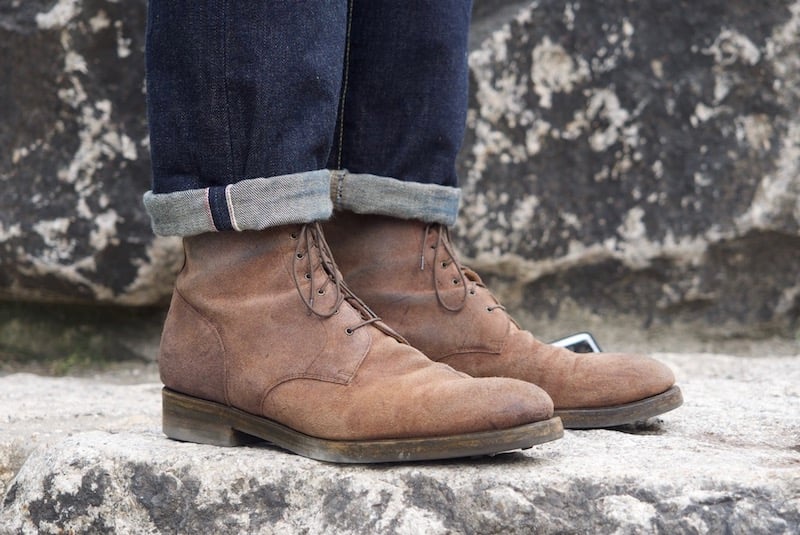 Rider Dundalk Boot Pros & Cons
Pros
Unique aesthetic
Tough leather, hardy construction
Resoleable
Fully leather lined; very comfy
Two leather midsoles
Impressive array of fits
Cons
A tad pricy at $425
Not the most water resistant boot
No shank
Leather gets dirty easily
I really am a huge fan of these boots. The price increase is a bummer, but the made-to-order business model just didn't work out the right way for Rider. That they're over $400 is really the only big downside with these shoes. They'll also look more casual as they age, so don't expect to be able to dress them up forever, and some people will find the lack of shank to be a dealbreaker.
But otherwise they look great, they stand out with the European/American mélange, the leather is tough, and the combination of leather lining and leather midsoles makes for a really, really comfortable boot.