This was my very first pair of Truman boots acquired in June of 2015.
I wanted a standard rugged pair of black Chromexcel cap toe boots and these fit the bill perfectly with that beautiful 270-degree double stitchdown construction and lug commando sole. This was one of the original Truman models built when they were operating out of Pennsylvania (they later moved to Boulder, CO and are now currently in Eugene, OR) and as trained boot fans will note, the build is slightly different compared to modern iterations: it's taller, has an extra eyelet, and the eyelets are spaced closer together over the tongue.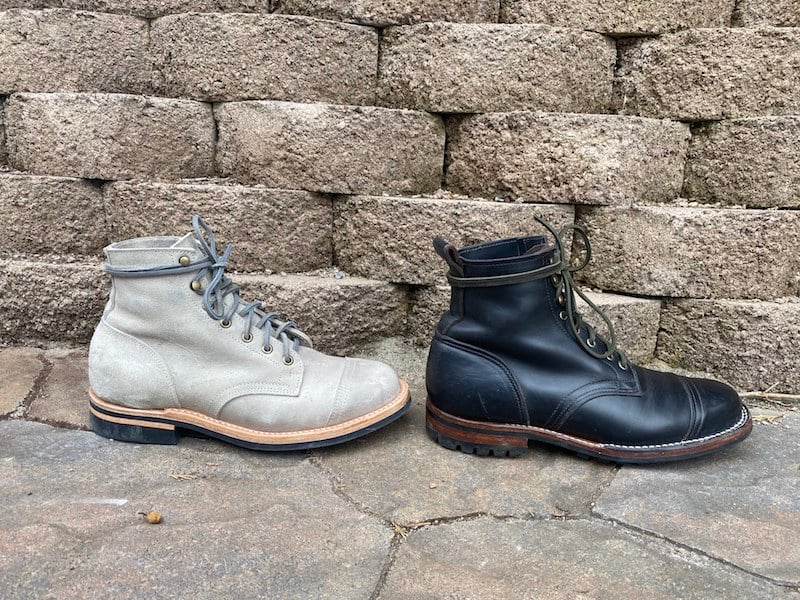 There are 8 total antique brass eyelets on this pair, including 5 standard eyelets and 3 speed hooks. I've used a variety of different laces in these including the standard brown rawhide, olive rawhide, red rawhide, olive round waxed, and burgundy round waxed laces. (I'm enjoying my current olive rawhide laces most.) These boots have Truman's standard triple stitched straight cap toe with dark brown stitching, triple stitched quarter, double stitched heel counter/ back heel strip with pull tab.
Note that this boot I'm reviewing is no longer made; it may return in the future, but this review if for, well, posterity.
Black Chromexcel Leather
Black Chromexcel is exactly what it sounds like: Horween's famous Chromexcel, dyed black. It's a lustrous, combination tanned leather that was first formulated in 1913. Although they had to stop using whale oil, little has changed in its recipe and it has become the most popular leather for American men's boots.
This particular pair of boots has the smooth-out facing outward, and is unlined, so you can feel the roughout side facing inward. It's worth noting that this particular black Chromexcel is similar to Teacore leather in that as it scuffs, it reveals the natural/tan color of the leather underneath. This means you can think of the black Chromexcel as having been "painted"; the dye isn't struck through. This is exemplified further by looking at the interior of the boot, where you can see the roughout is not tanned or dyed black, retaining its natural color.
These are black boots so I wear them best with dark blue denim, black denim, gray, green, or burgundy trousers. The only pants I avoid with these boots are light khaki and light blue denim.
Black CXL Leather Care
Treatment is easy for black Chromexcel, as you have a number of options available. Easiest answer: Venetian Leather Balm! It's widely recommended for this leather and it work great, however, I tried something different and loved the results: Armstrong's All-Natural Boot Conditioner and black boot wax, which helped to conceal a deep scratch which revealed the natural interior color of the leather. Check out the video here:
[Related Video: Everything You Want to Know About Chromexcel]
Truman's 79 Last: Fit and Sizing
These boots were built on Truman's 79 last, back before it was known as the 79 last and was simply called the "Truman last," a generous fitting work boot last which is very nicely rounded out at the toe with a substantially voluminous heel counter that you could fit a tennis ball into. It is actually a vintage last derived from the Musebeck Shoe Co. in Wisconsin; a sizeable quantity of these lasts were acquired by Truman before launching the brand.
It is recommended for sizing that you take a half size down from Brannock for the 79 last. I originally ordered these true to size on 9D but after getting them I realized they were way too big, so I exchanged them for 8.5D. The fit is perfect, but I can only wear them with medium to thin weight socks. Surprisingly, this pair surprisingly causes me some pain on my right instep, even though it's Chromexcel, which normally stretches. But this particular sample is very thick and robust — they more or less fit me the same as day 1!! This could be due to the particular batch of CXL OR the insane thickness these boots were built on.
[Related: The Ultimate Guide to How Boots Should Fit]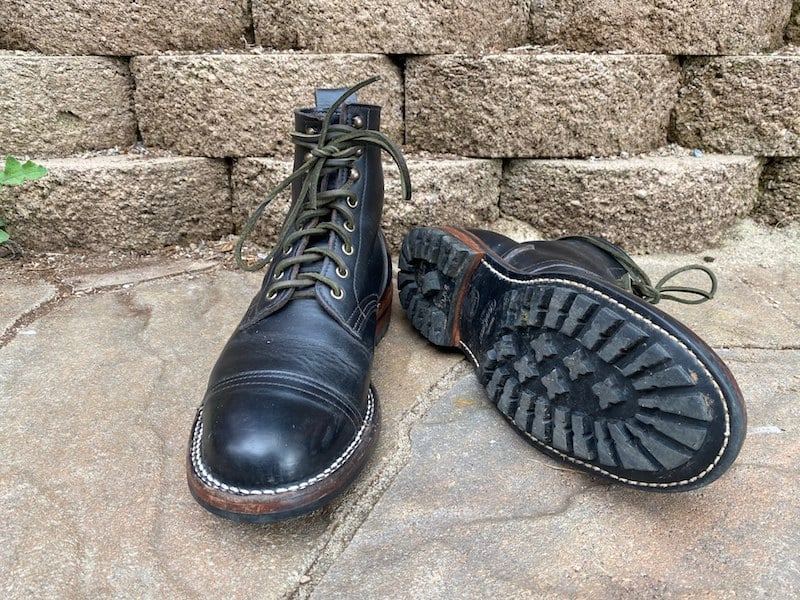 Truman Boot's Break in
Due to the unlined, roughout interior of the boots, the break-in wasn't super easy. Roughout interiors, I find, don't form blisters so long as you don't wear them consecutive days in a row, You may be left with a "raw" feeling after wearing them for a while, but this is normal. These boots became incredibly comfortable after about five wears and have remained so. I experienced the same break-in process with my Viberg service boots in brown and color 8 CXL, as well as my Parkhurst Allen boots in Natural Dublin; all have roughout interiors.
Truman's Black Chromexcel Boot Price
One thing I love about Truman is they tend to keep their prices low. I purchased these for $440 back in 2015 and their current iteration of a black waxed flesh plain toe boot are available for $440. For an American made, resoleable boot, this is a pretty astonishing price.
Truman's Black Chromexcel: To Buy or Not to Buy?
Truman is not currently running these exact black Chromexcel boots at the time of this writing, but that is always subject to change.
They do have something very similar however, and in my opinion they're even better: the black waxed flesh Upland boots. Although it's waxed roughout, this is still leather from Horween — it smells the same and exhibits a similar Teacore characteristic in that the outer "painted" layer wears down, exposing the natural leather color underneath. The Uplands are even taller than my black boots and include an extra eyelet: four standard eyelets and five speed hooks in all. The black waxed flesh uplands offer all white stitching on both the upper as well as the welt for a nice contrast. The welts are different, mine being stitchdown and the new Upland's being 270-degree Goodyear welted with an extra water resistant storm welt.
In conclusion: if you could buy my boots, I'd strongly recommend it. Fortunately, there are even better alternatives on offer right now.
The following two tabs change content below.
Style blogger, boot collector, leather fiend.
Latest posts by Dale Basista (see all)