While perhaps not as widely known as Red Wing, Danner, or Wolverine, White's Boots is a force to be reckoned with in the heritage boot world and is consistently ranked among the best of the best when it comes to hand made leather boots.
But the Spokane, Washington based company is far from a newcomer. Indeed, the company has been building boots in Spokane since 1920 and traces its roots back to before the American Civil War. To this day, their boots are still made by hand in Spokane.
With the introduction of the Perry, White's has not only thrown their hat in the ring of American boot makers producing moc toe boots, they have also released their first boot under $300. Now, upon announcing a new boot in a lower price point, fans of the brand collectively raised an eyebrow – it is all too common for a heritage brand to be sold off to a larger group, only to start cutting corners in production and steadily begin the down market decline (cough, Frye, cough).
But has White's joined in on this all too frequent race to the bottom?
[Related: The 14 Best Boots for Under $300]
[Shop the White's Perry boot here!]
White's Perry Boot: The Summary
Got somewhere to be? Here are the pros and cons.
Pros
Design strikes a balance between classically rugged and modern
Nice balance between break in and durability
High quality leather (particular the oily distressed color)
Excellent arch support and comfort, reinforced by a steel shank
Cons
Stiff cardboard heel counter makes for a rough break-in period
Slight disparity between the leather offerings
Small finishing issues here and there – loose threads, glue remnants, etc
White's Perry Boot Aesthetic
Rugged heritage work boot
No decorative or unnecessary stitches
Not too bulky, not too slim
Right out of the gate, the Perry looks the part. There's sturdy, functional stitching all over the place and a hefty heel counter cover that creates the distinct Pacific Northwest vibe that White's is known for. It all feels very reinforced, not decorative as with some other moc toes on the market. Speaking of which, the toe box itself is beautifully proportioned – not too tall as to appear bulbous, but also not too slim or trendy either.
[Like Moc Toes? – The 7 Best Moc Toe Boots On The Market 2022 | Best Value, Toughest, Best for Work, and More]
White's Perry Boot Leathers
Available in 3 oil tanned leathers
Sourced from Wisconsin's Seidel Tanning
Very thick
The Perry is offered in three different chrome and oil tanned, full grain leathers: Distressed, Black, and Red Dog, all provided by Seidel Tanning of Milwaukee, Wisconsin. White's sent us both the Distressed and Red Dog leathers. The Distressed leather is a beautiful, waxy brown that shows tones of rugged character from day one. The Red Dog, by contrast, feels more like a traditional chrome tanned leather – that is to say, it doesn't have the same oiliness or pull up to it.
Finally, while both leathers are the same thickness, the Distressed leather feels more dense by comparison to the lighter, almost foamy Red Dog leather. Between the two, I personally prefer the Distressed leather, both for its rugged character and its density. While it's difficult to predict how both leathers will age, I expect that the Distressed will develop more character over time, while the Red Dog will be more likely to maintain its initial character. So if you're not a fan of heavier patina, the Red Dog may be the way to go.
White's Perry Boot Construction
Made on Arch-Ease 1972 last
Shock absorbing Ortholite footbed
Crepe outsole, rubber midsole, steel shank
360-degree Goodyear welt
The boot is built on their signature Arch-Ease 1972 last and has a very solid combination of materials used for the insole and midsoles. The sock liner is a very soft Ortholite footbed and provides immediate, cushy comfort. Underneath that insert, there is a sturdy piece of vegetable tanned leather, which itself sits on top of a layer of cork. The Vibram Cristy crepe outsole is attached to a rubber midsole via a 360 degree veg tan Goodyear welt. Within the wedge outsole is a sturdy steel shank providing further reinforcement and arch support.
White's Perry Boot Break-In, Fit, and Sizing
Last is fairly roomy; some size down a whole size
Great arch support
Counter is tough to break in
The leather on the Perry is about 3mm thick, slightly thinner than the Horween Chromexcel used on the MP Service boots. But that's not a bad thing. Even with the slightly thinner leather, the Perry feels solid and has that satisfying, sh*tkicker heft that White's is known for. I even would go so far as to say that if the leather were any thicker, the boots would start to fall into uncomfortably heavy territory.
Regarding sizing, the Perry is available from 7 to 13.5 and either D or EE widths. White's advises going one half size down from your Brannock size, however I found that I needed to go a full size down to get the right fit. While a normal D width usually fits me perfectly, I still found that these were a touch wider than other boots I own. However having a little bit extra room might be of benefit if you actually plan on working in these – they're not likely to become constrictive as the foot swells slightly throughout the day.
Now, if you haven't yet jumped on the #MocsAndSocks bandwagon or are just new to wearing boots with wedge or Cristy soles, you might be a bit surprised at how they wear when compared to traditional boots. Not only are you a solid inch or so taller, the soles have a hefty substance to them that can take a little getting used to. If you've ever walked through a wet field and had a bunch of mud on your boots, it sort of feels like that at first. It's not an unpleasant feeling, just something you might not expect.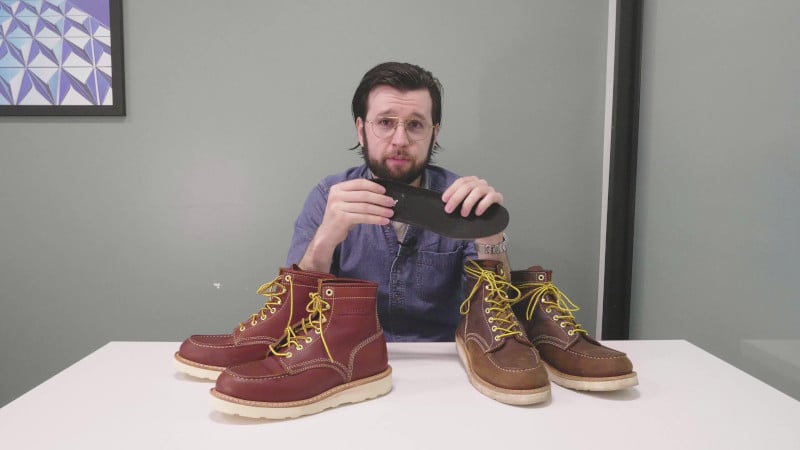 On their website, White's proudly boasts that the Perry has 'virtually no break in period'. While yes, the Ortholite insert does bring an immediate softness underfoot, the veg tan leather and cork layer do still require a fair amount of work to form to the foot. The toe box is lined with a rough, suede-like black leather and the heel counter is a hard, compressed cardboard material. That heel counter provides a very rigid cup for the heel to slip into.
At first, this combination of rough leather lining on the vamp and the extremely stiff cardboard counter made these boots an absolute blister factory. However, after about a week and a half of daily wear, I put them on one morning and they were suddenly comfortable, and have only improved since. As with all boots, the rule of thumb is generally this: the easier the break-in, the shorter the lifespan, the tougher the break-in, the longer the lifespan. These seem to strike a happy medium.
White's Perry Boot: To Buy or Not to Buy?
The moc toe boot has been a staple in the world of workwear since the 1950s, and while White's hasn't reinvented any wheels here, what they have done is added a serious contender to the healthy list of options currently available. My biggest fear when first receiving these boots was that I'd look at them and say "Oh, I see why these are less than $300." Fortunately, that was not the case.
Aesthetically, it strikes a perfect balance between ruggedness and trendiness. The size and stance of the toe box is still roomy enough to be functional, but not so much that it looks bulbous. But in the same breath, it is not so slimmed down as to look like a trendy imitator. Whether you are looking for a boot to work in or get likes on Instagram (don't lie), the Perry is a great option.
Most importantly, despite coming in at a lower price point than is typically offered by White's, the Perry does not feel like an exercise in cutting corners. White's has taken all of their expertise for creating supportive, comfortable boots, and brought it to bear in the category of the moc toe. In doing so, they've created one of the better options in the style. Overall, Perry is a great boot, pure and simple. It's well thought out, solidly constructed and fairly priced.
The following two tabs change content below.
Troy Barmore is a watch, luxury, and heritage goods specialist and writer based in New York City. Growing up in the mountains of Colorado, Troy has had a passion for subtlety and detail since childhood. Whether it be denim, leather, eyewear or watches, he has made the study of quality goods a lifelong focus.
Latest posts by Troy Barmore (see all)