I literally just returned from two weeks at the beach (in exotic Delaware) and I brought one bag with me: Tanner Goods' Koru Rucksack. Every time I've fled New York this year — and I've understandably had the urge a lot — I've brought this bag, and it's fast become my favorite for longer trips.
Tanner Goods is a Portland-based company that I'm a big fan of because their products do a nice job of combining heritage construction and materials with modern design. At a maximum capacity of 34 liters, I've found the Koru rucksack is a little too large to fall into the category of everyday carry, but a big bonus of its rolltop design is that you can compress it when it's not completely full. (It also makes it extra water resistant.)
That's just one of my favorite things about this bag. Let's take a closer look.
[Shop the Koru Rucksack in 3 colors here!]
Koru Rucksack Measurements
34 liters / 2080 cubic inches
Max height (unopened): 27″
Depth: 6.5″
Width: 16″
Outer pocket: 8.5″ x 12.5″
Water bottle pocket: 8.5″ x 7″
Outer zipper: 18.5″
Laptop sleeve fits 16″ devices (or files)
This is an extraordinarily sleek, almost minimalist bag, which is in stark contrast to other "heritage" style backpacks that are typically heavy on buckles and flaps. This is what I mean when I say the brand marries tradition and modernity.
It makes for an aesthetically pleasing design, but one of its downsides — and this is my biggest complaint with the bag in general — is that the outer pocket is so sleek that it's very extract anything from it when the bag is full. The pocket doesn't bulge outward, it recesses inward, so it doesn't really add much extra storage space and it makes for a lousy place to stash your phone or glasses case when you're on the go. (My tip: fill the outer pocket first before filling the inner compartment.)
Nonetheless, it is a bag that's much more practical than other heritage bags. Nowhere is this more apparent than the 18.5″ outer zipper that allows you to access the main compartment even if the top is tightly rolled, a godsend for when you don't want to unpack everything to grab something at the bottom.
[Related: The 7 Best Waxed Canvas Men's Jackets]
Koru Rucksack Straps
3 layers to shoulder straps: 10oz canvas, lightweight foam, bridle leather
Leather tanned in PA
Easily adjustable
Sternum strap
Uses hooks, not buckles
Another way this bag pulls ahead of the competition is the straps. Many traditional canvas backpacks use belts and buckles that look great — believe me, I'm completely in love with my Filson Journeyman — but guys who know anything about backpacks know that belt holes don't offer the world's most precise ergonomic experience. In other words, there are only so many lengths you can adjust a buckle to, but the adjustable shoulder strap system on the Koru Rucksack is much friendlier on the back and shoulders, which is especially useful given it's a large bag that can carry serious weight.
The shoulder straps themselves are constructed with three layers, all wrapped in nylon webbing: there's a base layer of 10oz canvas, a middle layer of lightweight foam for comfort, and a top layer of bridle leather from the Pennsylvania tannery Wickett and Craig. Bridle leather is also used on my Filson Journeyman and a lot of rugged bags; it's both strong and flexible, so it's great for outdoorsy backpacks and bridles.
The bag also comes with a very handy sternum strap, which is fantastic for taking some weight off your back and shoulders. The sternum strap is strong but subtle, it's easy to use but it doesn't dangle by your chest, all thick and ostentatious, if you decide not to.
On that note, there's no belt on this bag, which may be controversial: yes, a belt helps to lighten the load on your back, but it can easily come off as bulky, cumbersome, and… uncool. Let's be honest: if you're actually mountaineering with a million pounds on your back, a belt strap is important. But if you're carrying lighter loads around a city, it can look a little dorky and out of place. Then you might decide not to use it, but the belt is hanging open at your sides. I had a Kathmandu backpack like this for ten years.
So, I like the strap system on the Koru: the sternum strap helps to better distribute weight, but the lack of belts make for a minimalist, stylish approach.
Finally, the sternum strap and the strap used to secure the rolltop are hooks, not clasps or buckles. This is another reason the bag is very easy to get into on the go.
Ripstop Canvas
10oz waxed

ripstop

canvas
Made by Fairfield Textiles, NJ
Also available in tan waxed canvas and blue "konbu"
I grabbed the "Pacific Moss" color of the bag because I think green is the most versatile color for backpacks. (It works with earthy tones and black-and-white.) There are currently three different colors and three distinctly different types of material you can get this bag in.
The Pacific Moss is made with a 10 ounce, waxed ripstop canvas from Fairfield Textiles in New Jersey.
What's ripstop canvas? It's extra tough canvas. Often used in outdoor tents and canopy covers, it's woven with a reinforcing technique that makes it extremely resistant to tearing and ripping. The reinforcement yarns produce a slight grid pattern that you can see above; aesthetically I prefer less complicated patterns, but ripstop has grown on me, and the extra strength it confers brings me comfort when I'm out in the wilds. Even if it does rip, the crosshatched threads on ripstop stop the rip from tearing the bag right open. That's extremely useful if you're on a long trip and can't get a hole fixed or replaced.
(Not that it'll tear. It's very tough.)
I actually asked Tanner Goods why they went with ripstop, and they said it brings,
a new texture into our bag collection while still offering the familiar wear characteristics of waxed canvas. Rip stop is a timeless, utility-driven fabric inspired by outdoor applications. Its simple, but effortlessly classic. We loved the large proportions and the dynamic surface of the material. Like our Field Tan, Pacific Moss will break in with the unique folds, scuffs and general wear character that each customer's adventure will bring to their bag.
The other two colors are the Field Tan (above), which is a more traditional, non-ripstop, non-griddy waxed canvas, and the Navy Konbu. Konbu is a very lightweight, milled fabric from Japan that combines Cordura 500D nylon fibers with a durable water repellant finish to make a bag that's weather resistant and 43 percent lighter than the other versions of this bag. (The main complaint people make about canvas bags is that they're heavy, so many were grateful to find a konbu version of the bag.)
So those are your three options for the Koru — all very cool all for their own reasons.
Tanner Goods Koru Rucksack Price
This bag costs $390.
You might find that a little pricey, especially given the fact that it isn't made in the USA, it's made in Mexico.
However, the materials are all from the USA, the craftsmanship is top notch, it's an heirloom backpack that'll last decades, it's comfortable and ergonomic, and the material is insanely tough and resistant to tears, water, and everything else.
It's also worth remembering this is quite large at 34 Liters. I've written quite a lot about heritage backpacks and I know the average cost — if you take a look at this article of ~20-liter heritage canvas backpacks, you'll see that although they're all much smaller than the Koru, they still average between $300 to $350.
So, for the size, I think the price is fair.
Koru Rucksack Alternatives
Still don't believe the price is fair? I did a ton of research before landing on the Koru, and these are the closest alternativves:
The Pathfinder – Duluth Pack – $360 – 37 Liters. A fine bag, but it has a lot of buckles, no laptop sleeve, and it's not waxed.
The Summit Boulder JCT – Frost River – $270 – 39 Liters. I really like the storage compartment for dirty clothes at the bottom, but the buckles are a bit annoying, I don't like the webbing on the side, and this drab color is the only one available.
The Fitzroy – Mission Workshop – $330 – 40 Liters. This is much more modern than the other offerings we've discussed, which some might not like, plus it's more branded than I'd like and the waterproof interior is made from a loud, crinkly material.
I've made a big spreadsheet of competing products and could go on, but outside of the Koru, there's nothing I've found that ticks all the right boxes for me. So I'm fine with the price.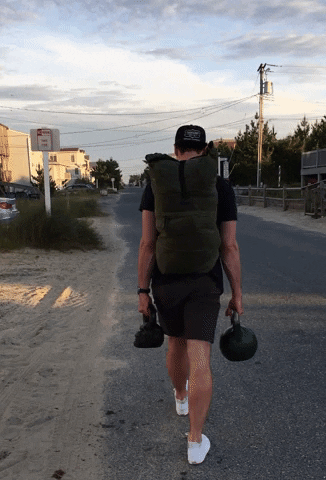 Tanner Goods Koru Rucksack Pros & Cons
Pros
Waxed

ripstop

is hardy, ages well, looks great
Melds heritage and sleek, modern design
Sternum strap is great for heavy loads
Laptop sleeve
Available in 3 materials and colors
Cons
Made with US materials, but not made in US
You may not love

ripstop

's "grid" pattern
Hard to access front pocket
No interior pockets
No belt
As Rob at Tanner Goods told me,
Bags are actually a pretty personal product. Each person is unique and the real difference in our bags is the beautiful way they continue to reflect that individual experience long after they are purchased. Occasionally, a customer sends one to us for a repair simply because it has been so heavily used. Rather than toss it, or donate it, they want to repair it because of the adventures they've had while using it.
That's why it's worth spending extra on a waxed canvas bag like this. Like selvedge denim and Goodyear welted boots, a bag like this becomes more you as it ages. And when I say it ages, I mean it'll last ages — this is an heirloom quality bag. I've looked across the industry; this is a good price for a great bag. I acknowledge that the front pocket is very frustrating, and I would have liked an interior pocket for valuables. Some might find the lack of belt or the lack of a "Made in the USA" sticker to be a dealbreaker. If that's the case for you, I get it!
For my money, though, I love the way this bag's tough construction and materials pay homage to my forefathers while the modern design plants it firmly in the 21st century. It's an eye-catching bag, I know I'll have it for decades, and it lives up to Tanner Goods' motto: "worth holding onto."
The following two tabs change content below.
Nick English
By day: Manhattan-based journalist with reporting experience on four continents, published in Vice, Men's Health, Popular Science, and a bunch of other places.By night: ravenous consumer of anything and everything related to high end men's boots.Stridewise is where I nurture a maniacal obsession with footwear and share my findings. Say hey:
[email protected]
.
Latest posts by Nick English (see all)