If you love your work boots and all things Americana, then it's more than likely you've looked on in simmering admiration of those who can pull off a great pair of cowboy boots.
Cowboy boots evoke images of working in a vast unspoiled wilderness, of self-reliance, of the smell of campfire, and tangible deeds in exchange for honest pay. It's as if you could slip them on and be transported into that world. A world that would look quite a bit like the Chisos Mountains, the landscape that inspired Will Roman to create the Chisos Boot Company.
It has been covered elsewhere in greater detail, but here is the Cliffs Notes version: Will Roman was raised in Houston, around boots his entire life, wrestled in high school, studied film at the University of Texas, went into technology, hurt his back in a motorcycle accident, and became disillusioned with his career. He began missing Texas terribly, and in a Eureka moment worthy of Doc Brown from Back to the Future, realized that he should make a cowboy boot as comfortable as a sneaker. The path then led him to an apprenticeship in Guanajuato, Mexico where he learned to make boots the old fashioned way: cut without cutting corners.
Now the challenge was to combine the cowboy boot archetype with a modern comfortable insole. He had to fit all that stuff into the footbed and have enough room in the foot cavity, so he autopsied his competitor's boots. He deconstructed them. Split them down the middle, Rose Anvil style.
What he found astounded him. His competitor's boots were thin, very thin, with only a few millimeters of stacked leather between the foot and whatever sharp edge you may step on. This gave him a tremendous opportunity to design a cowboy boot from the inside out. Chisos was launched in November of 2019 to great attention in the boot community.
But was he successful? Let's break it down.
Chisos No. 2 Pros & Cons
In a hurry? Here are the pros and cons.
Pros
Extremely comfortable; this is industry-changing, sneaker-like comfort.
Excellent, small shop craftsmanship.
Incredible arch support.
Can be resoled.
Quick break-in; mine felt broken in as soon as you put them on.
A high quality, leather coated gel insert is included.
A portion of the proceeds of sales go toward preserving Texas' natural spaces.
Cons
Slippery leather soles. You can apply rubber sole protectors but note that with wear, though, the leather soles will get beat up and their grip will improve.
The price, which isn't low, but is in line with the boots' quality.
The use of Celastic for stiffening may bother some purists.
Their Mexican origin may turn off die hard made-in-USA guys.
The Chisos No. 2: The Look
The No.2 is classic styled cowboy boot with an 11" shaft and a 1 ⅝ heel with a refined square toe. They come in two colors, "Brushed Brown" and "Magic Black;" two widths, D and EE, half sizes from 7 to 12.5, and then whole sizes 13, 14, 15. They are $545 USD and available through Chisos on their website.
One of the things that I admire about the Chisos Boot Company is their transparency in everything, from each tiny detail of construction to where they source their leather. I have spoken with many companies over the years that guard these details like The Colonel's Secret Recipe. Will Roman was very forthcoming in our conversation, and as you will discover as we get inside and outside this interesting and comfortable boot.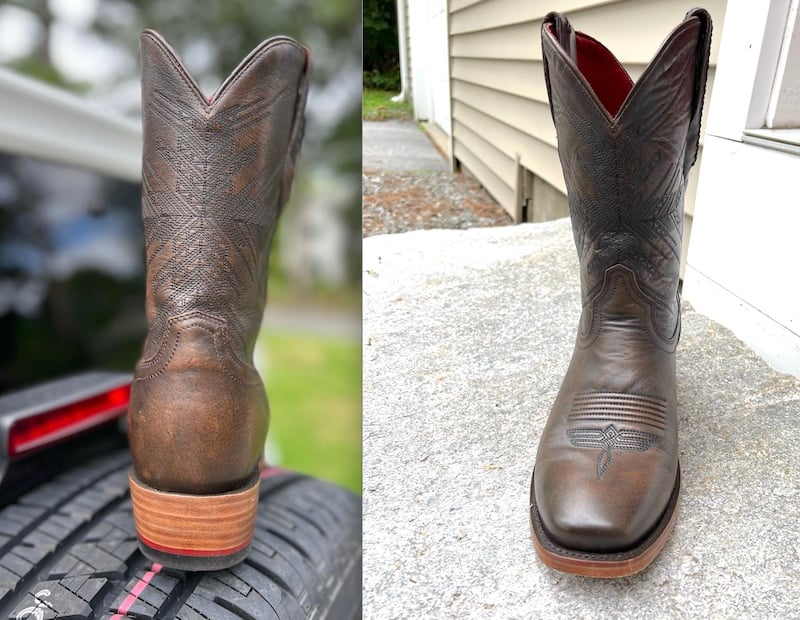 The Chisos No. 2: The Fit
Available in regular (D) and extra wide (EE) widths
Order your true size, measured on a Brannock device (this is likely a half size smaller than your sneakers)
For this review, I was supplied with the Chisos No. 2 in Brushed Brown. These are 10 EE, and I usually take a size 9 ½ Wide in boots, which typically run large — but that's not the case here. These boots fit me perfectly with a medium weight boot sock, as if they were made for me.
A good cowboy boot should allow your foot to slide in easily, then pop in place. The boot should then grip you around your instep like a reassuring handshake; the vamp of the boot will conform to your foot in time, as will the heel, so if there is a little heel slipping, don't be too concerned unless your heel is really rattling around in there.
The most important part is the toe box. If you are crammed in as if you're trying to make a wish with your toes, then they do not fit. It has been my experience that the toe box of any boot never stretches, no matter how much wish-energy you put into it.
[Related: How Should Cowboy Boots Fit?]
Chisos' Leather Quality
Made sustainably from retired dairy cows
Combination tanned
Known for durability and patina
The Chisos No. 2 is made of their "Heritage Cowhide" that goes through a proprietary softening process. This is not calfskin; they decided early on, for ethical reasons, that they did not want to use it and so this inspired them to be creative in their mission to make for a softer, more comfortable boot. The product page on their website says "Heritage Cowhide," their euphemism for Retired Dairy Cow leather, which they disclose elsewhere.
They prefer these hides over calf due to their durability, character, and because it is a sustainable and reliable source for high quality leather. The leather is remarkably smooth and soft with fantastic finish. This full-grain, hand dyed leather is used both inside and out: 1.7mm on the outer layer with a 1.2mm for the lining.
The color of the outer leather is a rich brown with coppery highlights that has a lot of shade and depth and captures the light beautifully. It's the type of leather that gets more interesting with use, age, and wear. The lighter areas help to hide scuffs and scratches and provide a nice contrast as if layers of polish were applied in tans and browns.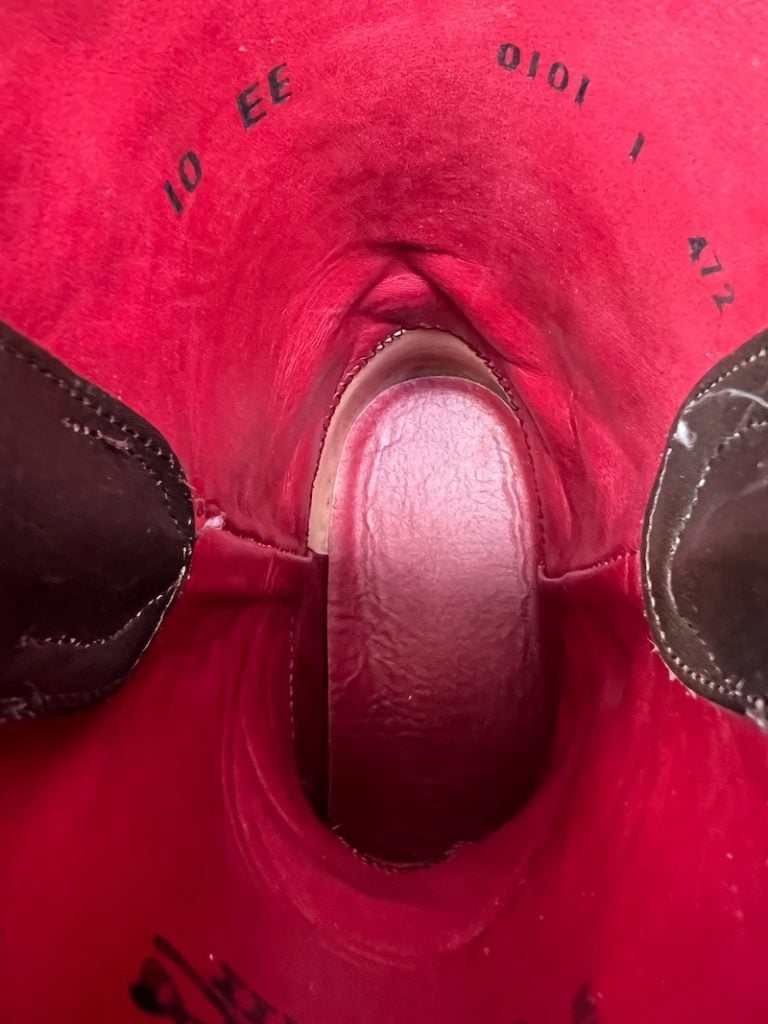 The inner lining is a rich, visceral red that is very comfortable and smooth, an important quality as you slide your sock through it. It even has hidden seams, so there is no chafing. I should mention that since it is red and red is not a hard set dye, you should not wear white or light colored socks with these boots. Unless you like the idea of pink socks.
Let's go through the sole and insole, since it is a huge part of the identity of this boot, and then work our way around the rest.
Chisos Construction
Cushy, removable insert with shock absorbing gel
Veg tan leather insole
Cardboard midsole layer to reduce squeaking
Resoleable, water resistant Goodyear welt construction
Steel shank
Many cowboy boots have a vegetable-tanned leather insole with a canvas ribbon welt for attaching to the boot. This is the typical factory made process, but it adds a weak point and an extra seam that could let in moisture and degrade over time. Chisos went back to the old fashioned way, before efficiency and cost were of primary concern: they use a hand-channel-welt into the thick leather that they peel back and sew the welt to, creating a solid integrated construction that will not fail. This also makes them resoleable multiple times, increasing the value per wear.
Between the insole and outsole is an 18 gauge steel shank providing excellent rigidity, and support. (Shanks help a boot to keep its shape and stability over time, a particularly useful component with heeled boots.)
Above it is an additional midsole layer of compressed cardboard added, according to Will, to reduce the squeak of the two soles rubbing together while the boots are breaking in. For the sake of tradition, I think this would have been better had it been omitted or some other natural material been used. Nicks Boots uses rubber. However, I get that it performs a function and that Chisos is making tweaks to the traditional design. I just feel that this, and the use of Celastic in the heel counter and toe box, as we will discuss later, argue against the idea that this is a wholly traditionally made boot. That's not necessarily a bad thing, though — this is a company that's trying to innovate while staying true to its roots.
The sole is attached with a Goodyear welt, to protect the stitches from premature wear with the channeling on the outsole. It also has lemonwood pegs and brass tacks, showing a philosophy of redundancy and traditional overengineering. This is extended to the full-leather rand, which is a nice touch.
They have also added an insert: 11mm of cushioning comprised of impact dissipating gel that rebounds and remains pliant. It is topped with premium leather like a high end Dr. Scholl's. This is removable of course, but why would you? Much of the comfort of this boot comes from the insert as it supports your foot with a layer of softness, cushioning the impact of your footfalls as an internal shock absorber. This is one of the primary features of this boot. In fact, the interior of the boot was designed around it and so the boot is sized with consideration for the fit of the insoles.
I have worn mine around the cobblestones and uneven bricks of Salem, Massachusetts with extreme comfort even after hours of chasing after my five-year-old. One of the things I appreciated was the ankle support: when a loose cobblestone rolled like a barrel in water, I had enough support to recover quickly without my foot folding at the ankle. The best part was that after hours of wear, my feet didn't suffer the normal fatigue from walking in the same footwear all day. I credit this to the design of this excellent insert.
The best part was that after hours of wear, my feet didn't suffer the normal fatigue from walking in the same footwear all day. I credit this to the design of this excellent insert.
When you look at a cross section of these boots, the soles look like layers of stratum with the impact dispersing gel near the top. This adds to an extremely comfortable boot with incredible stiffness and support.
Chisos' Heel
The heel has a rubber cap emblazoned with the outline of the State of Texas, and above it is a distinctive red layer that is the mark of Chisos. Louboutin has red soles and Chisos has a red band. It is nice way to make them recognizable without a visible logo. Above this are rich layers of stacked leather like the handle of a Ka-Bar.
It is a nice, solid, traditional style heel that is not too tall. To me, it felt firm and solid when I placed my foot. The heel also feels the perfect height at 1 ⅝". Some cowboy boots feel as if you are wearing high heels and pitching slightly forward. These do not have that feeling. With the aid of the cushioned insole, you have a solid balanced stance as you stride the world like a colossus.
The Heel Counter
The heel counter is the stiff structure at the back of the heel that provides shape and support so that your foot is not flopping around in your boots. This is the structural backbone of the boot and when done correctly it will last and allow the boot to be resoled. It cannot be replaced so if it fails, the boot is done.
Many modern boots use basic plastic for the overall structure of the heel that can crack over time, and it does not allow it to conform to your particular heel. The finest bespoke boots use leather exclusively. Chisos uses a stiff outer leather, Celastic and then another thick piece of shaped leather. Celastic is a moldable form of plastic-infused fabric that is softened with a solvent and then worked with quickly before it sets. It starts out rigid and breaks in over time, so it has that advantage over plastic.
I understand that many fine boot makers use this substance, even Nicks and White's use Celastic in their toe boxes. Using Celastic doesn't make a boot poor quality, though I would prefer if they used leather or even leather board given their price.
For me, the heel counter feels reassuring. My heel does not rise as I walk, yet the counter provides support as I move over rougher terrain. It's difficult for me to say how much it may or may not have conformed to my heel in the month or so since I have been wearing them. They have been so comfortable out-of-the-box and with so little break-in, that it has not been an issue. Suffice it to say: the fit is great, my heel stays in place and I feel supported. What more could I ask for? Full leather, I suppose, but I'm very happy with the comfort.
[Learn more: 12 Tips for Breaking In Tough Boots]
The Toe Box
The toe of these boots is rather square, but not overly so. Certainly not like the blunt ended shoes some of us wore back in the 90s. These are elegantly angular, providing ample room for wiggling toes, yet not so much that my foot is shifting around. I find the dimensions extremely comfortable and stylish.Chisos have nailed the balance between comfort and fit. Also, the shape makes them just a little bit more casual, which I appreciate.
If you want something more pointed, though, look to the Chisos No. 1 with its rounded toe.
The Shaft
The shaft of these boots is made from premium leather with a 1.7mm thickness. It features front and back designs inspired by petroglyphs found in the Chisos Mountains in Big Bend National Park. These look a bit like the Nazca Lines and are highly stylized and very beautiful. They are also expertly applied, sewn by embroidery machines from the 1940s without a mistitch or loose thread. As stated above, the boot is lined with 1.2mm premium leather dyed a gorgeous red.
It features front and back designs inspired by petroglyphs found in the Chisos Mountains in Big Bend National Park.
I have had cowboy boots where the shaft is constantly fighting with me as I walk, tapping my shin and calf as my leg moves around within it. I did not have any issue with these.
Where Are Chisos Boots Made?
Chisos are made in León, Mexico
The short answer here is León, Mexico, a city famous for its leather goods. (See our trip to Thursday Boot company's factory there and Lefarc Tannery.) This city is renowned for the quality of its leather goods and the skill of its cobblers.
Where a boot is made can start a contentious debate. I think it's more important who is making your boots, and Chisos has the same small team of craftsmen that helped Will when he was searching for a mentor to teach him bootmaking.
We have certain preconceived notions as to who is making an item in a certain country, but when you look closer, our romanticized notions are not always based in fact. For instance, some luxury goods labeled "Made in Italy" have been made in factories using immigrant labor in the Tuscan countryside with components from China. (This while we imagine Guisseppi at his workbench.) Some American boot makers are sewing together panels stitched in Mexico or elsewhere. Sometimes the closer you look, the more complex the situation is. It is a global economy after all.
With Chisos, you can be assured that Will works with a small team and keeps a very close eye on the quality of his boots. He is currently working on a training facility to teach the next generation of cobblers. Sustainability is built into his business model at all levels.
The quality of the boot itself is self-evident. However, if you only buy boots Made in the USA, then that is a consideration.
Chisos Boots Price
At $545 these boots are not cheap, but consider that they are half the price of some well-known cowboy boot brands and feature superior craftsmanship to them. Cough! Lucchese! If you want to see the proof of this for yourself, then I recommend this video above from our friend Weston at Rose Anvil.
Chisos are resoleable so you can get decades out of these boots, but Chisos cannot resole them due to limitations in NAFTA. You can ship finished goods over the border, but it's a bit tougher with goods to be repaired. That said, any neighborhood cobbler can resole these and this makes the per-wear value of these boots. It is always best to buy an excellent product once than to keep replacing inferior versions of it.
To me, this is a very fair price for the level of craftsmanship and extreme comfort of these boots. It is certainly in-line with other handcrafted boots in the market.
[SHOP THESE CHISOS BOOTS HERE!]
Chisos Boot Care
To care for your boots, first get a horsehair brush that is comfortable to hold. Brush your boots thoroughly and this will dislodge any dirt and restore the boot's natural luster.
Avoid a wet cloth for your first pass, as it can turn dirt to mud and drive shards of dirt into the grains and seams. Likewise, some chemical soaps and cleaners can add layers to the leather, making them gooey — then they will attract more dirt.
After a thorough brushing it is recommended by Chisos that you condition them three or so times a year, depending on use. You can use Bick 4 to preserve the color or whatever conditioner you prefer.
Always allow your boots to dry out naturally and thoroughly. Do not use heat to dry them as it can shrink or warp the leather.
Chisos recommends a light covering of mink oil for waterproofing. Personally, I don't wear mine in the rain.
[Related: The Best Leather Conditioners for Boots]
How to Wear Chisos Cowboy Boots
How you style your cowboy boots depends a lot on where you are from. Parts of the West, Southwest, Mexico, and Canada have their own ways and I wouldn't attempt to tell a Texan how to wear his boots. But if you're from the Northeast or other parts of the world and this is your first foray into cowboy boots, here are a few tips.
Cowboy boots are a statement, so you may want to balance these out with other classic, paired down items. These boots look amazing with a dressy pair of jeans, white oxford shirt, and a trucker jacket or blazer.
You definitely want to choose jeans or pants that fit over boots, so boot cut is the call here. For a very casual or rock n' roll look, a pair of weathered jeans fit the bill perfectly, especially if you have a collection of oversized skull rings.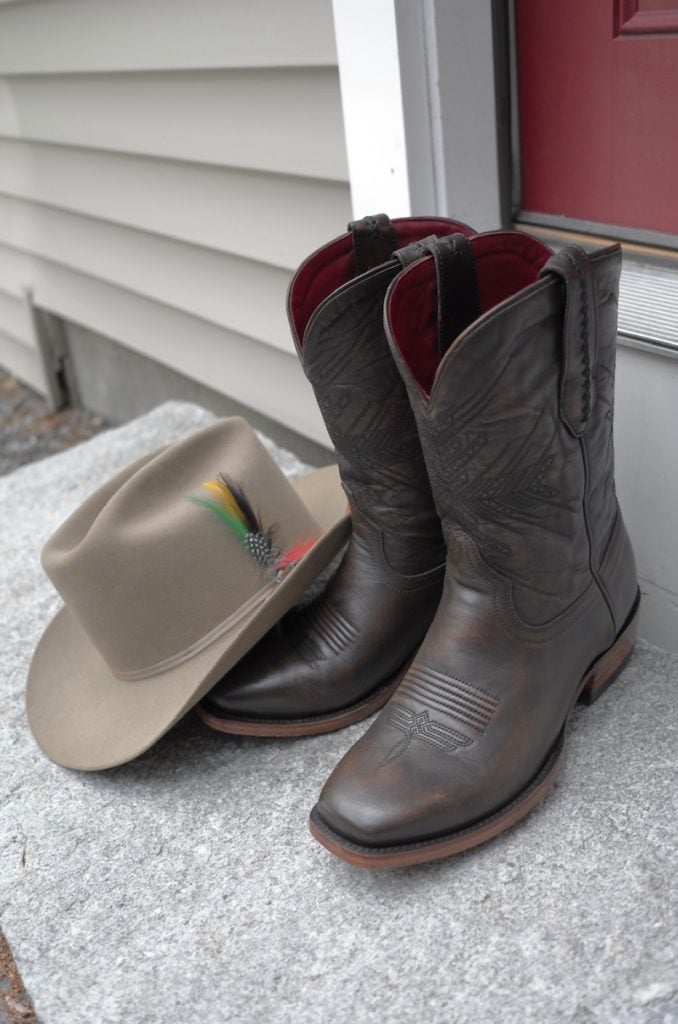 Other western inspired pieces look great with them. Have I shown up at the Trader Joe's here in Massachusetts with these boots, Wrangler Retro Boot Cut jeans, that Levi's Wester Shirt (you know, the one with the snaps), my short Filson Lined Cruiser, and my 6X Range Stetson cowboy hat? You bet I have. But if you want to make it more subtle: a nice turquoise ring and Argentinian Polo belt, with your jeans and a white shirt is brilliant.
Want to dress them up? They also look great with tweed pants and thick Submariner Sweater. I love to pair them with items I've collected in my travels: Irish Sweaters, Safari jackets, Belstaff Racemaster Jacket. It gives you a very interesting look that resonates with sophistication; a man of the world telling a story through his clothes. Whatever you do, make this look your own.
We all know that cowboy boots are much more romanticized outside of the places they are popularly worn, and cowboy boots can make a big statement. There are dressy styles with extravagant embellishments and colors, and working styles that are plain and used for working. These fit somewhere between these extremes. They shine up perfectly for a night out, but are tough enough to be worn around in more punishing terrain. However, for me, at this price point, I am cherishing them and wearing them for weekend wear and out for a nice dinner.
Wrapping Up
I feel like every American man should own a pair of cowboy boots. It is the heritage of our rough and tumble, ruggedly individualistic nation. They represent our highest aspirations: to be free and self-sufficient, yet we pitch in and help a neighbor when they're down. Cowboy boots are emblematic of the best of us and who we hope to be. Somehow wearing them makes you feel like you are putting your best self out there: someone nobler, braver, and able to withstand anything this century has in store.
These boots carry all of these aspirations lightly. Will told me that he "just wanted to make a boot." He is an unfussy man, and he did just that. When we were speaking of car analogies and I asked him where he saw Chisos between KIA and Lamborghini, he answered, "Chisos is the F-150 Platinum" of boots. Truly, he understands his customers and how to make a solid comfortable boot.
Cowboy boots tie you into a long tradition of freedom, self-reliance, and adventure. Plus, no one will forget you at Trader Joe's.