If you've searched for the best moc toe boot, you've probably come across these two iconic, American made boots: Red Wing and Thorogood. The two are locked in an eternal struggle for superiority, and they have a lot of similarities: golden oil tanned leather, white wedge soles, cork midsoles, triple stitching, and a whole lot of American heritage.
Some might look at the two and think that there can't be much to compare, but there are actually multiple differences with regard to the leather, the aesthetic, and especially the construction of the sole that you should know about if you're considering making a purchase. I've worn both of these boots — Red Wing's 875 in Oro Legacy Leather and Thorogood's American Heritage Moc Toe in Tobacco — for months on end so that you can determine what's best for your needs.
[Team Red Wing? Shop the boot here.]
[Prefer Thorogood? Shop it here.]
Red Wing vs Thorogood Aesthetics
OK, let's put those similarities in bullet point form:
White wedge outsole
Cork midsole
Oil tanned leather
Made in USA
Triple stitching
Moc toe style
"Moc toe" is short for mocassin, by the way, a style borrowed from traditional Native American shoes. (It's derived from an Algonquian word from Virginia, makasin.) Relative to service boots, the style is meant to give you some more flex in the foot and protect the toe box from scuffs.
Aesthetically — we're just talking about appearances for now — Red Wing has a more subtle look. While both boots have triple stitching along the side and double stitching on the counter, Red Wing uses contrast stitching, meaning only one of the stitches is bright white. It makes for a more muted appearance that folks who like simpler wardrobes might prefer. (Yes, this is the most superficial part of the comparison.)
Thorogood not only uses bright white stitching, but there's also a line of three stitches running along from the top of the counter to the end of the eyelet panel, in addition to a Thorogood logo on the heel, another on the tongue, and an American flag.
[More Moc Toes: The 7 Best Moc Toe Boots On The Market | Best Value, Toughest, Best for Work, and More]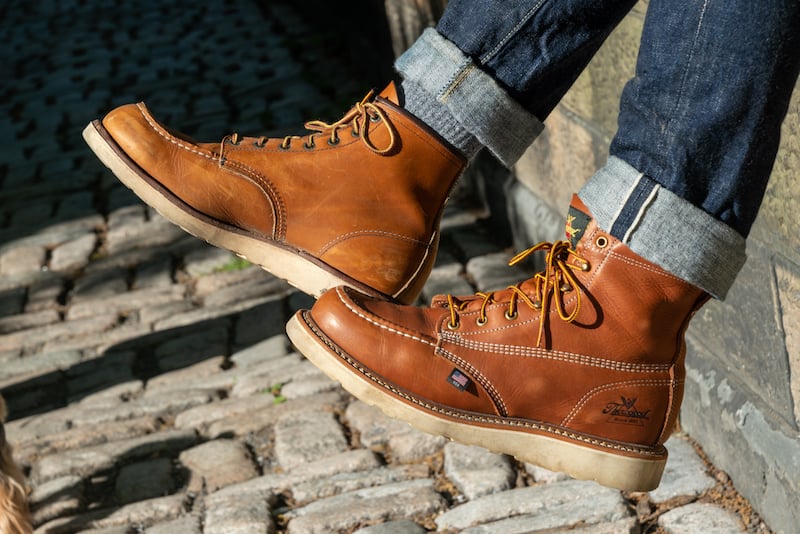 It's really worth emphasizing that Thorogood also uses speed hooks and a leather pull tab, so it's way easier to get on and off, making for an argument that the Thorogood is more "functional." In the sole section below, you'll also find a few other details that support this claim.
But all in all, the biggest differences when you look at them is the stitching, logo, flag, and speed hooks. Thorogood's a louder boot, in other words. But hey, it's easier to put on.
[See my comparison of Red Wing vs Thursday Boots here!]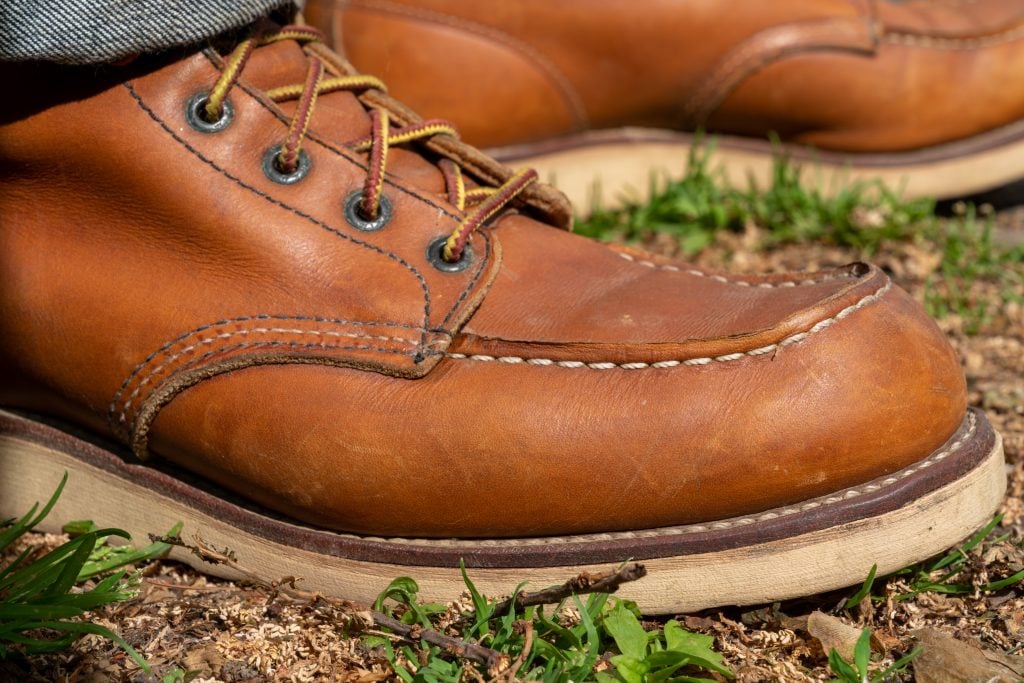 Red Wing vs Thorogood Leather
Both appear to be chrome tanned and oil tanned
Red Wing's is thicker and oilier, though the break in is tougher
As far as the leather goes they're both described as oil tanned, which actually isn't very descriptive: sometimes that means a leather has been vegetable tanned then oil tanned, sometimes it means chrome tanned then oil tanned, but I understand they're both chrome tanned and oil tanned.
I've got a full guide on the differences between vegetable and chrome tanning but in short, chrome tanned leather tends to be a bit softer and take on color more easily. (Veg tanned takes longer to make, is better for the environment, is pricier, and might last longer. This is a very condensed summary.)
But the leathers aren't identical. Red Wing's is less grainy, it's thicker, it's oilier and it's waxier — meaning that while it's not quite as comfy out of the box, it'll age better and it won't need to be conditioned quite as often. (That said, oil tanned leather in general doesn't need a lot of conditioning.)
To be clear, Thorogood's leather isn't poor quality. It gets the job done and again, it didn't give as difficult a break in as Red Wing. But, perhaps because they own their own tannery, Red Wing has better quality control and I consider their leather superior both aesthetically and functionally.
The sole, though, is where you might find Thorogood pull sahead.
[Take a look at my full review of my first Red Wing moc toes]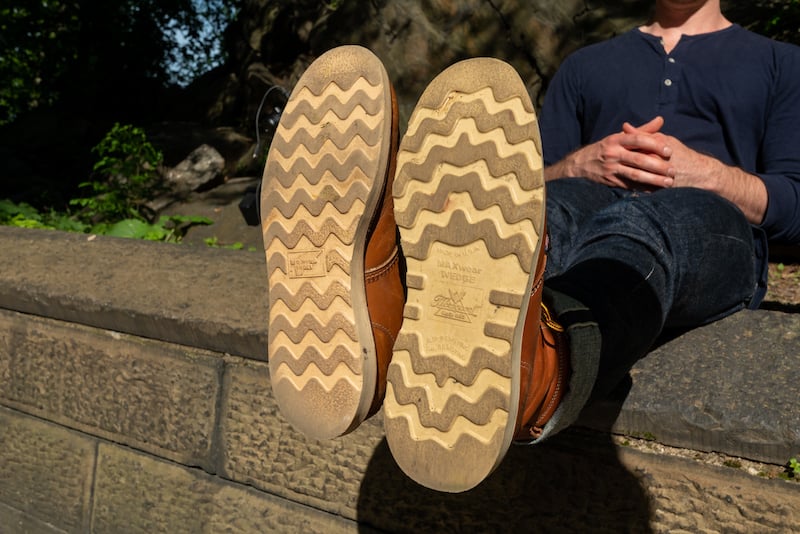 Red Wing vs Thorogood Sole
Here are the main points:
Red Wing Sole
Crepe rubber outsole
Cork midsole
Leather insole
No shank
Goodyear welt
Thorogood Sole
Polyurethane outsole
Resistant to (some) electrical shock, oil, slippage
More lightweight
Fiberglass shank
Shock absorbing insole/footbed
Storm welt
Yes, the grip is largely identical, but the sole is where things get really different.
[Related: Crepe soles, what are they and are they good?]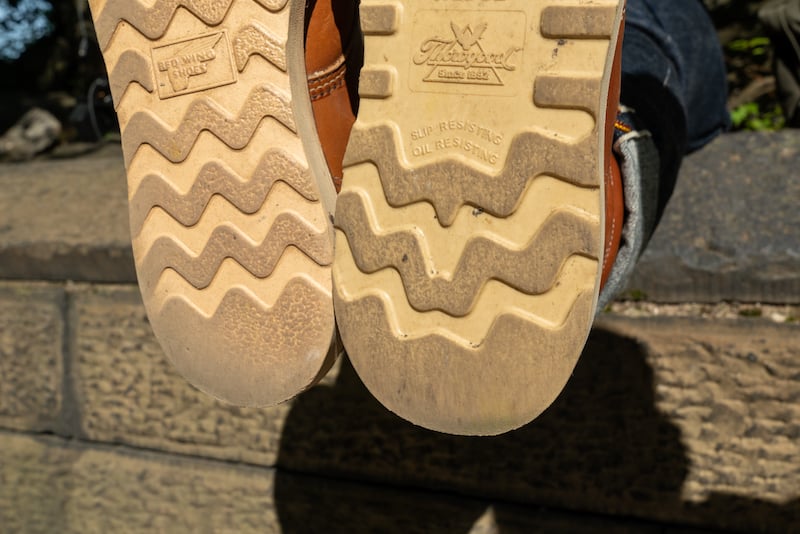 Red Wing's sole is crepe rubber, the same kind of inexpensive rubber used on the very flimsy Clarks Desert Boot, but Red Wing's is much sturdier and thicker. Made from running coagulated latex through rollers, Red Wing's crepe is solid but more porous than the Thorogood's sole.
Red Wing also has a cork midsole and leather insole, both of which mold around your feet the longer you wear them. This is a really old fashioned way of making heritage boots and it means they become more comfy as the months and years pass.
However, unlike Thorogood, there's no shank in the Red Wings. That's a piece of hard material (usually steel) that's placed under the midfoot to provide some arch support and stability to the shoe, especially as it ages.
Finally, the upper and sole are attached with a Goodyear welt, a means of attaching the two that makes them really easy to resole because they're both attached to a welt instead of to each other. It also makes them much more water resistant than "cemented" (glued, in other words) soles you find on sneakers. These are tough boots; you can wear them in rain and snow.
[Related: Goodyear welt vs Blake stitch, which is better?]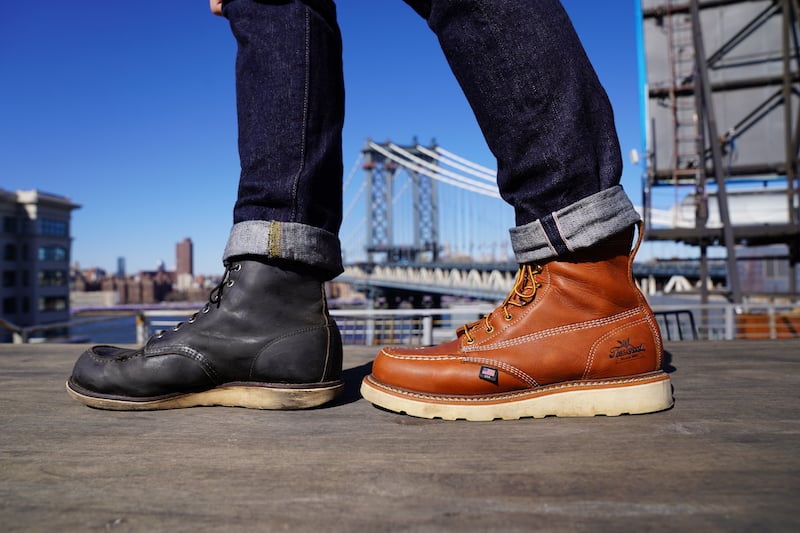 Thorogood's sole is different in almost every way.
For starters, the outsole is polyurethane, and Thorogood makes it themselves. Traditionally, they used a Christy Vibram sole that was made of blown rubber, but they swapped it out for a polyurethane one that they say lasts 25 percent longer than Vibram.
The sole is also more work friendly: it's oil and slip resistant, plus it's resistant to electrical shock, able to withstand
an application of 18,000 volts at 60 Hz for 1 minute with no current flow or leakage current in excess of 1.0 milliamperes under dry conditions.
As I alluded to before, one of these boots is more often used in actual work situations. Linemen, electricians, plumbers, they all tend to go for Thorogood. I worked in a warehouse myself for many years and saw a lot more Thorogoods than Red Wings. The 875 is a fantastic, tough, and durable boot, but it's not quite as recognized as a boot for work. More on that later.
Relative to Red Wing, Thorogood's sole is more lightweight and long lasting. The flipside is that it's a little harder — some older folks say it's not as friendly on the knees, but that really depends on your age, joint health, and so on. I haven't noticed that myself, but it's true the outsole doesn't compress as easily as Red Wing's crepe.
But that doesn't mean the shock absorption is worse: it's far better on the Thorogood.
That's because after the cork midsole, Thorogood has a Poron 4000 comfort cushion, a material that's used in a many sneaker brands like Adidas and Nike. Some boot companies, like Thursday Boot Company, use Poron in a few of their models too. The idea with Poron is that it provides cushioning with air permeable open cells that both resist moisture and help with absorb shock. Then Thorogood has a removable insole made with what they call their Dual Density Ultimate Shock Absorption™.
So, yes, the shock absorption is hands down better with Thorogood. Just know that all that fancy foam means it won't conform to your foot over time in quite the same way as the old fashioned Red Wing.
[See my full length review of the Thorogood moc toe here]
One last thing with the sole: both have Goodyear welts but Thorogood has a storm welt, a version where the welt curls up onto the shoe's upper. This provides even more water resistance, so it's got Red Wing beat in that category as well.
Red Wing vs Thorogood Price
Red Wing is about $100 more expensive
This section's nice and quick: the prices can always change (especially if you get seconds) but roughly speaking, Red Wing is $280 and Thorogood is $200.
Thorogood takes the cake for value.
[Team Red Wing? Shop the boot here.]
[Prefer Thorogood? Shop it here.]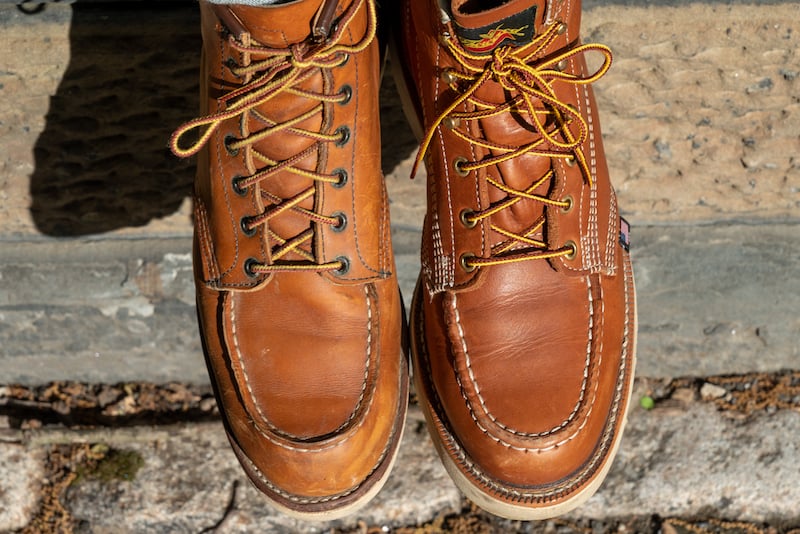 Red Wing vs Thorogood Pros & Cons
Here's your take home summary:
Thorogood
Lighter
Better shock absorption
More durable sole
Better for work
Better for wet weather
Easier to get on and off
Has a fiberglass shank
Cheaper
… which might make it sound like Thorogood is indisputably the winner of the two. I'd say that Red Wing's benefits are:
Red Wing
More traditional "heritage" look
Molds around feet better over time
Leather is thicker, ages better
Now, if you are a working man looking for something to wear on the job, it seems like Thorogood usually gets the win.
Red Wing is a shoe that I would recommend if you are less interested in what works best for electrician work and more interested in what looks stylish, ages well, and pays homage to the traditional ways of constructing boots.
The 875's cork-midsole-leather-insole construction is the way your granddad's boots were made, and coupled with the old fashioned brandlessness and the more outdoorsy leather, there's no shame in going with Red Wing if you like a pair of boots when they look cool, understated, and timeless. It's also worth remembering that the longer you wear the 875s, the more they'll feel like they've been made for you — you don't get that in the same way with Thorogood's thinner leather and foamy footbed.
That's it for my summary. Red Wing has a more subtle, simple aesthetic, the leather is thicker and better quality, and it ages better. Thorogood is more comfy out of the box, it's cheaper, and it's better suited for work.
Which one is your favorite? Let me know in the comments below, and I hope you enjoy whichever boot you land on. In either case, they're beautiful pieces of American heritage and they'll share your adventures for years to come.
[Related: My list of The Best Boots]
The following two tabs change content below.
Nick English
By day: Manhattan-based journalist with reporting experience on four continents, published in Vice, Men's Health, Popular Science, and a bunch of other places.By night: ravenous consumer of anything and everything related to high end men's boots.Stridewise is where I nurture a maniacal obsession with footwear and share my findings. Say hey:
[email protected]
.
Latest posts by Nick English (see all)