If anyone ever tells you that something's bad quality because it's made in China, you should direct them to Grant Stone.
This truly unique company was founded by an American motocross athlete in 2016, and while their boots come to your door from their distribution center in Michigan (where the CEO, Wyatt Gilmore, now lives) they're proudly made in sunny Xiamen in Southern China. (Fun fact: I spent two years living in Shanghai. People talked about Xiamen like it's Miami.)
Grant Stone is universally adored among Goodyear welt fans, with many claiming they deliver Alden-level quality (read: boots that cost over $600) at an extremely reasonable price. Are they right? Well, the fact that I bought my dad a pair of their loafers might tip you off, but let's take a look at their very new Chelsea boot to see if the hype stands the test.
Grant Stone Chelsea Boots Pros & Cons
Here's your summary:
Pros
Incredible value
High quality construction
World renowned leather
Surprisingly heavy duty
Good arch support
EE widths available
Cons
Not firmly dressy or casual
A little short and blocky for a Chelsea
Heavier than most Chelseas because they're so tough
Some people don't love that they're made in China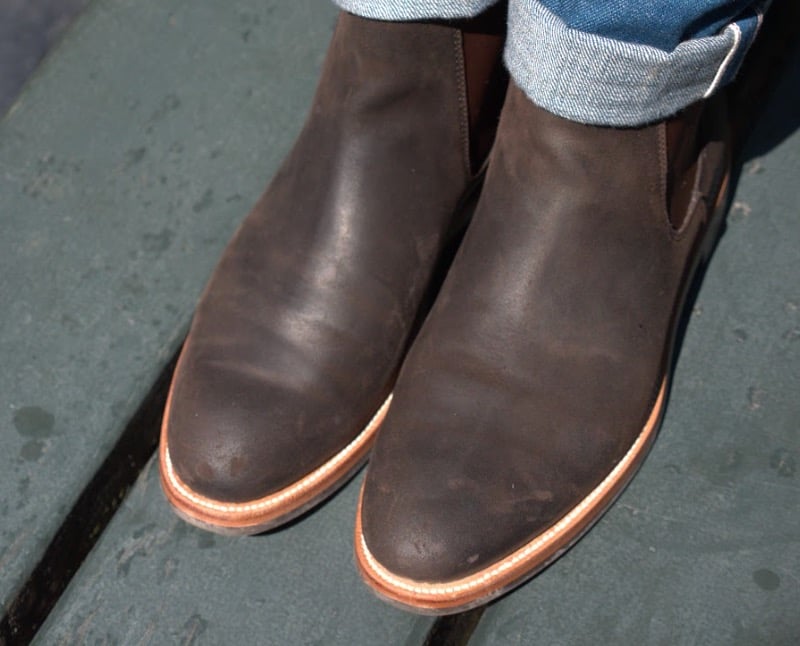 Grant Stone Chelsea Boot Aesthetic
Waxed suede upper
Studded rubber outsole
Full fit, not crazy sleek
Slightly square toe
So, we've got waxed suede on the upper, a studded rubber outsole, and the two are secured with a water resistant, resoleable Goodyear welt.
At about 5.5 inches high, the boots are a little shorter and stumpier than I'm used to with typically-elegant Chelseas. Grant Stone calls this the UK last and it's described as having a "fuller fit" with a slightly extended toe "for a sharper expression."
The toe has a harder angle than any of Grant Stone's other boots. It's almost a square toe, but it's not as angular as European or Australian Chelseas like Carmina or RM Williams, respectively, but it's more square than more casual Chelseas like those from Thursday or Red Wing. (Yes, I've reviewed a lot of Chelseas.)
It's right between the hard, angular, dressy Chelseas and the super outdoorsy, heritage-style Chelseas, with the idea being for it to be voluminous enough to wear all day long, but still wearable in business casual settings. It's a solid in-betweener.
Waxy Commander Leather
"Waxy commander" from C.F. Stead
1.6 – 1.8mm thick
Shrunk during tanning process
Tight fiber structure
Not much stretch
This boot is available in an array of leathers from cheaper suedes to snappy black and brown calf leather from Tannerie d'Annonay, but the one I picked up is made with the very famous Waxy Commander leather from CF Stead, which is also tied for the cheapest model at $328.
CF Stead is a very esteemed tannery and it's a hugely popular leather: it's suede but it's waxed, so it's hardier and far more water resistant. It's true you don't get the fuzzy nap you get from regular, unadorned suede, but it ages well, doesn't really stain, resists water, and upkeep is a lot less of a headache.
Grant Stone went with a thickness of 1.6 to 1.8 millimeters, telling me they chose the middle ground because if it were any thicker, it can feel quite tight. Indeed, this leather is shrunk during the tanning process so it has a tighter fiber structure and less stretch than some other leathers; you want to make sure you don't get a smaller size and hope it stretches out.
[Related: The 5 Best Leather Tanneries on Earth]
Leather Care
Given the surface and high wax content, the leather will naturally look distressed and hardy. To maintain the look, you're advised to brush it with a firm bristle brush, like a brass suede brush, and if the wax eventually wears away you're advised to add Dubbin wax, which is a mixture of wax, oil, and tallow.
What you don't really want to do is apply a lot of conditioner. A tiny amount might work to maintain or enhance the dark, rich color, but too much will penetrate the leather more than you want, as it's quite porous.
[Further Reading: How to Wax Suede Boots]
Grant Stone Boot Sole
Leather insole with cork filler
3mm leather midsole

Steel shank

Goodyear welt
This is Grant Stone's own micro studded sole, a pretty straightforward design that offers grip while still appearing nice and flat when viewed from the side. The studs are slightly more recessed than you'll get in a classic Dainite sole, which is intended to make it so you can't feel the studs when walking.
It's a tad softer than Dainite and it won't rattle your knees when you're walking. The shock absorption is decent, which is helped by the leather insole (which has cork filler and a steel shank) and 3-millimeter leather midsole. All those layers of leather make for terrific comfort as the boot ages, your foot heats the leather, and it molds it to your individual shape.
Finally, the upper and sole are attached with a Goodyear welt, which offers unlimited resoles and great water resistance to boot.
Grant Stone Chelsea Sizing & Comfort
Size down half a size
EE widths available
Firm arch support
Hefty feel
Grant Stone's founder Wyatt Gilmore told me that,
Both D and E width guys will almost definitely fit just fine in these.
The shoes run a half size large (like most boots) so if you're an 11.5 like I am, you size down to an 11.
As for what it's like to actually wear them? The steel shank provides great stability, the arch support is solid, and the shock absorption is improved by the slightly softer rubber outsole. But don't expect any fancy EVA foam or sneaker tech in these — they're very traditionally made, which is what a lot of guys love about them.
Indeed, the boots have some heft to them, due to the thick midsole and heavy, full grain, steer hide lining. All of this comes together to make a boot that feels quite heavy duty while still dressing up relatively easily.
Grant Stone Chelsea Boot Price
$328 – $370, depending on leather
A pair of these boots costs just $328. This and the Tan suede are the cheapest one; leathers like Chromexcel and calfskin are $370.
If you gave me these boots, told me they were made in New England, and they cost $500, I'd believe you.
The quality really is on par with high end boots — or "medium end" if you consider "high end" over a thousand bucks — and whether or not you've found something you take issue with, there's no arguing that these boots would easily cost $200 more if they weren't made in China.
The value is a big part of Grant Stone's appeal: some boots are inexpensive but they deserve to be inexpensive. Grant Stone isn't one of those brands. The materials and craftsmanship are worth more than they're charging, they're just one of the only Western-focused boot companies based in China, so they save a lot on production without hampering quality.
I think most people would agree with me that these shoes are pretty close to Alden quality, in construction and materials if not the last, and the boots are really well constructed: tough waxy suede, thick leather midsole, vegetable tanned leather all through the soles and the welt, there's a full grain leather counter, plus it's a boot that can be a work horse or a daily commuter.
Maybe it doesn't have a hiking ready Commando soles or whatever — you shouldn't wear Chelseas for hiking anyway, they don't secure the foot well enough — but it has a really nice balance of heavy duty and refined, all grounded in the traditional construction of a grail boot.
It's not super casual or super dressy, so if you want a boot that firmly lands in one of those categories, it's possible you won't love it. But it is a great boot for dark jeans or for khakis and any outfit that can sit atop them.
The main thing that might drive you away is if you want as much of your money to stay in the US as possible and you don't want to pay for boots made overseas. That's fine, you'll just pay a lot more for the same boot. (Materially speaking, of course.) The craftsmanship is top notch and Grant Stone's Chelsea boots can easily go toe to toe with $500 boots.