This post may contain
affiliate links
that at no additional cost to you, I may earn a small commission from.
Tricker's is one of England's oldest shoemakers, founded in 1829 by Joseph Barltrop and still in the family: his descendant Nicholas Barltrop runs the business today. Originally, the shoes were sold under the family name but in 1962, when Joseph's son married Claire Louise Tricker, they decided that Tricker was, well, just a snappier name, and so they changed it.
Not much else has changed, though. Tricker's is still renowned for their very classy dress shoes, quality calfskin leather, and their broguing, which are those little perforations on the toe cap. When these boots were first made two centuries ago, it was absolutely unacceptable to wear them anywhere other than out in the woods while hunting and whatnot because as classy as it looks now, the broguing signified a very outdoorsy shoe. The point of all those holes, counterintuitive as it may seem, was there to help with the water resistance — it's how they drained. That means they're for grassy knolls and that you should keep them the hell away from the dining room.
Today, you can wear brogue boots anywhere you're excited to rep the Commonwealth, so let's take a closer look at one of Tricker's most beloved offerings, the Stow boot.
[The Stow Boot isn't crazy dressy but these are – The 10 Best Dress Boots]
[GET THESE BOOTS EXCLUSIVELY AT DIVISION ROAD HERE]
Tricker's Stow Boot: First Glance
British country boot
"Substantial yet elegant" last
Collaboration with Division Road
360-degree Goodyear welt
Rich calfskin leather
To start, I need to make it clear that I'm talking about the version of the Stow boot exclusively made for Division Road, a very cool, Seattle-based luxury heritage menswear boutique. The main difference between this version of the boot and Tricker's other country boots is that the one from Division Road has a chunky Commando sole, while the regular Tricker's boot has a thick leather sole. There are a couple other minor differences — this leather is a tad less orange and more golden, and there's a slight color variation in the eyelets — but the sole is the key thing.
Some people will try to tell you that the Commando sole makes this boot less "classic" looking, but I think the benefits outweigh that. It's true the Commando sole has a less-streamlined profile than the leather, but it'll give you more grip and hold up better in bad weather. This one is attached with a 360-degree Goodyear welt, but it's an unusual kind of welt that I'll discuss more in the sole section below.
Since 1904 Tricker's has done all their manufacturing in Northampton, England and they call the Stow boot "the perfect example of the traditional Tricker's country boot." And it's definitely a very British boot. In fact, it's my first British boot, and the difference is noticeable from my American-style pairs: neither blocky nor sleek, the site describes it as "substantial yet elegant" which just about hits the nail on the head.
Stow boots undergo 260 individual processes to make each pair. They also have a half bellows tongue, meaning the tongue is stitched to the upper to increase the water resistance.
Of course the main event is this brilliant golden leather, a color called acorn or acorn antique. So let's take a closer look at that.
Tricker's Leather
Combination tanned calfskin
Burnished and polished
Unusually hard wearing for calfskin
Color dulls over time
This is calfskin leather, which Tricker's is known for, and it's a semi-correct combination of vegetable and chrome tannage. Long story short, chrome-tanned leather is usually flexible and has a nice sheen to it, while veg-tanned leather is more durable, molds to the foot better, ages well and develops a nice patina over time. Combination tanning shoots for the best of both worlds and it typically results in the nice depth of color you see here.
[Want to learn more? Take a look at my in-depth article on the differences between chrome and vegetable tanning here!]
There's a lot of polishing and burnishing to get this nice English finish, plus the "special mulling concoction" that Tricker's includes in the tanning process to infuse the uppers with oil. If you like knowing the tannery where your leather comes from, though, you're out of luck: Tricker's keeps that one a secret so that competitors don't steal this look. Division Road told me they think this leather is veg-tanned first and then re-tanned with chrome, so you can take that for what it's worth.
This is a very hard-wearing calfskin, a bit more rigid than you would usually expect. It's unusual; calfskin is often used on dress shoes or boots, not for clomping-through-the-English-forest-hunting-foxes boots. It'll take some time to soften up, especially in the first year of wear. That being said, I didn't have much trouble with the break-in except for a bit of abrasion on my pinky toe the first few wears.
Finally the color: a real buttery, golden leather. Over time it'll darken and soften (even in the first week of wear I noticed it darkened slightly) and develop a very nice patina over time. If you love the color out of the box, you've got some options for retaining it that I'll talk about in the next section, but these boots will always look cool, either way.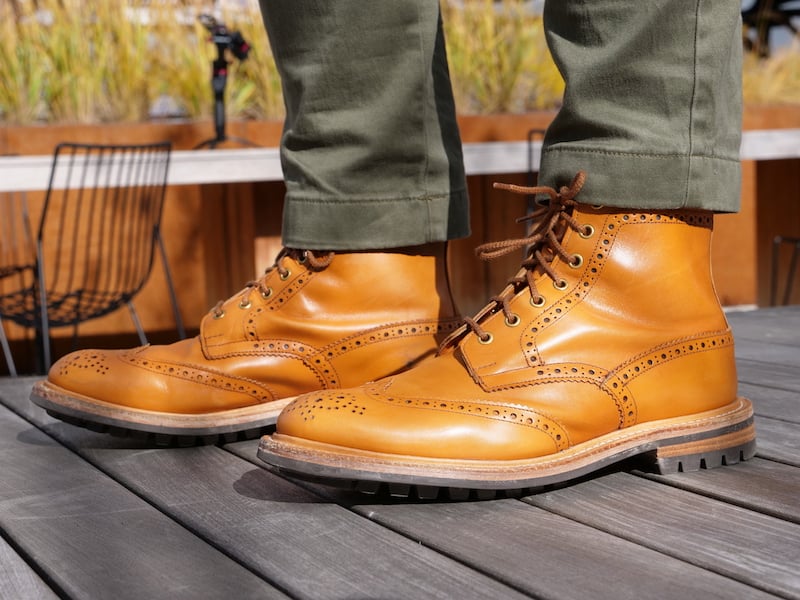 When the sun hits these boots they flare like a phoenix.
Tricker's Leather Care
Waxed polish is best
Tricker's sells their own polish
Alternate days wearing them
Don't forget shoe trees
When it comes to conditioning them, they like a good wax polish of the correct shade. You can always use Venetian shoe cream, which is ubiquitous and can be used on pretty much all leathers. If you're in love with the color, you should know that Tricker's has a polish in this exact shade so if you really hate the idea of it darkening or you just don't want to take any risks, it might be worth paying for the international shipping.
It's a good idea to alternate days wearing them so the moisture inside can dry completely. When they get wet, just leave them to dry at room temperature; putting them in from of a heat source, like a fire or a radiator, can dry out the natural oils.
Finally, always use a shoe tree to help the upper retain its shape. They say you should always use a shoe horn as well, but to be honest I can't be bothered and so far they're holding up fine.
Tricker's Stow Boot Sole
Natural leather midsole
9 iron leather insole filled with cork
"Barbour welt" is a little more water resistant than most Goodyear welts
Again, this is the Vibram Commando outsole version, not the leather-soled original. It's not remotely formal or dressy, but it is well suited to clomping around the English countryside, or the slushy streets of Manhattan in the winter, which is where I tested them out.
After that outsole there's a natural leather midsole, which is actually an undyed, unfinished leather right beneath the welt.
The insole is interesting: Tricker's cuts a groove into the 9 iron leather insole, hollows it out, and fills it with cork. Most companies use a premade cork rubber mat, but this is the same hand-filled cork material that Tricker's has been using for the past 200 years, which is definitely a very cool touch. A lot of people like it better than other cork filling and I found that it molded to the shape of my foot more quickly than competing models. There's also a wood shank in there too, for support.
Like I mentioned before, this shoe has a Goodyear welt, specifically a barbour semi-storm welt. Crash course: a welt is the leather rim that runs around the edge of the boot. A flat welt curves and disappears underneath the shoe whereas a storm welt is quite high, very visible. This one, though, is a mid-sized welt — like with the combination tanning, Tricker's is looking to hit "just right" middle ground.
Storm welts, as the name implies, greatly increase the weather-resistance of the boot. This one isn't quite as high as the true storm welt like you see in something like the Allen Edmonds Higgins Mill or the Grant Stone Diesel, but lots of people don't like the aesthetics of those bulkier welts. If that's you, the Stow is probably a good compromise.
Tricker's Fit & Sizing
UK sizing means going down 0.5 to 1 size from US size
4497 last
Molds to foot quite quickly
Great arch support and shock absorption
Tricker's, of course, uses UK sizing and that usually means a half size down from your American boot size. Keep in mind that my American boot size, 11, is usually half a size down from my true size, 11.5. So I'm a 10.5 in these shoes, which is the same size I wear in the Australian R.M. Williams Comfort Craftsman, which uses British sizing.
Overall, they're very comfy, have good shock absorption, and incurred no blister-y break in period. The 4497 last they use is a tiny bit wider in the toe box and heel areas compared to dressy shoes, but after a day or two it moulded around my foot really nicely and overall I found the fit to be terrific. Not too snug, but not too bulky.
It doesn't perfectly contour my foot like White's do but the arch support is surprisingly good and the grip, of course, is second to none.
Tricker's Stow Boot Price
$565 from Division Road. You might be thinking, if they're that expensive I'll just grab a pair next time in England. But if you walk into a store and buy them in England you're looking at about 380 to 400 pounds, which translates to pretty much the exact same price. (Plus that leather sole isn't as durable as the Commando sole, but that comes down to your individual preference.)
[GET THESE BOOTS EXCLUSIVELY AT DIVISION ROAD HERE]
Tricker's Stow Boot: Pros and Cons
Pros
Phenomenal quality control
Leather is both beautiful and hard wearing
Very comfortable
Very water resistant
Cons
Divisive aesthetic
Expensive
Commando sole may be controversial
I like these boots: they're gorgeous, they're traditional, and they're incredibly well-made. They pay phenomenal attention to quality control: no wheeling on the stitches, no loose grain, nothing. The barbour welt is more water resistant than a regular Goodyear welt. The leather is a unique color and wearing them makes me feel like I'm ready to go dash out into the woods on a fox hunt.
If you're into the classic American-style work boots, which a lot of guys are, these might not do it for you. To be fair, the biggest con is that precisely half of my friends think they're absolutely hideous; the leather is too yellow or the broguing too strange. I should probably drop these friends, I know.
From the other side, you might think the Commando sole wrecks the told timey English look. If that's the case you can just shell out for international shipping and get the leather-soled version and while I do complain about leather soles, Tricker's in England also sells this with a Dainite sole, which is pretty much the perfect compromise between Commando and leather.
Clocking in over $550, they are on the expensive side. If you want that tweed-jacket, countryside feel at a lower price point, Alfred Sargent and Loake and, to a lesser extent, Grenson make similar ones.
These may not be a classic American-style work boot, but the Tricker's Stow is undeniably a classic. In style, color, workmanship, welt, and attention to detail, they've won me over, for sure.