Here are three brands that are compared and contrasted so often that boot fans on Reddit regularly accuse them of stealing from one another. That's why today I wanted to try something different and compare three boots at once: Alden's Indy 403, Allen Edmonds' Higgins Mill, and Grant Stone's Diesel.
Alden makes the pricier shoes. The oldest company of the three, it was founded in 1884, became enormously popular in New England, and cemented its place in American culture when Indiana Jones wore the "Indy" shoe in all of his movies.
Allen Edmonds came along in the 1920s, starting out with dress shoes and churning out rugged men's boots in the 1950s. The Higgins Mill was released in 2016 and was meant to be reminiscent of old timey loggers' boots, although it's pretty slim and not hard to dress up.
Grant Stone, meanwhile, was only launched in 2016. Co-founded by Wyatt Gilmore, whose family has a long tradition working with Alden, Grant Stone's production is based in sunny southern China. That's a fact that rankles some purists and it means they sort of have to prove themselves in the market, but it also ensures that it's the cheapest of the three.
I've worn all three of these boots for some time now and I think I've got a pretty solid idea of the pros and cons of each. Let's dive in!
[Made your choice? Click through to shop the Alden Indy, Allen Edmonds, or Grant Stone]
First Glance
Alden Indy
Moc toe
Chunky welt
Neo-cork sole
Rubber heel
For such an old shoe (and it debuted many, many decades older than the other two), it really looks like the most modern. The other two have pretty plain, service boot-like aesthetics while the Indy has a funky faux-moc toe and a chunky, tan Goodyear welt that provides a nice color contrast with the brown Chromexcel leather and the white moc stitching.
The sole is mostly a flat neo-cork with a rubber heel from Foot Balance, and the cork is attached to the upper with a 270-degree Goodyear welt, which results in a pretty large gap between the heel and the sole.
[Shop the Alden Indy here!]
Allen Edmonds Higgins Mill
Chromexcel leather
Dainite sole
Plain toe
Versatile
Also made from Chromexcel leather, which I'll discuss a little more in the next section, the upper is quite plain but I wouldn't really say it looks like a service boot because they tend to be relatively wide. This design is sleeker and more versatile, easy to dress up but great with jeans.
Instead of a 270-degree Goodyear welt it's got a 360-degree storm welt, while the sole itself is made of Dainite, a beloved British rubber that's a great compromise on grip, flexibility, and durability.
[Love the Higgins Mill? Get the best price on Amazon here!]
Grant Stone Diesel Boot
Duller leather
More outdoorsy
Split reverse welt
Rubber sole
Design-wise, it looks a lot like the Higgins Mill — it's a plain toe, relatively versatile shoe and even the sole looks like Dainite, though it's actually Grant Stone's own stab at competing with it.
The biggest difference is the leather. The Diesel boot is quite a bit thicker, duller, and somewhat more outdoorsy, plus the shoe has a split reverse welt for extra water resistance. So, while from a distance this shoe looks dressier than the Alden, it's actually the most workhorse-y of the three. You can get away with wearing the Higgins Mill with a blazer or maybe even a blue suit, but that's tougher to do with the Diesel.
[Shop the Grant Stone Diesel Boot here!]
Leather
Alden Indy & Allen Edmonds Higgins Mill
Chromexcel
Great depth of color
Vulnerable to scratches
Higgins Mill has more loose grain
Indy is a little more supple
Both of these shoes use the same leather, a combination tanned beauty called Chromexcel. This is a super well known leather that's used by companies as diverse as Wolverine and Viberg.
During the 28-day production process it's stuffed with cosmetic grade beeswax, food grade beef tallow, marine oil, and a variety of other ingredients that result in a very moist, lustrous leather that's perhaps best known for its great depth of color. It ages well and gets a great patina, the downside is that it's pretty vulnerable to scratches.
The two shoes weren't identical. As the pricier shoe, I believe Alden did a better job of leather selection; the Higgins Mill had more than a little loose grain while the Indy was flawless in this regard.
[Learn how to minimize and remove scratches with this guide to taking care of Chromexcel.]
Grant Stone Diesel Boot
Castagno Veg Tan
Tanned in Italy from American cows
Thicker duller and tougher than Alden
Ages pretty fast
While Grant Stone does have this boot available in Chromexcel now, when I bought it I had to content myself with their Castagno Veg Tan. A vegetable tanned leather that's produced in Italy, it takes 35 days to tan in a barrel and the end product is considerably duller than Chromexcel and the boot's leather is thicker as well.
This leather ages kind of fast — someone told me my boots "look like they've been through a lot" on the very first day I wore them — but the upside is that it doesn't scratch as easily as the other boots and is a bit more resistant to the elements.
The care for all three of these boots is pretty much the same: just use Venetian Shoe Cream every few months. Clean the shoe with a wet cloth first, apply the cream with some cotton, let it sit for a while, then brush it all over with a horsehair brush.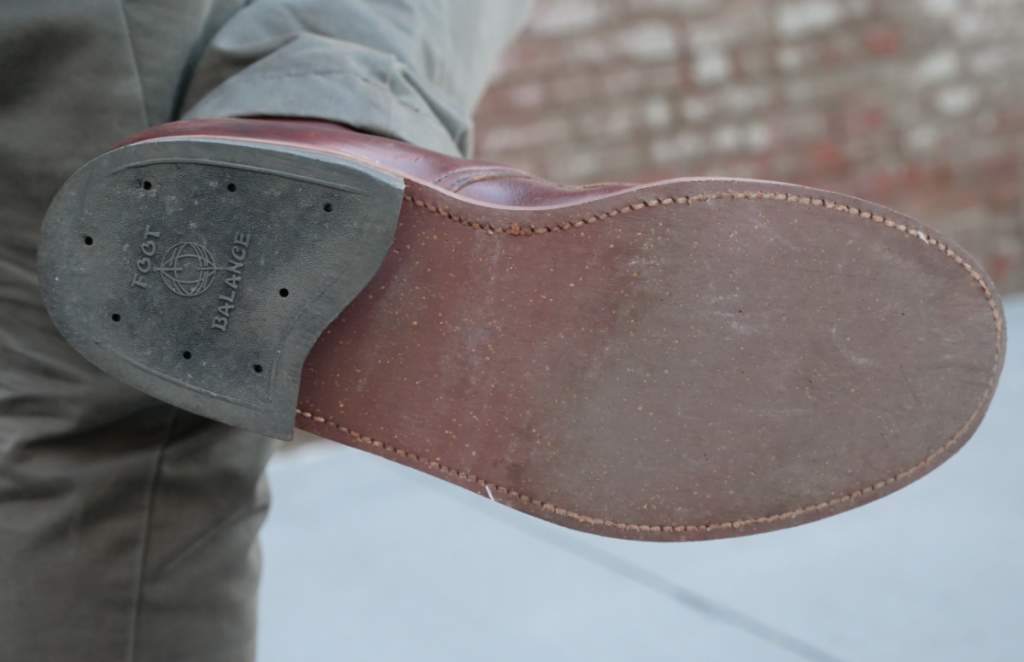 Sole
Alden Indy
Neo-cork sole, rubber heel
Heel isn't super durable
270-degree Goodyear welt
Gap between heel and upper
Steel shank
The most traditional looking sole of the three (which makes sense for Indiana Jones' shoe) this has a nice, flat neo-cork outsole. I wouldn't say the grip is bad, but it's not as effective as the other brands and it's also harder to clean. That said, it wears a lot better than a leather sole, which gets scraped up and ugly very fast.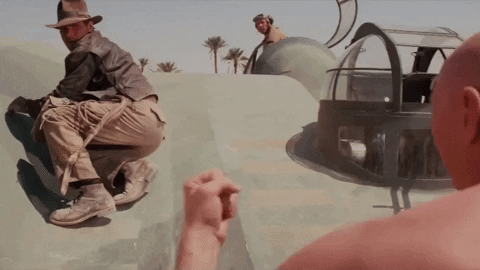 There's also a cork midsole and a leather insole, plus a steel shank for stability and arch support. This is where Alden really shines: the Indy absolutely wins out of these three boots when it comes to arch support.
A potential downer is the rubber heel from Foot Balance. It's famously soft and great at absorbing shock, but people often complain that it quickly wears down. Some customers have told me they needed to replace the heel after just a few months of frequent use.
But it's not hard to replace the entire sole if you want, because it's made with a Goodyear welt. That means there's a layer between the upper and the sole which makes it a bit less flexible but more water resistant, though the Indy's is a 270-degree Goodyear welt that leaves quite a gap between the heel and the upper, so I can comfortably say the Indy is the least water resistant of the three.
[Related: 8 boot soles you should know about]
Allen Edmonds Higgins Mill
Dainite sole
Good balance of softness, durability, and grip
Cork midsole, leather insole
360-degree Goodyear (storm) welt
Wood shank
The outsole on the Higgins Mill is Dainite, a rubber that comes from a British company that's been making it since 1910. It's generally seen as a good compromise as far as softness, shock absorption, grip, and flexibility go. It's not fantastic at any one of them but it's quite good at all of them and it tends to be used in pricier shoes; it's very rare to see Dainite on something under $300.
[Read more about the pros and cons of Dainite soles!]
Like the Alden it has a cork midsole and a leather insole, but the shank is made of wood and the arch support isn't quite as great.
Finally, the welt is a storm welt, a kind of Goodyear welt that has more of a seal around the barrier between the upper and the midsole. This makes it a bit more waterproof and less prone to muck and grime catching in the welt.
Grant Stone Diesel Boot
Split reverse welt
Very resistant to water and grime
Heavier and less flexible than other brands
Cork midsole and leather midsole
Steel shank
The cheapest of the three, the Diesel boot has an outsole that seems pretty clearly intended as imitation Dainite — and in my opinion, it's a little bit better at handling slippery Manhattan concrete. The sole is less flexible though, largely because it has more layers: a rubber outsole, both a leather midsole and a cork midsole, then a leather insole.
There's also a steel shank and some padding on the heel, which combined with the extra sturdy sole is why I'd say this shoe has better heel support than the other boots.
This shoe has a split reverse welt, which some people consider a storm welt while others say it isn't. When I spoke with Grant Stone's co-founder Wyatt Gilmore, he put it this way
A split reverse welt is basically a flat welt, with a split half way through it. When attaching it to the shoe, the split is first spread apart then pushed against the side of the shoe. A storm and split reverse look similar because they both have a lip but the dead give away is the rounded top edge on the lip of the storm. The split reverse looks rougher. Mainly because the edge of the leather can be seen on this, unlike the storm.
The average joe probably won't notice much of a difference between the Diesel and the Higgins Mill as far as the welt goes. Both are very water resistant. The big difference is the Diesel is heavier and less flexible than the other boots.
Fit & Sizing
Alden Indy
True to size
Roomy fit
Combination last
Great arch support
This fit pretty true to size (I'm an 11.5 in the Indy), but what's very unusual about the Indy is that it's made on a combination last, meaning the heel is a different width to the rest of the shoe. Mine was a B/D, with the heel narrower (a B width) than the toebox (a D width). While all of my boots are D, the Indy didn't feel tight in the heel, rather it felt roomy in the toebox.
I didn't mind the roominess and as noted above, the Indy has the best arch support.
Allen Edmonds Higgins Mill
True to size
Fits great; not too tight
Good shock absorption
Out of all the boots, I preferred the way the Higgins Mill fit. It's slim but not too slim and it feels like the boot is cradling my foot but not squeezing it. This is very important, as I outline in my ultimate guide to how boots should fit. (Seriously, it's a must-read.)
Fit, of course, is an individual thing, but even though the arch support isn't amazing, the Dainite sole is a nice medium density and the last felt like it was tailored to my own individual foot's width. Of course, your results may vary.
[Check out the full Higgins Mill review here!]
Grant Stone Diesel Boot
Order a half size down
Good heel support
Pretty heavy sole
As mentioned above, the sole is pretty hard and inflexible on this boot. Some guys love that feeling with their boots, perhaps because it differentiates them from their sneakers. Others prefer boots that do feel like sneakers. In any case the Diesel, like the other two brands, didn't have much of a break in.
Like practically everything else I write about, this is pretty subjective to your podiatry and personality but in summation the Alden had better arch support, Grant Stone had better heel support, and Allen Edmonds fit better all around.
Price
Alden Indy
Usually, the price for a pair of these is between $550 and $580.
Allen Edmonds Higgins Mill
On their site they're $395, but you can snag a pair on Amazon for considerably less — I've seen them go for $350 here.
Grant Stone Diesel Boot
On their site these fluctuate between $360 and $370, though discontinued boots go for $300. Keep an eye out.
The Verdict
All of these shoes are easy to break in and easy to resole, but these are the Cliffnotes:
Alden Indy
Pros
It's the coolest looking of the three. I'm pretending this is objective.
Best arch support
They have every width available
Cons
Most expensive
Least versatile
Least water resistant
Allen Edmonds Higgins Mill
Pros
Best fit
Most versatile
Dainite sole
Cons
Worst quality control
Loose grain in leather
Not the most rugged
Grant Stone Diesel Boot
Pros
The toughest leather
Best heel support
Cheapest
Cons
Leather is dull and ages quickly
Sole isn't very flexible
For "Made in China," you may find it a little pricy
All in all, I think the Higgins Mill is the best all rounder. If you want boots that are more tank-like you may prefer the Diesel, while if you're after something more eye catching and cool, the Indy might be up your alley.
All of this is totally subjective, though. Which one is your favorite?
The following two tabs change content below.
Nick English
By day: Manhattan-based journalist with reporting experience on four continents, published in Vice, Men's Health, Popular Science, and a bunch of other places.By night: ravenous consumer of anything and everything related to high end men's boots.Stridewise is where I nurture a maniacal obsession with footwear and share my findings. Say hey:
[email protected]
.
Latest posts by Nick English (see all)