They say: "Things were made better back in the day."And that's true, especially for Florsheim shoes!
Although the Florsheim Shoe Company still exists today, it is now a shadow of what it once was. Prior to exporting manufacturing outside of the United States in the late 2000s, vintage Florsheim produced a beautiful product which rivaled (and sometimes surpassed) the craftsmanship of modern-day Alden shoes. Although Florsheim did not invent the longwing blucher (LWB), they are often credited with popularizing it, making it one of the most iconic shoe styles in footwear history.
As mentioned, Alden of Massachusetts produces the closest equivalent product to that of vintage US-made Florsheim. Classic and timeless styles made using high quality leathers, top-notch Goodyear welted construction, and a beautiful eye for detail. When you consider that Alden shoes typically run for $600 in calfskin and $825 for Shell Cordovan, the lower price of vintage becomes increasingly attractive.
Today we'll discuss how to start collecting this classic piece of American heritage.
The Best Vintage Florsheim Shoes
Since their founding in 1892, Florsheim has produced many styles; some more iconic than others. For the Florsheim beginner, you should watch eBay for model numbers 93602, 92604, 93603, and 92611.
Enthusiasts often refer to these as "Gunboats" – and for good reason! These longwing and plain toe bluchers feature a hearty double leather sole, beefy welt, and sturdy pebble grain calfskin. Additionally they have what's called a "V-cleat" in the heel; a triangular piece of metal meant to slow down wear on the heel.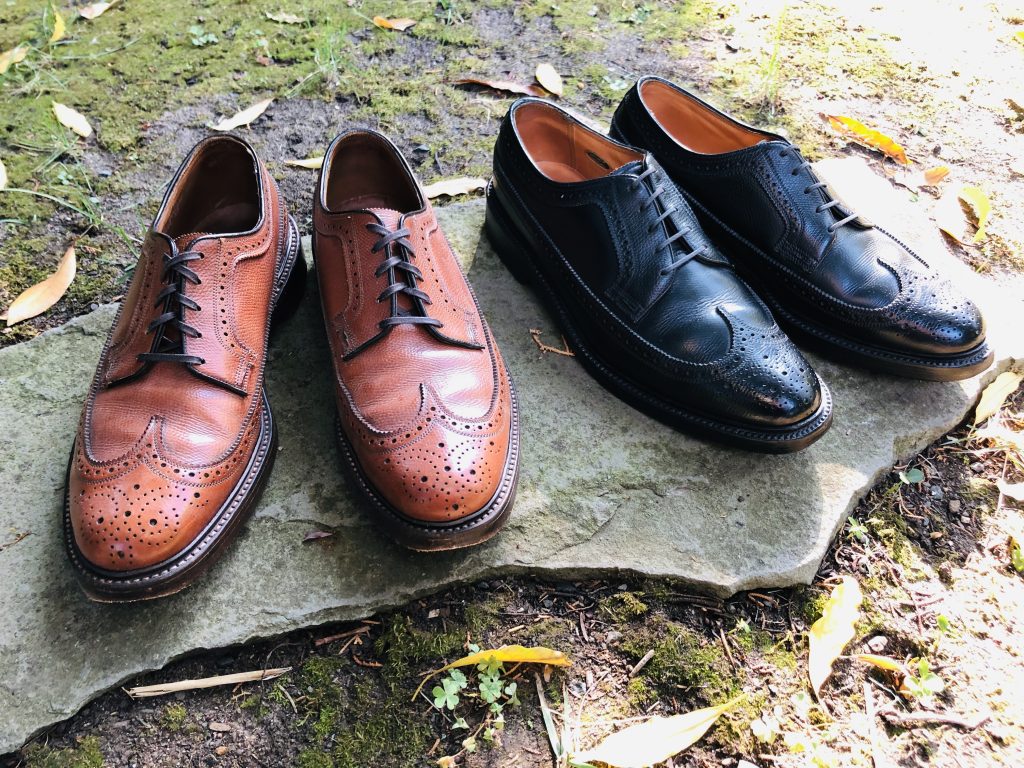 Florsheim Imperial 93602 Tan Longwing and 92604 Black Longwing
These models are by far the most common (and popular!!) quality vintage Florsheim, making them an excellent starting point. These longwing bluchers have been a versatile wardrobe staple for decades. You will often see modern brands take inspiration from this very same model.
Florsheim Imperial 93603 Tan Plaintoe and 92611 Black Plaintoe
Other models to watch for are 93603 and 92611; plaintoe bluchers that feature the same leather and last as the 93602 and 92604. This model is considered a little more uncommon to find. Plaintoe bluchers are a nice alternative to longwings, especially for those who appreciate a cleaner shoe without broguing.
Florsheim Imperial Shell Cordovan 93605 Longwing and 93606 Plaintoe
Being a quality footwear manufacturer, Florsheim also produced their longwing and plaintoe models in shell cordovan; 93605 and 93606 respectively. These can be found though they are certainly rarer than previously mentioned models. That said, vintage shell cordovan is a gamble for a number of reasons. When it comes to vintage shell cordovan there is enough information to fill an entire article. Sparing the fine details, avoid cracked cordovan and only pay a price that you feel comfortable with.
[Related: Why Is Shell Cordovan So Darn Expensive?]
Vintage Florsheim Sizing
Now let's talk about the fit. Vintage Florsheim should feel snug in the waist, and slightly relaxed around the ball of your foot. They should feel firm yet comfortable, like a glove or a handshake.
They tend to run true to your Brannock size. For reference I wear a 9D in Vintage Florsheim, a 9D on Allen Edmonds' 65 and 511 lasts, and 9D on Alden's Plaza and Aberdeen lasts.
That said, people will occasionally size down by a single width. To start, I would recommend keeping your eye on eBay for a cheaper pair in your size so that you can confirm the fit yourself. This starting pair will likely be in worse condition than you desire, but it's good to be certain of your size before you invest in a nicer pair at a higher price.
Vintage Florsheim Pricing and Condition
This is where an eye for detail is important. The condition, size and model will impact the pricing. To help you determine a fair price, here are a few things you should look out for:
Has the shoe been resoled or reheeled? In both instances this will lower the price. Collectors especially prefer the original "V-cleat" heel, as it's often seen as an iconic feature for Vintage Florsheim.
How does the insole and leather upper look? A dirty insole with a faded (or illegible) Florsheim logo will fetch for less than a pristine insole. Is the upper in good condition or is it creased and scarred? All of these are important factors to consider in your purchase.
For reference a NOS (New Old Stock) pair of calfskin Florsheim typically sells for $400-450 USD on the upper end. A lightly worn pair in good condition may go for $150-300. And a heavily worn "project pair" should run you below $100.
That said, be patient and keep your eyes open. With some time and luck, you'll likely find the pair you're looking for at a lower price.
How to Wear Vintage Florsheims
Longwing bluchers and plaintoe bluchers are typically considered a more dress-casual style making them especially versatile. They look great with selvedge denim, and fantastic with chinos or slacks. They can even be worn with a suit in more casual settings.
Wrapping Up
Without a doubt there are more topics to cover regarding Vintage Florsheim, but I hope this introduction taught you something new and perhaps piqued your interest. Collecting vintage footwear can be a dangerously addictive, yet incredibly rewarding hobby. It's a wonderful feeling to look down at your feet to see a piece of American history.
Thank you so much for reading! If you'd like to learn more, please follow me on Instagram @goodyear_retro or check out my eBay shop for more quality footwear.
[Related: My list of The Best Boots for Men]
The following two tabs change content below.
Menswear professional with a passion for quality. I sell vintage US-made footwear on Ebay. Please check out
my eBay shop
and
Instagram
and feel free to contact me at sam_
[email protected]
for inquiries and collaborations. Thank you!
Latest posts by Sam Fruchtman (see all)