Founded in 1884 by Charles H. Alden, Alden Shoe Company is the oldest shoe company in New England and it's a brand that reminds you how important boots used to be. Alden was founded at a time when boots had to be ultra durable and resoleable because people walked just about everywhere.
Steadfastly remaining in New England after hordes of bootmakers sent their manufacturing to cheaper countries, Alden branched out into orthopedic and medical footwear in the mid-20th century, which is one of the reasons they know how to make pretty darn comfortable work boots. Indeed, their construction is totally different to most boots: a long counter, Thomas heel, and a controversial leatherboard insole (more on that later) all contribute to an untouchable reputation for comfort, especially for guys with foot problems like collapsed arches.
It wasn't until I'd bought my 403 Indys and got them home that I learned they're named, or were renamed in the 1980s, after Indiana Jones, who wore them in all of his movies. Harrison Ford pushed for them over Red Wing boots because he wore Aldens in his previous career as a carpenter (and struggling actor). I know that doesn't necessarily make them worth the buy, but I'd be lying if it didn't add a boyish thrill to the purchase. After all, if they're good enough for Doctor Jones…
Alden Indy First Impressions
When is a moc toe not a moc toe? The Indy is made from shiny, ultra moist Chromexcel® leather with bright moccasin stitching, though the stitches are just for aesthetics and don't actually hold the boot together. There's none of the blockiness of a genuine moc toe, but while it's slimmer than a work boot it's not particularly sleek. The moc stitching and the flat toe does make appear a little wide and a broad welt contributes to the effect: it's a bright tan color that extends a good centimeter around the perimeter of the vamp.
None of this is to say it's not a beautiful boot. It's similar in appearance to the cheaper Walter boot from Frye, but the bright stitching and welt give it a really modern-yet-old-timey look that really draws the eye. Indeed, one thing I was surprised to find with these very traditional, historically weighty boots is that they look cool. The moc stitching and the light tan rim give it a fashionable look that's almost sneaker-like, though the white stitching will probably fade with time.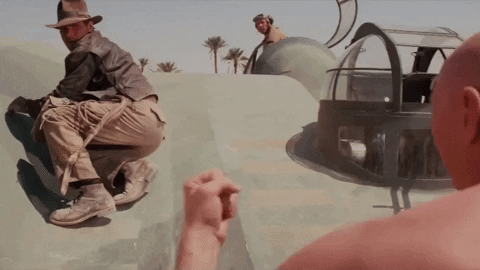 As far as formality goes, it couldn't be worn with a suit and it would be tough to pull off with a tie, but slacks, chinos, and jeans will love this boot.
Now for the bad part: things went south when I took a closer look at these boots. There were some frustrating quality control issues with my Indys. While the stitching was nice it had obvious wheeling, a term that refers to the clear imprint of the machinery used to make the stitches. It results in most of the stitches having something of a border, which is forgivable with some boots but not with a pair that cost this much.
Finally, there's the Goodyear welt. It's a 270-degree welt and while the light tan color of the welt contrasting with the darker leather of the vamp looks great, the stitching ends at the heel. Between the heel and the sole there's a deep cavity, deeper than it should be and deep enough to affect the water resistance. I was underwhelmed by the quality control, to say the least.
Alden Indy Leather
Full grain, Chromexcel leather
Rich color depth
Top finish scratches easily
While Alden has a good reputation for their cordovan dress shoes — they also sell a cordovan Indy for almost $800 — and while traditionally the Indy has been sold as the 405, which is made of calfskin, I picked up the 403 Indy, which is made of a rich, lustrous Chromexcel leather. There's no difference in price between the two models.
So what's Chromexcel? First of all, it's a full grain leather, which is generally seen as the best kind of leather you can buy when it comes to well-made boots. It's made from the top layer of the cow's hide, it's super durable, and it develops a great patina as it ages.
The main downsides that some people point out with full grain is that it's not especially uniform in color and on rare occasions, one might be able to spot blemishes or scars that the animal had when it was alive. (For the record, this wasn't the case with the Indys.)
People who are really concerned about this might opt for top grain leather, which has the top layer sanded away. It looks a little "cleaner" and more uniform in color, but it's significantly less durable. In any case, people usually like full grain because it looks more "natural" and has more character.
Chromexcel is a method of processing and tanning the leather and it's a product of Horween Leather Company, a beloved American tannery that was founded in Chicago in 1905. Chromexcel has an interesting history — it was used on engine seals in tanks during the second World War — and Horween describe it as "a combination tanned leather that undergoes at least 89 separate processes taking 28 working days."
The process imbues the leather with a wide variety of oils, waxes, and greases, including beef tallow and cosmetic-grade beeswax, and before it leaves the factory it's also treated with neatsfoot oil, which is made from the rendered shin and feet bones of cattle. All of this makes for an ultra moist, rich leather that has a depth of color that many guys covet.
The downside of Chromexcel is that the top finish is sensitive to scratches and aesthetically, it can lose some of its lustre over time. That's why if you're really attached to your Indys' aesthetic, you want to make sure you're taking care of them.
Alden Indy Leather Care
Horween suggests Venetian Shoe Cream
Saphir's Renovateur or Greasy Leather Cream works
Alden's shoe cream more appropriate for 405
The tricky thing with Chromexcel is that everyone has a different opinion on how to take care of it. It's a hugely popular leather, used in the Allen Edmonds Higgins Mill and the Wolverine 1000 Mile, and it's imitated by many more. Consequently, there are a lot of different ideas about conditioning and caring for it, which is complicated all the more by every shoe company wanting you to buy their unique oil or cream. How do you decide?
In my reviews, I usually include suggestions from the boot manufacturer. But Alden produces just two products for conditioning their boots: a boot cream that they recommend for their calfskin footwear and a wax that's for their cordovan. (They also sell a leather defender for that's meant to help improve the water resistance.) There's nothing on offer for Chromexcel.
So in this case, I decided to consult Nick Horween himself. First up: invest in a horsehair brush. Not only is it great for cleaning dust and dirt from the shoes, a vigorous brush (and you should be brushing vigorously) warms the leather, which helps to remedy scratches because it moves around the oils inside the leather.
When it comes to actual conditioning, you can pick one of three products. The first and most popular is Venetian shoe cream, which is great for keeping the leather moist and flexible. As alternatives, you can consider two products from Saphir: Renovateur, which is made with mink oil, or their Greasy Leather Cream, which is made with neatsfoot oil. Horween says the Renovateur will produce more of a shine.
Whatever you do to this leather, even if using the neutral colored products above, there's still a good chance the leather will darken with age. It's wise to expect this of almost any boot.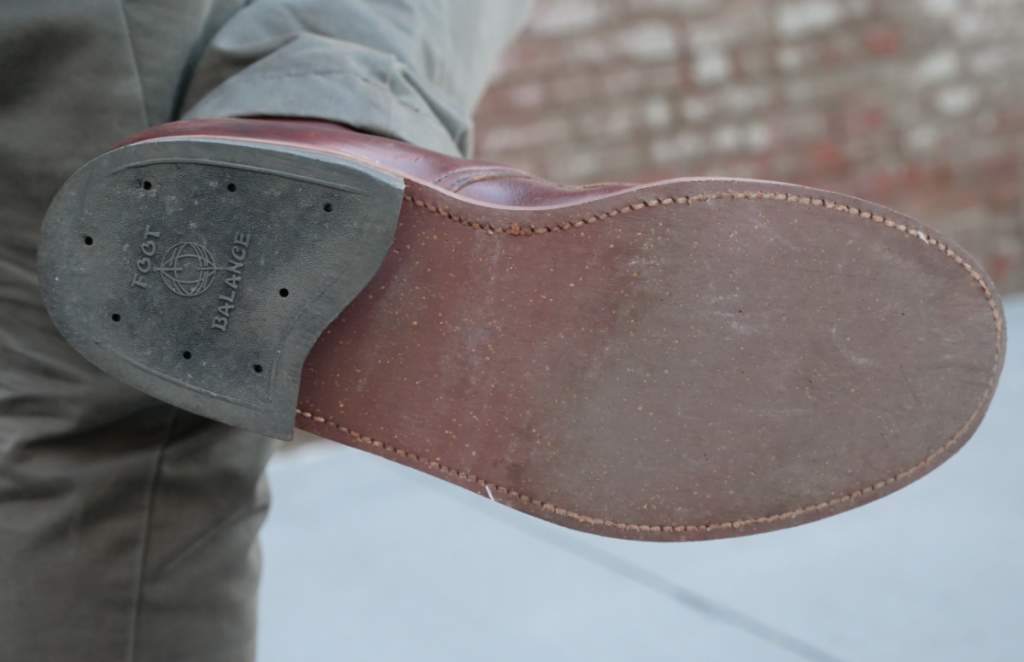 Alden Indy Sole
Three layers: Neo-Cork sole, cork midsole, vegetable tanned leather insole
Triple ribbed steel shank for arch support
270-degree Goodyear welt
The outsole is made from neo-cork, which is harder and more durable than stacked leather and less likely to slip. Many find the neo-cork a good compromise between leather and rubber soles; they look more "classic" than rubber but they have more grip than leather. Note that it's not uncommon to see Indys with rubber Commando soles, which offer a lot more traction and durability, though they're a little less evocative of a certain globetrotting archaeologist. If you get sick of the neo-cork, any cobbler can attach a Commando sole or a Vibram half sole pretty easily.
There are three layers to the sole: the Neo-Cork outsole, a cork midsole, and a vegetable tanned leather insole. Down the middle of the sole embedded in the midsole is a triple-ribbed steel shank for a firm backbone and arch support. This is one of the most notable aspects of the boot, in my opinion: I found the arch support to be head and shoulders above most Goodyear welt boots I've tried.
The leather insole could definitely have been made from softer leather, but I think it's balanced out by the soft heel. The Indy has a Foot Balance heel that's pretty similar Vibram and famously built for comfort. While the reputation is deserved, it does make for a heel that needs replacing fairly often, much more often than Vibram. Reddit is abound with tales of people replacing the heels after just a few months of frequent wear. You can always have them reheeled with something tougher, but of course you'll be sacrificing some of the comfort.
Finally, the Indy has a Goodyear welt, widely considered the best way to sole boots because it makes it easier to resole — which you'll definitely need to do — and because it offers some water resistance.
But it's a 270-degree Goodyear welt which doesn't extend to the heel. This means the boot has a sleeker silhouette around the heel and that it isn't quite as water resistant as a 360-degree welt, but it won't have much of a practical difference. At least, that's what I'd normally say, but as discussed earlier, my pair of Indys had a seriously deep crevice between the heel and the sole, making for a boot will be much more vulnerable to water than other 270-degree welts. Plus it looks pretty darn shoddy from up close.
Alden Indy Fit and Sizing
Widths available in B, C, D, E, EE, and EEE
Combination last; heel is smaller than toe box
Easy to break in
I couldn't find a size that fit me just right. I'm a pretty unusual size 11.75 on a Brannock device, so this may have been my feet's fault. I'm a size 12 in Converse sneakers, size 11 in most boots (like Red Wing and Thursday), and 11.5 in a Higgins Mill. I bought my pair at Leffot in Manhattan so I was able to try on a couple of sizes in store.
The 11 was bearably snug, but the arch wasn't in quite right the right spot, so I ultimately went with 11.5. I need to tie them pretty tight, but I firmly believe that the arch is the most important place for a shoe to fit properly, and 11.5 was right on my arch. The leather is nice and soft and I didn't need any time at all to break in.
The 403 boots are made on a Trubalance last and they're available in an extraordinary variety of widths: B, C, D, E, EE, and EEE. The B and C widths, according to Alden's site, are available in sizes up to 15 while the other widths go up to 13.
But there's a very important caveat: Alden uses combination lasts, and the heel is two widths slimmer than the toe box. I normally buy a D ("normal") width boot and my Aldens are a "B/D," meaning the heel is B and the rest of the shoe is D.
To be honest, I didn't feel like there was much of a difference beyond a somewhat roomy toe box, but the combination last is one reason why I strongly recommend finding somewhere to try these shoes on in store. EBay is littered with boots that people bought, walked around in, realized they didn't fit right, and were unable to return them.
[Best: Check out the 10 best boots for wide feet]
Alden Indy Price
These boots are $655 today.
So, these are pretty pricy boots. While it's true that they use the same leather as you'll find in cheaper (but still high quality) footwear, an Alden rep told me that the cost reflects the fact that it's handmade in the US, it's got superior craftmanship, good arch support, and Alden can restore the boots for you once they wear out. (For a fee.)
As I mentioned above, there are quite a few second hand Indys available on eBay if you're looking to save cash and want to save time getting that patina.
[Related: My list of The Best Boots]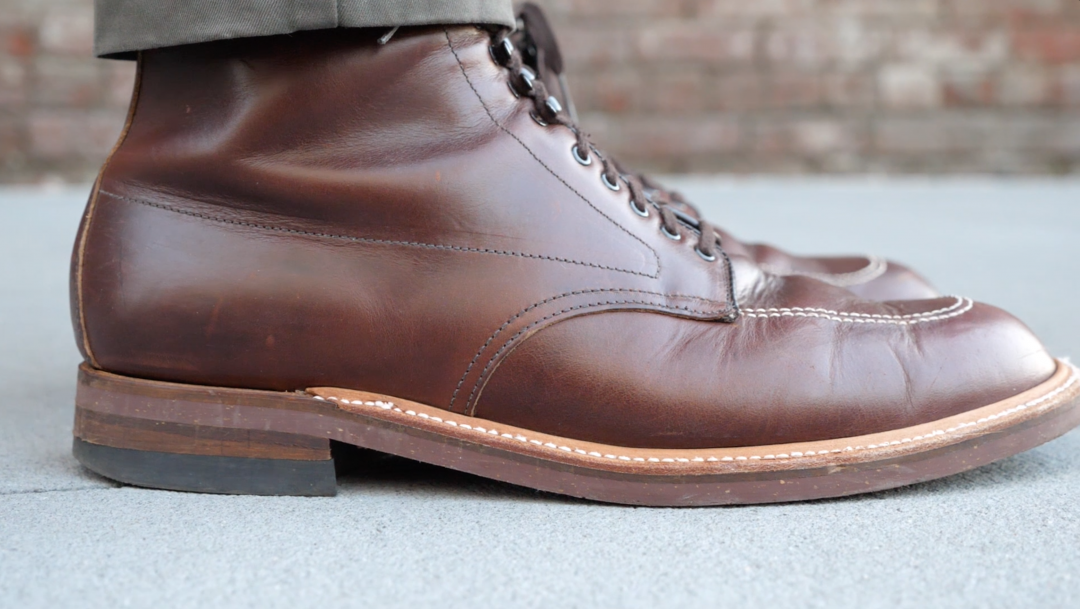 Alden Indy: To Buy or Not to Buy?
The first thing I always want to say about this boot is that they look cool. They look so cool. I love the white mock moc-toe, I love the bright tan welt running around the periphery of the vamp, I love the color contrast and the richness of the leather. Aesthetically, they're incredibly appealing.
A downside of their eye-catching appearance is that they just don't work in formal occasions. Jeans, joggers, and khakis will love this boot but they don't quite work with a suit or tie, though you may be able to pull them off with blue slacks in less formal occasions. That's not to say they're in any way dowdy. They're ultra fashionable and super comfortable to boot. — the arch support is next level.
With all that said, the bright moc toe, welt, and leather will likely fade with time and wind up looking more like the pair that Doctor Jones wears. That might be your end goal, but it's worth pointing out. And while we're on durability, the sole and heel will need replacing more often than other boots and of course, there's that price tag. With tax, these boots approach $600.
The choice is yours to make, but my final recommendation is to endeavor to try these on in store or if you do get them online, spend a lot of time wearing them inside in case the combination last isn't a good fit.
The following two tabs change content below.
Nick English
By day: Manhattan-based journalist with reporting experience on four continents, published in Vice, Men's Health, Popular Science, and a bunch of other places.By night: ravenous consumer of anything and everything related to high end men's boots.Stridewise is where I nurture a maniacal obsession with footwear and share my findings. Say hey:
[email protected]
.
Latest posts by Nick English (see all)