Editor's note: This article is an op-ed. The views expressed herein and in the video are the author's and don't necessarily reflect the views of Stridewise, LLC. Claims, assertions, opinions, and quotes have been sourced exclusively by the author.
In order to understand my obsession, I mean love affair, with Alden shoes, it's necessary to understand the background of how I came to appreciate the best shoes the USA has to offer. Please join me on this short trip down memory lane.
How I Came to Alden
I am a very young man, in my first professional job out of college. I'm working for one of the premier accounting firms in New York City and every day my walk to the office takes me past the Alden shoe store on Madison Avenue. Almost daily, I peer into the window, admiring the shoes from a safe distance, afraid to go inside because of the price tags I expect will shock me. This ritual goes on for many years. I eventually put Alden shoes into the back of my mind while I ventured into Italian made shoes.
Fast forward 15 years and I find myself in a podiatrist's office with a diagnosis of tendonitis in my ankles. The gift of flat feet, passed down from my father, has caused my arches to collapse so much that my tendons are working overtime like a first year staff accountant, trying to give my flat dogs some sort of support.
The pain shoots up my ankles and makes normal walking painful. I tell the doctor of the aching feet I've had since I was 12 years old. He recommends physical therapy. On his way out, he glances at my shoes and says "You ought to consider getting some good shoes… something supportive. Maybe Alden or something like that."
I walked, painfully, out of that doctor's office with a mission: Get these feet some proper support and look good doing it.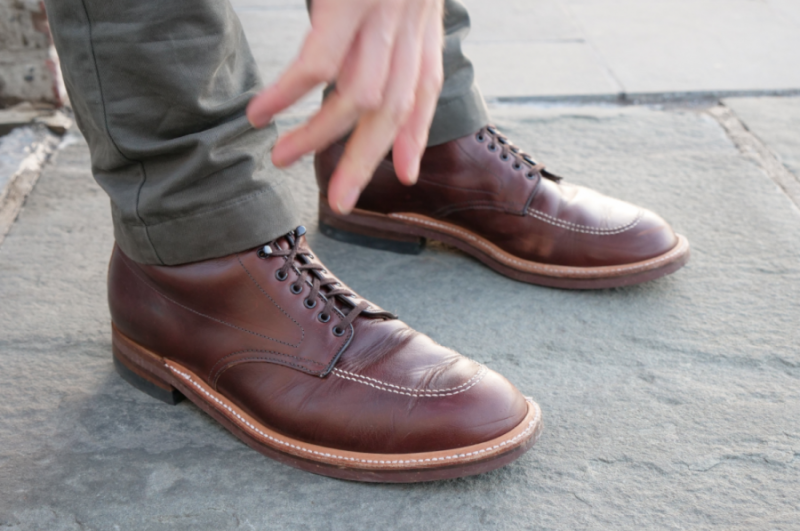 The Alden Last
The Alden Work Boot has turned out to be the boot that has literally saved my feet, ankles, legs, and back from immense daily pain. Popularly known as the Alden Indy boot, due to it being the boot of choice of Dr. Indiana Jones, the boot was originally designed to be an orthopedic boot, with added support thanks to its long inside counters and special "Thomas" heels.
The boot, shaped over Alden's "Trubalance" last is part of their "Foot Balance System" shoe line. You wouldn't know it today with the popularity of the Indy boot at such a high level, but this is not a fashion boot. This is not a boot designed 10, 20, or 30 years ago, to capitalize on a current trend. This is a work boot, whose function and timeless good looks have made it an icon of the Alden Shoe Co. of Middleborough, Massachusetts for the past 70 years.
The author in a video on his collection: The 5 Best Alden Boots!
So here's where things get interesting. I've always been a shoe and boot lover since I was teenager. And I'm the kind of person where if I find something I like, I can't be satisfied with just one… or two… or three. If the Alden Indy boot in brown calfskin is a life-saver for my feet, and it is, then wouldn't the same boot in brown Horween Chromexcel leather be a great idea? And wouldn't the same boot in snuff suede be another great idea? I think you get the picture. Alden offers its shoes and boots in a dizzying array of leathers and colors that's like a candy store for shoe lovers: calfskin, Chromexcel, suede, rough-out leather, and the king of all leathers, shell cordovan. Here begins my love affair with Alden casual boots, dress boots, casual shoes, and classic dress shoes.
In addition, Alden produces their shoes and boots on varying "lasts", or shapes. So if you've got a high instep, there's a last designed for you. If you've got a wide foot in front and a narrow heel, there's a last for that. Do you prefer a sleek, narrow toe box? Alden has a last for that.
[Learn more: What Exactly Is a Last, and Why Is It So Important?]
Combine the shoe making expertise of an American company that's been producing shoes in New England since 1884, with a wide variety of lasts that allow for custom fits, throw in classic shoe and boot patterns that have stood the test of time for generations, and finish off with a large selection of leather uppers and soles and what do you have? You have almost the perfect shoe company.
Customers Can Customize
Alden ups the ante of its shoe buying experience by allowing certain retailers of the brand the opportunity to design and submit for production custom made models, which you can see in the photos above. By allowing this, Alden provides the customer a unique interactive experience with the brand. At the same time this arrangement affords the company the chance to experiment with different combinations of patterns, uppers, and soles that ultimately allow the brand to grow and reach new customers.
What does this mean for the consumer? Let's suppose you've been dreaming of a blue suede wing tip boot with brass eyelets and Commando rubber soles but you've never been able to find such a boot. If your local Alden retailer feels that this a boot that will be a hit, the retailer might submit this special make-up to Alden for production. Not only might your dream boot get made, but Alden usually produces special make-ups in very small batches (18-36 pairs). As a result not every Mike, Daniel, and Jeff walking down Broadway is going to have your special boot. The number of combinations is only limited by your imagination.
The Takeaway
Alden shoes are built to last, just like the company itself. They've been making shoes in the USA since 1884! Goodyear welt construction means you can have your Aldens resoled many times, which you'll undoubtedly want to do once you experience the blissful joy of their comfort and their timeless good looks.
Reading about Alden shoes can only provide a small piece of the picture. I highly suggest you visit an Alden retailer for a custom fit and feel for yourself the world of difference that top quality shoes can provide. I've often told friends that I'd gladly pay double for my Alden Indy boots if they were to be lost. That's the truth. Experience the truth for yourself.
More from the author: The Rarest Alden Boots You'll Never Find
The following two tabs change content below.
NY native, lover of Selvedge denim, boot addict, never gave up on vinyl, prefers bourbon in the winter and knows a true martini never contains vodka. Follow him
on Instagram
.
Latest posts by JD Sassone (see all)