Depending on your background, Chelsea boots might be stylish urban boots, rugged riding boots, or footwear for manual labor.
Variants of the Chelsea boot have gone from the feet of royalty — they were originally designed as Queen Victoria's walking boots — to the feet of Australian stockmen to the Beatles themselves, who popularized the style and helped them to become known as "Beatle boots" in the 1960s. There are Chelsea boots for just about everyone.
But are there Chelsea boots on the market that are good for work? Rest assured, there's a pair available for your style and needs.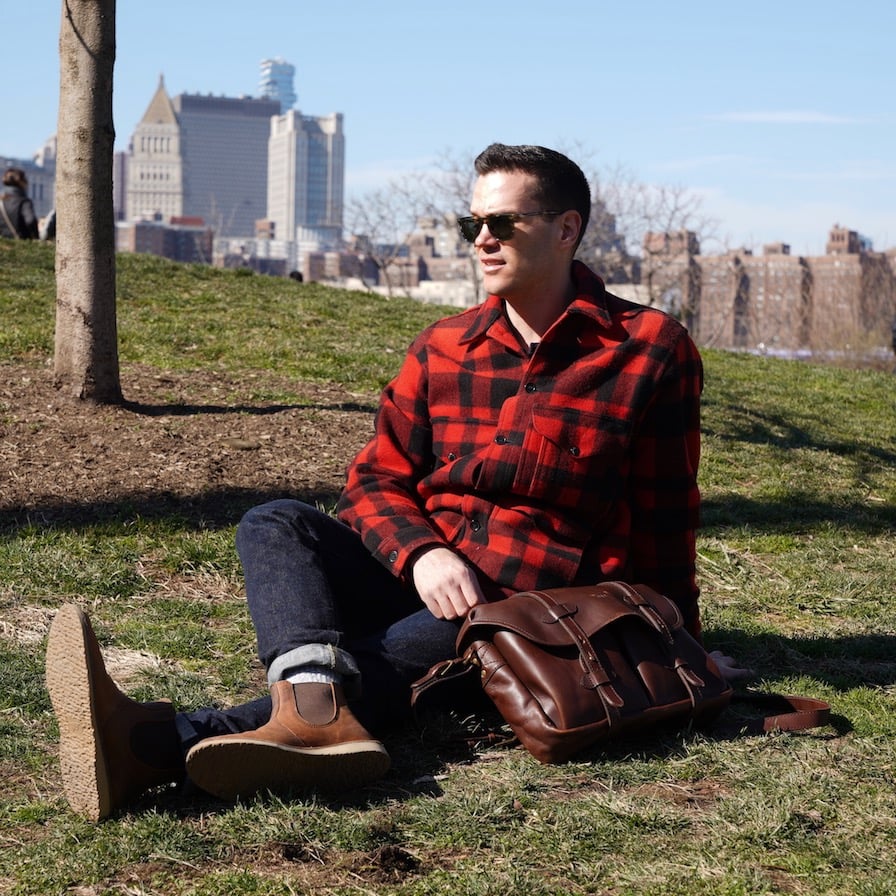 What is a Chelsea Boot?
A Chelsea is a laceless boot with elastic goring on the sides.
The Chelsea boot was originally designed as a walking boot in Victorian England. They were a popular style until World War I when they fell out of fashion until they were redesigned for the Beatles with a pointed toe and Cuban heel and became a fashionable urban boot. Here is where you can see the origins of the "dress Chelsea," like Carmina's.
While popularity in England waned, popularity in other countries like Australia continued to grow. It became the preferred work boot of Australian ranchers, who would wear Chelsea boots riding horses on large ranches, similar to cowboy boots in America. Tasmanian bootmaker Blundstone's rugged Chelsea boots are extremely popular (no doubt due to their low price) and you'll see people wearing them all over the planet, from New York City to Alice Springs. Another Australian brand, R.M. Williams, has become the go-to brand for higher end Chelsea boots in various styles.
All Chelsea boots share a few traits: six inches in height and elastic goring on the sides to make them laceless and easy to pull on and off.
What Makes a Good Chelsea Work Boot?
Good Chelsea work boots meet industry safety standards such as electric shock resistance, puncture resistance, and steel toes.
Proper work boots for people who work on risky work sites must meet ASTM standards for protection. They include electric shock resistance and safety toes, among other safety features like puncture resistance soles and metatarsal protection.
Of course, many people want work boots for less risky endeavors like yard work that may not require the extra protection needed by ASTM standards. While you may work in these boots, you can get away with casual Chelsea boots that look better with jeans and can be worn out without looking too much like something you'd find on a construction site.
While Chelsea work boots aren't as popular as lace-up boots, a few companies make ASTM-certified Chelsea boots.
The Best Chelsea Work Boots:
Here are a few of our top picks for Chelsea work boots.
Blundstone Work Series
Meets ASTM safety standards
Rugged oil-tanned leather
Soft foam cupped footbed
Blundstone's work series is a top-notch work safety boot. This oil-tanned leather Chelsea boot is ASTM F2413-18 M I C EH certified. This certification means the Blundstone Work Series has metatarsal protection (M), impact resistance (I), compression protection (C), and electrical hazard protection (EH).
It also has soft foam for added shock absorption, a steel shank, and a durable TPU outsole. Blundstone has brown Chelsea boots and black leather Chelsea boots.
Ariat Chelsea Work Boots
Chelsea boots that meet a wide variety of ASTM standards
Come in wide sizes
Have metal detector-friendly non-metallic options
Ariat makes a ton of different work boots for men with their Turbo and Ground Breaker models. They are all ASTM certified, but you'll need to check which certs match your requirements. For example, the Ariat Groundbreaker Chelsea Wide Square Toe Waterproof Work Boot is a soft toe and only meets electrical hazard safety requirements. The Groundbreaker Chelsea Wide Square Toe Waterproof Steel Toe Work Boot has a steel toe and is ASTM F2413-18 M I/C EH rated for metatarsal, impact/compression, and electrical hazards.
Ariat is a well-known and well-respected brand. They make wide sizes for many of their boots, they come in multiple colors and leathers, and most of them also have a waterproof membrane.
Lastly, Ariat adds a removable anti-fatigue insole and foam midsole for added shock absorption and comfort.
Wolverine I-90 EPX® Romeo Carbonmax® Chelsea Work Boot
Soft toe and composite toe options
Composite toe has ASTM F2413-18 M I/75 C/75 EH rating
Wide width available
Under $150
The classic American workboot manufacturer Wolverine makes a Chelsea work boot.
The composite toe Romeo is ASTM F2413-18 M I/75 C/75 EH rated composite toe. It also comes in a soft toe, which does not meet those standards.
Wide-footed guys will like to appreciate the EW (extra wide) option and despite their flagship fashion boots costing well over $350, the work chelseas are good value at $145.
Georgia Boots: Various Models
Resolable Goodyear Welts
Tons of options and styles
Waterproof lining
ASTM ratings
$175
Georgia Boots make some lovely Goodyear welted Chelsea work boots.
First, I know it's subjective, but I think their Amp LT Wedge Steel Toe is the best-looking Chelsea work boot. I'm biased because I like Goodyear Welted boots and the wedge sole, but their boots are packed with great features.
For one, it's Goodyear welted which means it's durable, resolable, and water resistant. All of the other boots on this list are cemented, meaning the rubber soles are glued to the uppers of the boot. You may have had a pair of boots or shoes where the sole fell off or separated from the rest of the shoe — Goodyear welted boots are repairable.
I like Georgia boots because they take this heritage-style Goodyear welted construction and combine it with modern materials like EVA foam, fiberglass shanks, and slip-resistant outsoles.
Timberland: Chelsea Work Boots
Timberland began as a work boot company before becoming a symbol of urban fashion. With a background in workboots, it's not surprising that they make Chelsea boots for work.
They have a composite toe and electric hazard protection but they don't mention any certifications or standards like the ASTM, so you'll want to confirm that these will work for your job before making any investments in the boots.
They make great around-the-house, shop, or garage boots, though. They have a lot of features like slip-resistant outsoles, a comfortable anti-fatigue insole, and are made from recycled materials.
They come in wide widths and brown and black leather.
Wrapping Up
You won't be wearing Chelsea work boots with a suit or a smart casual outfit like brown suede Chelsea boots, but you can definitely pull off these Chelsea boots with jeans. More importantly, we hope we've proven that you can indeed use Chelsea boots for work.
Wear Chelsea Boots as Work Boots FAQs
Can you work in Chelsea boots?
You can work in Chelsea boots. Depending on your job or the type of work you're doing, you might want to Chelsea safety boots like Blundstone's work boots.
Can you wear Chelsea boots with jeans?
Chelsea boots look great with jeans, especially rugged, stylish Chelsea boots like RM Williams. Brown chelsea boots are a common casual chelsea.
Can you wear Chelsea boots with a suit?
You can wear Chelsea boots with jeans, but you'd want to wear dressier Chelsea boots like Carmina's Chelsea boots. Black leather chelsea boots with a suit is a popular combo.
Why are Chelsea boots called Chelsea boots?
How to wear Chelsea Boots for Different Occasions?
You can style chelsea boots for any occasion, if you buy the right pair of chelsea boots. For example, Thursday Boot Company's Duke brown leather Chelsea boots are excellent for a casual look. Thursday's Cavalier black leather chelsea boots are more business casual.
Are Chelsea boots appropriate for work?
Chelsea shoes may be appropriate for a job depending upon outfits used. With a suit, pick a svelte Chelsea like Carmina or RM Williams. For manual work, pick an ASTM certified boot like Blundstone's work series.
Can you wear Chelsea boots casually?
Yes, you can wear leather chelsea boots with jeans or chinos. You want to buy casual chelsea boots like Red Wing's Classic Chelsea boots or Thursday Boot company's Duke. You can also wear chelsea boots with smart casual or business casual outfits with more refined picks like Thursday's Cavalier or R.M. Williams.
Is Chelsea boot formal?
They're typically worn casually, but there are formal and semi formal Chelsea boots on the market. For example, Carmina makes excellent whole cut leather Chelsea boots for more formal occasions. Black chelsea boots are more formal than brown chelsea boots.
Can you wear Chelsea boots all year?
You can wear Chelsea boots all year round. If you live in an area with harsh winters you want to find a pair of chelsea boots that are highly water resistant or waterproof like Ariat or Blundstone.
Is it OK to wear boots to work?
This depends on your dress code at work, but given there are a wide variety of chelsea boots you should be able to find a pair of chelsea boots that are suitable for your office. If you want a casual look, check out Red Wing's Classic Chelsea. Pick Carmina for a formal look, and pick Blundstone or Ariat for a more physical job.
The following two tabs change content below.
Karl Wasson
Karl is an IT product manager living in South East Asia who gets a kick out of durability and dependability. He believes form and function are not mutually exclusive. When he's not working, he's searching for the best bespoke menswear in South East Asia and beyond.
Latest posts by Karl Wasson (see all)