Carmina is one of those boot companies with a cult-like following, but not among the average Goodyear welt, Red Wingy, casual-beater-boot crowd.
Carmina is, for many people, the dress boot brand.
Ever since I started this site, I've wanted to try their world famous Chelsea boots, even trying my luck at their New York store in Grand Central — but they didn't have my size. Carmina remained in my thoughts and when they recently offered me a pair to review, I knew I had to try them out. (To be clear: this isn't a paid post and I was planning to buy them myself anyway, promise.)
The brand is truly the stuff of legend in the boot community, and it's a rare type of boot: it's Goodyear welted but very dressy and sleek, an unusual combination for a formal, European-made shoe. Especially since Carmina predates the Goodyear welt! The company was founded on the Spanish island of Mallorca in 1866, three years before Charles Goodyear Jr invented his famously resoleable method of shoe construction. Today, the company is still headquartered on Mallorca, managed by the great grandson of Carmina's founder, Matias Pujadas.
You could write a book about all the history and heritage of the brand. But, in favor of a semblance of brevity, I'll just write about the boot, which I've been wearing off and on for a few weeks.
Carmina Chelsea Boot Aesthetic
Made on slim, dressy Simpson last
Box calf leather
Slightly square toe
Delicate, intricate lasting
Leather outsole
The first things you're likely to recognize about the shoes is the sleek shape, the slightly square toe — not uncommon on dressy European shoes — the dense and subtle stitching on the welt, and smooth leather outsole. While the average shopper might not know it, all of these are feats of engineering that demonstrate extraordinary skill and patience on the part of the shoemakers.
[Related: The 10 Best Dress Boots]
This 80216 Chelsea is made using the world famous Simpson last. The last, for those unaware, is the foot-shaped piece of wood (at least, it's usually wood) that determines a shoe's fit. In this article I wrote about lasts, Neil Munro said,
The final shape will be determined by the last toe shape, heel height, volume measurements, ball and instep placement. It's the very essence of the shoe.
Carmina is world renowned for their lasts and the craftsmanship employed to design the final product with them. For example, you might notice the ever so slight vertical shape to the toe, like an ultra subtle ski jump:
That's hard to do, and it's a result of very precise lasting. The same can be said of the way the leather bulges ever so slightly on the instep, and both of these features produce a shoe that follows the anatomical shape of the foot a little better than competitors. This is the sort of thing, admittedly, that a lot of guys don't care about. But Carmina isn't a shoe for anyone; it's for guys that really appreciate the labor and skill it takes to create them.
I had one tiny little quality control issue: on one of the elastics on one of the shoes, the stitching connecting the two pieces of leather wasn't perfectly flush like the others — the big "U" of the elastic wasn't a smooth curve at the bottom, there's a little bump:
I'd never draw attention to something so minor on cheaper boots, but these boots are not cheap.
Even though these are dressy boots, I know the idea of whether or not you should wear Chelseas with a suit is controversial. It's very common in Australia (where I'm from) because the the RM Williams' Chelsea is such a universally beloved part of the nation's culture. It's the glue that holds the country together, so the RM Williams Chelsea is everywhere: with a suit, no suit, in torn shorts with a curry stained singlet.
In New York (where I live now), you don't see the Chelsea worn with a suit quite as often. I tried it out with three outfits below; let me know in the comments if you think Carmina works with a suit.
Carmina Chelsea Boot Leather
Box calf
Chrome tanned with aniline finish
1.3mm thick
From Germany's Weinheimer tannery
Use cream to hydrate, wax to shine
Given this is a dressy shoe, you probably assumed it was calf from the get-go, and it is. Calfskin is lighter in weight and thinner in variable than cowhide or steer hide and it has a tighter, more even grain. In other words, it looks a bit less like skin and is more uniform in appearance. Although this calfskin is 1.3 millimeters thick (most work boots are a little over 2 millimeters) it's plenty tough, as ounce for ounce calfskin has more tensile strength than cowhide.
That's a description of calfskin in general, but these boots are made from box calf. Even more suited to dressy shoes, box calf is calfskin that's chrome tanned with an aniline finish. This means it holds dye really well while retaining the leather's natural surface. Box calf hasn't been split, buffed, or corrected, but it's very smooth and vibrant. Most of Carmina's leathers come from the famous Tannerie D'annonay in France. but their black box calf is from Germany's Weinheimer tannery.
[Review: Calfskin vs Cowhide – Which Is Better for Your Boots?]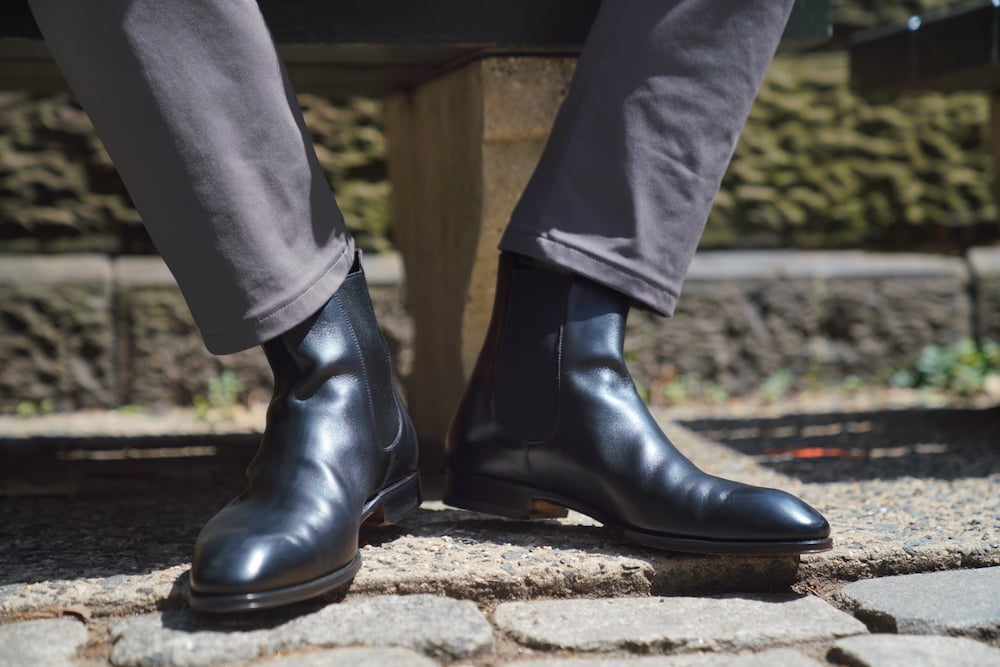 Carmina has their own facility in Mallorca, where all their production takes place. This, of course, means they have a lot of control over the process and nothing is outsourced to other factories, something that's remarkably common in the industry. Carmina doesn't just put the shoes together, they also do all the clicking — meaning they're the ones that choose and cut out the bits of the hide that will be used for the shoes — all the cutting is always done by hand, and each piece is skived for evenness.
For leather care, they sell cream and wax: the cream to hydrate and condition, the wax to add shine.
[Related: The 5 Best Leather Conditioners On the Market]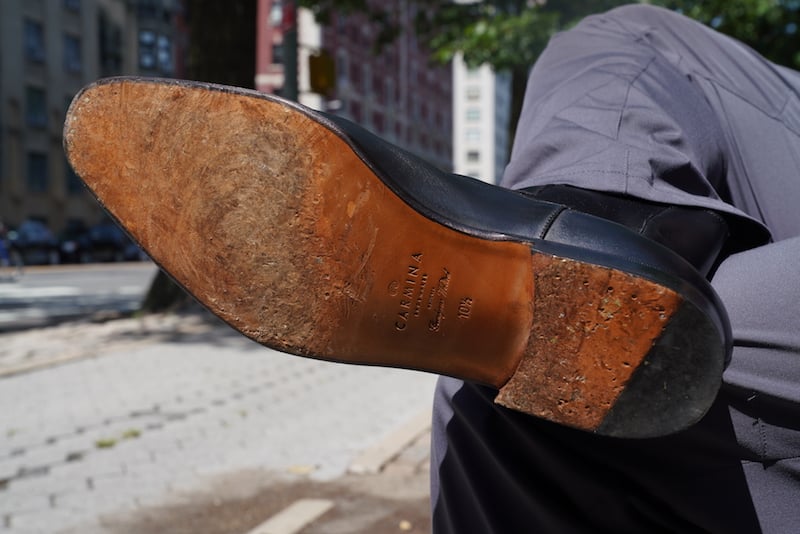 Carmina Chelsea Boot Sole
Leather outsole
Cork and leather midsoles
Leather insole
Compressed leather shank
Goodyear welt
Closed channel stitching
I know how hideous my sole looks (maybe I should have taken pictures before I wore them in) but it's important to know what happens to leather soles: they look so great when you get them, and so ugly within minutes of wearing them outside.
But leather soles do have upsides! For one, as they get beat up and accrue scratches and crannies, the grip does improve. The other upsides with leather soles are that, relative to rubber or cork, they break in faster, they're more flexible, and they're softer. Oh man, are they soft. A lot of men will only wear leather soles because they're so soft underfoot, and Carmina's vegetable-tanned sole, sourced from France, is no exception.
It's very important to note that this is closed channel stitching. With most boots you can see the stitching that's attaching the sole to the Goodyear welt on the outsole. You can't with these: closed channel stitching means they cut into the outsole, peel back the leather, sew it into the welt, then glue the leather flap back down. I visited the factory to see how these shoes are made below; the insole channeling happens a little after the six-minute mark.
The result is a perfectly smooth outsole, with some brass nails around the toes to remind you that it's sturdy. Closed channel stitching is more aesthetic than functional: if you beat them up, walk on concrete a lot, or step on a staircase the wrong way too many times, the leather covering the stitching can get peeled back. But vulnerability is the price of ultra comfy leather soles, and Carmina deserves their reputation for comfort.
After that outsole there's a cork midsole, a compressed leather shank to improve arch support and stability, and a leather insole.
The closed channel stitching is part of why the boots are expensive. Another reason is the Goodyear welt. Not only is it incredibly sleek for such sturdy construction, it also has a remarkably high number of "stitches per inch." Most boots have four or five, Carmina's has eight to ten.
Carmina Chelsea Boot Fit & Sizing
European sizing
No wide widths
Quite narrow
Soft and comfy underfoot
Predictably, this European company uses European sizing, which is normally a full size down from your Brannock (or "true") size. So my true size is an 11.5, in most American boots I'm an 11, and all my boots with European sizing (like Tricker's) are a 10.5. But you might want to chat with Carmina first to double-check.
These are extremely comfortable boots, and I'm not being paid to say that. They just cost over five hundred bucks, so they'd better be comfy. I've already talked at length about how soft the sole is and how wonderfully the last follows the shape of the foot, plus it's fully leather lined and the leather's not very thick, so there was no break in.
The only real downsides are that the grip isn't so great and the last is fiendishly narrow. It's fine on my feet, and I have regular D width feet, but if you're even a hair wider than that you might find it too tight — and there are no wide sizes available to help you out.
Carmina Chelsea Boot Price
These boots'll cost you $570.
Your jaw may drop at that price, but what's interesting is that men who are really into dress shoes, to a person, say Carmina is great value. Given Carmina owns and runs their own factory, it makes sense they'd be cheaper than competitors. (Again, it's really common to outsource manufacturing.)
Why is $570 good value? Here are five things that separate this from your usual Goodyear welted boot:
the intricate and delicate lasting that makes the boot contours the foot so well,
box calf leather is considered very high-grade stuff,
the closed channel stitching,
the very high SPI on the Goodyear welt,
the fact that it's a durable, water resistant, resoleable Goodyear welt that's sleek and very dressy. (That sounds superficial, but it's a actually a considerable feat of craftsmanship.)
If you don't care about any of that, then get a cheaper pair of boots! No one's got a gun to your head. The point I'm trying to make is that there are good reasons — reasons that reflect a lot of skill and labor — that justify the price, and lovers of high end footwear regularly attest that this is solid value for the quality.
Carmina Chelsea Boot Pros & Cons
Here's your summary.
Pros
World class craftsmanship and attention to detail
Decent value (for this quality)
Gorgeous, supple, vibrant leather
Very comfortable: leather outsole, midsole, insole, and shank
Unusually sleek, handsome aesthetic
Cons
Quite slim; no other widths
Leather sole not very grippy
Not whole cut leather (it's three pieces sewn together)
They're still over $500 (I get it)
Quite formal, a little hard to dress down
Carmina's shoes are superb. They're not grippy, they're hard to dress up, they're too slim for some, and they're over $500. But if the price doesn't bother you, I'd tell you to pull the trigger.
I've mentioned this already, but this decision comes down to how much you value craftsmanship. Are you perfectly happy with cheaper boots? Zero complaints? Would even wear them with a suit? Alright! Keep it up, no hard feelings.
If you enjoy pricier watches, for example, even if cheaper ones tell the time just fine, you'll understand why people pay extra for Carmina. Do you value the kind of skill it takes to make high SPI, closed channel, delicately lasted, European made footwear? Then you'll be delighted with the value, comfort, and aesthetic of Carmina, especially given how much more expensive alternatives that share these features typically are.