This post may contain
affiliate links
that at no additional cost to you, I may earn a small commission from.
If you're thinking about getting any pair of boots, there's a good chance Red Wing is one of the first names that came to mind. So, when I decided I needed more Chelsea boots, I had to pick up the most popular Chelsea from Red Wing.
Red Wing is one of the most iconic brands in American boots. Around here, I rarely stop talking about them — I've reviewed the Blacksmith, Merchant, Moc toe, and of course their seminal Iron Ranger. The company was founded over 100 years ago by Charles Beckman, and they started off making hard wearing boots for the workers toiling in Minnesota's iron mines. Today they've split into two companies, one that makes more modern footwear with updated materials for factory floors, and the more fashion-focused Red Wing Heritage line.
Their Heritage boots are what people think of when they think of the word boot: tough leather, hard wearing, and they pick up a gorgeous patina as they age. When it comes to picking a leather, their Copper Rough & Tough is perhaps their most beloved. That's why I had to get their Weekender Chelsea in this iconic leather — here's what I thought.
[SHOP RED WING'S WEEKENDER CHELSEA HERE!]
Red Wing Weekender Chelsea First Glance
Very casual
Stitchdown construction
Flexible, lightweight
Wedge sole
The Weekender Chelsea is the iconic, seminal, been-around-for-a-long-time Chelsea from Red Wing and it's significantly more casual than many of their offerings.
Instead of a Goodyear welt it has stitchdown construction, it has no shank, plus it's got a thinner polyurethane sole, making for a boot that's way more lightweight and flexible than most, if not all of Red Wing Heritage's boots.
It's definitely got more of a breezy, slip-'em-on-and-go-out-for-coffee kind of vibe than the more sturdy, stompy work boots that you might be used to from the company. Huckberry describes these as,
"Off-the-clock style with a workwear pedigree"
Which I think does a great job of encapsulating them.
Unlike what may be the best Chelsea boot ever, the R.M. Williams Comfort Craftsman, this isn't made from one piece of leather, it looks like three or four stitched together. That makes for a less clean aesthetic, but one that's a bit less dressy, resulting in a look that might resonate more with the Red Wing community.
[Related: Red Wing vs Thursday Boot Company — who makes the better boot?]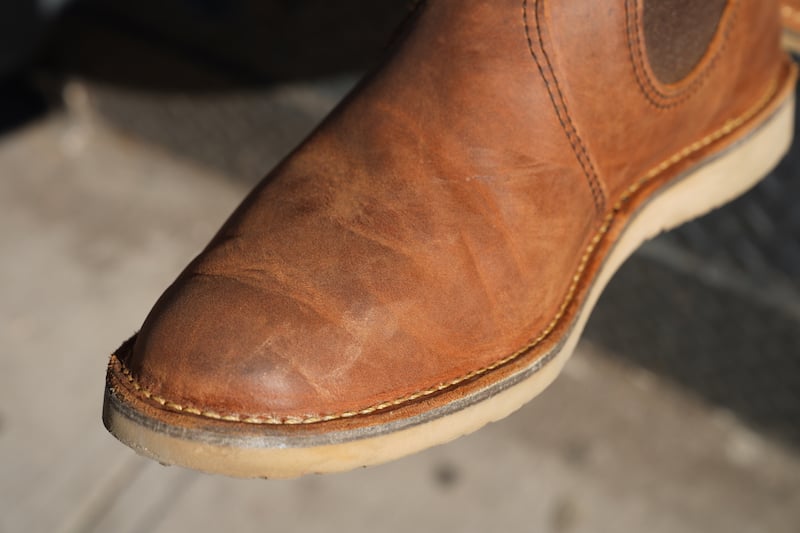 Copper Rough & Tough Leather
Copper Rough & Tough leather
~2.1 millimeters thick
High wax content
Pull up leather
Rugged appearance
This is Red Wing's famous Rough & Tough leather. What makes it different to their other leathers? The amount of oil and wax it's been stuffed with, and the pull up effect that creates.
It's 2 to 2.2 millimeters thick with a high wax content on the exterior. It's a pull up leather, which basically means it's got so much oil and wax slipping and sliding around the skin that it produces color variation: a darker overtone and lighter undertone, so the lighter shade pulls through in some areas and gives it a distressed type of look.
[Related: What is pull up leather, anyway?]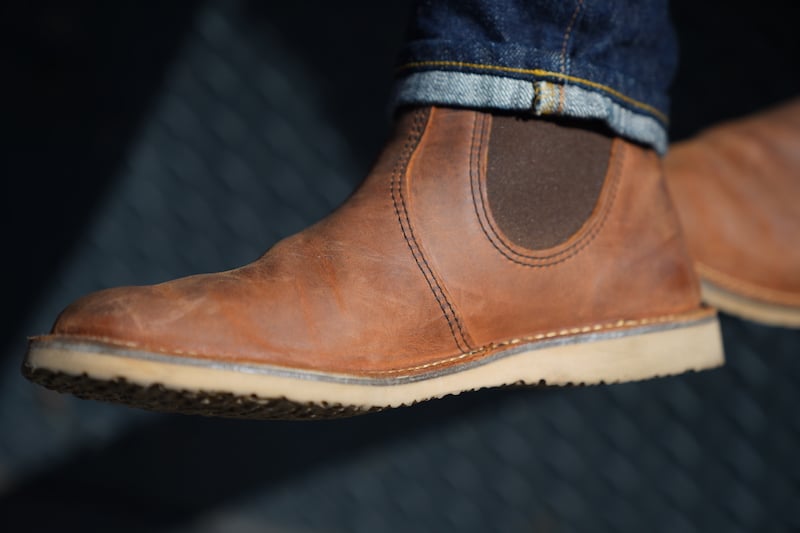 A lot of Red Wing's leathers are pull up, but the Rough & Tough ones develop patina quite quickly. When people think of cool boots with a nice patina, it's often this kind of leather — take a look at these photos of older boots with the same leather that I've yoinked from around the internet: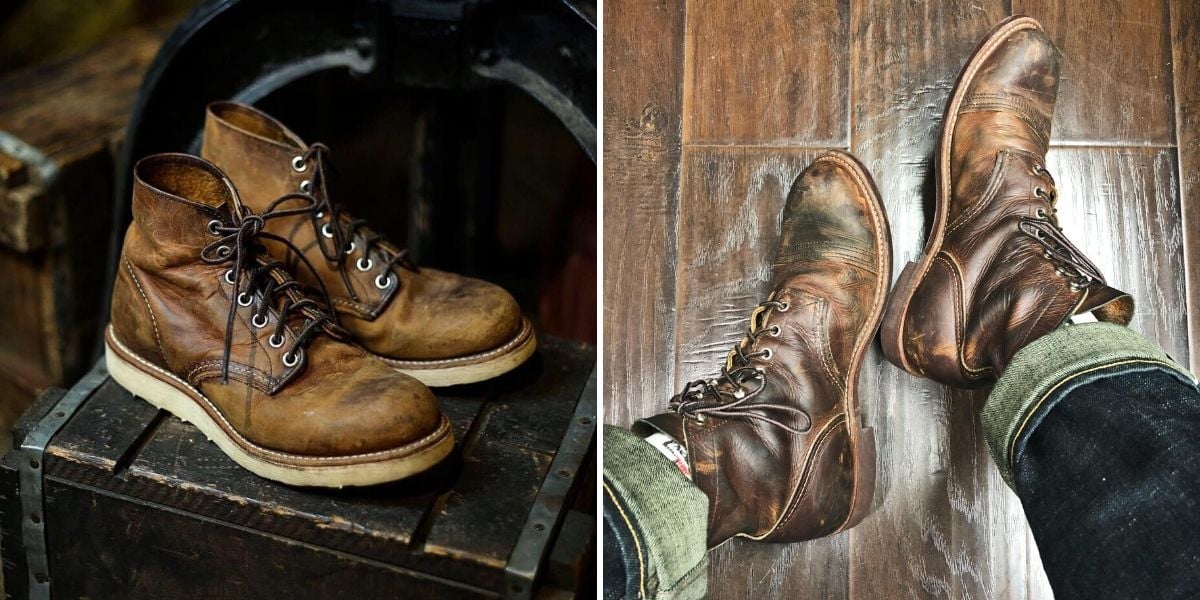 via Red Wing Shoes Singapore on Facebook and u/tyler_brandt on Reddit
So the leather is badass. Just don't expect it to look like the product photo on Red Wing's website, which is quite a lot darker than the boot you get.
Copper Rough & Tough Leather Care
Use Red Wing's Leather Cream
Made with neatsfoot oil
Use Boot Oil for better water resistance (but color will darken)
As much as everyone loves this leather, it's real easy to darken it and lose the subtleness of the pull up and patina that they love.
For taking care of these boots, many will use Red Wing's Boot Oil, which contains a mixture of mink oil and pine pitch. That's fine for helping increase the water resistance, but not so much for maintaining the color.
So what I recommend is Red Wing's Leather Cream.
That's made with neatsfoot oil (the rendered shin and feet bones of cattle) and it's what you want to use if you don't' want to darken the leather. You can also use Lexol or Bick 4, which are also great at moisturizing leather while minimizing discoloration.
Now, if you want your boots to be better able to withstand salt and rain, you might want to use their Boot Oil once or twice a year. It'll penetrate more deeply and give more of a layer around the boots to protect the leather from the elements. Just expect darker boots as a result.
[Related: The 5 best leather conditioners for boots]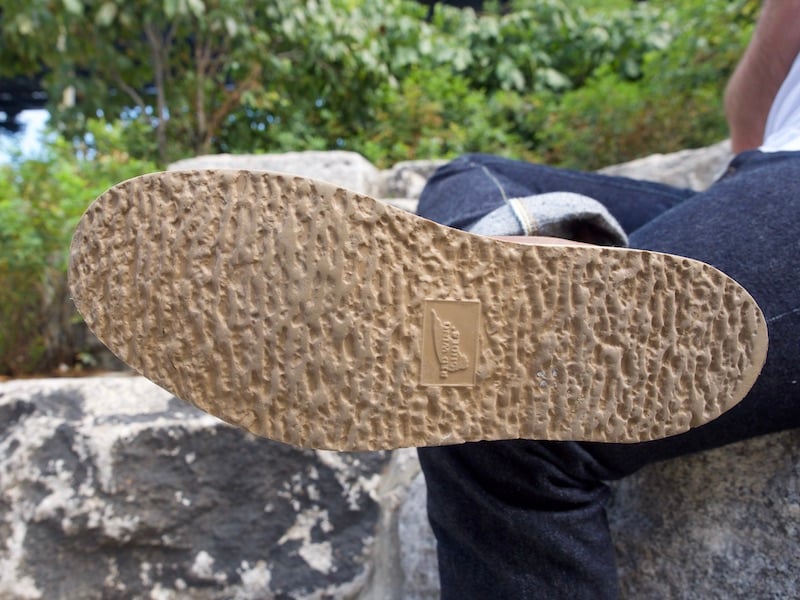 Red Wing Weekender Chelsea Sole
Polyurethane outsole
Layer of texon
Removable insert
No shank
Stitchdown construction
Now, this is not the same kind of wedge sole you get in Red Wing's moc toes, which are made of crepe rubber. Some people will tell you the Weekender has crepe rubber, but this is in fact a type of polyurethane, so it performs like crepe but it's a little more durable.
It's really worth emphasizing that this sole is relatively thin and soft. If you're walking over cobblestones, you can feel the cracks between them — the sole doesn't give the really firm, stable, sturdy feeling you might be used to from other boots out there. That's because this isn't a work boot, it's a leisure boot.
After the polyurethane outsole there's a layer of Texon, which is pretty soft and flexible as well. You'll see it in some athletic shoes like Nike and Rebook, as well as some other boots like the Parkhurst Delaware.
There's also a removable insert, called a Comfort Force footbed, which is also made from polyurethane and has a slight arch to it. The shoes don't have amazing arch support, in part because they don't have a shank, but they're fantastic at absorbing shock. An extra bonus is that the footbed is covered in suede, which should provide a little extra moisture control. (But make sure you let them rest a day between wears with shoe trees inside 'em.)
[Read More: What are crepe soles? Everything you want to know about crepe.]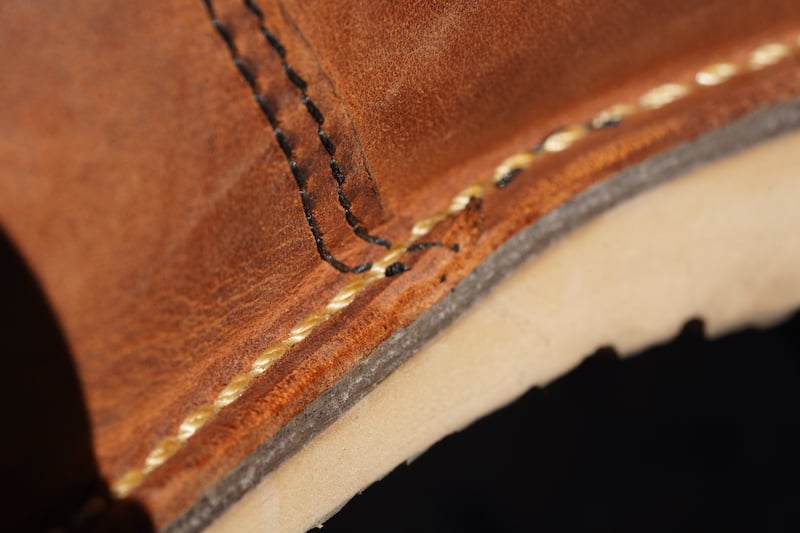 Finally, this has stitchdown construction, not a Goodyear welt, so the stitching goes through the upper itself instead of through a leather welt. (That's a strip of material that would go between the upper and the outsole.) If you look closely, you can see the leather has been flattened out — flanged out is the technical word — and sewn to the mid and outsole.
Stitchdown construction is still pretty hard wearing (my famously tough Viberg Service Boot uses it) but it's not the most water resistant on Earth and it's a bit harder to resole. It can be done, but it's a tad harder to find a cobbler who can do it well and there are only so many resoles it can take. This is actually an important note, because the gent I spoke to at Red Wing told me that folks who wear these shoes regularly get them resoled every one to three years.
[Related: 3 reasons you need cedar shoe trees for all your boots]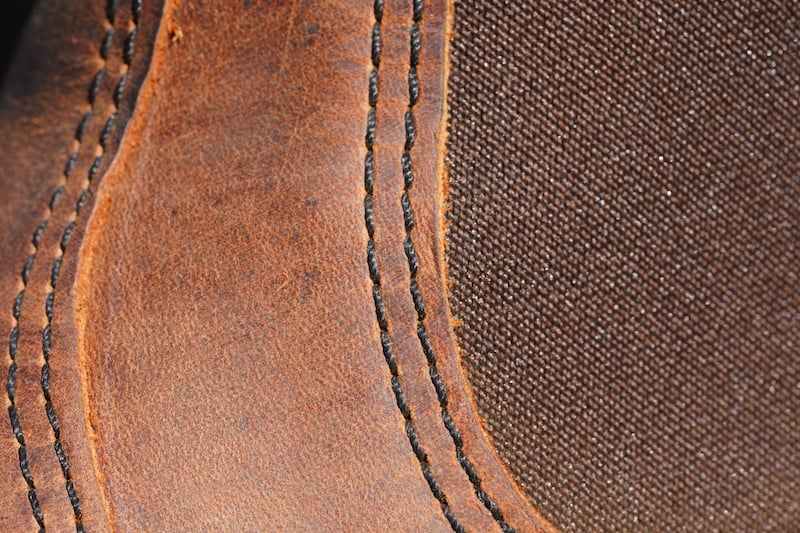 Red Wing Weekender Chelsea Fit & Sizing
Size down half a size
Only in D widths
Feel like leisure boots, not work boots
Good shock absorption
Relatively thin outsole
As is always the case with Red Wings, you size down. My true size is 11.5, I got these in an 11, and while they were a bit tight on my pinky toes at first, they quickly softened up. The stitchdown construction and soft sole meant I didn't have any difficulty breaking these shoes in. That's in stark contrast to most Red Wing boots, which typically give me some gnarly blisters for the first week or two.
As I mentioned, they're leisure boots, not work boots. The sole is really flexible and soft and quite thin; while the shock absorption is great, you don't get that really robust feeling you get with Heritage boots. That's not a big deal, it's just important to know that your feet won't feel quite as protected as they do in the clunkier work boots on offer from Red Wing. They're city boots.
[Related: Check out my review of Red Wing's famous Iron Ranger boot!]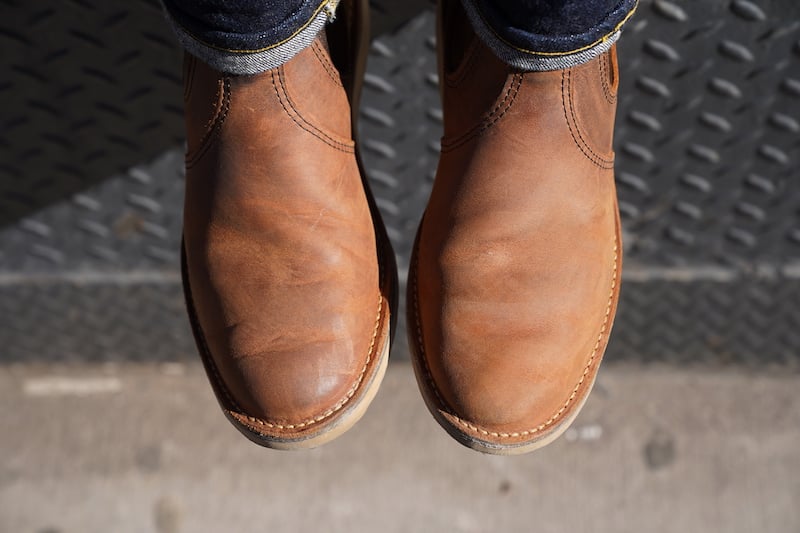 Red Wing Weekender Chelsea Price
You won't find these any cheaper than $249.99.
That's pretty cheap for Red Wings, which are usually over $300, but keep in mind the cost is lower because they don't have a Goodyear welt or a shank. Given that, I think the price is fair — Red Wing did the right thing by dropping these to under $250, plus you're still getting their terrific quality leather.
[SHOP THIS WEEKENDER CHELSEA BOOT HERE!]
Red Wing Weekender Chelsea Pros & Cons
Pros
Soft, flexible sole
Good shock absorption
No real break in
Under $250
Very lightweight and flexible
Cons
Made from several pieces of leather (not a very clean look)
Stitchdown construction not super water resistant
Hard to resole
No shank, so-so arch support
Not as sturdy as other Red Wing Heritage boots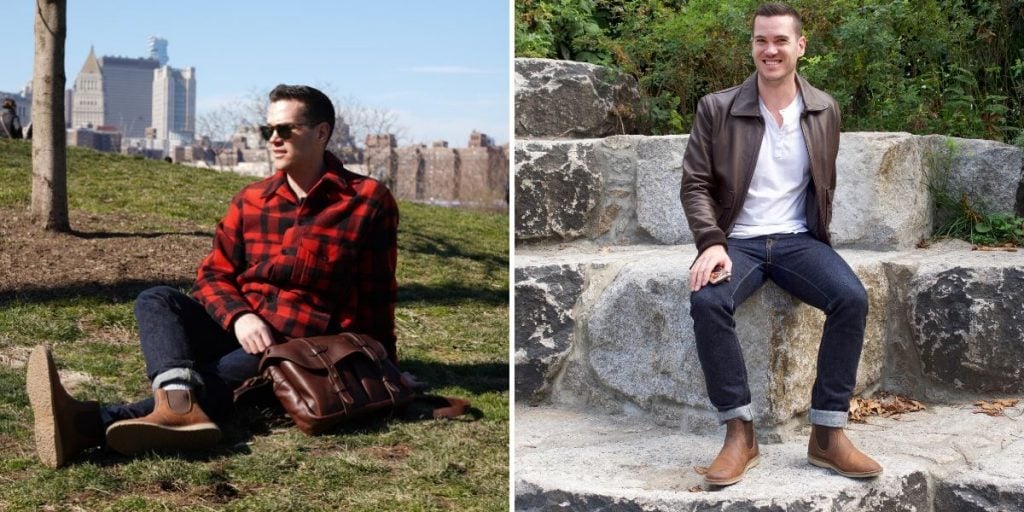 I feel like I've given a lot of cons to this boot, and they aren't on my list of the best boots for men, but I really like them.
I love their breezy, easygoing nature, the flexible sole, the shock absorption, their light weight, and their price. Sure, they're not for stomping around a warehouse, but not every boot needs to be! The stitchdown construction has its downsides, but the shoes can probably withstand a few resoles and last you at least five to ten years. In my book, that means the Weekender Chelsea is still good value for money — especially when you get to see this gorgeous leather age.