Finding waterproof boots that are truly waterproof — especially ones that look any good — is a challenge.
They're typically made with comically thick lugs, puffy insulation, and an outdoorsy design that's more practical than stylish, but in this list we're giving you a balance of the best waterproof boots that excel in form and in function.
Read on for the best waterproof work boot, the best waterproof city boot, best waterproof Chelsea boot, waterproof hiking boot, and more!
Water Resistant vs Waterproof
There's a difference between water-resistant and waterproofing technologies.
Often, guys erroneously think that a Goodyear welt (or it's more water-resistant cousin, the storm welt) is waterproof, but that's not the case. Most great leather boots are made with a version of the resoleable Goodyear welt and they're perfectly fine for walking in the rain or snow — and to be totally clear, that's usually all the "waterproofness" the average person needs.
But sometimes people want waterproof boots, something you can wear standing in a creek or trudging around wet marshes.
Different companies have different standards for waterproof, but here are some of the most popular methods:
Waterproof Lining
waterproof boots often have a lining inside the boot. It's like a plastic bag but breathable, designed with tiny pores, that are too small for water molecules to enter through, but large enough for warm air and water vapor to exit.
Back in the day, the only company making this sort of breathable waterproof membrane was GoreTex, but nowadays a lot of companies have their own proprietary waterproof membranes. To prevent leakage, the waterproof lining is laminated to the uppers, which seals the pores in the leather and the seams where the fabric is stitched together.
Cemented Waterproof Boots
Cemented waterproof boots are more common than welted waterproof boots. Boots like these are fairly low tech: the upper is attached to the sole with an airtight method that prevents water from coming in through the seam between upper and sole. Note that these kinds of boots don't breathe as well as GoreTex.
Vulcanized Rubber
The other way to make waterproof boots is to use vulcanized rubber like galoshes or rain boots or LL Bean's duck boot. Obviously, the rubber isn't very breathable and is more popular in temperate and cold climates like the US Midwest and East Coast.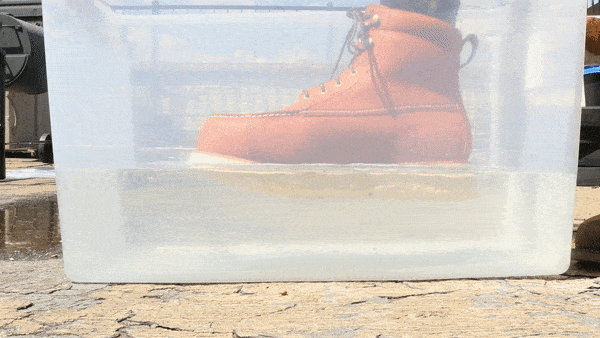 The Downsides of Waterproof Boots
If you're a heritage boot guy, you won't often find welted waterproof boots because they're made with modern materials and construction methods. When you make a welted boot, the stitching isn't waterproof and seams will leak with prolonged exposure to wetness.
One downside of waterproof boots is that while they often use breathable materials, they're not as breathable as normal leather because of the waterproof membrane or other waterproof materials and coatings.
There's always a tradeoff between water resistance and breathability and unless you actually need waterproof boots, most guys avoid them in warm weather.
But, if you live in areas that are wet and cold, waterproof boots are a solid investment.
The Best Waterproof Boots
To start off, let's look at two terrific waterproof work boots, then we'll move onto more city-friendly footwear that won't look out of place in Manhattan — boots that can withstand a lot of muck and grime while still being wearable for a nice dinner. I've tried to find something for a wide range of budgets and uses, and I've even put a bonus Red Wing Heritage boot in there. (It isn't waterproof, but it's extra water resistant, and that's enough for a lot of guys.)
1. Best Work Boot: Irish Setter's Wingshooter S.T.
Waterproof membrane
Meets ASTM Safety Standards for Electrical Hazards
Goodyear leather welt
$210
When people think of Irish Setter they usually think of this boot or the Ashby line, but the Ashbies aren't waterproof. (And don't confuse this with the Wingshooter, which is a hunting boot. This is the Wingshooter S.T.)
It's made with what they call an Ultradry system, which combines a lining made of a synthetic membrane material with other waterproof components.
It's also got a non-metallic safety toe that passes ASTM safety standards, the soles can withstand over 475 degrees, and it can withstand 18,000 volts of electricity. (At 60 hertz for one minute under dry conditions, which is the ASTM safety standard.)
For a legit work boot, it's one of the best looking I've ever seen, and it's even Goodyear welted — rare for a waterproof boot.
[SHOP THE IRISH SETTER WINGSHOOTER S.T.]
2. Best Work Boot Runner Up: Brunt Workwear Marin
Can be converted from D to EE width
Meets ASTM F2892-18 standards
Comfortable
$135 without the safety toe, $145 with the safety toe
For best work boot, I'll give you two — this way you've got options if one is sold out. (The runner up is usually sold out. Get it together, guys!)
A great value work boot is the Marin from Brunt Workwear. The most inexpensive boot on this list, it comes in at $135 (or an extra $10 if you need a safety toe) but it comes with stupendous waterproofing, with three layers to keep the elements out.
It's also got a rubber-skinned sole that has built-in oil and slip resistance, it's made with lovely full grain leather, and the combination of memory foam and rubber foam in its construction makes for terrific shock absorption. It's true that it's not made with a Goodyear welt, so resoling isn't an option, but the price is right and a bonus of the cemented construction is that it's a remarkably flexible boot.
Less importantly but still nice to notice is that unlike a lot of waterproof work boots, this isn't an especially bulky piece of footwear. It's got heft, sure, but it fits much better with a casual streetwear outfit than other waterproof work boots you're likely to find.
[SHOP THE BRUNT WORKWEAR MARIN]
3. Best Waterproof Chelsea: Ariat Wexford
Sleek, not over built
Comes in 7 leathers
Very comfortable cushioning
Waterproof membrane
$170
The Ariat Wexford is one of the best looking waterproof boots I own. It's sleek, it's not overbuilt, it comes in seven leathers (right now anyway), and while it looks like a traditional slip-on Chelsea boot, it's got comfy cushioning in the insole that rebounds like a work boot. That means more comfort and less foot pain when you're spending all day on your feet.
Ariat waterproofs boots use their proprietary WaterProof Pro membrane, which is laminated to the leather uppers, and it's built with a lightweight shank that provides extra stability — a useful feature as the boot ages.
This is one of the rare practical city boots that can easily transition to outdoor activities and it's pretty inexpensive at about $170. The reviews all say it's great for farm work and rain, though if you're ankle-deep in mud all day you might want something taller without gussets.
[SHOP THE ARIAT WEXFORD HERE!]
4. Best Waterproof Dress Boot: Allen Edmonds Chapman
Classy enough to wear in town
Rare storm welt combined with a waterproof membrane
Available in 6 leathers and 2 styles, including a combat boot and a wing tip
Made in America
$445
The nicest waterproof lace up boot for men is Allen Edmonds' Chapman, a sleek piece of work that fits just as well under business casual outfits as it does with jeans and a jacket.
The Chapman is currently available in a range of leathers that include black leather, nubuck, suede, and even wingtip styles — and they're all made in the United States.
Allen Edmonds is an institution in the world of American footwear and they spared no expense with the Chapman. It's waterproof, yes, because of its waterproof membrane lining, hydropobic leather, and storm welt. That's a kind of Goodyear welt that's extra water resistant because of this lip that curves up onto the upper
It's tough, it's grippy, and it works with just almost any outfit without seeming out of place. Need to head to the office but there's a storm to brave? You've found your answer.
It is the most expensive on the list at $445, but it's justified by the laborious storm welt construction, high quality leather, and the fact it's made in America.
[SHOP THE ALLEN EDMONDS' CHAPMAN BOOT HERE!]
5. Best Duck Boot: LL Bean Boot (The Bean Boot)
Iconic and popular style
Tons of variations available (eg. 8-inch, lined, insulated)
$140
Made in USA
The best duck boot is the world famous LL Bean duck boot, usually just called The Bean Boot.
Here in New York City, this boot is absolutely everywhere whenever it rains. No one seems to have gotten the memo that regular Goodyear welts work fine in the rain, but hey, the Bean Boot is a classic that isn't going anywhere.
The Bean Boot combines rubber bottoms with leather uppers: the rubber bottoms prevent water from entering the boot in the area that's most exposed to mud and wet, while the leather uppers allow for some breathability. It's an ingenious design and while it's not made with a Goodyear welt, it is resoleable — if you're willing to pay to send them back to LL Bean themselves, who are unsurprisingly specialized in the process.
Another cool aspect of the Bean Boot is that it comes in a variety of other iterations, like versions lined with flannel, chamois, Gore-Tex, and Thinsulate — there are even 10- and 12-inch high versions.
The main potential downsides are that it's pretty loud — it's not a subtle or urban boot, but it's an American classic. Just makes sure you order the right size, as returns are torturous with this company. My sneaker size is 12, true size 11.5, and usual boot size is 11, but I had to order a 10.
6. Best Casual Waterproof Boot: Timberland 6''
PrimaLoft Insulation
Padded leather collar
$198
Speaking of urban style, if someone new to New York asked what's the best casual, urban, waterproof city boot for winter, they'd almost certainly be pointed to the Timberland 6-inch Premium Waterproof boot.
It really stands out because it's such a cultural icon. It started out as a New England farming boot, but sales more than tripled in the 90s when it became a mainstay of hip hop culture; catch them worn by Notorious BIG, Tupac, Jay-Z, and many other icons.
Described as "bonwelted," this is a boot with seam-sealed waterproof construction, and it's insulated as well, making it a favorite for cold nights in the Bronx or those early mornings of cow milking on your Massachusetts farm. (It's a versatile boot!) Tucked beneath this nubuck leather is almost a pound of PrimaLoft insulation, and combined with the padded leather collar it retains heat in and has style in spades.
It is hard to keep clean but check out my video on cleaning them for tips on how to do that. The style isn't for everyone (you won't wear these to the office), but for most guys who just want something to wear around town when the weather is cold and wet, this boot works great.
[SHOP THE TIMBERLAND 6″ WATERPROOF BOOT HERE!]
7. Best Casual Boot Runner Up: Anfibio's Isak
Natural wool lining
Rugged and sleek
Side zip for easy on and off
$330
If you want something similar to the Timberland but a bit sleeker and more refined — just a bit — check out Anfibio's Isak.
A less bulky and more rugged option, it's made with waterproof materials and sealed stitches and seams and it's also insulated, but with natural wool instead of synthetic PrimaLoft. This will appeal to guys who like natural materials: synthetic fabrics can sometimes get pretty stinky over time, and wool does a much better job of getting wet and drying without turning into a colony of bacteria.
Of course, those natural materials cost more, it's more than twice the price at $330, but it is made with better materials and in Canada to boot. (Timberlands are made in the Dominican Republic.)
8. Best Waterproof Hiking Boot: Danner Mountain 600
Combines classic hiking boot style with modern materials
Excellent traction from Vibram's Fuga Sole
$210
The best waterproof hiking boot is the Danner Mountain 600. Danner is a brand with a reputation for making really durable hiking boots, and this one's no exception.
They were one of the first traditional hiking boot companies to use GoreTex back in 1979, when it was hugely controversial to use synthetic materials in hiking boots. It's similar to the hate some people have today about using poron and modern synthetic materials in heritage-style boots.
The Mountain 600 is almost a hybrid sneaker and boot, than it is a traditional hiking boot. It has a 100% waterproof barrier, 200 grams of PrimaLoft insulation (that's half as much as the timberland), and EVA and Ortholite in the construction for shock absorption and comfort.
What's also cool is it's got Vibram's Fuga Sole. Combined with the SPE midsole, it lets your foot expand to a wider surface while the lug pattern grips at multiple angles, which all provide a ton of stability when hiking rocky ground.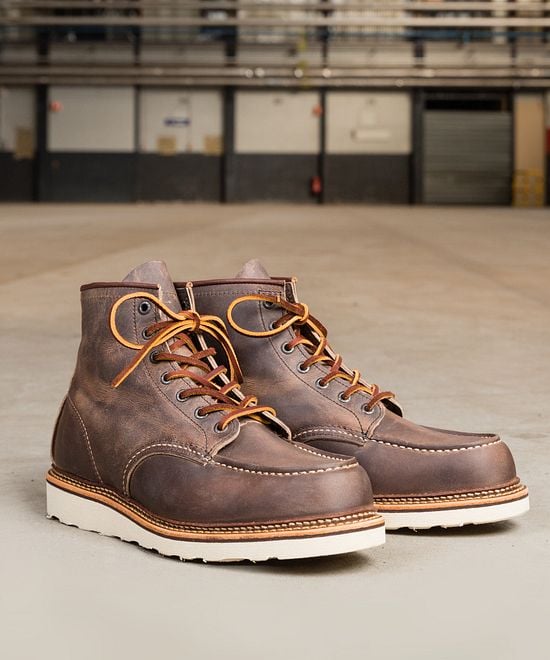 9. Best Waterproof Heritage Boot: Red Wing 1907 Classic Moc Toe
Psych, it's water resistant, not waterproof
Norwegian-like welt
$310
The last entry is the best water resistant heritage boot, and I know I'm cheating a little here because Red Wing Heritage makes boots the old-fashioned way, so none of them are technically waterproof. You can't make waterproof boots with late 19th century or early 20th century tech.
But the 1907 Classic Moc is their most waterproof heritage boot. Instead of the Goodyear welt, the 1907 has a Norwegian-like storm welt, which is the most waterproof way to make an old-fashioned boot. It's what jungle explorers used to wear a hundred years ago.
[SHOP the Classic Moc 1907 here]
Now, there's some debate as to whether it's a Norwegian welt or a Norwegian like welt, but basically it uses a single piece of leather that's folded over and stitched to the upper and the midsole to keep water from getting inside the boot.
But it's the most water resistant Red Wing Heritage boot you'll find, plus it's cool and old-fashioned and made in America with leather that'll age beautifully — all the stuff most guys want from a cool, casual boot.
Wrapping Up
I think I covered all the bases from somewhat dressy waterproof boots like the Allen Edmonds Chapman to something you can throw on and do yard work like the Marins.
Again, most people think they want a waterproof boot, but something very water resistant like the Classic Moc will keep your feet dry most of the time. But still, some people like to spend a lot of time out in the wet, and if you're one of those guys, you've got what you need on this list. Happy booting!
The following two tabs change content below.
Karl Wasson
Karl is an IT product manager living in South East Asia who gets a kick out of durability and dependability. He believes form and function are not mutually exclusive. When he's not working, he's searching for the best bespoke menswear in South East Asia and beyond.
Latest posts by Karl Wasson (see all)