If you've ever dreamt of chasing wild game through bogs and brambles whilst dressed like a wondrously stylish gentleman, your taste may be more British than you know, and no field boot is quite so thoroughly British as the Edward Green Galway.
This isn't to say that the boot can't be classy; it dresses up remarkably well! (One would hope so, considering the price.) Let's dive deeper with this legendary Galway to see if it truly hits at its price point or if we're paying mainly for the name.
Edward Green Galway Boot Pros and Cons
Got somewhere to be? Here are the pros and cons of this iconic British boot, to help you can decide if it's right for you.
Pros
Wholly original design with countless copies
Easy to find in stock
Fantastic costumer service
Lasted trees available
Custom widths available at no extra charge
Some of the absolute highest quality factory-made heritage boots in the world
Cons
Very high price for a stock boot
Despite high level of craftsmanship, there were still minor imperfections
Low resale value compared to original price
Other widths hard to find
Edward Green, The Brand
Founded in 1890
"Excellence without compromise"
Water resistant military boots
Phenomenal customer service
First, a bit of history, shall we?
At the age of twelve, Edward Green began his career in the footwear industry. Northampton, England had long been a center for some of the finest shoes in the world (as it is to this day), so in this bastion of Goodyear welted footwear, he learned his trade.
In 1890, Mr. Green decided to open his own shop. But instead of focusing on mass production, like most companies of the period, he had a mantra in mind:
Excellence without compromise.
This idea has carried the company forward since that day. Its ownership has changed a handful of times since Edward Green's death, but for the majority of its life, the company has been able to maintain an impressive devotion to quality above and beyond other factory-based makers of its kind.
Edward Green prides themselves not only in fine craftsmanship but also in rare practices such as sewing split-toes with a boar's hair in place of a needle. Over the years, many prominent individuals have worn Edward Green footwear, including several members of the British Royal Family.
The Galway boot is the company's flagship model and most likely the original Galway boot. Galway boots are a British creation embodying the old world way of achieving water resistance: a high shaft, a welt of some kind to keep the water out, and a single piece vamp extending all the way around the boot to reduce the number of seams which could potentially allow the ingress of moisture. A Galway is also smart looking, as every British country boot should.
The particular makeup under review in this article closely resembles the specific model used by the British military for some decades.
Edward Green's Galway Boot: The Aesthetic
Rugged yet classy
Rounded almond toe
Dresses up or down well
As with many boots of British lineage, this Galway looks smart, despite its rugged usage. Its pursuit of toughness and utility is in no way an abandonment of shapely elegance and refinement.
The 202 Last, which this particular model is built on, is the perfect balance between sleek and substantial, almond toe and round toe. Myriad other companies have a Galway model based on this one, but in my humble opinion, this one looks the best and most natural.
If you want to keep the marvelous shape of this last looking perky and new, Edward Green sells lasted beech wood shoe trees. During the occasional sales promotion, Edward Green sometimes even includes the lasted trees for free.
For these reasons, instead of utilizing this as a mud-covered country boot, many will use it as a clean and stylish piece in their wardrobe, a role it plays effortlessly and masterfully. After all, who wants to drag a $1500+ boot through the mud?
The Galway is just as at home with a sport coat and chinos as with military green and a beret. It even looks good with a nice pair of tapered denim and a clean solid colored tee. It doesn't mix quite as well with wide leg trousers on account of the relative pointiness of the 202 Last, but it easily could if it were on one of their rounder lasts, such as the 64 Last. Depending on which last and leather one chooses for their Galway, Edward Green has a Galway for essentially any occasion aside from black tie events.
Edward Green's Galway Leather
Tough yet beautiful embossed leather
Tight grain
Rusty light brown color
For my model, Edward Green employs their fabled Rosewood Country Calf, a rusty looking embossed calf with aniline finish. Its grain pattern is stamped into its surface in an irregular pebble pattern which some might also refer to as scotch grain.
As a calf leather, the pores and fibers of the skin are much more compact than those of an adult cow, so one can expect much less pronounced creasing across the vamp and other areas. This leather is hardy and resilient to scratches, yet pliable and soft. Any scratches or gouges I did bless the boots with on my hikes (because trust me, I had to put them to the test like a real country boot) did not compromise the integrity of the leather or become worse with time; I think this is because the grain structure of calf is so tight and dense.
The surface of the Rosewood Country Calf begins with a subtle waxy shine, conjuring red tones, then slowly wears to a more orange hue with dull yellow shades peeking through as the surface finish fades off. It behaves like a combination-tanned leather, but I was unable to make certain what sort of tanning process the hide underwent or which tannery produced it.
Edward Green's Galway Sole and Construction
Sole provides grip in loose terrain
Sole performs like lug without construction look
Top shelf finishing throughout
Machine welt, despite the price
Small flaws, despite the price
The foundation of this boot is a Ridgeway sole, made by the same company who manufactures the legendary Dainite studded sole. This sole provides a bit more "dig" in loose or unstable terrain. Ridgeway provides the same sort of stability as a lugged sole, such as a Commando sole or Vibram 100, while maintaining a clean appearance.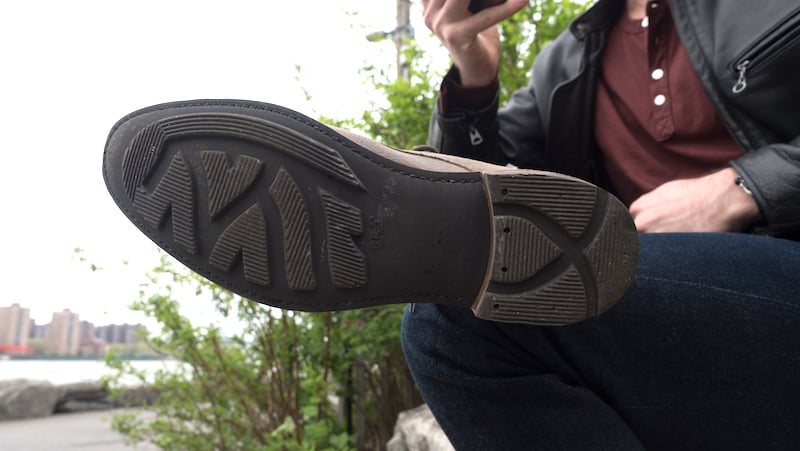 The Ridgeway sole
Holding the sole and the upper together is a flat 270 degree Goodyear welt. Some of the other models of Galway have a veldtschoen stitch, which is sort of a combination of stitchdown and welting; this is supposed to offer a little more waterproofing, but the Goodyear welt still keeps the water out incredibly well, in my experience.
Even though the welt is executed with precision and cleanliness, it does feel a bit jarring paying $1500+ for a boot welted by a machine in a matter of seconds. It is not inferior quality, but when you pay more than $1500 for a boot made of common leather, you often receive perks like hand welting.
Still, the welt stitching and stitching throughout the entire upper sport an unusually high stitch density for a factory-made boot. Studded up the stately throat of the boot are 5 eyelets and 4 speed hooks. Beneath the facings is an unlined, matching bellows tongue, and at the upper rear of the boot shaft is a fully functional pull loop made integral with the back strip. This backstrip has a tastefully curved shape to it, and along with the two-row false cap toe stitch, is one of the main artistic features of the design.
The entire bottom of the upper is made of one continuous piece of leather, for maximum water resistance. All the other materials in the boot are top notch as far as I can tell. The insole and midsole are solid leather. The vamp is fully lined, while the shaft is not, exposing the almost suede looking flesh side of the hide. Soft round cotton laces came with the boots, which I found to be comfortable and functional.
The entire bottom of the upper is made of one continuous piece of leather, for maximum water resistance.
As far as quality control goes, the boot is not quite as cleanly finished as I would expect for such an expensive boot, but it was free of the egregious errors common in some less expensive brands and the overall level of finishing was higher than average. The clicking was top notch and the stitching was straight and extremely fine, with no loose ends hanging out anywhere. The welt joint was seamless.
Regardless, there was a small gouge taken from the leather at the top of one of the shaft collars. Also, the facings could have been sewed to the vamp a little bit straighter, if I'm being picky and looking very closely. Other than this, I saw no flaws. However, even the slightest flaws on a boot this price matter, especially when the company vocalizes a mantra like excellence without compromise.
Edward Green's Galway Sizing and Fit
Take .5 down from US true size or .5 up from UK true size
Take your true width
Moderate instep volume to fit most foot types
I received the same sizing advice from several different retailers, as well as Edward Green themselves. For the 202 Last and its counterparts such as 82 last and 72 last, universal recommendation was to go .5 down from your US Brannock size (your "true" size) or .5 up from your UK Brannock size. If you have a narrow width, you can go down one additional half size from what is recommended.
In other words, order your usual American boot size: if you're an 11 in Red Wings, you're an 11 in the Galway.
For any of you who require special widths for your footwear, Edward Green can have their factory make a new pair in a special width at no additional cost.
I am a 10.5C on the US Brannock device, so my correct Edward Green size would have been 10.5C US (= 10D UK). However, since they did not have a US C width in stock, my impatience settled on a 10D US (= 9.5E UK), and that worked perfectly fine. Since the toe is already a bit long compared to some lasts, it did not feel short at all, even after sizing down one additional .5 size. For those with regular or high volume feet, unlike me, I would suggest sticking with the standard sizing advice.
Seeing both the US and UK sizing equivalents next to each other can be confusing, especially in regards to the differing width letters, but Edward Green displays both sizing denominations on the website as well as each boot/shoe box. For varied foot types and aesthetic preferences, Edward Green offers many different lasts other than 202.
Despite the elongated toe presenting a slender appearance, the boot is quite comfortable, yet appropriately snug. The heel counter is not quite as tall as I prefer for a maximum amount of "cupping" and heel anchoring, but it is nevertheless quite solid. The facings and instep height are medium volume so that you can cinch the laces more for a low instep or loosen them to easily accommodate a high instep. The same applies for skinny or girthy ankles. The waist gently cradles the arch of the foot.
Edward Green's Galway Price
The price is very high, even for what you get
Things like heritage and customer service partially justify the price
These are some of the highest quality factory-made heritage boots available, but you definitely pay the price for that. Your average Edward Green boot will cost anywhere from $1500 to $2000 USD.
This is the only major con for these boots, and it is a substantial one.
Another element of the high price is that the resale value of Edward Green boots is nowhere near their price when new, much like buying new cars. As soon as you wear these boots, their worth plummets by hundreds of dollars, and (speaking from experience) unless you're willing to wait many months for the right buyer, you are guaranteed to sell your used Edward Greens at a substantial loss. That's if you're someone who justifies their boot purchases by knowing you can resell them.
"But is it worth that price?" you may ask. In objective terms of quality and materials and stitching, no, they are not worth the price. Companies like Crockett & Jones could get you nearly the same thing for a fraction of the price. At the end of the day, there's nothing about them that's obviously nicer than a pair of Viberg boots, which are half the price of an Edward Green. Your money might be better spent getting something custom from companies like St. Crispin's, Zonkey Boot, or Midas.
Edward Green boots are not even hand welted, a hallmark of many boots in the $2000 range. For anyone who just cannot stomach the price, it is best to avoid these boots or pursue more frugal options such as buying used.
Even so, in a subjective sense, the worth of these boots depends on the person. If you consider the finer details, the top notch customer service, the many perks such as the lasted trees, the unique heritage of the most venerated Galway on the planet, or the ability to get alternate width boots made free of charge, the price does seem to make a bit more sense.
Perception of value truly comes down to each individual's priorities. No matter which way you look at it, Edward Green's Galway is the original galway, the one all others are modeled after, so if you're one of those people who really treasures the "soul" of a boot, there's no substitute for this boot and perhaps you will happily pay the price. I have never heard of someone like this being disappointed in their Edward Greens.
Edward Green stands behind their products as much as one would hope: another pair of Edward Greens I owned had a crooked pull tab, and the company repaired it at their own cost. With no resistance or excuses, they granted a partial refund of $200 as a compensation for the trouble, shipped them to and from the UK for me at no charge, and mended the pull tab such that I couldn't tell they had ever been wrong in the first place. Part of the premium price you pay covers service like this.
Wrapping Up
When it comes to Galway boots, Edward Green's is widely agreed to be the king.
But is the boot worth its current price? In an objective sense, no. The boot isn't really any better than a Viberg. However, in a subjective sense, some will so deeply appreciate the rich lineage and aesthetic of the boot and savor the peace-of-mind their fantastic customer service offers.
In the end, it's all about perspective, what you're in it for. Many will scoff at the price tag, and this is valid. But for those who see it in this boot, no other boot will satisfy, and the taste of its matchless beauty will please long after the price tag has been forgotten.
The following two tabs change content below.
David Burchfield started his
YouTube channel, The Vintage Future
, in 2020, a way for a simple hobbyist to create fun and informative longform reviews and interviews.His content is typically related to Amekaji/heritage menswear, such as boots, denim, and jackets. He focuses on things which he imagines will still be considered valuable vintage items decades from now.With his tag line, "Let your boots take you places more important than the boots themselves", he likes to remind himself and others that the most important part of our clothing is its connection to our lives, our memories, our dreams, and our relationships.
Latest posts by David Burchfield (see all)