Situated in the West Village between Christopher St. and Gay St. is Leffot. Founded by Steven Taffel in 2008, for over a decade now Steven and his team offer an intimate shopping experience for customers seeking the highest quality footwear you can find. Upon entering the dimly lit store, you are immediately drawn to the centerpiece display of shoes that any menswear enthusiast could ever dream of owning.
On this table, you might find limited Alden collaborations, Cheaney loafers, Edward Green oxfords, and Norman Vilalta derbies, just to name a few. Their wide range of traditional American, European, and even Asian shoemakers leaves everyone with something to desire before they leave the store. It is truly a one-stop shop for men's footwear.
Being one of the best places to shop for shoes in New York City, Stridewise sat with founder, Steven to dive a little deeper into the unique brick-and-mortar store.
[Check out Leffot's online store here!]
Stridewise: Tell me, what is Leffot? What is your goal with this store?
Well, the goal of Leffot is just to offer selections of men's shoes that are traditional, by shoemakers that are established in their fields. We have American-made shoes by Alden which are very traditional. We have English shoes by Edward Green, and French shoes by Corthay, and each maker has their own style.
The foundation of the store is what I like, and what I would offer to customers. So in addition to [shoes], we have an assortment of accessories, socks, and nowadays a little bit of ready-to-wear apparel. The idea is that it's just a place where men can come and feel comfortable in the shopping environment and also have a nice chosen selection of shoes.
[Read more: Alden Shoes of New York – A History]
View this post on Instagram
Steven Taffel in his element
Stridewise: So you keep this collection to about a half dozen brands at a time? How do you land on these brands particularly?
A lot of the brands we've worked with since we opened in 2008. Again, it goes back to what I like: I like traditional style shoes, for the most part, so I work with traditional shoemakers. Mostly welted shoes, Goodyear welted shoes.
I also like to feel comfortable working with and having good personal relationships with the different shoemakers. Over the years, we've developed great relationships with independently owned brands. They're not…you know, large corporate-owned brands.
One of the things we do with Alden in particular is that we do a lot of special makeups for the store. We'll do a lot of versions of the classic Alden. I happen to like saddle shoes, so this [showing shoe in hand] would be the summer version. But we do it in cordovan, dark colors, and all different types [of leathers]. It really fun for me to work on all these collaborations.
[See our review of Astorflex, one of Leffot's least expensive offerings]
Stridewise: You've got exclusive makeups from Alden?
Yes, we do it with Edward Green too. I think it's really something, when you take a classic shoe and just change some elements of it to personalize it to the way you see it in your mind. You can tweak it a little bit and make it more interesting.
Stridewise: And this is sort of unusual: you also sell pre-owned shoes as well here?
Oh, yeah. Leffot started selling pre-owned shoes in 2017, and that came from years of guys telling me, "I have shoes that I don't wear," for whatever reason.
We started with fifteen, maybe twenty pairs, and at that time, some people thought it was a little strange. But now, the resell market is quite big. A lot of people like it now. They think it's good for the ecology, it's a good way for the shoe to continue on. It's grown a lot. I mean we've sold a couple of thousands of pairs now. It's a big thing.
[Related: 5 Things to Look For When Buying Pre-Owned Shoes]
Stridewise: That's one of my favorite thing about this area of fashion. You can buy secondhand clothes or footwear and there's no shame.
Sometimes it's better, you know. It's already broken in. I like shoes that are kind of worn a little bit, polished, and maintained. I mean, new shoes are beautiful, but so are shoes that have had a life — and a story looks great.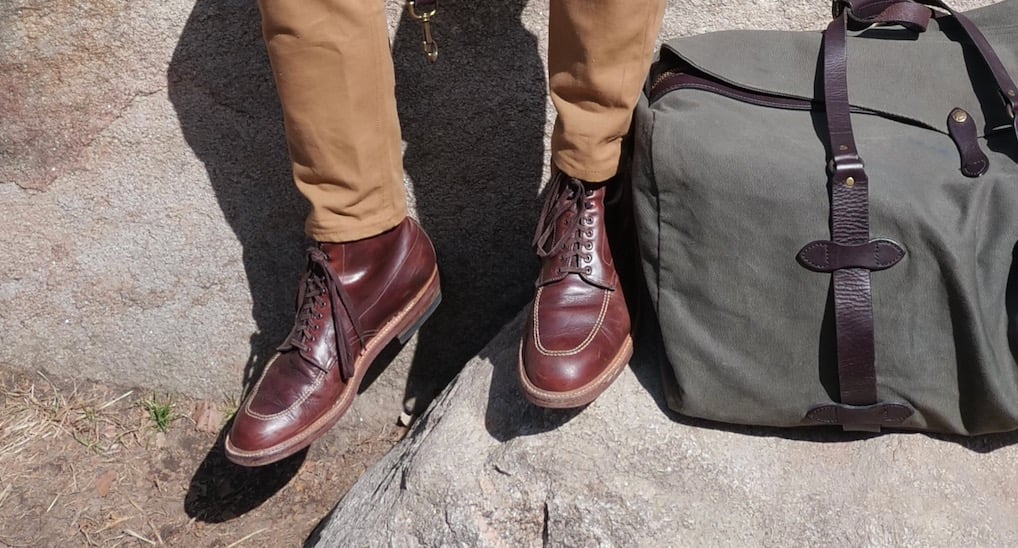 Stridewise: You've been in this store for about 15 years. In that time, what are the items that are always selling? What are your best-selling items?
Edward Green, and Alden are our best-selling brands, and to be honest with you, it's the classic stuff. It's the Alden Indys and the color 8 cordovan shoes. With Edward Green, it's more of the dress shoes, the cap-toe oxfords, or hand sewn split toe derbies. But today, everyone is into loafers. I think it's part of the casual lifestyle since the pandemic.
For young guys coming in to buy a shoe for an event, I always suggest a classic style oxford, like a cap-toe oxford. Even if you don't wear it often, even if you wear it once a year or once every five years, it's never going to be out of style. It's a good basic shoe to have in your wardrobe.
Stridewise: Your logo is Latin — Numquam Jactate — it means "don't boast"?
It basically translates to "never boast." The idea of that saying is that it's important to look presentable, to look stylish, to look good — but not over the top or cartoonish. Again, that goes back to personal taste.
I think a lot of guys have kind of dropped the ball when it comes to the bottom of their legs. You can still have a really classic shoe and look really smart.
Stridewise: I agree that this footwear is not going to go out of style any time soon. You're not going to be embarrassed to see old photos of yourself wearing it.
Exactly, and that's another point I tell guys. Especially guys who are getting married. If you're getting married now, you don't want to look back ten, fifteen, twenty years from now and say, "What was I thinking?".
They've been making Alden cap-toes for 60 years, they'll make it for another 60 years in the future. It just doesn't change.
View this post on Instagram
Conclusion
Without a doubt, Steven's store, Leffot will put you in the right direction if you are in the market for any type of well-made shoe. Steven is a wealth of knowledge and has great respect for traditional shoe-making. Once again, his store is located at 10 Christopher St, New York, NY 10014.
Nick, from Stridewise actually got his first pair of Alden Indy boots from Steven. You can read more about his experience in them here.
The following two tabs change content below.
Humphrey Tsui
Humphrey is a native Brooklynite who loves to talk about personal styling! He is an expert on leather, shoe construction, and the history of American pop culture. Message him
on Instagram
. here!
Latest posts by Humphrey Tsui (see all)