I wear a lot of boots and I'm often asked about specific styles, like what's a Chukka boot or what's a Chelsea Boot. Which is better for the office? Is one more comfy? Brother, you're in the right place. Here, we're comparing and contrasting two completely different styles of boots so you can know which is the one for your wardrobe.
Here's your ultimate Chukka vs Chelsea style guide. Feel free to click a link below to skip ahead.

Chelsea Boots
Chelsea boots have a long history, starting with Queen Victoria's personal boot maker and continuing to the Beatles. They started as a functional boot for work, war, and horse riding. That's why they have those distinctive, elasticized uppers that allow for easily taking them on and off.
They come in a wide variety. I've reviewed dress Chelseas like Carmina's. I've reviewed less formal ones like the R. M. Williams's Comfort Craftman, all the way to the casual ones like Thursday's Duke and the ultra casual, not-even-Goodyear-welted-but-hey-they're-very-cheap Blundstones.
[Related: The 10 Best Dress Boots]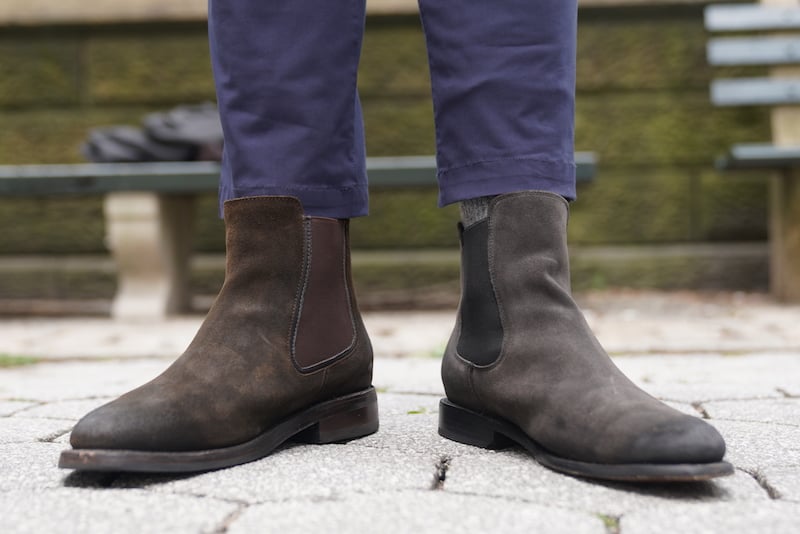 What are Chelsea boots?
Their defining feature is the elastic side panel, which secures the boot to the foot in place of laces. The slip-on design dates back to the early 1800s as a riding boot, and it was only in the 20th century, after the boot was popularized in England, that it was called a Chelsea. In some circles, they were also called J. Sparkes-Hall's Patent Elastic Ankle Boots.
Indeed, the second defining feature is that they are ankle length boot. You won't find lace up Chelseas and you won't find super tall Chelseas.

How should you wear Chelseas?
The best part about Chelseas is that they come in a lot of different styles. Some rules to follow:
Ensure your pant cuff falls past the opening of your boot (so that your pants don't get caught on the boot shaft)
Suede Chelseas are great, but only for less dressy outfits
Black Chelseas are ideal for more formal fare, especially box calf leather
Remember that not all Chelseas are created equal; use the right make and model for the right outfit and situation. (Do not wear Blundstones with a suit.)
Semi-Formal
We're using "semi-formal" because "formal" could mean tuxedo fare, and you can't get away with Chelseas in that context. But you can wear black Chelseas with a grey or black suit or brown Chelseas with a blue suit — keep your color palette consistent. Just ensure you don't wear casual boots with your semi-formal outfit; pick one of the brands below with elegant lasts.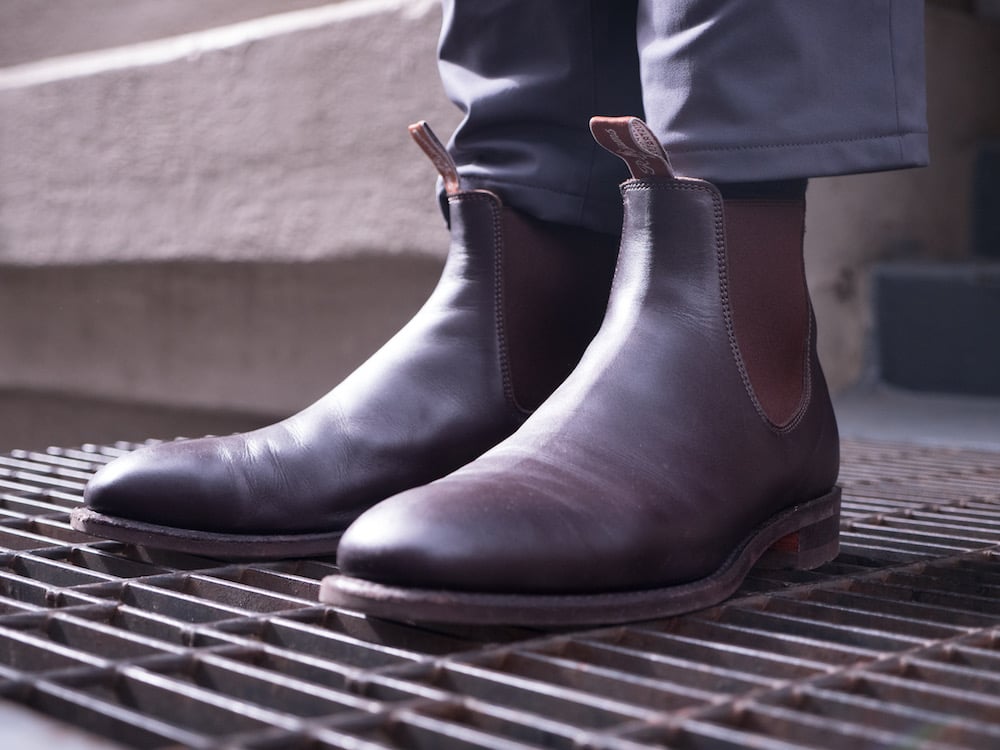 Business Casual
Land of the khaki and oxford button down, the right Chelsea reigns supreme in the business casual realm. Avoid patent or box calf leather like the Carmina as you'll seem overdressed. Matte brown and dark suede are your friend.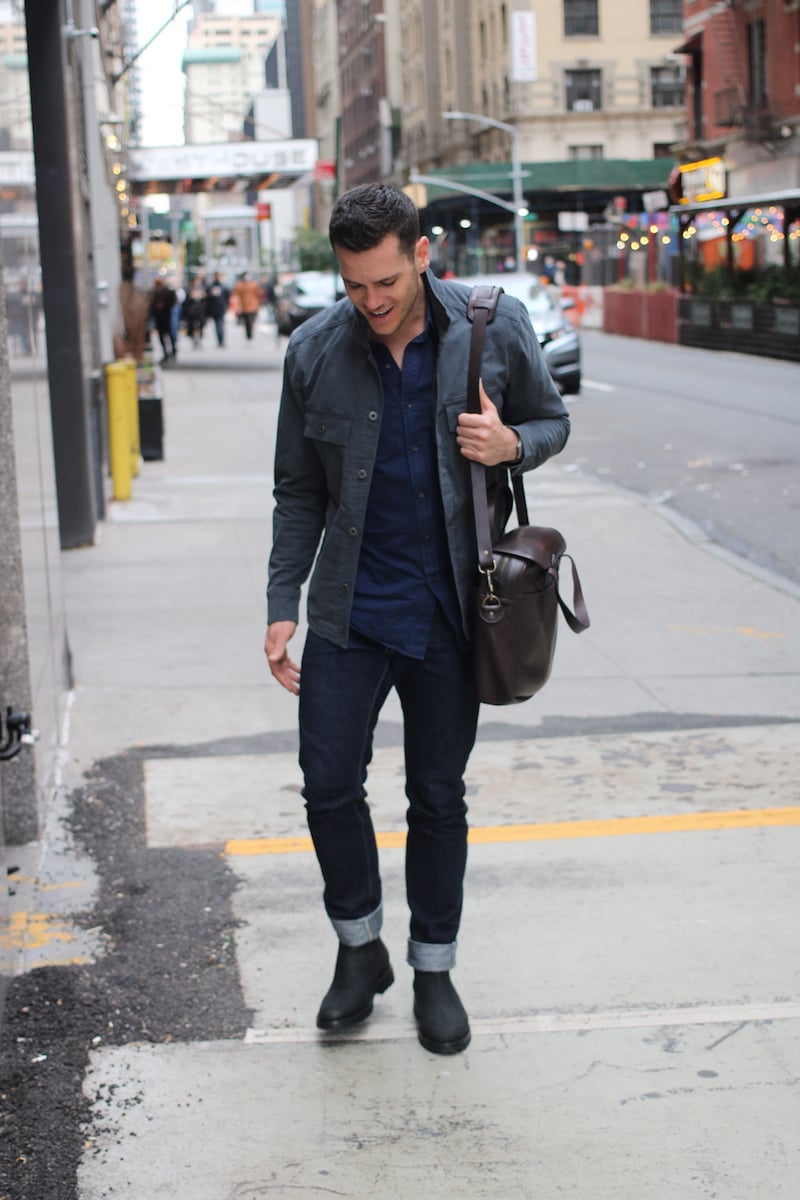 Semi Casual
In my humble opinion, you want suede or (even better) waxed suede for your casual Chelsea options. All of the options below are available in suede.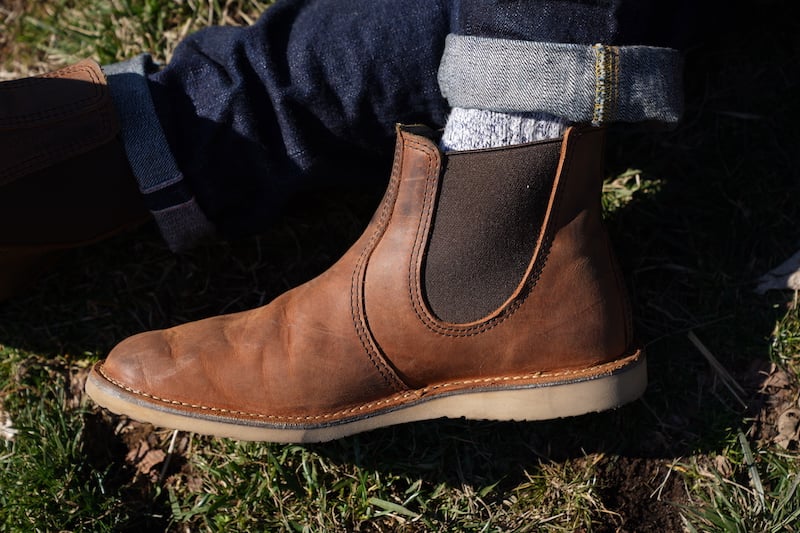 Casual
The world's most casual Chelsea boot and well suited for t-shirts. Seriously, don't wear a button down with those.
Reasons to Buy a Chelsea Boot
Here are a few reasons to consider a pair of these bad boys.
Chelseas are versatile. Especially with models like R.M. Williams' Comfort Craftsman and Thursday Boot Company's Duke, you can wear these boots with business casual and casual outfits alike. The trick is to pick a leather that's not too shiny.
Chelseas are convenient. Pull 'em on and go! The laceless style can also be handy in winter, when you don't want to be fumbling with laces through your chilly, glove clad fingers.
Which Chelsea Boots Should You buy?
There are just so many types of Chelsea out there, but here are some of our favorites. It may be tough to figure out which is best for you, so we've broken them down by use case.
If you're looking for dress boots, the fewer details the better. I do not know who came up with this rule, but it makes sense. As gentlemen, we should not let our clothes be so loud that they do the talking for us.
For a rugged look, you should find one with a thick lug and tough looking leather like a roughout or even a tough waxy suede.
1. Best Casual Chelsea: Red Wing The Weekender
Red Wing boots are rugged. These are boots you can knock around. They don't make dress boots. These Chelseas will not replace your oxfords. Read our full review to see why this is a great all rounder to slip on and grab a cup of coffee.
[Review:Red Wing Weekender Chelsea Review: Leisure Boots With Workwear Pedigree]
2. The Best Dress Chelsea: Carmina Chelsea
Carmina's shoes are fantastic. They're not perfect — nothing is — as the leather sole lacks grip, they're too slim for some, and they're over $500. But if the price doesn't bother you, I'd recommend that you buy these. I've mentioned this before, but the choice to spend this much on a boot really comes down to how much you value craftsmanship. If you are perfectly happy with cheaper boots, that's fine. There's something out there for you.
But if you value the sheer skill it takes to make closed channel, delicately lasted, European made footwear like these Chelseas, you won't be disappointed. These might be my favorite pair of Chelsea boots.
[Review: A Week In Carmina, the Ultimate Dress Chelsea Boot ]
3. Most Versatile Chelsea: R. M. Williams Comfort Craftsman
The Comfort Craftsman is a fantastic boot and while it's expensive, there's a reason they're Australia's most beloved boot.
They really take Chelsea boots to another level. The leather is a great middle ground between calf and steer, the grip is great yet low profile, and they might be the most comfortable boots I've ever worn. The last is svelte but not formal, making for a supremely versatile Chelsea that works great at the bar or in business casual environments. (In Australia, it's not at all uncommon to see them worn with suits, but that look might not translate to city streets in the States.) If you don't mind spending the cash, you will love these unique, eye-catching Australian boots.
[Review: R.M. Williams Review – The National Boot of Australia]
4. Best Waxed Chelsea: Grant Stone Chelseas
These shoes are pretty close to Alden quality. They are very well constructed and its materials are great, using a tough, waxy suede from Britain's esteemed C.F. Stead tannery. The shoes come with a thick leather midsole, veg tanned leather insoles, and a full grain leather counter. This is a boot that can be a tough walking boot or a daily driver.
Sure, you're not going hiking in these boots. They don't have Commando soles. But it wouldn't be very comfortable to hike in a Chelsea. These are an outstanding balance of heavy duty and classy. It's not super casual or super dressy, so if you want a boot that firmly lands in one of those categories, it's possible you won't love it. But it is a great dark brown boot that works well with dark jeans or for khakis, and there's a wide variety of outfits that you can wear with them.
[Review: Grant Stone's Chelsea]
[Shop EITHER OF THURSDAY'S CHELSEA BOOTS HERE]
5. Best Value Chelsea: Thursday's Cavalier
I'm always surprised by how well Thursday combines heritage style with modern construction methods. They have a great selection of lasts, anti-odor insoles, they use poron for absorbing shock, a really lightweight fiberglass shank, and this really cool high-tech suede that's tanned with waterproofing agents. They just have an impressive combination of heritage boot style with more modern construction and materials.
Also, the price is great at two hundred bucks. They claim they're making 25 percent profit on each shoe. Compare that to something like a Nike makes about 350 percent. But I'm not complaining. These lovely boots cost less and are so versatile. Really, I wear these with a lot of different outfits. I really like that they last longer because they can be resoled.
[Related: Thursday Boots Duke vs Cavalier]
Best Chelsea for Wide Feet: Thursday's Duke
An honorable mention for the wide footed guys out there, Thursday's Duke comes in wide sizes. So if you need a wide Chelsea boot in an EE or EEE, they are a great bet.
Who Should Buy Chelsea Boots
Guys who want a versatile boot that can be worn in a wide variety of situations
Men who want a boot that's easy to get on and off
Who Shouldn't Buy Chelsea Boots
Guys who want a formal boot
Anyone who doesn't like pull tabs
Chukka Boots
Now that there's no doubt in your mind what a Chelsea boot is, let's compare it with the humble Chukka.
Chukka Boot Overview
One might assume that Chukkas are the dressier cousin of Chelseas, and you'd often be correct, but boots weren't originally about style. Like most boots, they were about function. So, it's not surprising that they originally were used by British soldiers during WWII. You will often see them called desert boots.
Since then, they've become popular as a casual boot and as what many consider to be the perfect business casual option.
What Are Chukka Boots?
You can identify a Chukka because they have a lower cut, usually just ankle high. You won't find 8" Chukkas used for firefighting. They are also open-laced, so the quarters are sewn on top of the vamp.
Chukkas are usually unlined, meaning that they don't have an added bit of fabric on the inside and are more breathable and lighter than a lined boot. They have fewer eyelets than a lot of boots, often only two to three pairs. Modern Chukkas often have thin leather soles or a crepe rubber sole. Chukkas are unique in that they can be fairly inexpensive because they require fewer materials to build.

How to Wear Chukka Boots
As mentioned, chukkas are considered by many as the perfect business casual boot: not too dressy, not too casual.
Because Chukkas are so low cut and often made of suede and calfskin, they can be worn with dress pants. But they also go well with a nice pair of denim jeans. It's also the boot that's most widely seen as acceptable for being worn with shorts. That's not to say it's widely accepted to do so — i was excoriated for it in the comments of my Clarks Desert Boot video — but if a pair of boots will be worn with shorts, it's usually chukkas.

Reasons to Buy a Chukka
So why should you buy a Chukka? I rarely need a reason to buy another pair of boots, but the right pair of Chukkas can be very useful. You can get something like Clark's Desert boot, which works well with jeans. Or you can get a casual Chukka like Viberg's Chukka with the 2040 last. So they can be quite versatile.
As I mentioned before, they can also be quite affordable and are often the least expensive boot offered by a lot of companies. Both Clark's Desert boot and Thursday's Scout are about $150. The Scout is the least expensive boot made by Thursday, who are known for their terrific value. Of course you can also find very expensive Chukkas like Carmina's Shell Cordovan.
[Love these informal, inexpensive boots? Compare prices for Clarks Desert Boot on Amazon, here.]

Which Chukka Should You Buy?
There are tons of Chukkas on the market.
1. Best Value Chukka Boots: Clarks Desert Boot
There are a few kinds of Desert Boots — another name for Chukka — by Clarks. There's a Goodyear welted version called the Desert Welt, there's also leather and suede and canvas in many colors. I got the most popular color: Oakwood suede.
These shoes are a classic Chukka with hardly any laces to, and it's about ankle height at 10.5 centimeters high — about as low as you can get while still calling it a boot. The design is called "open lacing," and my friends tell me I look like an archaeologist or a carpenter when I wear them. But they were popularized by soldiers, who wore them in Northern Africa during World War 2.
It's a basic, unpretentious boot and informal–you'd have to be crazy to wear these with slacks or even nice khakis. That's because not only are they super light, the sole, which is made from a type of latex called crepe, just screams casual. Crepe has a lot of pros, of course: it's light, it's soft, it's pretty environmentally friendly, but brother it does not look formal.
[Review: Why Clarks' Desert Boot Is the World's Most Popular Chukka ]
2. Best Heritage Chukka: Red Wing's Chukka
A lot of guys don't want to spend $260 on casual Chukka boots, but the cool thing about these chukkas is that they made of high quality, full grain leather. The same that Red Wing uses their Iron Rangers. So these look less like a Desert shoes and more of deck shoes. Classy enough for the country club.
3. Best Dressy Chukka: Allen Edmonds Dundee 2.0
Light, comfortable and with great arch support, these will look a little off when paired with a pair of jeans or with khakis and a short-sleeved button down they work just fine. The leather kind are over $300, but it's not too hard to find suede on sale for under $200.
They are made in lace-up oxford dress boot style. They have lovely calf skin uppers, a 360º Bench Welt construction for durability, and the dark Brown Grain Calf has a Dainite Rubber Soles. As far as men's fashion is concerned, these are some amazing boots. You could get away with these in a business casual office.
If you like the Allen Edmonds style, and you probably will because they are great boots. You also check out the Brooklyn Light Suede Chukkas. These suede Chukka boots are sold as comfortable dress casual boot that feels more like a sneaker.
4. Best High End Chukkas: Carmina
Carmina makes some seriously elegant and beautiful footwear. So it's not surprising that make some badass business Chukka boots. The most elegant is probably their Horween Shell Cordovan in Burgundy. It has a lovely silver sole, a Goodyear welt-construction and calf lining. It's made on Carmina's Simpson last, which looks pretty European and has a semi-squared tip and is long and narrow. It's perfect for a smart, dressier look.
Because it's Shell Cordovan, it's not cheap: $890.
5. Best Chukka For Wide Feet: Thursday Boot Company Scout
Thursday's is known for inexpensive footwear, and while their chukkas aren't as cheap as the Clark's, they're head and shoulders above them in quality and comfort. They also come in EE and EEE sizes for guys with wide feet who want a Chukka.
Available in several suedes and full grain leather, their options are Goodyear welted and leather lined — luxurious touches that are rare for chukkas, especially at this price point. Available in rubber soles or a good old-fashioned crepe, it's the perfect middle ground between Clarks and the pricier brands listed above, and they strike the best balance.
Who Should Buy Chukka Boots
Men who spend a lot of time in business casual environments
Guys who want a lightweight, lower cut boot.
Men looking for a good urban boot; you won't be hiking with a Chukka.
Penny pinchers; they tend to be inexpensive.
Who Shouldn't Buy Chukka Boots
Guys who want a rugged, beefy boot or a work boot.
What's Better for My Style: Chelsea vs Chukka?
The best part about the boot hobby is that there are so many options out there you can basically find something that works for your style and needs.
For Chelseas: if you work in an office, you can wear the Carmina, if you want something for the weekends, go for the R.M. Williams or the Red Wing's the Weekender. Heck, if you want something for working on your car in the garage, go for Wolverine's I-90 EXP Romeo, which is resistant to slipping, chemicals, and oils.
Chukkas are less versatile, but they're typically lighter and less expensive, so many adore what they bring to the table. The best answer to "should I buy Chelseas or Chukkas"? Get both.
The following two tabs change content below.
Karl Wasson
Karl is an IT product manager living in South East Asia who gets a kick out of durability and dependability. He believes form and function are not mutually exclusive. When he's not working, he's searching for the best bespoke menswear in South East Asia and beyond.
Latest posts by Karl Wasson (see all)