This is everything you could possibly want to know about the Chelsea boots from Thursday boots: the Cavalier and the Duke.
Why would a company have two Chelsea boots? If you're an impatient man, the answer is that the Cavalier is dressier and suitable for business casual outfits, the Duke is more rugged and casual, and both are ludicrously high quality and high value.
But if you're a man who is as fanatically, deleteriously detail-oriented as I am? Well, as per usual, I've been wearing both of these pairs of boots for weeks and done a ridiculous amount of research so you can get the best damn review you're ever going to get. That's right: it's a double review. And you're going to learn the pros and cons of each boot so you can decide which one you want, or if you want either of them at all.
Below I'm discussing:
And, of course, my nifty video I whipped up:
What Is Thursday Boot Company?
Now for those of you unfamiliar with the brand, Thursday Boot Company was founded in 2014 and if you're the kind of dude who reads boot blogs like mine, you've probably seen their ads online — they're the most prominent direct to consumer boot brand. While they have a store and a showroom here in Manhattan, the company's business is otherwise one hundred percent online, which means no middle men and remarkably low prices. These guys have easily got the best cost to quality ratio on the market. (As an admitted cheapskate, I'll confess this makes me a tad biased.)
Their famous Captain boot (take a look at my review) basically invented the "dress boot/work boot hybrid" that countless companies have since tried to imitate, bringing together the rugged, Goodyear welted construction of a work boot and the sleeker, office-friendly silhouette of dress boots. The result is a boot I can wear with just about every single outfit I own, so I'd say value and versatility are two features that really stand out about the company.
[Related: The 10 Best Dress Boots]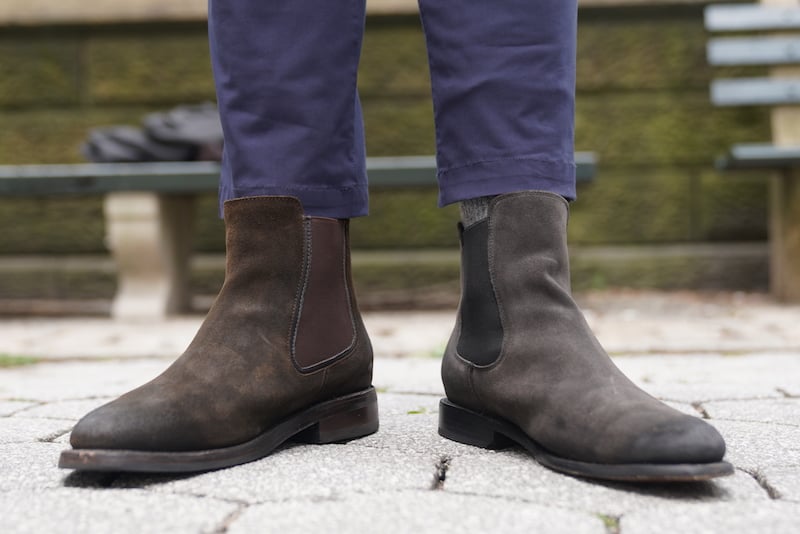 Thursday's Duke vs Cavalier: Aesthetics
Duke has a higher heel, a pull tab, and leather trim on the elastic
The Cavalier has a slimmer last, slimmer welt, and a leather outsole
Let's get into it: which boot resonates with you the most? We'll start with the aesthetics — what you see on the outside — then we'll move on to the interior.
The Duke
This is your classic beater Chelsea, the more "heritage" style boot that's for rough and tumble wear. That said, like their Captain and President lace up boots, the Duke's silhouette is a little sleeker than really dedicated work boots. (An example to compare it to would be the more bulbous Blundstone boot, which is popular, but it has cemented construction you can't resole, they're made in Southeast Asia… the Duke is much higher quality.)
Besides the rounder toebox of the Duke, the most prominent differences relative to the Cavalier are the pull tab (a boon for Chelsea lovers because it makes the shoe easier to slip on and off) and the height, with the heel of the Duke almost a centimeter taller.
More subtle differences are that there's a leather trim around the elastic goring and the outsole is made from low profile, studded rubber that's very similar to Dainite, though I find it to perform better than Dainite in wet weather.
The Cavalier
The Cavalier has a leather outsole, which makes sense given leather is the sole of choice for fancier shoes. A difference with other brands, though, is that it has TPU studs in the sole to improve the grip. (The biggest complaint you hear about leather soles, including from me, is that they slip more.)
I'll talk more about the pros and cons of leather soles in the sole section, but since we're talking aesthetics, let's move up to the Goodyear welt.
A really impressive thing Thursday has done here is use a Goodyear welt on a dressy boot while keeping the silhouette sleek. Normally, dressier boots and shoes have Blake stitches, which are much more subtle and don't give that slightly more pronounced "lip" running around the perimeter of the shoe that you usually get with a Goodyear welt, and which is more obvious on the Duke:
So the Cavalier offers the longevity of a Goodyear welt — which makes a boot way more water resistant and easy to resole — with the lean aesthetic of a dressier boot. The Cavalier is not chunky. It looks better with slimmer khakis or slacks than with torn jeans.
So, those are probably the most important differences between these boots. If you like, you can quit reading here, but if you like geeking out over the details, follow me to the leather section!
[Related: Red Wing vs Thursday – Which Is the Better Boot?]
Thursday's Weathersafe Suede
I asked Thursday what the most popular leathers were for these boots and they sent me the colors you see here, the Shadow Grey Suede in the Cavalier and Dark Olive Suede for the Duke. (I kind of thought the Duke's most popular leather would be Honey Suede, which I see online a lot, but I guess not.)
I wanted to quickly discuss this remarkable suede. If you own a pair, you probably know that suede boots look nice, but they kind of suck. You won't wear them for a week before they get stained and if you take them out and it rains, and you don't take immediate evasive action, they'll probably get stained forever. Suede shoes are like walking around with a self destructive toddler: if you take your eyes off them for a minute, they'll find a way to get terribly injured.
So Thursday came up with this high tech suede called WeatherSafe, which is like suede with an upgrade. Some suedes get coated with wax after the tanning process to help with water resistance, but Thursday has tanned the leather with a waterproofing solution made from hydrophobic compounds introduced at the start of the tanning process. So it's still soft and supple, but has this hidden durability baked right into the product so you don't have to worry about it water. As you can see above, it bounces right off.
Anyway the suede is cool, but you can get both boots in regular, full grain leathers if you want.
[Related: How Thursday Makes Their Weatherproof Suede]
Thursday Duke vs Cavalier: Construction
Goodyear welt
Fiberglass shank
Cork midsole
Layer of poron
Antimicrobial, shock absorbing insole
Leather lined
So we've looked at the overall aesthetic and the leather, now we're going to compare the construction — but don't worry, they're quite similar.
The main difference is the outsole. As I mentioned, the Duke has this Dainite-like rubber, the Cavalier has a leather sole with studs.
Leather soles have a lot of upsides and some downsides, I go back and forth on them: the grip isn't as good as rubber, but the upsides are that leather outsoles are dressier, they break in faster, they're softer, they're more flexible, and many say they're more comfortable. There's no shortage of guys who say leather upper and leather sole is the best combination for comfort. (If not jungle-ready functionality.)
After the outsole they're largely the same.
While their curvatures are a little different because of the different lasts, both boots have fiberglass shanks. Shanks help to provide arch support and maintain the boot's shape over time, and the fact that they're fiberglass makes them even more airport friendly: the boots are easy to take off if you're asked, but they won't set off metal detectors if you're not.
They both have cork midsoles, which really help the shoe to mold around the shape of your foot as they age, and both have a layer of poron and "antimicrobial shock absorbing insoles."
This is another place Thursday Boot Company stands out: they look like heritage boots but they've got high tech layers in the sole that give them the shock absorption of a sneaker. Plus, the antimicrobial insole really does mean they stink less than other boots.
That said, you should still use shoe trees with your boots between wears to suck up sweat and maintain their shape.
Thursday Chelsea Boots Fit & Sizing
Great shock absorption
Good arch support
Comfy lining
No break in
Go down half a size for Cavalier
True to size might be best for Duke
OK, brass tacks: what's the comfort like?
Superb.
For both shoes, the shock absorption is fantastic, the arch support is great, they're both fully leather lined, and there was zero break in.
But the shoes do fit differently.
Cavalier
I went down half a size on the Cavalier: my true size is 11.5 but I got an 11. It's based off of the Oxford last that Thursday uses for their dress shoes, so if you have feet on the wider side, the Cavalier might be a bit tricky. I'd consider going true to size if that's the case.
Duke
You know, their website tells you to go down half a size, but I think true to size is better for the Duke. Note that out of both of these boots, only the Duke in Honey Suede is available in a wider width.
The main difference, fit wise, is that there's a little more room in the toes with the Duke. While I wouldn't say it's more comfortable, I would say the Duke is a fit more reminiscent of casual boots and of Thursday's heritage boots like the Captain. If you've worn dressy shoes or boots before, you'll know what I mean about the slimmer fit on the Cavalier.
Thursday Duke vs Cavalier Price
I would expect either of these shoes to cost over $300 but they cost under $200. This is because they're a direct to consumer brand: you don't have a brick and mortar store buying it, then adding a markup to justify them going through the trouble of buying and storing boots for you and paying a salesman to buy them.
The Duke is $199.
The Cavalier is $190.
Interestingly, these prices are the same regardless of the leather you pick. I'm not sure why the Cavalier is a hair cheaper; maybe it's the extra leather the Duke needs for the pull tab? Whatever. That's the price!
Thursday Chelsea Boots Pros & Cons
Alright. That's my review of these two boots.
All in all, I'm just blown away by how well Thursday combines heritage style with modern construction methods. The versatile lasts, anti-stink insole, the shock absorbing poron, the lightweight fiberglass shank, the high tech suede… it's everything you like about heritage boots but with more advanced construction and materials than what was available in the 19th century when these heritage companies were founded.
I do not know how they're making a profit by selling them for under two hundred bucks. They claim they're making 25 percent profit on each shoe; Nike makes about 350 percent for comparison. But I'm not complaining because relative to other boots, these cost less, and are so versatile they can be worn with more outfits, and they last longer because they can be resoled — that's three ways to save money and look good while you're doing it.