This post may contain
affiliate links
that at no additional cost to you, I may earn a small commission from.
I love heritage boots made with rich, full-grain leather as much as anyone else. But when that huge snowstorm hits you have to admit: Iron Rangers won't cut it today.
Most heritage boots have flat (or slightly grooved) soles and a single layer of leather for the upper. These will not work while you dig your car out from under a foot of snow in freezing temperatures. From my experience in the Army's 10th Mountain division, and years living in the northeast, I look for grip, warmth, waterproofing, and cushion in my winter boots.
Here I'll compare the two winter boots I have worn the most:
The Intermediate Cold/Wet Boot (ICW), the U.S. Military's standard issue cold weather boot,
For both I will compare the brand reputation, warmth, waterproofing, break in, shock absorption, and price.
[Related: The Best Winter Boots That Actually Look Good]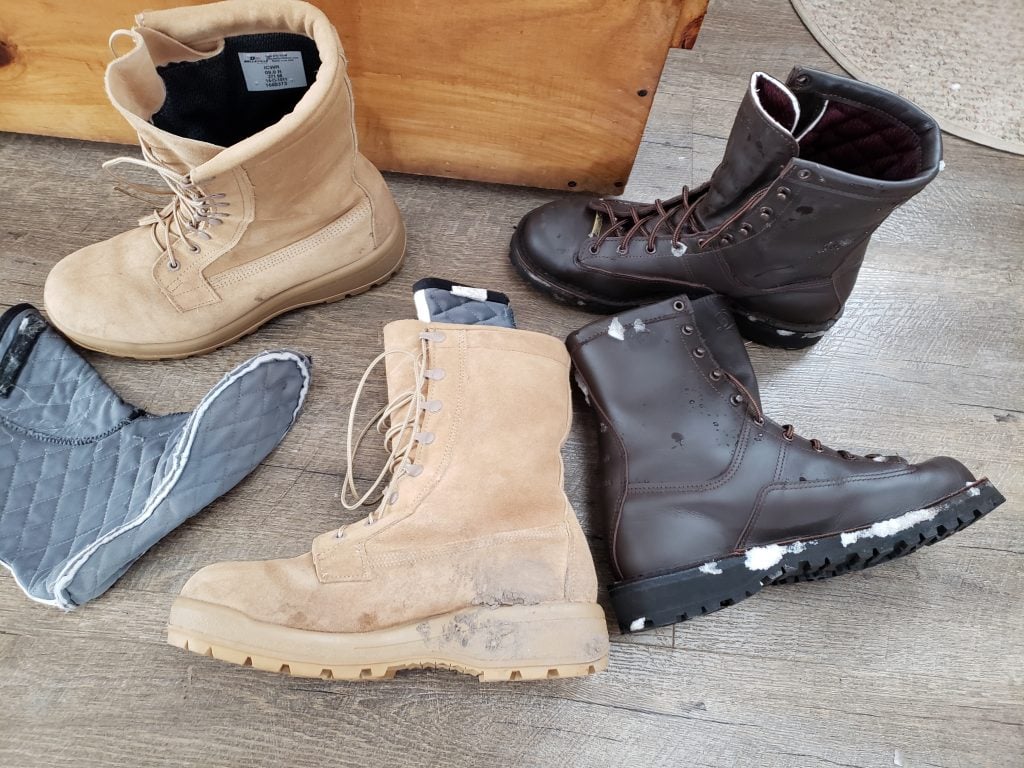 The Brands
So who makes these iconic boots?
Danner
Danner is an American footwear brand located in Oregon. Not all of their boots are made in the United States, but they do offer a made in the USA line. Danner is known for making great boots for the jobsite, hunting, and especially hiking, but few know that Danner also makes boots for the military.
Danner has models that are approved for military use, but they are not standard issue. Soldiers have to purchase them on their own, but during my time in the military, soldiers gladly paid to upgrade from their standard issue boots to the comfort and agility of the Danners.
When I left the military and moved to the northeast, I wanted a civilian winter boot that I could depend on, and given its popularity in the military, Danner naturally came to mind. I narrowed my search on their website to their "Made in the USA" line, and wanted something I could easily walk a few miles in. Some winter boots can be very bulky, so I was excited to see the Hood Winter Light's more narrow fit. The boot hugs the arch and toes a little more than roomier boots, preventing the kind of repetitive heel slippage that can cause blisters. I wear a D width, so if your feet are wide these might not be an option.
I had a great experience buying the Hood Winter Light 200 g. I originally paid the full sticker price of $350, which is expensive, but I planned to spend a lot of time outside this winter and it was a worthwhile investment. But a few days later, Danner had a Black Friday sale of 25% off — and they refunded 25% of my purchase when I asked, even though I'd bought them before the sale started! Hats off to Danner.
[Related: Red Wing vs Danner – Who Makes the Best Moc Toe?]
Altama
Altama is a government footwear contractor that was founded in 1969 and based in Tennessee. Information about this contractor is limited, but it is important to point out that standard issue combat boots generally come from one of three companies: Altama, Wellco, and Belleville. When you join the military, you are issued two pairs of combat boots from any of these three manufacturers.
All three make boots to the military's specifications, but there are still big differences between these boots. Belleville has the chunkiest sole and almost no break-in period. Wellco has the thinnest sole and is the easiest to run and move in, but the sole is a bit less durable and the break-in period is absolute hell. Altama is a good middle ground of having a manageable sole and short break-in.
Many soldiers opt to buy their own boots that match military standards from brands such as Danner, Rocky and even Nike. Danner was known as the best all-around boot, but expensive. Rocky was the cheap boot, and Nike was the best for running in.
(FYI, there are three levels of military boots: the jungle boot for warm weather ,, the intermediate Gore-Tex or ICW that I'm reviewing here, and Mickey Mouse boots, which are white rubber boots for the Arctic.)
Warmth
Let's compare these two models, head to head. How do they fare in the warmth category?
The ICW
The ICWs come with a remove-able 200 g insulation liner. To put the boots on you first need to put the liner on your feet and then put on the boots, or you can wear the boots without the liner. I only wore the liner if the temperature was below 20° F. But even without the liner, these boots were seriously warm!
Danner
The Danners also have 200 grams of insulation, but it is not removable. I actually prefer this because it was easier to put on, but they also felt a little less warm. My feet tend to sweat in the ICWs, even in 20° F weather. In the Danners my feet were warm, but not hot.
Finally, a key component of a boot's warmth is actually the height of the sole. All the insulation in the world won't keep your feet warm if there is a thin sole separating your foot from the frozen ground. Both of these boots have chunky soles, giving you plenty of space from the ground.
Waterproofness
Both boots are excellent at keeping water out. You can walk in water up to the gussets on both and keep your feet dry. They both have treated leather, so the uppers do not get waterlogged. The ICWs have a cemented construction, while this makes it much more difficult to re-sole it is really effective at keeping water out.
The Danner boots are stitchdown construction, but have always kept my feet dry because the Gore-Tex makes it 100 percent waterproof and breathable. Plus, they are easier to resole!
Break In
Due to the insulation in both, the break in around the vamp and toes is pretty easy. The insulation acts as a cushion from the leather rubbing your foot the wrong way. The difficult part of these boots to break in is actually around the ankle and calf. The shafts on these boots are solid, lined leather. I often go for 5-mile walks and by the end, the Danners had caused abrasions on my shins. The Altama boots did similarly rough up my shins and lower calves, but not quite as much as the Danner's.
The one negative point of break-in was the heel cup on the Danners. The top edge of the cup wore into my Achilles, which is a common issue when wearing new boots, but the removable liners in the Altamas prevented this from happening.
Shock Absorption
The ICWs have a polyurethane mid-sole and a Vibram lug out-sole. The mid-sole is somewhat stiff but lasts a lifetime, and the Vibram soles provide excellent traction.
The Danners have a much softer mid-sole and Vibram 148 Kletterlift out-soles. I prefer the soft feel of the Danners, but I don't think they will last as long… but that's fine, since they can be resoled!
The ICWs are not recraftable, but if you are only wearing these in the winter, the sole is made of hard enough material that it should last decades. Finally, be aware that Wellco, Altama, and Belleville make the ICW with 3 different soles. Not all of these contractors use Vibram, so check for that when you buy these.
Price
Danner Hood Winter Light 200 g: $350 but you can sometimes catch a sale.
Altama Intermediate Cold/Wet Boot (ICW): $70 – $150 depending on size, availability, and storage condition.
Buying Army surplus is a gamble and you usually want to try them on before you buy. These boots are made by three different contractors, so sizing is not always spot on. Finally, as with any Army surplus, check for a musty smell — if they have not been stored correctly, water damage can ruin the boots.
[Shop the Danner Hood Winter Light here!]
Wrapping Up
Here are the final pros and cons for each.
Danner Hood Winter Light 200 g Pros & Cons
Pros
Soft mid-sole is great for walking
Narrower last and more casual looking
Vibram out-sole
Warm without making your feet sweat
Made in Oregon
Cons
Price ($350)
Heel cup break-in caused an abrasion on my Achilles
Altama ICW Boot Pros & Cons
Pros
Price (~$80)
Durability
Removable liner is easy to clean
Extremely warm
Cons
Finding these boots
Absolutely no style
Extremely warm
Conclusion: The Danners Are Worth the Price
If you can afford the Danners, I recommend you go with those. They are recraftable, can match a winter outfit, and are made in the U.S.
If you have access to try on a pair of the ICWs prior to purchase, I think they are worth a try also. Just be careful of how they have been stored, as Army surplus often has a musty smell or water damage.
Finally, it is important to take these boots off when you get indoors, because if not your feet will sweat! Happy hiking.